UPDATED to 2020:
No two crowdfunding websites were created equal, but Kickstarter, Indiegogo and Gofundme have certainly risen to the top of the pile. These three are streets ahead of the thousands of other active crowdfunding platforms currently littering the web. Gofundme is a platform for personal fundraising — not a topic we tend to cover — so that just leaves intrepid fundraisers with an artistic, charitable or commercial focus with Kickstarter vs Indiegogo. But which one will it be? Which one should it be?
Related: 131 Kickstarter Campaign Tips for Successful Crowdfunding.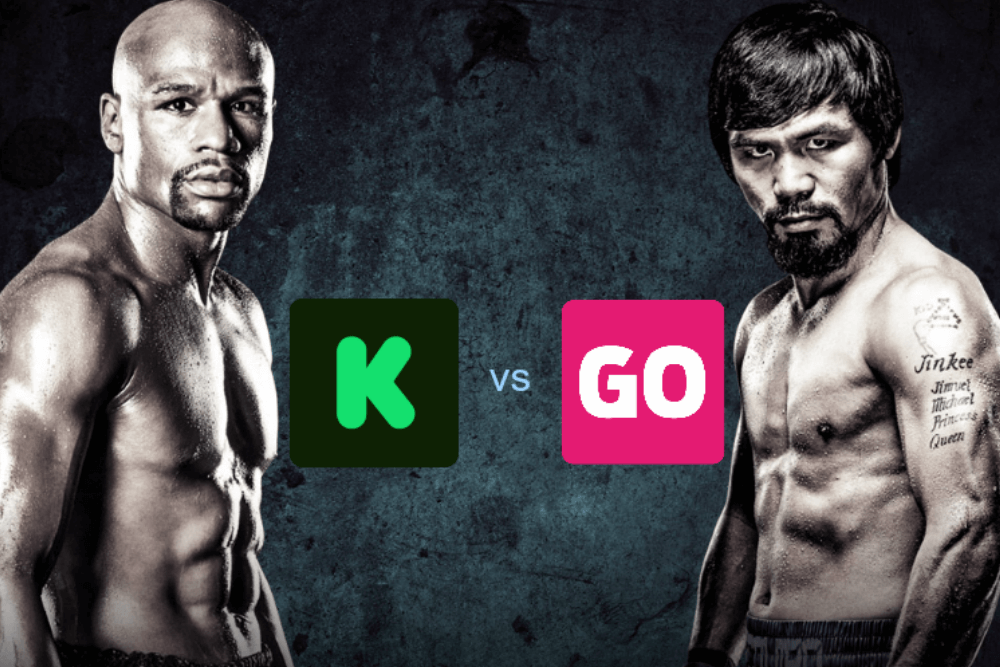 Kickstarter
So the chances are you've heard about Kickstarter. You probably have a pretty good handle on the basic pros and cons of this platform as well, but in the interests of being thorough, let's cover our bases and start at the beginning.
Today, crowdfunding is mostly synonymous with Kickstarter. It's the biggest crowdfunding platform there is. It's also got a bunch of metrics that are happy to sing its praises: Kickstarter campaigns have already raised over US$4 bln. It's hosted 158,000 successful projects, has a total of 16 million backers — of which one-third support multiple campaigns. Over 300 (339 actually) have broken the US$1 million mark. A further 5454 campaigns have raised over US$100k. Need I go on?
This crowdfunding goliath boasts 15 campaign categories. The film and video, music and publishing categories are the most popular (you'll find the majority of campaigns registered in one of these), but it's the games, technology and design categories that really excite backers. These last three are the most funded groups on the site (as a side note, Wednesday afternoon is the time when most backers put their hands in their pockets).
Impressed yet? Well, you might be a little less so when you learn that all those impressive stats only account for 36.69% of Kickstarter campaigners. The rest (over 60%) fail to achieve their goals.
But don't get disheartened, Kickstarter still has a few aces up its sleeve. With a reputation for launching whacky, innovative and downright marvelous ideas, Kickstarter gets a fair bit of coverage from the media and bloggers. One well-placed article could win you a place in that top 36%.
Indiegogo
Initially focused exclusively on independent films (hence the name) Indiegogo started accepting projects from any category a year after its launch. Established to provide more opportunities to backers than Kickstarter, Indiegogo is usually perceived as a less strict and more flexible platform. It is available in over 200 countries and provides more categories (24 vs Kickstarter's 15). It also gives backers control over whether they want fixed (all or nothing) or flexible (creator gets whatever amount they collect) models. In 2015 Indiegogo separated personal and cause campaigns into a new platform Indiegogo Live, which later was renamed into Generosity. Later on, Generosity was sold to Gofundme, making it a personal fundraising giant.
At any given point it has around 7,000 live campaigns (Kickstarter has 4000) and hosts an average of 260 new campaigns every day. It also isn't all that fussed with metrics (you'll struggle to find the kind of statistical data Kickstarter is happy to publish), but you will come across the odd estimate or three.
If Kickstarter reckons around 36% of its campaigners are successful, then the digital world puts Indiegogo's success rate somewhere between 17-18%. It sounds terrible, but it does have a few other things going for it. Its flexible funding scheme allows you to get the funding without necessarily reaching your goals, plus our successful Indiegogo campaigners also tell us that the customer support is second to none (not something Kickstarter campaigners tend to agree with). Add to that the fact that pledges are non-refundable, so the creator knows exactly how much they've raised (Kickstarter campaigns tend to drop 5-7% of backers — more on this later), and Indiegogo starts to look like a very attractive option.
Kickstarter vs Indiegogo
So there you have it, general insights on two of the biggest crowdfunding platforms: Kickstarter vs Indiegogo. Of course, there are hundred other tiny differences to consider. Rather than rattle off a list, our clever infographics guys whipped up a table to help you distinguish the differences between the two. I marked in the boxes marking my preference (as a successful campaigner) in green.
I jest – of course, I'm going to rattle off a list! How else will you work out which crowdfunding platform is right for your venture?
Funding Scheme
Probably the biggest difference between the two platforms is their approach to money and when you get it. Kickstarter releases funds only after the campaign reaches its funding goal, Indiegogo provides you with an opportunity to choose between receiving funding as it comes in or waiting to see if you hit your target. As a campaigner, it is much less risky to go with flexible funding (i.e., getting funds immediately), but don't forget that you have to deliver on your promises, regardless of what you raise. From a backers standpoint, fixed funding (all or nothing) is way more attractive and comes with a lot less risk, so bear that in mind when making your decision. But Indiegogo does offer you both options, so it gets extra credit for that.
Media and Outreach
The media loves Kickstarter so it does get way more coverage than Indiegogo. The reason for this infatuation is Kickstarter's strict quality controlled image. They deliver higher quality products so journalistic types don't have to wade through campaign after campaign of rubbish to find a story. This means that, on Kickstarter, your campaign has more opportunities to garner a bit of press coverage (learn about tools that will ease your work during your crowdfunding pr efforts). Big advantage. And one point to Kickstarter.
Payment Processing
UPDATED: Since October 4, 2016 Indiegogo started to support Stripe for payment processing.  Before, it was only Paypal and Indiegogo has been getting quite a bit of attention for freezing business accounts (Paypal don't like people accepting funds for products that have yet to be made). On the other hand, Stripe was far more accommodating and does seem to actually understand crowdfunding. It was a credit to Kickstarter before, but as Indiegogo has now both options – one credit goes there. UPDATED: later on, Indiegogo removed Paypal, leaving Stripe as the only option for payment processing (and creators are quite happy about it).
Video Hosting
Kickstarter uses its own video hosting service, Indiegogo uses Youtube and Vimeo. While there are some pros and cons to having your own video hosting service, one thing is certain – Youtube is the second biggest search engine there is and provides great marketing opportunities to attract new users. So that's two birds with one stone since more views on your Youtube video mean high rankings on Youtube while your campaign runs on Indiegogo. If you have an audience who will share your video and comment like crazy then even better. If not, it might be worth asking everyone you know to comment on your video, because Indiegogo will show off all those interactions on your crowdfunding page, and no comments look like no comments, which is hardly an incentive for backers. Here's a formula of creating best Kickstarter videos.
Platform Fees
Before, there were two types of Indiegogo fees: 4% if you reached your goal and 9% if you didn't (in case of flexible funding). So what percentage does Indiegogo take now? They changed their approach in July 2015 and now Indiegogo percentage matches Kickstarter's flat 5% rate whether you reach your goal or not. For personal fundraising projects, on the other hand, Indiegogo has no fees — but since we're not focusing on personal financing, no preferences for this one.
Payment Processing Fees
Payment processing fees are pretty much the same (3%), so they both get a point for this one.
Reward Levels
Indiegogo has imposed a limit of 20 rewards levels, Kickstarter hasn't (at least for the first 50). 20 reward levels might be more than enough to attract your backers in most cases, but if you want to organize something creative (who knows), it's always nice to have the option. So this round goes to Kickstarter rewards.
Remarketing
Remarketing (or Retargeting) is a powerful tool to target your ads (e.g. Facebook ads) to visitors who have already visited your website. It works by inserting a pixel code into your webpage, where it detects all the visitors and creates an audience from people, who visited the specified webpage. Indiegogo allows campaigners to insert the pixel code and create a Remarketing audience, while Kickstarter doesn't. Although we gave a point to Indiegogo in here, there's a cool service, called Easy Retarget, which helps you benefit from Remarketing for your Kickstarter campaigns as well.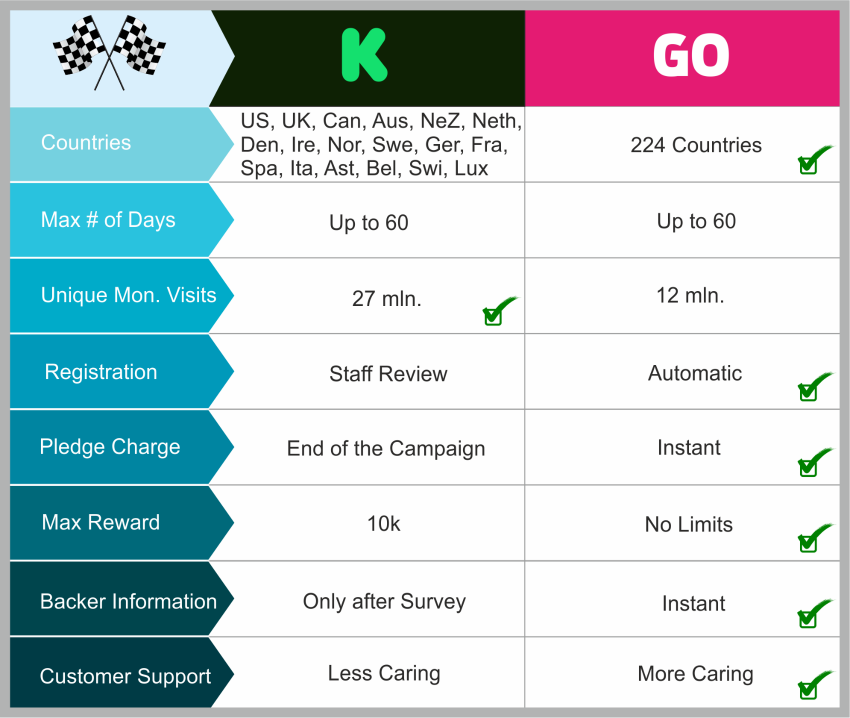 Eligible Countries
UPDATED: After the funding scheme, this is the second most important difference between these two heavyweight champions. At first, Kickstarter was available only in the US, then it enlarged its borders to include Canada, the UK, and Australia. Now it is available in 21 countries, whereas Mexico, Singapore, and Hong Kong were added in 2016. Indiegogo is available everywhere (officially in 224 countries) and misses out maybe a couple of villages in Siberia, which is why it got the point.
Number of campaign days
Both platforms unified this to 60 days. One point to each.
Unique Monthly Visits
Unique monthly visits show how much traffic these sites get, and it's an important factor to consider – without visitors, there're no backers. This statistic is one of ours (calculated from official figures and estimates) and suggests that Indiegogo gets an average of 12 million unique visitors a month. By contrast, Kickstarter attracts between 27 – 28 million (around 2.3 times as much). Before I award the point, however, let's consider this: more traffic isn't necessarily the best way to go. Each platform has its own categorical strengths. For example, Indiegogo has a thriving technology community while Kickstarter's gaming community is formidable.
Project registration
Kickstarter has stricter rules, and staff who will manually review whether you comply with these or not. So there are three main rules you need to stick to:
No personal projects (you should have something to share).
No charity.
If you have a tangible product, you should have a working prototype:
Don't make the mistake of assuming any of these aren't strictly enforced.  A recent project offering a laser shaving experience was suspended from Kickstarter (no tangible product) after collecting more than $4million. In response, the project creators registered the project on Indiegogo (which has no such rules) and collected the required amount (admittedly a lot less than $4million). In doing so, they proved that Indiegogo puts a greater focus on flexibility — which is why it won the point this time.
Pledges
Kickstarter charges all backers at the end of the campaign if the goal is reached, so backers show a pledging intent rather than a pledge and are only charged when the campaign reaches its goal. This means they can change their mind anytime right up until the end of the campaign and cancel the pledge. This translates to an average 5-10% drop in backers for most campaigns. By comparison, Indiegogo charges the backers instantly, thus winning the point.
Backer Information
Indiegogo provides contact information for backers the moment they hit the "pay" button. Kickstarter waits until you reach your goal, so you'll have to conduct a survey and ask your backers to provide you with their contact information if you want any feedback before the campaign closes.
Customer Support
Kickstarter is known for its poor support system. If anything goes wrong, both backers and creators are on their own. Indiegogo, on the other hand, has a reputation for being far more personable and lovely, with a responsive customer support staff available to help you out.
Other Options
An Indiegogo innovation, the In-Demand option allows campaigns to continue collecting funding after their campaign ends (providing you've achieved your goal). It's a move that sees Indiegogo transformed into a marketplace, where you can have your page and enjoy getting funds for your perks. You can also place a project on Indiegogo's In-Demand after a successful Kickstarter campaign. Although Kickstarter won in the battle for the number of rewards, Indiegogo has this cool feature, called the Secret Perk. You can create tailored perks for a specific group of people, which will not be visible to others. Works great if you want to incentivize your subscribers and provide them with additional limited benefits.
Kickstarter has a couple of other features, like Projects We Love. Here, staff members manually pick the projects they like, giving more credibility to the project and a boost in views. One of the staff picked projects then becomes the Project of the Day and gets featured on the front page, so that's yet more traffic. In 2016 Kickstarter introduced a feature called Kickstarter Live where creators can engage with their backers in a real-time video streaming.
Feel free to explore the other options of Kickstarter vs Indiegogo in our chart.
Final Scores
Our little rally puts Indiegogo firmly in the lead with 14 points and leaves Kickstarter trailing at seven. But I should point out that that doesn't necessarily mean the crowdfunding goliath is the worse option. There are plenty of areas where Kickstarter is streaks ahead, meaning the best option really does depend on your campaign.
It's also worth noting that the culture of the different crowdfunding platforms varies somewhat, so it's important to clearly understand your audience. If they're more likely to opt for one platform over another, then you need to take that into consideration. Familiarity breeds confidence and makes visitors more open to pledging.
So how do you know which platform is likely to be a better match for your audience? Generally speaking, you'll tend to find more artists, musicians, filmmakers, geeks and techy gadget makers on Kickstarter. You'll see more small businesses, controversial ideas, NGOs and mass manufacturing at Indiegogo.
The demographics between the platforms also vary. Indiegogo has a more female-friendly audience and gets more traffic from Facebook than Kickstarter.
Comparing Top 500 Kickstarter and Indiegogo Projects
We analyzed the monthly data of top 500 projects across two platforms in December 2016 and here's what we got. Although Kickstarter benefits from 2.3 times more traffic than Indiegogo, the total money raised by the top 500 projects within one month is only 1.4 times as high as in Indiegogo.
In fact, top 500 projects in Kickstarter received $103.3 mln. while top 500 projects in Indiegogo raised $71.7 mln.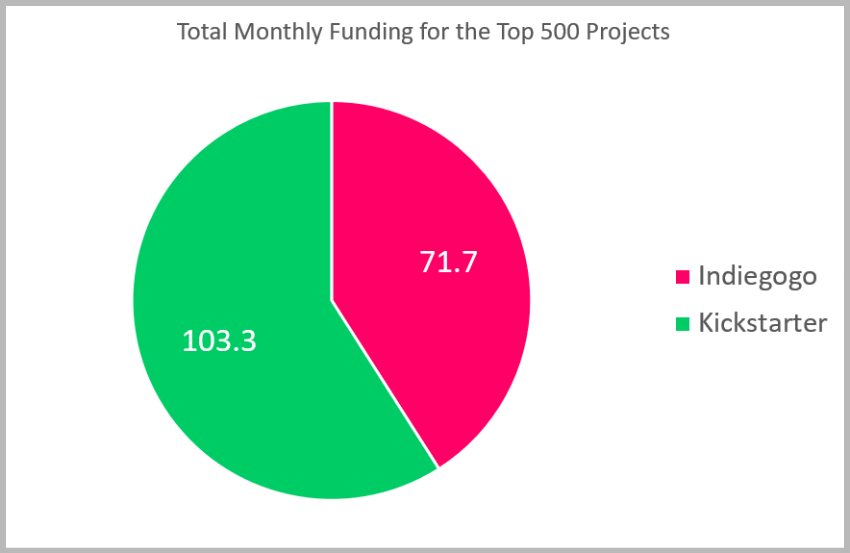 The lion's share in Indiegogo's funding of the top 500 projects was driven by Technology and Design categories. For analysis we combined these two categories as it's only the marketing tactics of creators that decide which category to go with. Design and Technology categories within the top 500 projects in Indiegogo raised $60.4 mln. or 84% of the monthly platform's funding.
While Kickstarter's similar campaigns raised $58.5 mln. or only 57% of the total funding. Where the rest of the funding went in Kickstarter? I hear you asking. Of course games! Tabletop and Video Game categories within the top 500 campaigns of the platform raised $32.6 mln. or about 32% of the total amount.
For the last comparison, we decided to compare the number of projects that crossed the $1 Million mark on both platforms. As of December of 2016, 18 projects on Kickstarter and 16 projects on Indiegogo crossed the $1 Million mark. The record-breaking project was the tabletop game Kingdom Death, which raised more than $12 mln.
One of our recent campaigns, Bristly Dog Toothbrush raised $466,000 on Kickstarter and another $534,000 on Indiegogo InDemand, becoming the most funded dog campaign in crowdfunding history with $1,000,833 in total.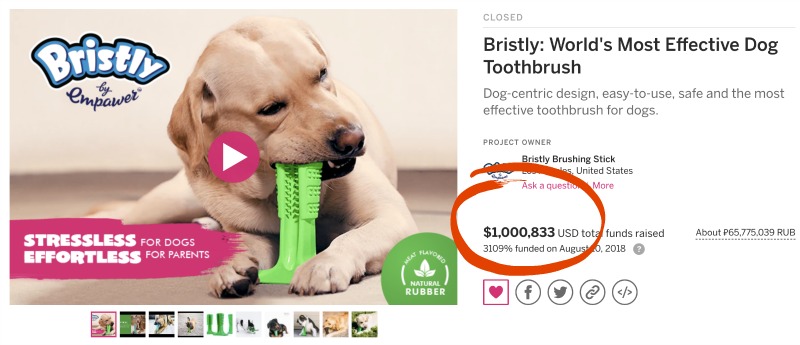 We will write a detailed case study comparing two platforms with the same project, but for now, if you ask to name three things we liked the most, it would be:
for Kickstarter
Organic traffic
Credibility
Higher conversion rate
for Indiegogo
Newsletters
Facebook pixel
Secret perk
We still love them both and hate their analytics dashboards.
So, before you decide which platform to choose, carefully examine your project's category, marketing strategy, costs, appropriate funding schemes and goals.