If you know anything about crowdfunding, then you most likely know that successful crowdfunding campaigns never depend on simply one aspect of promotion. Converting ads with 0 media coverage, community management, and active social media presence won't be sufficient for your campaign's long-term effectiveness.
So what can companies do for their campaign in the crowdfunding stage to avoid this trap? Raise awareness through all means possible and that includes getting coverages in relative and high-impact media.
Do you want your company to be featured in the coolest media outlets during your crowdfunding PR efforts? Great. There are lots of online tools and techniques that we use here at The Crowdfunding Formula to get high traffic coverages.
Keep on reading because we're about to reveal [some] of our secrets.
As a digital PR and outreach specialist, I'm frequently asked what the most important point for media outreach is. And the answer is always pretty much the same – thorough and precise research.
How to start your media research
Buzzsumo claims that journalists and reporters get up to 100 pitches per day, so you don't want to waste your efforts and their time for something that won't interest them. So here's your first tool-kit based on journalist relevance and niche:
List of journalists based on their focus area can be found on websites such as Pressrush

Another great tool for research would be LinkedIn Sales Navigator. It provides much more filters and a wide range of opportunities to narrow down your search. Here's what it looks like:


Our PR department categorizes 2 types of research before the campaign launch: Manual and Google Dorking.
Many of you might have heard about Google Dorking or Google hacking. This helps you filter down the search for bloggers and find information that probably wasn't even supposed to be found by a simple Google search.
When put smartly, keywords can do wonders.
Let's take a quick look at this example:

So what happened here is that with the simple combination of above-mentioned keywords I found a huge database of tech bloggers in XLS format which I then quickly uploaded to Google Sheets. See? Almost magical.
The next step would be sending them emails in bulk using whether Streak or GMass, but I'll get back to that later because first, we need to actually get those journalists' email addresses. So let's see how we can get them when doing manual research.
If you've ever done any type of outreach, you probably already know that emails are quite easy to scrape from LinkedIn and Twitter. Google Chrome extensions such as Nymeria and Uproc will provide you with email addresses of the accounts you've searched with a pretty high level of accuracy. To top it off, the latter will provide you with phone numbers as well, just in case.
So let's see how these two research tools work:
Nymeria


To get someone's email from LinkedIn using Nymeria all you need to do is visit the profile and click on the extension icon and it will show the email address with up to 98% accuracy.
Uproc


When it comes to Uproc, it will pop up in the right corner every time you open a LinkedIn profile, so you don't even need to take any extra steps. There's a disclaimer though: the accuracy rate of emails provided by Uproc is a little less than that of Nymeria, so double checking will come in handy.
ContactOut


Here's another tool I love using when I'm looking for emails – ContactOut. Despite the pricing, after the free trial ends ($2388 USD/year), ContactOut is definitely worth trying as it shows the email addresses and phone numbers with a high percentage of accuracy.

To use this handy-dandy extension, all you have to do is download it from the web store and click on the icon when you have a LinkedIn profile open.
Yet another email finding tool is Find that email. I personally love this tool because of its credibility – it shows the percentage of email accuracy, and if that percentage is 100% or even close to it, then you got it right.
How to start bulk media outreach
Now that we have a big database of relevant journalists and bloggers, we're ready to start our crowdfunding PR campaign: blogger outreach. Like I already mentioned previously, we usually use Streak or GMass for bulk pitching. To avoid losing the email tracking, make sure to follow these steps before you start using them:
Go to chrome://flags, search "network service", disable it, and press "Relaunch now".
In order to use Streak you need to:
Prepare a database of the journalists
Have Streak Chrome extension installed in your browser and
Download the Streak CRM importer add-on to your spreadsheet
Once you have it installed, you'll see Pipeline button in the left corner of your Gmail interface
Create one and import all the data from the spreadsheet by clicking on the add-on.
Here's what your data will look like in Gmail Pipeline: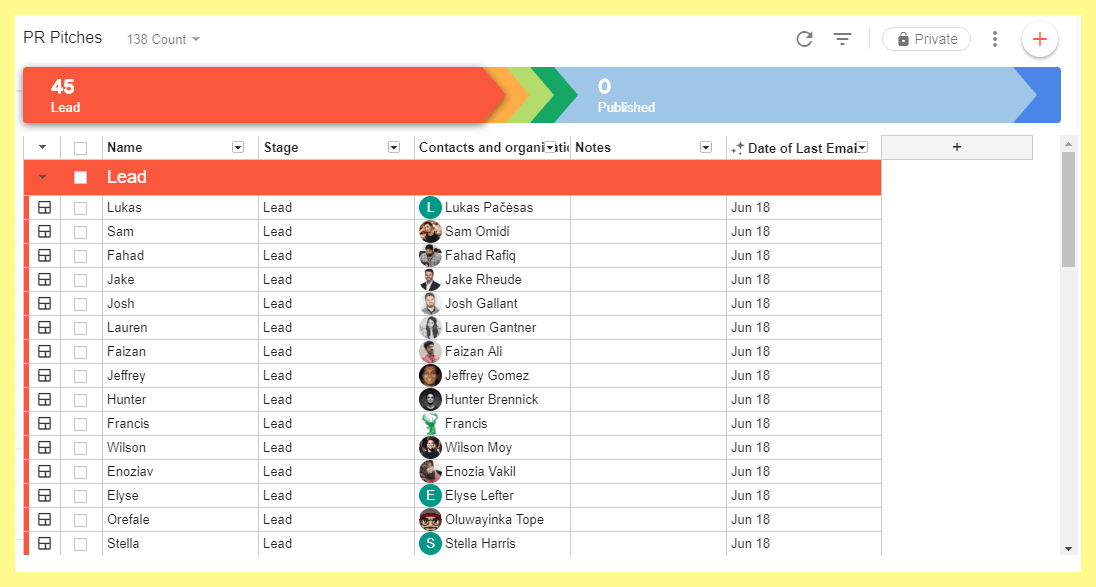 Tracking emails in Streak is pretty simple:
When you open Sent emails, you see a grey eye beside the email
Once it turns green, the email has been opened.
As for GMass,
If you have it installed, the red buttons appear right beside the search bar in Gmail,
All you need to do is click the Spreadsheet button, import the ready one and start the outreach,
Make sure to press GMass button instead of Send when you're done composing,
To see whether the email or the link in there has been opened or not, check the folders in the left side of Gmail.
Here's what it looks like in action: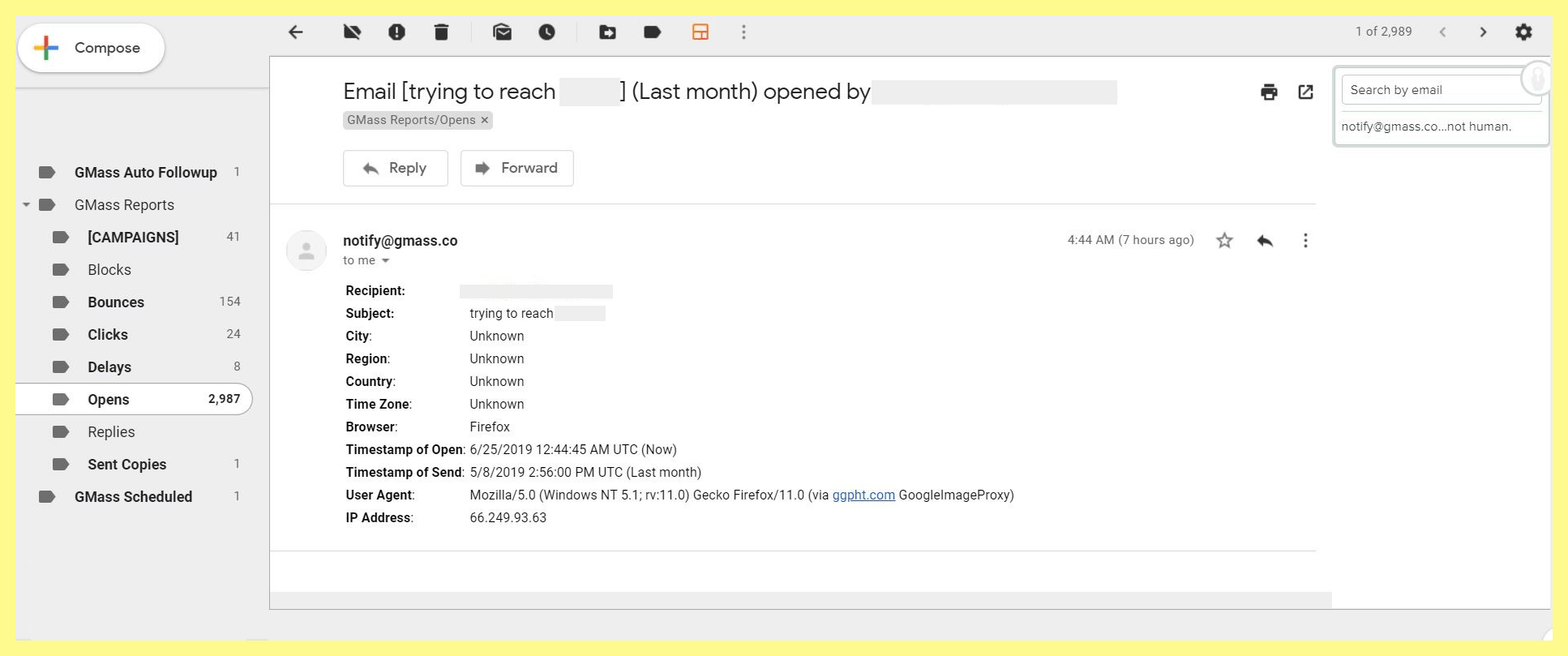 After the PR campaign is sent, you'll need to organize the follow-up processes. This can also be easily done by the above-mentioned tools. GMass allows you to automatically send follow-ups to those who have opened the mail/replied or haven't opened it at all.
An alternative to these can be considered the Batch reply; this Chrome extension sends emails to several people at once putting them in bcc.
Monitor your mentions
Now that we have every detail set up we come up to the key part – monitoring the results of your PR campaign. Two of the tools I love for media coverage monitoring are Brand 24 and Mention. All you need to do is simply input keywords and every single time the keyword is mentioned on the web, you'll get a notification and can see the links on the dashboard. Let's take a quick look at the interface so you have a better idea of how it works: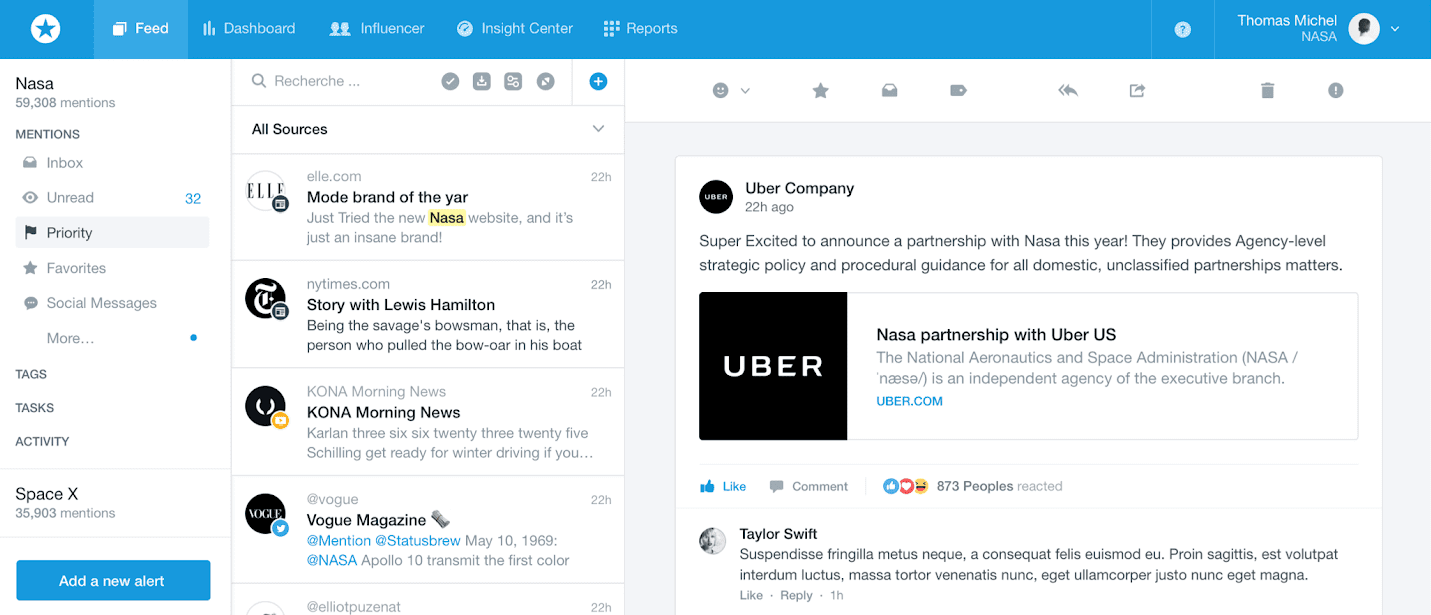 Whether you're using any of these tools to make your media outreach processes easier or save them for later use, trust me when I say you're going to need them sooner rather than later. Hopefully, they will add to your outreach efforts and contribute to the PR success of your crowdfunding campaign.