Many Facebook advertisers just like you struggle with these questions every day:
What are the best working audiences?
What are the best "interest" combinations?
What is the best audience size?
What are the best ad formats?
…and what if I told you that advertising on Facebook differs a lot from what you did before.
But…. whoa, man, don't panic! I'm here to make you the Batman of the advertising industry
(And nope, this is not your money burning…..but your competitors are).
Keep reading because you're going to learn a lot of actionable Facebook advertising tips and hacks in the next couple of minutes.
1. What are the best working audiences for your crowdfunding campaign?
When going live on Kickstarter or Indiegogo it's important to know who your target audience is.
Do detailed research to find out the locations, age, and gender of your potential backers, explore your competitors' ads, write down all the interests that can somehow be relevant to your project and start testing them.
Yes, Facebook is smart, do not underestimate it.
Here are several tips on how to spy on your competitor's ads.

Facebook is becoming more and more transparent, so it allows you to see your competitor's ads even inside Facebook. You just need to go to your competitor's page, scroll down and on the right side you will see that magic part which is called "Transparency". The next steps are shown in the pics below ????

After, you'll be able to see what ads these page owners run.
Another way is to do research on Adespresso. Here you can see how other brands are doing advertising on Facebook.
If you're unstoppable like me, there is another tool special for people like us. On Bigspy.com you can find the largest ad creatives not only on Facebook but on other big platforms such as Twitter, Pinterest, Yahoo and much more. 
After thorough research, you can start testing!
Create multiple ad sets, let the campaign spend at least $15-20, and turn the worst ones off.
And the worst ones, of course, are those who don't seem to have any signs of living. Those who don't have purchases or even add to carts, and what's worse they have very few link clicks.
Here are the general statistics for crowdfunding campaigns:
Countries: United States, United Kingdom, Canada, Australia, Singapore
Age: 34-45
Gender: Men (although women are bigger shopaholics in real life, men are more likely to become backers)
Do not focus only on countries, go deeper, use the whole potential of Location targeting. Tag cities, streets, and even parks!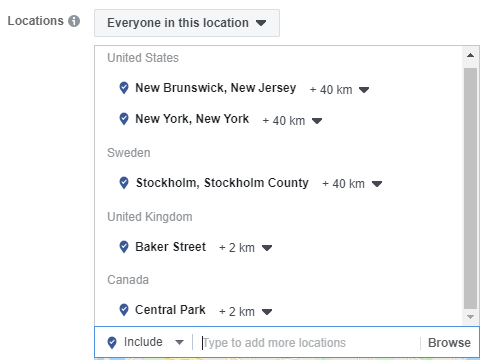 After finishing all this audience creation stuff, DO NOT FORGET to exclude already existing backers. You don't want to drive people mad because of endless ads, right?
2. What are the best "interest" combinations?
Be attentive, my friend, this is one of the most important parts.
Detailed targeting: 3 options are possible here – "AND&AND"; "OR&OR"; "AND&OR".
AND&AND

Explanation: your audience will be interested in crowdfunding AND men's fashion.

OR&OR

Explanation: Your audience will be interested either in Indiegogo OR in Kickstarter.

AND&OR

Explanations: Your audience will be interested either in "Indiegogo AND Men's Fashion" OR in "Kickstarter AND Men's Fashion".
Apart from "e-commerce", "dropshipping", "online shopping" interests, always use "Kickstarter" or "Indiegogo" as well. People should not only be engaged shoppers but also "engaged waiters" to be ready to wait for the product for more than 3-4 months.
3. What is the best audience size?
It depends… (I know it's not the best answer you expected to read, but let's face the truth)
The audience size shouldn't be too narrow or too wide.
It can vary from 400,000 to 1,800,000 depending on the budget you put.
The more is the ad spent, the larger is your reach. More money can allow you to reach a broader population much quicker.
The ratio between your audience size and potential reach (with that budget) should give you an idea of how quickly you can reach your audience.
4. What are the best ad formats?
Try all of them until you understand which one is the best for your campaign. Usually, single image/video ads are the best. But it doesn't mean that you can ignore canvas and carousel ads. Don't you dare!
Create 35 or 45-sec informational videos and use them on Instagram and Facebook feeds. After your ad goes viral, you can create a custom audience based on the people who watched 95% of your video. If they watched the most part of the video, it means that either they fell asleep or they are very interested in your product. Let's hope for the 2nd one.
Go crazy with the body text and the headline, don't be a nerd. The crazier you are, the more conversions you have.
See this ad? Let's have a look at its statistics…
Amazing, right?
Conclusion
You should spend on ads as long as they are profitable, and usually, if you use good strategies and techniques, they are…
Never stop learning! Keep testing!
There are numerous places to advertise your campaign throughout the internet but there is no place like Facebook and hopefully, these advertising tips were helpful and you're one step closer to reaching your campaign's goal. If you need more help in planning your crowdfunding launch or advertising plan just contact me. I would love to help! ????