Influencer marketing has become one of the most popular methods of increasing brand awareness. In a nutshell, influencer marketing is when you get influencers to promote your product, building trust towards it among their followers.
But influencer marketing doesn't always bring the expected results. The conversion rates and/or traffic to your page might be low because your brand is promoted by the wrong influencer.
Thus, finding relevant and high-impact influencers is the real key to success.
To accomplish that, I will share with you the strategies and tools we use in our campaigns that have proven to be super effective.
In this article, you're going to learn:
How to find influencers on:

Instagram
Youtube
TikTok
Twitter

How to reach out to influencers
Let's get started.
How to Find Instagram Influencers
There are a lot of tools and platforms that connect influencers and brands. They can help you find Instagram influencers and identify their engagement rates, but most of them aren't cheap. 
So, before introducing them, let me first show you how to connect with popular personalities for free. 
You won't be surprised to learn that every platform has a search button — that's where we're going to start. 
1. Search for a Popular Personality
Start by looking up people who you know are influential in the niche you're interested in.
For example, when I need to find a 'Fitness Motivator' to promote sportswear, I'll search the first name that came to my mind — Kayla Itsines:
Here is her profile. 
There's a dropdown menu in the upper right corner of the page.
When you click on it, Instagram displays similar profiles, taking into account the niche, interests, number of followers, etc. You can add them to your database to explore later.
2. Conduct Instagram Hashtag Research
Hashtag research is one of the key steps in finding Instagram Influencers.
Type some keywords that describe what you are looking for.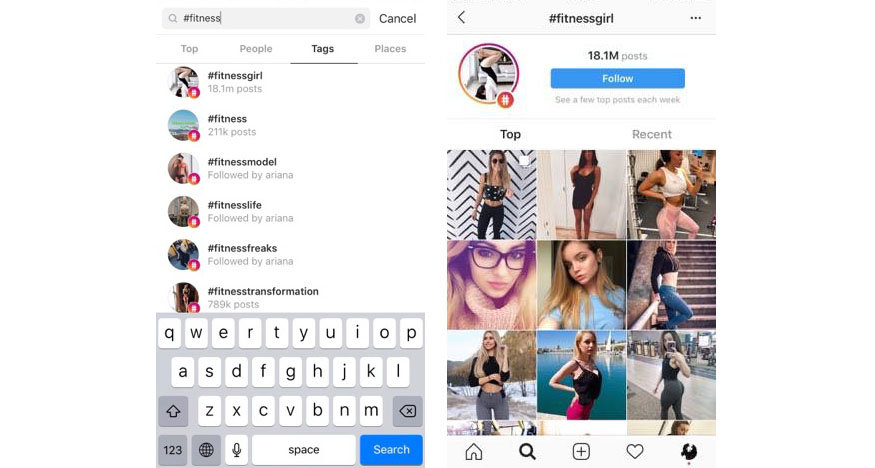 Click on one of the popular hashtags to discover thousands of posts and profiles.
Among them, you can find many influencers, relevant in the niche. Check out this article to learn how to conduct killer hashtag research.
3. Look through listings by popular magazines and journals

Simply Google keywords like "Best Fitness Motivators on Instagram."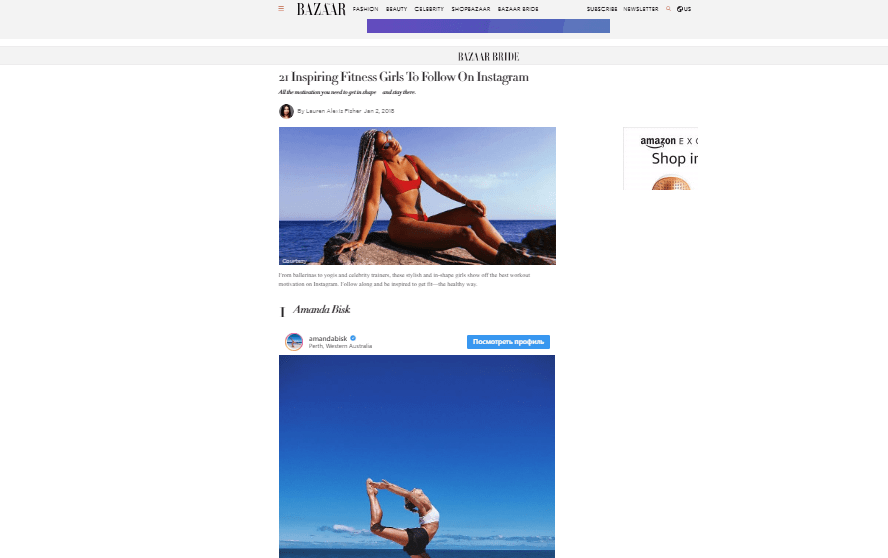 4. Keep an eye on your competitors

Always know what they are up to, who they collaborate with, and who promotes their brand. You can get a lot of valuable information by following their pages.
If an influencer tags them in a post — make a note of that information. 
Now, do I need to tell you about what comes next?
5. Use Influencer marketing tools and platforms

One of the tools that we use to find Instagram influencers is called Heepsy.  
Heepsy allows you to find Instagram influencers in the niche that you are interested in, using their filters. It allows you to search by categories, location, number of followers, engagement rate or everything simultaneously.
Here are some tips to help you find relevant influencers for your Influencer Marketing campaign.
Set the right parameters, and start scrolling through the pages, looking for ones that fit your needs best. 
For example, I chose "Fitness" in Categories, "United States" in Location and "50k-250k" in Followers.
It brought back 73,320 matching results.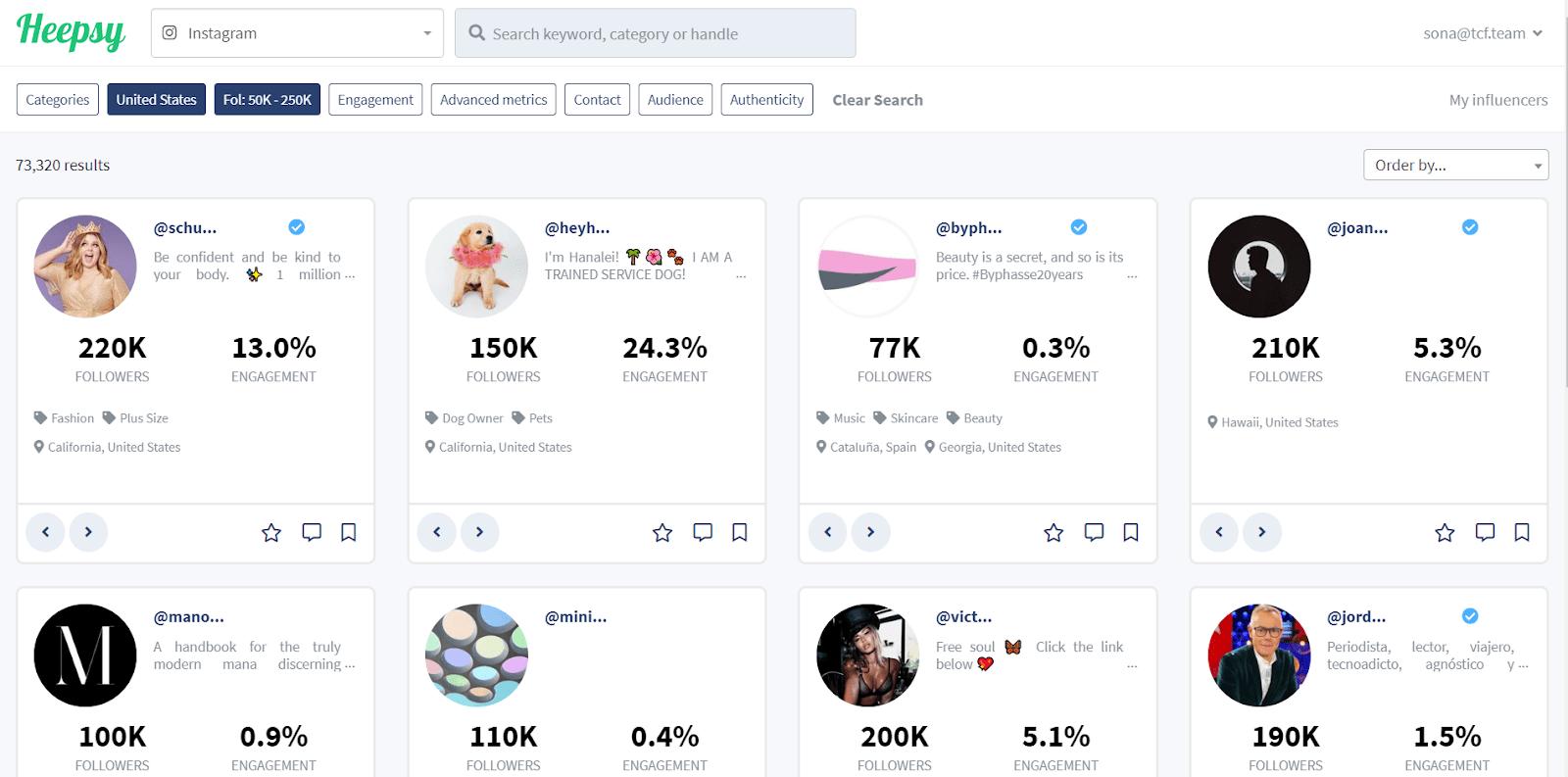 After you find the perfect influencers, you can easily view a report about their audience location, fake/real followers, audience interests, gender, the language they speak, etc.
Click "View Report" to analyze their audience.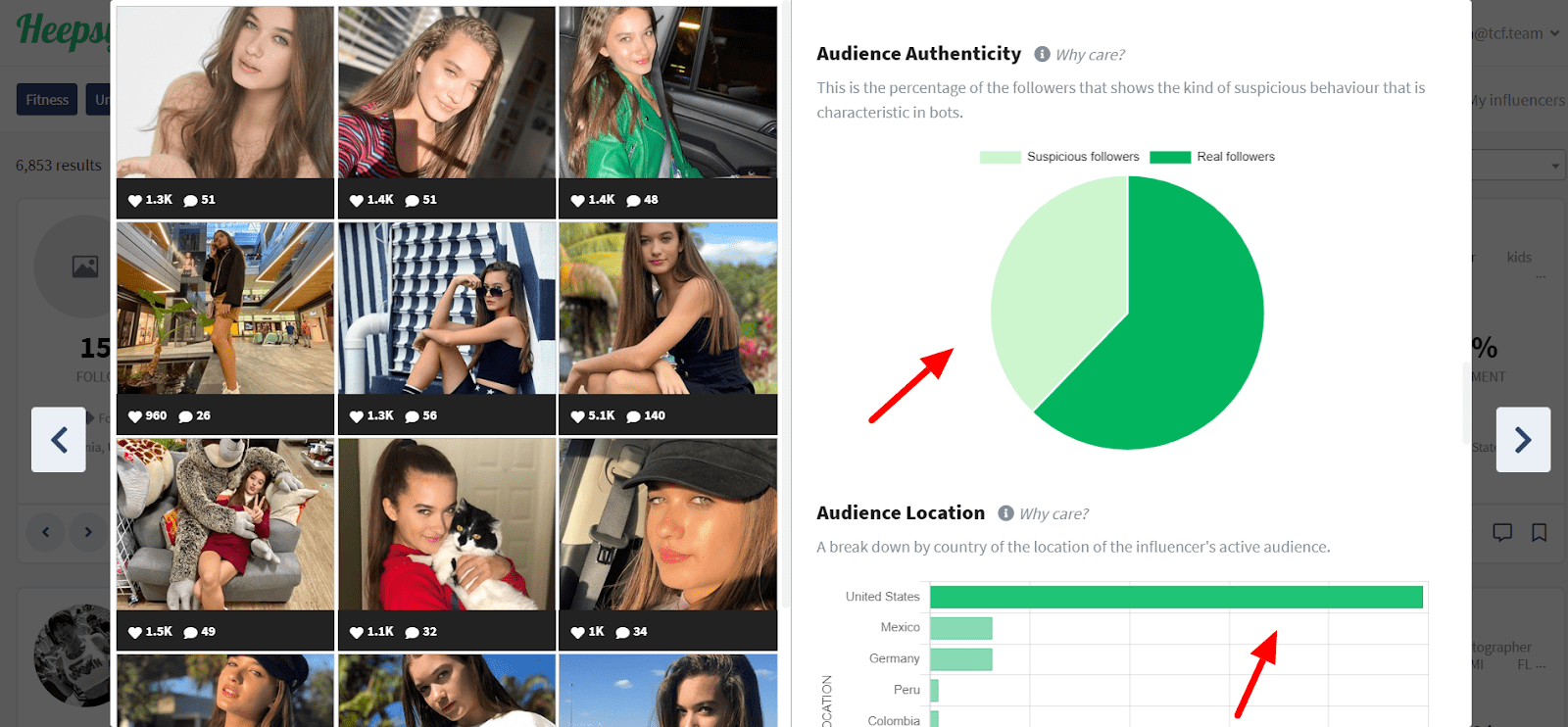 The Authenticity and Location of their audiences
The Gender and Interests of their audiences
As your goal is to promote a product on the influencers' page, you should also pay attention to the performance of promo posts. Keep in mind that it's normal for engagement on promotional videos to be lower than on the ones where the influencer is just hugging her puppy. 
Here comes one of the best features of Heepsy. It shows all the brand mentions in the captions of the recent 12 posts, with the post's likes, comments and engagement. How cool is that? Can't be cooler.
BTW, unlike most of the platforms worth thousands of dollars per year, Heepsy has monthly plans starting from just $49/month. It's pretty reasonable, so even smaller brands and startups can afford it. 
Warning: Don't get married fast.
The numbers don't always reflect reality. Before paying an influencer you need to make sure their influence is as big as their number of followers. Pay attention to their engagement rate.
So, what is an engagement rate and how is it calculated?
Engagement rate is a metric that measures the level of engagement a piece of content receives from an audience. It shows how much people interact with a post. Factors that influence engagement include user comments, shares, likes, and the number of followers.
To calculate an influencer's engagement rate, add the engagements (likes + comments) from all of the profile's posts, then divide the result by the number of followers, and divide it once again by the number of posts to get the per post average.
Or just get the analytics from WeFind, a cool Google Chrome extension. This plugin is really easy to use. A sidebar appears every time you visit someone's Instagram account.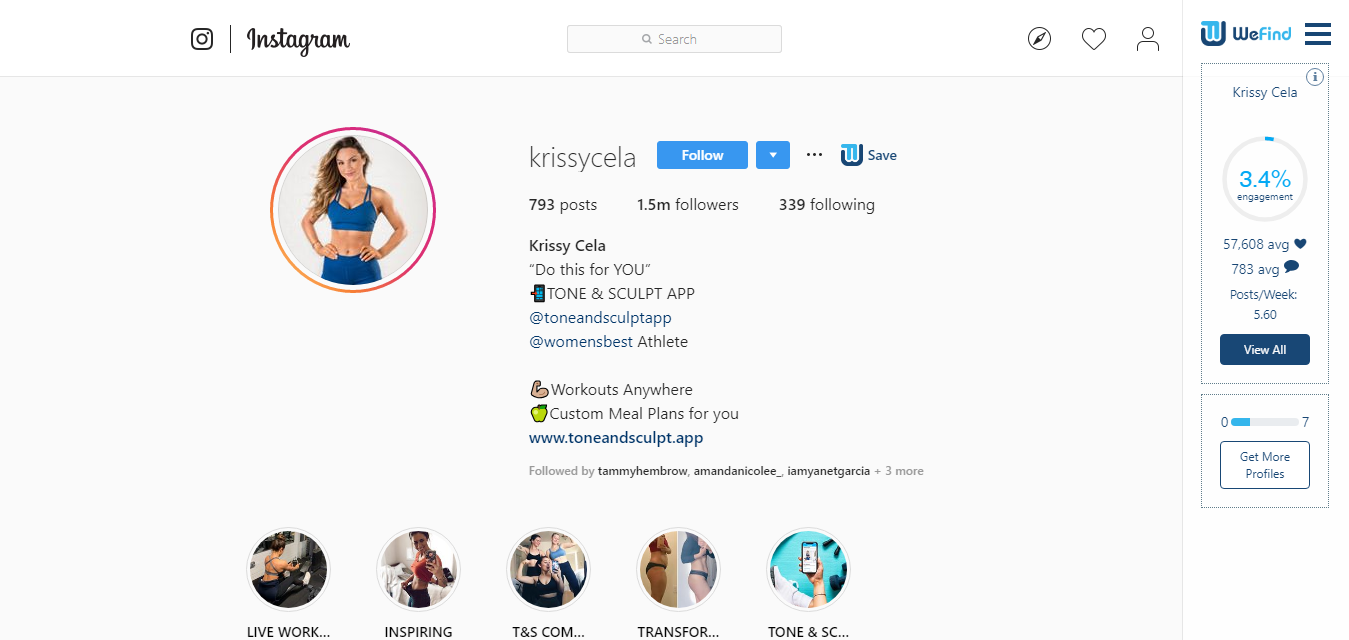 From here, we can see the engagement rate is 3.4 which is pretty high. I consider 2+ a good engagement rate. 
She does about 6 posts per week, has 62K likes, and about 1K comments on average. That's impressive. 
Try testing it on your personal account for fun, it's very interesting. 
Upfluence is another marketing tool that can help you find Instagram influencers, create campaigns, and stay on top of social media activities and trends.
It also allows you to find influencers' other social accounts. Its Google Chrome extension displays the account's engagement rate and some demographic data.
Even if you use the free version, you still can view 10 profiles a day.
Finding Youtube Influencers
1. YouTube Search
Start with a search and find a relevant channel. Then go to suggestions. You'll find similar channels there. Review the list.
2. VidRocket
Use VidRocket to find Influencers that may want to promote your brand. You can browse channels by categories to find the most relevant ones.
Click on the profile and add it to favorites: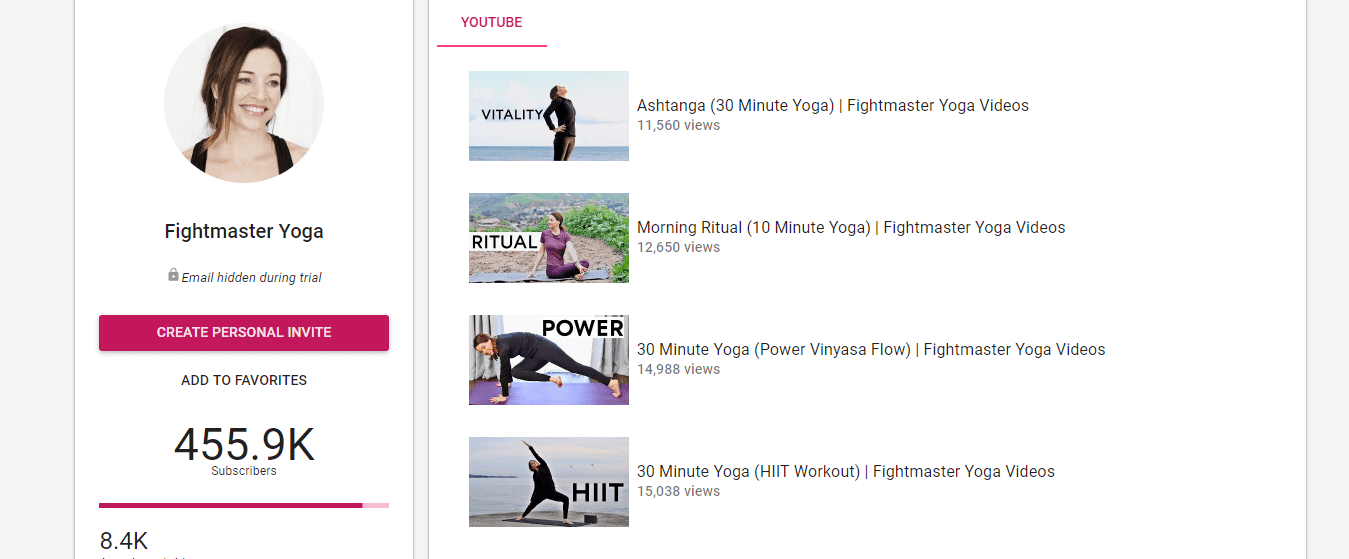 If you have a paid account you can then download the list.
4. WeFind. Works for YouTube as well (see above).
Finding Tiktok Influencers
Even though TikTok is trending, there aren't many tools you can use for its exploration.
That's why I recommend:
Starting the research manually
Go to the "explore page" and look through trending hashtags.

Use Instagram
Another hack you can use is finding influencers through TikTok's official Instagram page. Pay attention to their posts — you can find the TikToker's username at the beginning of every video.
Look up the user on Tiktok. Most will have their emails in the TikTok bio. But if you can't find it, try searching for it on their Instagram profile.
Finding Twitter Influencers 
Twitter is one of the best channels for promoting technology and science-related products. Twitter users like reading about other's opinions and expertise. 
Although users aren't as active and engaged as they are on other platforms, a few tweets and likes on Twitter sometimes mean more than hundreds of likes on Instagram.
One piece of software that I use to find Influencers on Twitter is Followerwonk.
Log in with your Twitter account and use relevant keywords to search through users' bios.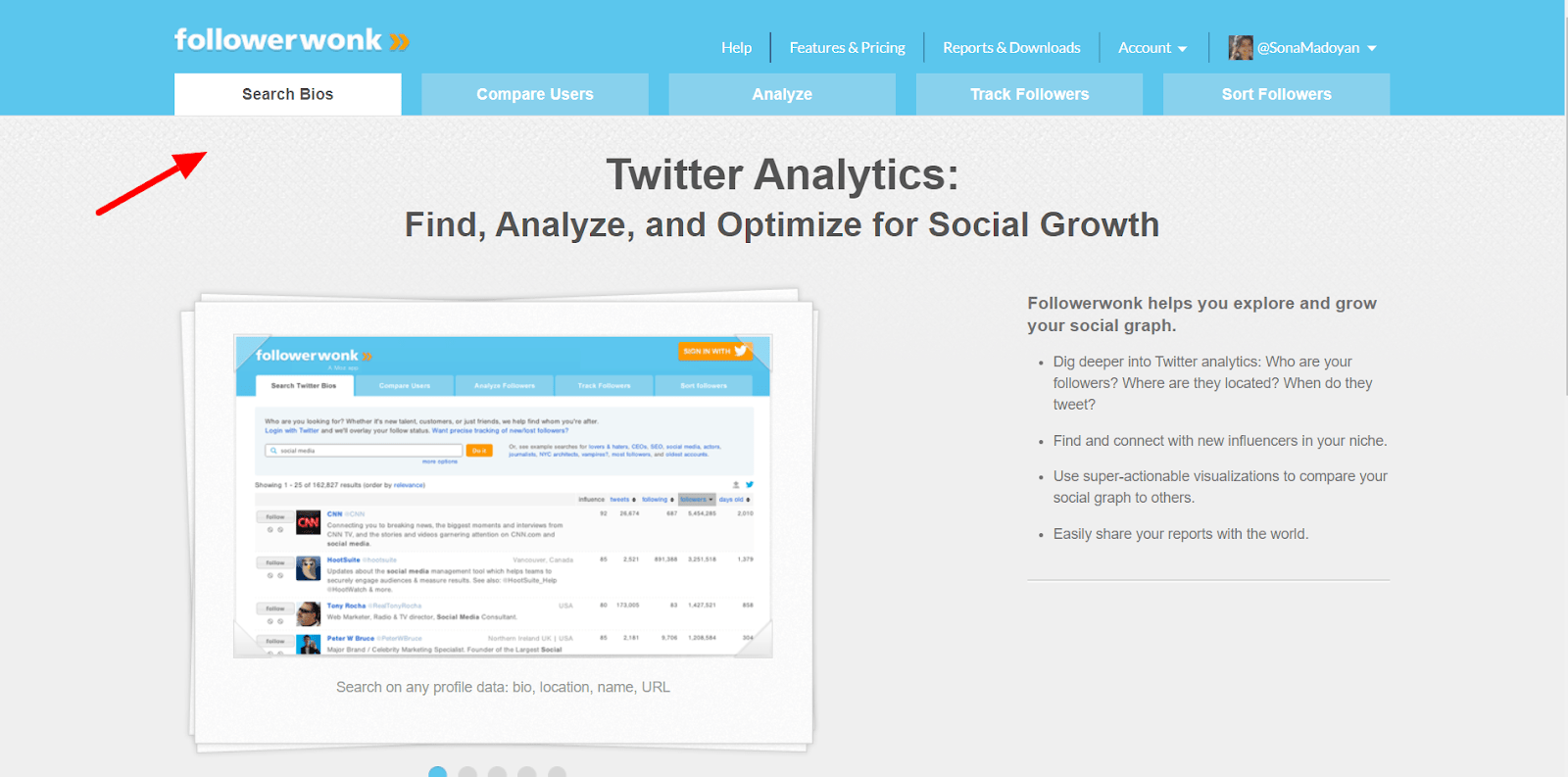 For instance, if I want to promote a data privacy device, I'd start with keywords like cyber security, data privacy, data protection, selecting "search Twitter bios only"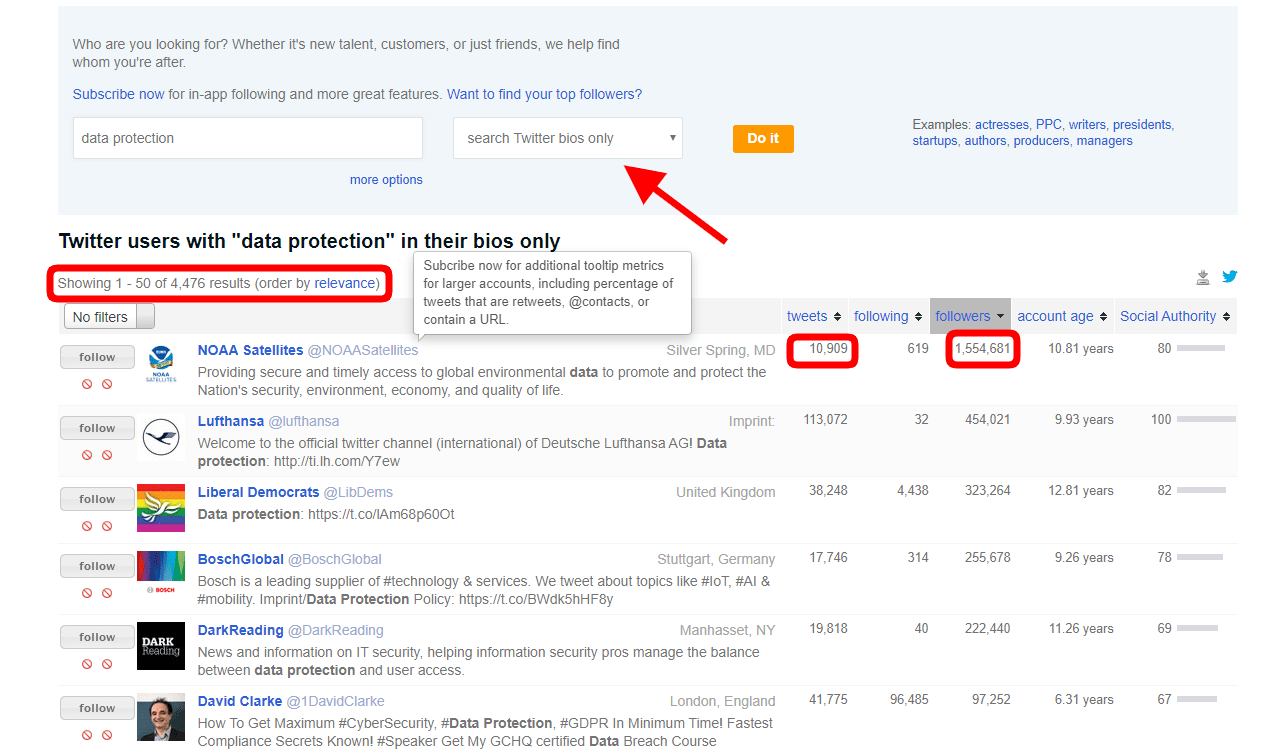 But you'll need to be careful not to outreach your competitors by accident!
The other thing I've started using recently is a function, hidden away from everyone's eye by Twitter. 
Let's suppose you have found a relevant person— Sandro P. 
In the right corner, above the profile's bio, you can find an icon with three dots. It looks simple, but don't underestimate its power. You'll see why now. 
Click on it and pick 'View Lists'.
Then go to the "Member" section. 
You'll find all the lists Sandro P. is a member of.
At first glance, I can see two relevant lists. Let's look into them.
The 'Data Privacy' list has 114 members, who we can assume are interested in the topic. Then, what you need to do is explore their profiles. Trust me, you'll find many relevant influencers.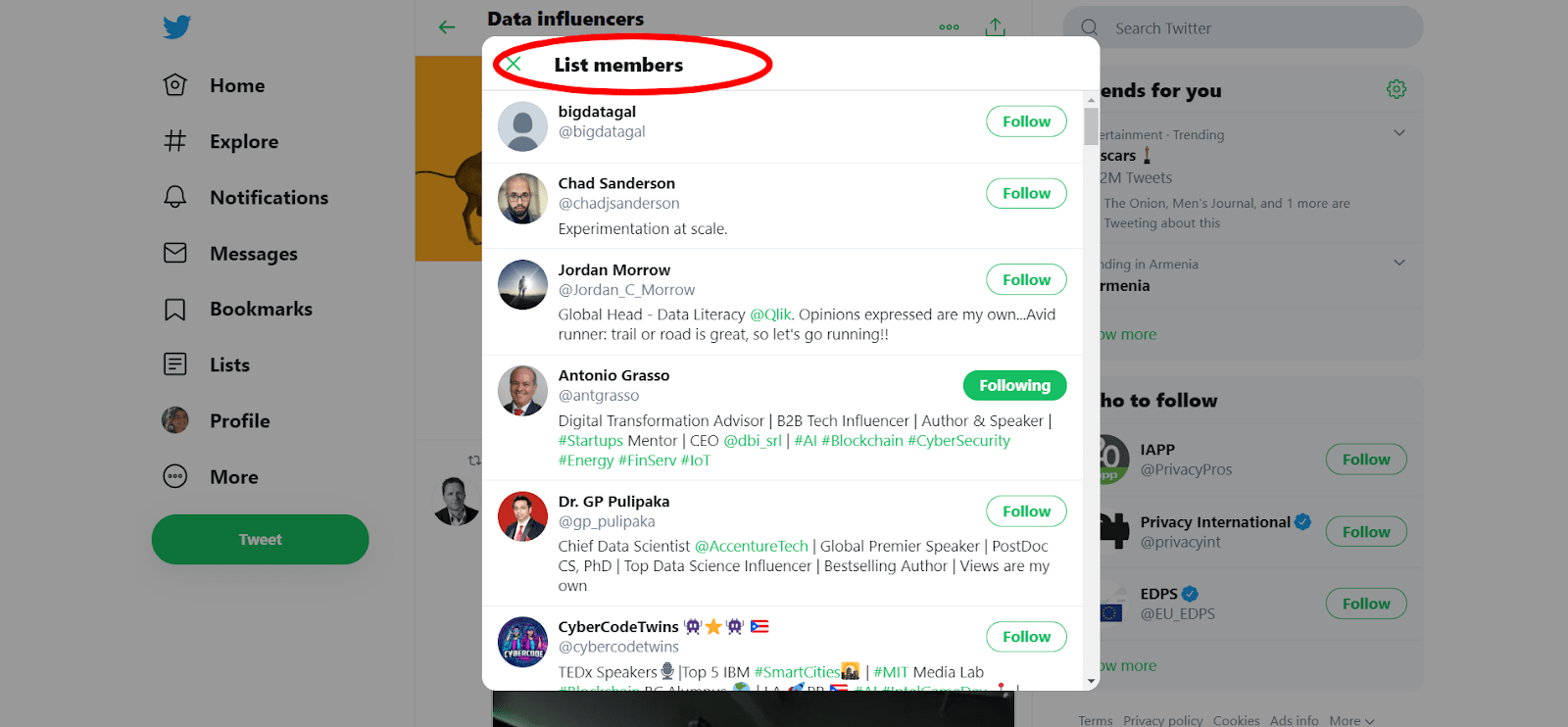 How to reach out to influencers
Research influencers and their engagement rate before reaching out to them. Identify the niche of your company. Whatever industry you're in, whether it's beauty, pet, tech or innovation, have a list ready with the best influencers in the field.
1. Try these outreach tips before you start:
Pay attention to the market.
Are you working on the local market or do you have an international online business? If you have a small brand in Denmark and don't ship internationally, it won't be reasonable to reach out to influencers from Great Britain with an audience mostly from Great Britain.
Research on demographics.
Make sure the age range of your influencer's audience is the exact one you need. If they are mostly teenagers, the chances they'd be able to afford your $500 tech product are low. Men make decisions easier and quicker than women in regard to tech products.
Choose the right platform.
Not every product can be easily promoted on Twitter. For tech products Youtube and Facebook are really great, for fashion and lifestyle products always opt for Instagram. Pet products can be easily and successfully promoted both on Instagram and Tiktok.
2. Build a strong bond with the influencers
Ever wondered why your messages were left unopened or your genius idea was ignored by the influencer?
Here is why:
They don't know who the hell John Newman is. They get a lot of promotional auto DMs, final sale messages, and promotions like the rest of us — the difference is they get ten times more. Tons of messages, cold emails, and flooded DMs are part of their everyday life.
3. The solution: Grab their attention
Before you knock on their door with your brilliant offer, make sure they have noticed your name several times.
Let's imagine you're on Instagram, and you've found that one influencer.
Go ahead:
follow him,
comment on their photos,
tell him your unique opinion on his thoughts,
tag him on your posts,
comment if you have an offer and ask to check the DMs.
4. Be clear about your offer and your expectations
Influencers receive hundreds of emails and DMs regularly. So be specific with your offer and don't just tell them how much you love them and how passionate you are to be featured on their page.
Be specific on what it is you offer and what you expect from them. And remember to leave the door open for negotiations.
Be ready to compromise.
If your content is really engaging and not too promotional you have a chance of being posted without additional payments and fees.
However, the more popular an influencer is, the more they will expect to receive. That can be a fee for a post, or a commission from the purchases coming from a link (read more about affiliate marketing here) or a discount special for their followers. Some will just need a sample as a gift to try out to create a review on IG or a blog. You can also check out Shane Barker's list of affiliate marketing tools to monitor your campaign.
What to include in your offer when reaching out to an influencer?
Always mention the number of content pieces you expect over a specific period.
Outline how you plan to use their content and verify which channels.
Be clear on what call-to-actions you want the influencer to use in their campaigns.
Define captions, hashtags, campaign tagging, and link placements.
If your goal is brand awareness, mention the number of views you expect to receive when they post the content.
5. Don't limit their creativity
Remember all the things I told you about expectations? 
I forgot to mention that you should never limit your influencer's creativity, unless it harms your brand.
The more unique, personalized, and natural the promotion, the better it works for them and you.
Always leave room for influencers to get creative and act authentically because their followers love them for who they are. A true influencer knows what content his fans want to see and hear.
6. Give backlinks and express your love
After they have posted your content don't forget to thank them and ask them to add you to their contacts. This is so you can keep in touch and work with them in the future.
Remember to stay tuned in to their activities. Follow all their social media channels and blogs. Always comment and share their posts and photos on your page and mention them while providing backlinks to their pages, blogs, and accounts.
---
If implemented in the right way, influencer marketing can be a key driver in building brand equity and value. The key is to find the right influencer who can tell your brand's value proposition in an authentic way. If the influencer actually derives value from your product and cares about your brand it will shine through their testimonial and inspire their followers.
Influencer marketing is also being widely used during Kickstarter campaigns, as crowdfunding products need this kind of promotion and brand awareness more than others.
And last but not least, don't be shy to reach out to an influencer with an offer. You have nothing to lose if they don't respond, but a lot to gain if they do.
Better an OOPS!, than WHAT IF …
I hope you'll find these strategies useful. Keep reading if you want to know how to attract Facebook marketing partners and grow your business.