If you're here, it means you've probably gone through the initial stages of the following processes:
The final piece of the puzzle will be creating a Kickstarter marketing strategy and promoting your campaign. And that's what we'll be covering in this particular article.
Crowdfunding is an excellent way to introduce new products to a market if you still need to get the budget for mass production. And while there are more benefits to launching your product via crowdfunding instead of going straight to mass markets, that's a story for another day.
Now let's focus on the task. Assuming you've researched and understood how everything will pan out, it's time you learn all the important ways to promote your campaign and raise money.
The biggest challenge of Kickstarter marketing (or crowdfunding marketing in general) is that while it is similar to any other ecommerce product marketing when it comes to most marketing channels, it's vastly different regarding implementation.
Crowdfunding means your final product is not ready and instantly available. It means you have to be way more persuasive to instill trust and get people, journalists, influencers, and everyone else to support your project.
Mission impossible. Now let's dive in and see how.
Kickstarter Marketing Tips
Before diving into the step-by-step guide to separate marketing channels, we have something essential to cover first. These are small but mighty know-how that you might need to look into or deem unimportant. But I promise you they make a world of difference.
Mind the differences between Kickstarter and Indiegogo when launching
One of the key differences between the two platforms is that Kickstarter needs about three days to approve your campaign, whereas Indiegogo does that instantly. Depending on your timeline, keep this in mind to avoid issues.
But this is only one example. There are more differences you should know about. You can read them in this article.
Launch a Kickbooster campaign right after you launch on Kickstarter
Kickbooster is an affiliate marketing platform for Kickstarter and Indiegogo. It helps creators run and manage their affiliate marketing programs in an all-in-one integrated platform.
Set up a campaign on Kickbooster and push your media partners, social media influencers, and affiliate marketers to promote your product and earn commissions.
Note that all this can take some time, so you should start preparing for a Kickbooster campaign a couple of days before, i.e., setting up your Kickbooster page and making sure all necessary materials (like copy and visuals) are in place.
Make your highest-ticket reward the most appealing to backers.
If you want your backers to order a particular reward, you can make it appear more appealing, even if it's the most expensive.
How?
You make purchasing decisions by comparing similar products (rewards, in our case) side by side. To make the comparison work in your favor, simply create a cheaper reward with significantly fewer features and highlight the difference. Although people will clearly see the other reward is more expensive, most will still prefer the version with more features. And whoever doesn't still get to choose a reward that fits their budget.
Set a quickly-achievable funding goal
Setting a funding goal that is both realistic and achievable is crucial to the success of your Kickstarter campaign. Take time to research the costs and determine how much funding you need to bring your product to market – factor in any unexpected expenses that may arise during the production process.
It's also important to remember that reaching the "green bar" effect and surpassing your goal within the first 24 hours will unlock more resources for you to use – starting from your campaign's reputation to how to position your campaign for backers, media outlets, and more.
So, choose a number somewhere in between one that's realistic and one that is quickly achievable.
Setting a funding goal that is too high can discourage potential backers because they know the risks of failure are high. On the flip side, setting a low goal may not cover your costs and look less reputable.
Build a community of excited potential backers
Building a committed following before you launch your Kickstarter campaign will help ensure its success.
You can accomplish it in multiple ways:
Pre-launch lead generation
Social media
Early announcements in relevant communities, newsletters, groups, etc.
Make sure to offer early-bird discounts or exclusive perks to backers who support your campaign during its early stages. The success of your Kickstarter campaign's first 24-48 hours heavily depends on your existing early community. From there, if you do everything right, there should be a snowball effect.
Always keep your backers informed
Once your Kickstarter campaign is underway, it's essential to keep your backers informed about its progress – whether positive or negative. It is the key to keeping your campaign and your brand approachable, relatable, and human.
Regularly update your campaign page with news and information about how it's going, where things stand vis-a-vis production and shipping dates, etc.
More importantly, respond promptly to any questions or concerns your backers may have – whether in comments sections or direct messages.
Submit your product to Backer Communities and another newsletter
Newsletters are one of the best ways of reaching thousands of people without breaking the bank (depending on the newsletter, of course). But most importantly, submitting your product to backer-oriented newsletters and listings means people already prone to supporting crowdfunding campaigns see your campaign.
There are tons of Backer communities, including Tech I Want, Product Hype, Gadget Flow, BackersHub, and more.
Backer communities are out of the competition regarding crowdfunding campaign exposure. Being included in these listings and newsletters is more effective.
How to Promote Your Kickstarter Campaign: Kickstarter Marketing Tips
Now that we've covered some of the most basic, cost-effective, and resource-saving steps of ensuring your campaign succeeds on Kickstarter, it's time to take it up a notch.
There are many marketing channels to utilize, but not all campaigns necessarily need or can do it. We're here to rectify the latter because, if you're reading this article, it means you want to raise the maximum amount of money through your campaign and become a success.
In this section, we'll go in-depth about the following four Kickstarter marketing directions:
Advertising
PR
Influencer marketing
Social media marketing
Let's jump right in.
Kickstarter Marketing: Paid Advertising
Advertising for Kickstarter versus eCommerce advertising is similar in theory but utterly different in execution.
In the tips below, we reveal the whole arsenal of hacks — from finding customer insights and hidden interests to creating lookalikes, and new ads, tracking them, and much more – to help you achieve unprecedented results.
Use the Audience Insights tool
Understanding audience insights is a crucial part of your Kickstarter marketing campaign. If you want to understand your audience better and create content that resonates, you'll need Audience insights. This tool gives you information about your people specifically connected to your page and all people on Facebook.
There are many ways to use Audience insights, but here's the one we love most.
On the left side of the page, you can see the following metrics by which you can filter your audience.
Below we've selected "Electric bicycle" as an interest and narrowed the age to 25-45. To see what pages people in your selected category like, click on the "Page likes" section.
Scroll down a bit and sort by Affinity to find out how likely your audience is to like the given page compared to everyone on Facebook.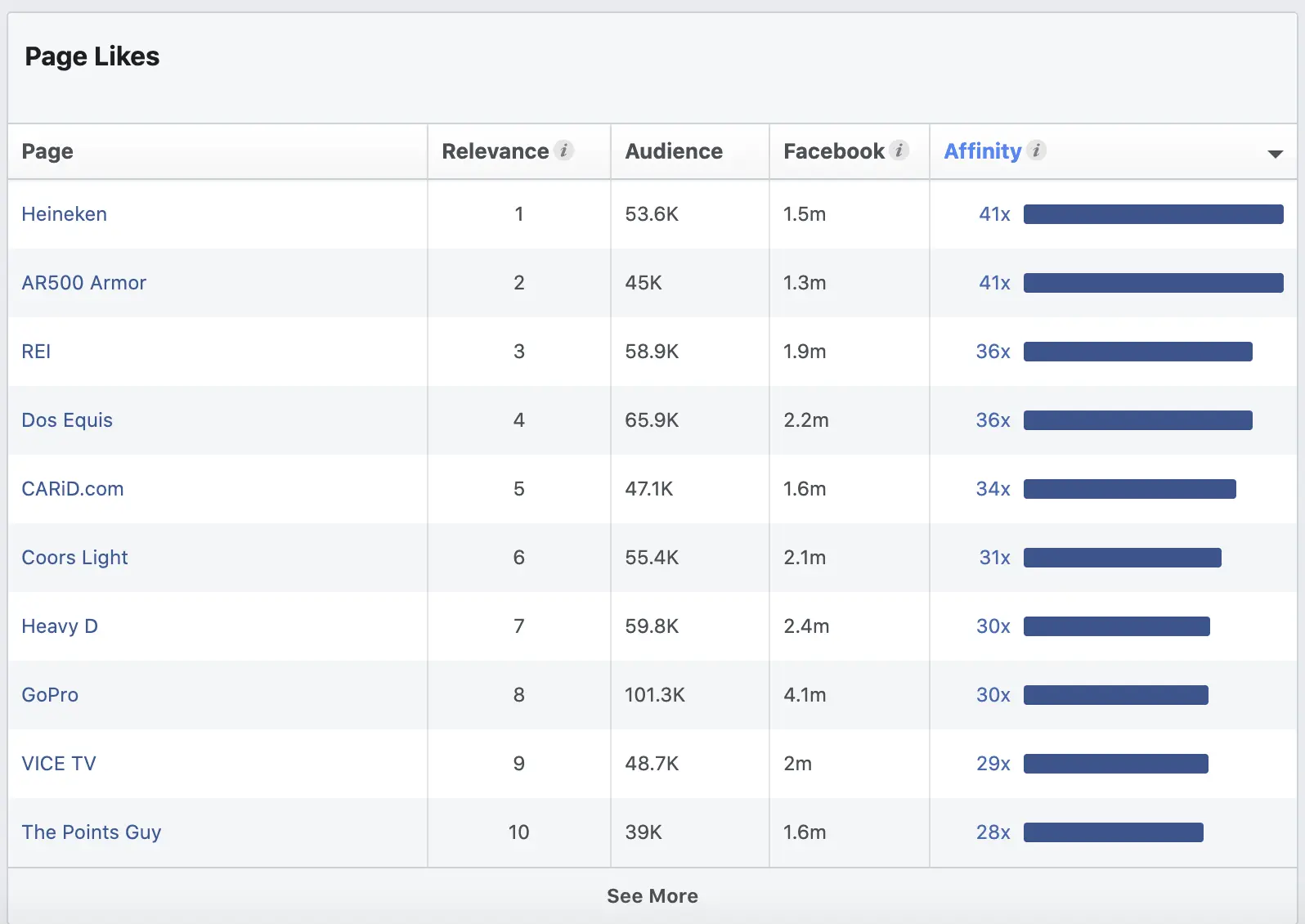 Once you have this helpful information, you can use those page names as interests if there are interests for those pages. But there's even more to the Audience insights: After putting the interests you want, the locations, and age/gender, you can save that audience, and it will appear in the selected ad account.
So next time you need a similar audience for your ads, you know you already have them saved!
Our recommended tools for finding hidden interests: Engine scout/Audience builder
Finding your audience's interests is crucial for your ads' success.
However, in the suggestion part, Facebook usually only shows some of its interests. That means you might miss out on hidden interests, which could significantly contribute to your ads' success.
But the good news is that with Engine Scout and Audience Builder, you can instantly reveal those hidden interests. Let's see how each of these handy tools can help you.
With Engine Scout, you can find not only your audience's hidden interests but also their audience sizes. This marketing tool gives you a clear idea of how big those interests are and whether it's worth investing in them.
Input the primary keyword in the search bar (in our case, it's 'pen') that describes your product and hit Enter. Now you can see all the interests that contain the word "Pen:"
And next to each of them, you can also see their audience sizes in the ads manager and their respective categories.
Another great tool but unlike Engine Scout, it also helps you find related keywords/interests:
Once you type the keyword, the tool brings other suggestions to your primary interest. That is very cool and useful when you feel you're running out of ideas.
Experiment with lookalikes
Anyone dealing with ads knows the power of using lookalike audiences, i.e., a Facebook segmentation tool that finds new potential customers who share the same interests and behaviors as your existing customers.
However, only a few know that it's possible to apply lookalike audiences with worldwide targeting without using any interests.
Instead of targeting via interests, you can try something different – targeting via audience-specific copy.
For instance, if you are targeting young people with some specific interest, you can include some words or expressions in the headline/body text of your copy that they commonly use. That would be different from the language used by older people.
Here's a similar youngster-friendly ad:
With its AI, Facebook will determine people engaged with your ad and show it to more and more similar people who would be interested.
As a result, you'll have more customers interested in your product and become your potential backers.
Another Kickstarter marketing strategy is to create lookalikes from different custom audiences that you use for retargeting. These could be people who added your product to their carts or visited your page. As you can't be 100% sure that these people have purchase intent, you can use them more effectively by specifying your targeting with interests like engaged shoppers, online shopping, ecommerce, etc.
It's important to remember that people in lookalike audiences already have certain things in common so that you can stay narrower. Instead, there is an option to create lookalikes with up to 10% of the audience size range. This means that depending on how closely you want to match your lookalike audiences with your existing audience, you can choose a lookalike audience size that's anywhere from 1% to 10%, the 1% including only those people who most closely match your existing audience.
Usually, the best working ones are those till 3%. We suggest creating three lookalike audiences (1%, 2%, and 3%) (with specific countries or worldwide) and targeting them separately or in one ad set.
Optimization for value
If, during the past week, the conversions in your ad account exceeded 25, they'll offer you an optimization type called "Optimize for Value."
When optimizing for value, Facebook's machine learning predicts how much return on ad spend (ROAS) a person may generate. Based on this prediction, they bid for your highest-value customers, maximizing the ROAS for your campaigns.
So instead of maximizing the number of your purchases, in this case, you maximize the value, namely the revenue a person generates within a day or a week for a given purchase event.
After selecting this option, you can write the minimum ROAS you want from the ads.
Of course, when doing so, remember that this should be a reasonable number and try to resist the temptation to put, let's say, 6 min ROAS. It won't work correctly as the workable minimum ROAS might differ from campaign to campaign. Instead, you can start from 2 (probably not the best min ROAS) to 3. It will allow you to test and understand the best one for you and only make Facebook work for you.
Bidding
Bidding is the amount of money you are willing to spend for 1 unit of conversion. Facebook runs automatic auctions all the time because there's no way you are targeting an audience that other advertisers are not already targeting.
Of course, when choosing the bid winner, Facebook also considers factors such as product relevance, quality of creatives, appealing copy and call to action, attractive offer, etc.
Now let's talk about how to bid and what types of bidding are available on Facebook in case of ceteris paribus (when all other conditions are the same).
First of all, you should choose your preferred bid strategy right on the campaign level to tell Facebook how to bid in the ad auction.
Let's see which strategies are available.
The highest volume tells Meta how to bid in the ad auction. When you use the highest volume bid strategy, Meta will aim to get the most results possible from your budget.
For example, an event planner could use the highest volume bid strategy to get as many people as possible to attend a music festival, where the cost per attendance doesn't matter.
It is best if you:
Care about spending your entire budget.
Want to get the most results possible from your budget.
Don't have a specific cost per action (CPA) goal.
Need clear goals to measure or define success (for example, a 110% return on ad spend).
Additional tip: the highest volume bid strategy needs to optimize for CPA. Meta will aim to get you the highest volume of results available, but your CPA may fluctuate. For example, if auction competition decreases, costs may go down. If auction competition increases, costs may go up.
Cost per result goal is another bid strategy option. The goal amount you provide is the average amount Meta tries to deliver throughout the campaign lifetime while dynamically bidding as high as needed to maximize results. It means that the average cost per result may exceed the set amount.
It is best if you keep your cost per action (CPA) around an average amount regardless of market conditions?
Keep in mind:
Spend may be slower with cost per result goal than when using the highest volume bid strategy. If you don't have strict CPA goals and care more about spending your whole budget, the highest volume may be a good option.
The learning phase may take longer with the cost-per-result goal than other bid strategies.
During the learning phase, expect more cost fluctuations.
Once an ad set has exited the learning phase, delivery should stabilize, and we will aim to optimize your campaign according to the cost-per-result goal you specify, but it is not guaranteed. You may see costs exceed the goal you set.
If you typically observe conversions over a much longer window than seven days post-click, you may keep more substantial fluctuation in spend and CPA. However, performance should stabilize over time.
Not all optimization goals are available for cost-per-result goals.
ROAS goal (return on ad spend) is when you set a ROAS goal, Meta tries to deliver against that over the campaign's lifetime, dynamically bidding as high as needed to maximize results. In this case, optimize your ad set for purchase value to use this bid strategy.
For example, if you want your budget of $100 to result in at least around $110 in purchases (or a 110% return), you'd set your ROAS control at 1.100.
It is best if you:
Want to keep your ROAS around an average amount throughout your campaign?
With the highest-value bid strategy, it would be best if you had more control over the purchase value you generate from ads than possible.
Keep in mind:
If you set too high a ROAS goal value for Facebook, the delivery may sometimes stop, and your may need to spend the budget in full.
Meta will aim to stay around the ROAS goal control you specify, but it's not guaranteed.
Higher-value bidding may be a better option if you care more about spending your budget in full than staying around a certain ROAS.
To use the ROAS goal, you must have a functional Meta Pixel, or Facebook SDK set up to track conversion events and meet the eligibility requirements for value optimization.
During the learning phase, expect more ROAS fluctuations.
Once an ad set has exited the learning phase, Meta will try to keep ROAS around the amount you specify, but it is not guaranteed.

ROAS goal vs. the highest value
With the ROAS goal, there needs to be more guarantee of spending your budget in full. That is because Meta might need help to meet your required ROAS goal value constantly. Instead, they'll aim to get you the most opportunities possible while staying around the ROAS value you set.
The highest value tells Meta's system to try to spend the entire budget by the end of the ad set's schedule while maximizing the amount of value you get from purchases.
Bid cap strategy means Meta will set a maximum bid across auctions (rather than allow Facebook to bid dynamically based on your cost or value goals). The bid cap is for advertisers with a strong understanding of predicted conversion rates and can calculate the correct bid according to profits.
It is best if you:
Use internal bidding or LTV models.
Control how much Facebook can bid in auctions.
Keep in mind:
The bid cap doesn't control the cost per action you see in reporting and requires more frequent bid changes.
If you use a bid cap, you should be able to calculate bids based on projected conversion rates and marginal cost.
Scaling
There are several methods for scaling to get great results.
10% to 20% Scaling Strategy
One of the most effective ways to scale the Kickstarter marketing strategy for your well-performing campaigns is by raising their budget from 10% to 20% of the overall budget, depending on their performance.
You have a well-performing campaign with a $50 daily budget. To do so, you can start by increasing its daily budget by $10 (20%) and wait for 2 or 3 days to see what kind of impact it has. After a week, you see you get stable results and want to get more.
If the performance improves, scale it again with 20%, which will be $12. Continue these steps after 2 or 3 days and check the results.
One of the best things regarding this strategy is that if you scale your campaigns up to 20% every time, there would be no disruptions in the learning process as the amount is not very big.
It won't impact ROAS either, as you don't scale it too much or drastically, keeping everything in your control.
Another cool thing you can try with this strategy is to scale your audience size with the budget scale. Every time you scale your budget, you can raise your audience size (i.e., expanding on demographic factors).
Creating new ads
Creating new ads is another excellent scaling strategy. Always try to make ads that would outperform your previous ads. You can also reach new targets and expand your reach. This strategy will always work if you do it right.
Duplication
The third scaling strategy is about duplicating your best-performing campaigns or ad sets and putting a higher budget from 30% to 50%. Moreover, you can copy the turned-off ads that once performed well and change the creatives for better results.
Always use three types of ads.
You never know what type of ad will attract your audience. That's why we recommend that you create at least three types of ads:
Here are several visual hacks that worked perfectly for all of our campaigns.
Carousel ads
Split the image into parts to create something that stands out and is unique.
To create these kinds of images, search Google for different gradient backgrounds.
Then make your product image with a transparent background, and put it on these images.
Boom!
Short thunder-videos
They are easier to create with a video maker, but there's always a way if there is a will.
Arrow images
Use different types of arrows on the images to point to the product or a specific feature and grab attention.
Changing letters in ads
Facebook has a lot of restrictions when it comes to words you can or can't use. During the pandemic, it was susceptible to using "mask" in all ad copies. To bypass this rule and avoid being blocklisted, you can a) replace the letters with similar ones from other languages (masк) and b) use other characters or symbols instead (ⓜask).
Tracking on Kickstarter
There are a couple of ways to track your results: Facebook ads manager, Kickstarter dashboard, and Google Analytics.
Here we'll discuss how to track your results on the Kickstarter dashboard and Google Analytics.
1. Tracking the ads revenue of Kickstarter projects takes work. There are a few reasons for that.
To track the results of your Kickstarter projects, you need to create referral tags on the Kickstarter dashboard.
Once the tags are ready, take the generated link and put it in your ads. Now, whenever your ad brings conversions, you will see it on the Kickstarter dashboard immediately.
2. To track the ads in Google Analytics, you must create UTMs from the generated tags. You can do this directly from Ads Manager or use UTM Builders.
If using the Ads Manager, click on the "Build a URL Parameter" option above the Website URL field. Next, fill in the source, medium, and campaign name (as shown in the screenshot):
3. Now you can track the results in Google Analytics by searching for the source and medium you wrote.
Of course, these tracking methods are not 100% accurate, and you may miss a certain percentage sometimes. Thankfully, the last update from Kickstarter now allows putting a pixel ID inside the project, which makes the tracking much easier and more accurate.
Kickstarter Marketing: PR
Doing PR for crowdfunding campaigns can generally be divided into two stages: pre-launch and live.
Pre-launch is mainly about finding the right journalists and media outlets for you.
The second step in a successful crowdfunding outreach starts when you launch by sending pitches and following up on them.
To help you do all this effectively, we have compiled a few super handy tips to help you find relevant journalists easily and quickly. You'll learn how to grab their attention and make them want to write about your product!
Offer them exclusivity to cover the story under embargo.
It's essential to reach out and contact journalists and media outlets before you launch. Send journalists an exclusive sample of your product under the Embargo term.
The embargo is a media term where the information source, namely you, requests the journalist or media outlet not to publish it before a specific date.
It is a win-win solution for you and the journalist. On the one hand, you save time on sending samples and getting review coverage; on the other hand, the journalist gets the story covered ahead of all others!
Create a compelling and media-friendly press kit.
A customized press kit is the first point of information that journalists receive about your product and crowdfunding campaign. The more detailed you make it, the easier for a journalist to write a story about your product without needing another reliable source of information.
A proper press kit should include an interview with the founder, FAQs, pictures of your fully assembled product, and videos and gifs showing it in action.
Here are some examples of press kits from UVMask, Pico, and Poma.
Write a compelling press release
Your press release is your primary tool for getting word about your product or company out to the world. Sending it to journalists and getting them to publish your story gives you the authority and credibility you need for your potential customers to trust your new product.
The ideal length of a press release is between 300-500 words. To collect your product information most logically and effectively, try to answer the following questions in your press release.
What?
Where?
When?
Why?
Who?
How?
You might emphasize the answer to one of these six questions more than others, depending on the focus of your campaign.
Here is an example of a press release our team wrote that performed exceptionally well and got picked up by various journalists. It follows the formula mentioned above and presents information in a very structured manner.
Nail a perfect subject line for your pitch
If you were a journalist and saw an email come through, what would make you open it?
In general, the best subject lines are short (50-60 characters) yet catchy – giving the recipient just enough information but leaving room for curiosity too!
Here are some hacks to look into when drafting the subject line for your pitches:
Use the journalist's name to make it even more personalized.
Add a little touch of humor and creativity
Use words like "embargo," "exclusive," etc.
Here are a few subject lines with high open rates from our pitches:
STORY IDEA: "Short product description."
Trying to reach you, "name."
Here is a news tip for you, "name."
"Name," your readers will love this
Write a convincing media pitch
You've found the journalist and crafted a subject line that is catchy enough for him to click on and hit "Send." But he won't open.
What's going on, then? Your pitch isn't working!
Here are some tips to make your media pitch stand out from all of those other emails in their inbox.
Think of your pitch as a chance to introduce yourself (your name, position, and company you represent) and clarify what makes your product relevant for this particular reporter.
Remember, journalists are busy people who get many different pitches daily. They won't spend time on something irrelevant to their beat. To help the journalist understand your product easier and faster, also make sure you include its brief description, mentioning the key features and benefits.
Here's how we did this for one of our products, the UV mask:
And here are a few other tips for writing a perfect pitch:
Don't make evaluative and unjustified judgments on your product. Instead, provide facts to support its uniqueness and highlight its difference from similar products.
Include data, statistics, and other third-party opinions that support the need for the product (include their links for journalists who want more details)
Use bullet points to make your email short and visually attractive.
Embed a link to your press kit in the email.
Keep your email concise: Stay under 190 words.
Follow up on your pitches
We advise sending out the first follow-up pitch two business days after sending the original one.
One hack we have been using lately is using a storyline in our follow-ups. In each of the emails in our follow-up sequence, we include interesting facts about our project!
Here's what we did during the PomaBrush campaign: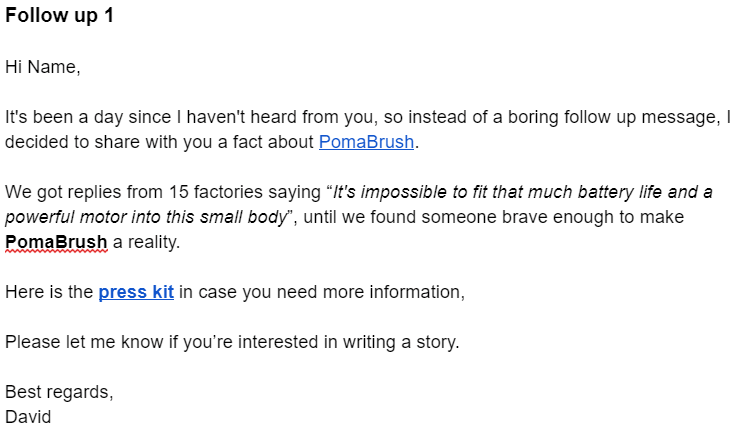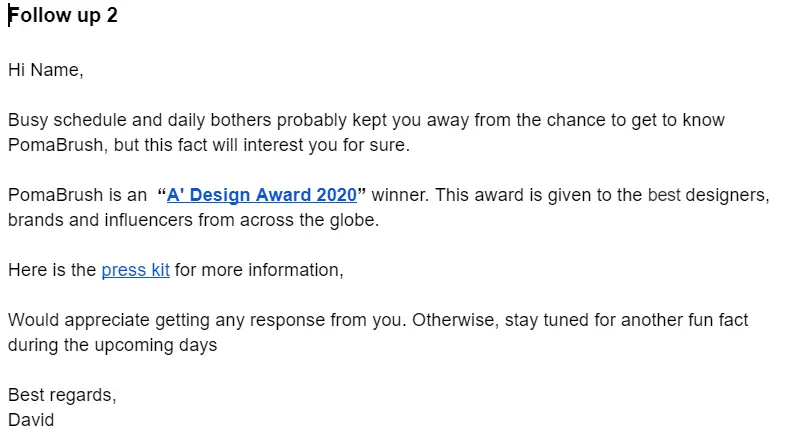 Align the visuals for your pitches with the style of the publication you are pitching
Mimic the same style of those reputable media publications journalists contribute to for your product shots. This minor tweak will create a sense of belonging to their articles and entice the journalist to approach your product pitch through a different – more personable – lens.
Use bulk pitching tools and email validation services
Sending each journalist an individual email may take ages; that's why there are bulk emailing platforms, such as Streak or Mailshake, that automatically send pitches and follow-ups to many journalists at once.
Before sending your pitches, ensure the journalist emails on your list are correct and available. The only thing you have to do is import your mailing list and wait for it to be verified before sending out those emails! Different services, such as Zerobounce, can help you here.
Additional tip: Avoid sending emails from a personal address. Assuming you already have a landing page/website with your brand domain, create multiple email accounts for all types of outreach.
Reviews before samples
Suppose a journalist agrees to cover the product but requires a sample to review it, which you don't have; here's what to do. Negotiate with them and ask if they would be willing to cover the project while you're doing your best to get the sample ready for them.
If they agree and cover the topic, you can send the sample to them once you have it. The journalist can then update their coverage with a review or unboxing. This way, you get two stories instead of one.
Here's a similar review of unboxing for PomaBrush by Tech Advisor:
Influencer Marketing and How to do it right
The role of Influencers in Kickstarter marketing and promotion is huge now. However, questions arise regarding finding the right influencers, negotiating terms with them, and collaborating. This section addresses all your influencer marketing-related concerns with a few handy tips that will turn your experience with influencers into something fruitful.
Include a clear message in your subject line
Like journalists, influencers are busy people who don't need your bedtime stories. What works for them is your specific offers, your expectations, and their benefits.
One of the most effective subject lines we tested is quite simple:
"Influnecer's name >< your brand name>: Collaboration offer"
This subject line always gets us at least an 80% open rate.
Show a personalized approach to your influencers
Before you reach out to an influencer, take time to do your research. Read the influencer's page description, and pay attention to their last posts/ stories so you can refer to them in your email or call.
These little things can make all the difference and will give the influencer more of a positive attitude toward you!
Also, avoid bulk messaging at all costs, but if you use this strategy, ensure every recipient is personalized as much as possible.
Check the influencer's engagement rate
If you see an influencer has 100k followers, it sometimes means those people engage with the influencer's content. To learn more about their engagement with the content, check out the engagement rate and get insights on the likes and comments the influencer's posts get.
For example, if you find out that an influencer has 50k followers but a 20% engagement rate, know that sometimes it's better than finding an influencer with 2M followers but a 0.1% engagement rate.
Say no to one-time collaborations
Most people need more than one interaction to make buying decisions.
That's why one-time collaborations are only sometimes effective. When negotiating, always agree on several posts and be as creative as possible about different types of posts.
Try to space out the posts – ranging from unboxing stories and giveaways to special discounts or morning routines using your product, etc. – so the product naturally integrates with the influencer's lifestyle.
Use visuals you get from influencers
If you have reviews from influencers using your product, ask for permission and use them in your ads and other channels. Their targeted audience will easily recognize their faces and take an interest in your product, adding more value and credibility to your brand.
Make a compilation video with influencers' posts. Take two or more videos from your influencers, put them together in one, and pin the influencers' usernames somewhere on the videos.
Pay only for the results
When negotiating terms with an influencer, agree with them to pay based on particular results. For instance, you can agree to pay $20 upfront for the influencer to make a post and an additional $100 after they bring desired results, i.e., the post reaches 100k views, or when you have 100 conversions, etc.
Sometimes, these terms are hard to negotiate, but influencers don't usually turn down reasonable offers.

Reach out to Facebook Group Admins
No matter how niche the targeting of your product is, there is an active Facebook community that will always be open to collaboration.
Search for Facebook groups that cater to your target audience, and reach out to their admins, offering collaboration with affiliate links, special offers, or paid promotions.
Increase affiliate percentage gradually
So, you've agreed to work with an influencer for your affiliate partnership? The best thing you could do next is ask them nicely if they could make a little more promotional content for a little higher commission.
Next, offer them the highest percentage during the final days of your campaign. It should motivate your influencer, who may need extra encouragement to finish things on a deadline.
Free yourself from prototype pain
It's typical for crowdfunding campaigns not to have enough fully-working prototypes to send out to influencers. But there is a way around this. You can make an in-house unboxing video showing only your hands (something like a first-point UGC) and send it to an influencer for voiceover and posting. It will make the video appear very organic, and the followers will think that the influencer has put their hands on the product before recommending it.
Kickstarter Marketing: Social Media Strategies
In the following six tips, we'll take you to the world of social media marketing and show you the most valuable hacks to keep your audience hooked to your page and increase conversions.
Build a community from your leads gathered during pre-launch
It's good to have another channel to reach your best prospects. Relying only on email, you limit yourself to the open rates of those emails. Based on our experience, that leaves many people needing to remember about you. To bridge the gap, we recommend opening an exclusive VIP group (for example, on WhatsApp). Put the links of that WhatsApp group in the "thank you" page of your Landing page.
Add your logo and description by mentioning what people can expect from this community if they join. Use this as another way of preparing the leads for the launch.
To maintain exclusivity, make sure to announce the product launch date first in this channel and offer better perks, i.e., a higher discount.
You can repeat a similar process on Facebook by creating a VIP group connected to your product's page.
Having this group lets you get more personal with your leads and share complete and detailed information about your product, your company, and the people behind the company.
Try to engage your VIP group members by asking questions, understanding their interests and concerns, and addressing them. When the time comes, ask them to support your crowdfunding campaign.
Use these four forms of content to engage your audience
For Kickstarter marketing, diversifying your social media content is a great way to boost engagement with your followers. To maximize the results, use these four content types interchangeably for better engagement:
Promo
Educational
Entertaining
Inspirational
How does this look?
Upload 1 – 3 posts daily. Include the product benefits and, if possible, product reviews and testimonials. Your followers are mainly interested in the product; remember that. So it's essential to showcase how the product will help them while highlighting its use cases. Use videos as much as you can; they perform better in reachability.
Get involved in conversations within the comment section when posting different forms of content. Each form will bring in new insights since it is unique in its tone and information. So be sure to ask your followers questions, get to know their interests and concerns, and use that knowledge towards your next content.
Here are the four content types in action during one of our most successful campaigns:
Use different content formats on your social media pages.
To get the most out of social media platforms and use them to their potential, you should test various content formats and see what works best. Here are the main formats you should try: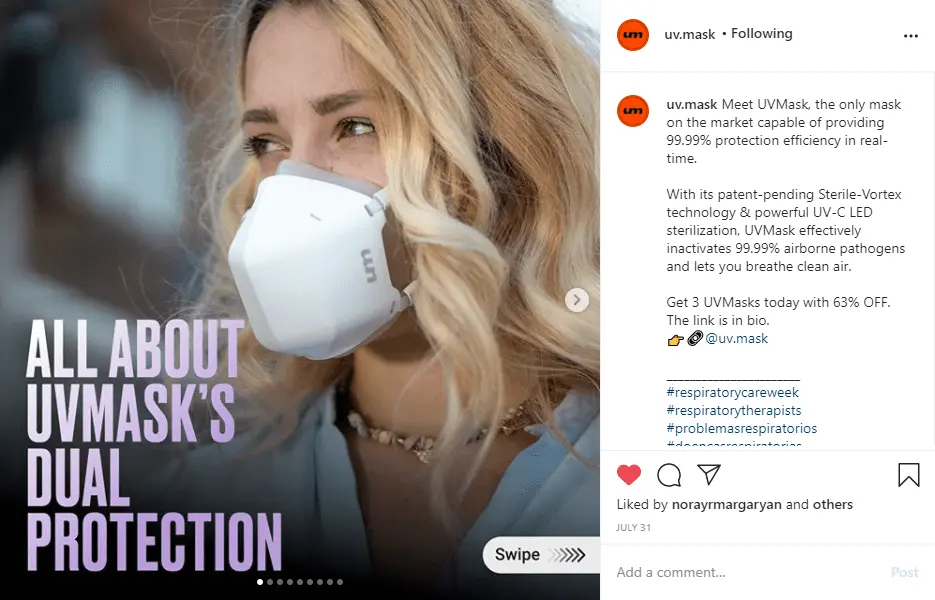 Stories (Photo and Video)
Reels on Instagram and Facebook
Facebook and Instagram live
Quick tips:
One of the best working formats on Instagram is a carousel post. It gets more organic reach than a single-image post.
Using the square-video format works well if you do it with good quality.
Try to use vertical and square photo and video formats instead of horizontal formats.
Add the crowdfunding page link in the Facebook posts' caption instead of sharing it directly on the page.
Do 1 or 2 live broadcasts on Facebook and Instagram to talk with your followers so they get to know you. It's also a chance to show the product live.
Consistently create Facebook and Instagram stories. Users interact more with stories, so it's an excellent place to get more exposure.
Use tools provided on Facebook and Instagram's story builder. It's an excellent way to create engaging and entertaining content. Organize giveaways to bring more traffic to your pages.
Giveaways are a great way to bring in new traffic and have your followers share your crowdfunding campaign with their friends. Not only is it good to expand on the target audience, but it also promotes engagement with your current followers.
Here are a few giveaway ideas that you could use for your campaign:
Ask your followers to share your product's photo in their stories or accounts and tag your Instagram page. Then randomly choose 1-3 winners and reward them with something of value.
If your follower base is high (5,000+), you can ask them to tag three relevant friends under the giveaway post and write a comment stating why they are interested in your product.
Additional tip: Use Commentpicker to select a winner from comments randomly.
Create an Instagram filter with your product
Cool AR filters are an awesome and innovative way to show your product in real time.
Not only is it a great way to market your product, but it's also an excellent opportunity to engage with your backers and followers and give them a quick sneak peek of what it would be like to own the product.
You can make Instagram AR filters using the Spark AR tool powered by Facebook.
If you need to gain experience with 3D modeling, you'll need some designer help. How do you start? Just create a 3D object of your product and import it into Spark AR. Make some adjustments within Spark AR, then publish it on your Instagram page.
Check out how it looked when we used this AR feature to advertise UVMask:
Additional tip: You can put a section about the AR filter on your campaign page.
Use Tiktok, Instagram Reel, and Youtube Shorts to get a chance to reach more people.
These three ways are the most effective in terms of reachability.
Marketing a Kickstarter campaign takes time, effort, and commitment, but with the right strategy and the tips above, it's not only possible but very likely that you'll succeed.
Use these tips to create a strong Kickstarter marketing strategy for your next campaign. Remember that crowdfunding platforms are all about community, so building a solid network of backers and engaging with them throughout your campaign is also crucial.