If you have a Facebook business page, you should have a Facebook group for VIP members.
Why? Because they are the people who want to know about updates and news first, are more inclined to order your product, and give more incredible insights than Google. They are VIP members.
You can grow your Facebook VIP group members by giving them the group link after they order your product or interact with your website, asking them to join for updates.
After having a lot of members you should provide them with the right information and keep them engaged. Give them something to look forward to and get their honest feedback.
Here are a few Facebook VIP group marketing points from us, which we recommend keeping, so that your VIP group becomes a successful community platform for your product lovers.
Don't forget that they are your VIP members.
They should be the first ones to be provided with new updates, company news, and discounts. Involve them in the crowdfunding process with  pre-launch campaign links, feedback discussions, tell them everything about your product. Ask suggestions, always answer their comments (regardless positive or negative), create polls, and what's more important, make them believe that their opinion matters!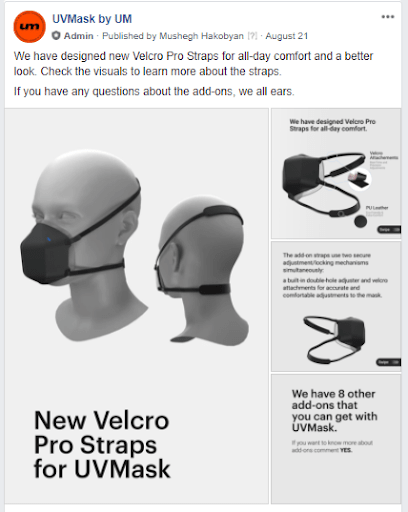 Create a single post (carousel or multi-image post) about every detail
Make sure they know everything about the product, the benefits, and what went into making those design decisions. Make them feel like part of the board of directors.
Q&A posts
As they engage with your product posts, they will learn more about your product and start asking questions that you may have never thought to include.. Don't forget to tag them in the caption as you are answering their question. Not only does it make the user who asked the question feel more involved, but it will attract a bigger audience because it shows you have an active community.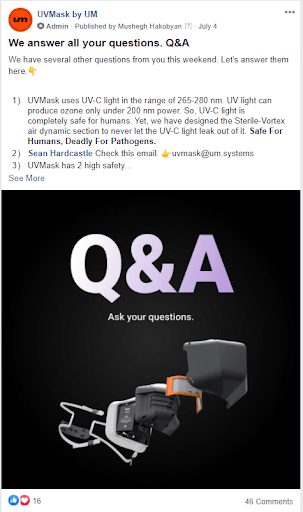 Your community is a great source of inspiration
Getting personalized suggestions gives you a better understanding of what your audience wants. You never know what great ideas can come from a simple interaction with your VIP members.
In our case, we posted a simple poll to see what types of dishes for a cat water fountain cat parents would want for their cats. In this poll, we have suggested 2 types of fountain dishes and the third one was added by another member.
Considering the results of this poll and a lot of comments, we decided to make a glass dish version of KittySpring fountain. After the announcement about the new reward, we had tripled in sales. Many cat parents upgraded their current reward to the glass version and others, who haven't ordered, ordered one.
VIP group members are a significant part of your audience so you should listen to them cause they will show you the right ways to meet their needs and increase your sales.
In another case, we tried a poll for the UVMask: The World's first active UV-C face mask. We had 2 colors (black and white), and many comments asked about other color options. So we created a poll to know how many people wanted other colors for the UVMask (Left picture).
After the results, we had a goal to bring new colors to our backers. We created a poll with different popular colors and asked them to vote for their favorite one. After their feedback (the right poll) we created other colors too. It helped us increase sales on add-ons and customer satisfaction.
Listen to them
How do you know what kind of information your followers want to get? Simple, Create a poll and ask them. They will tell you what they really want to know about. Offer some possible questions they would ask in the poll and leave room for their open questions. With a large VIP group (hopefully more than a 1,000), you should be getting a sizable amount of feedback because people love getting their questions answered.
Get insights
After providing the right content and information about your product, create polls to get meaningful insights.
Prepare questions that will tell you something about your audience that you don't know. Don't ask questions that can be answered with Google Analytics. Do some research before asking, so you can get the right information to help you know your customer very well, and create the right ads and content on social media.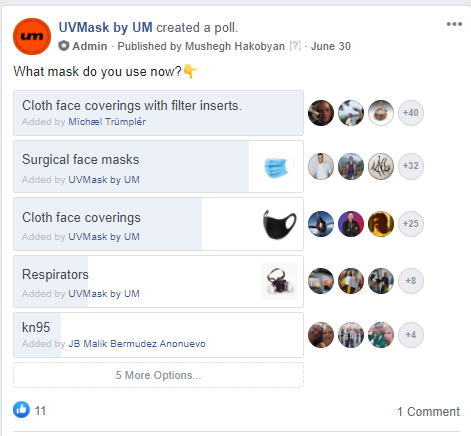 Bring the founder in the game
Another way to increase credibility around your brand is to have posts from the founder. Having posts and answering the comments as a founder is a great way to increase the trust around your brand. After seeing a real person talking to them and taking care of them they will tell their friends about your brand, answer other's comments, and protect you from your "haters".
Another cool Facebook group marketing way is to have a LIVE stream with the founder. You can have a LIVE stream during the pre-launch stage of your campaign, introducing your product to your audience and during your LIVE campaign, answer questions about your product, and get feedback from your audience. That gives you a chance to improve your product and provide only the best.
Those are the tips to level up your Facebook group marketing. Check also the latest Social media strategies to use in the upcoming year.
Don't forget to leave your comments below.