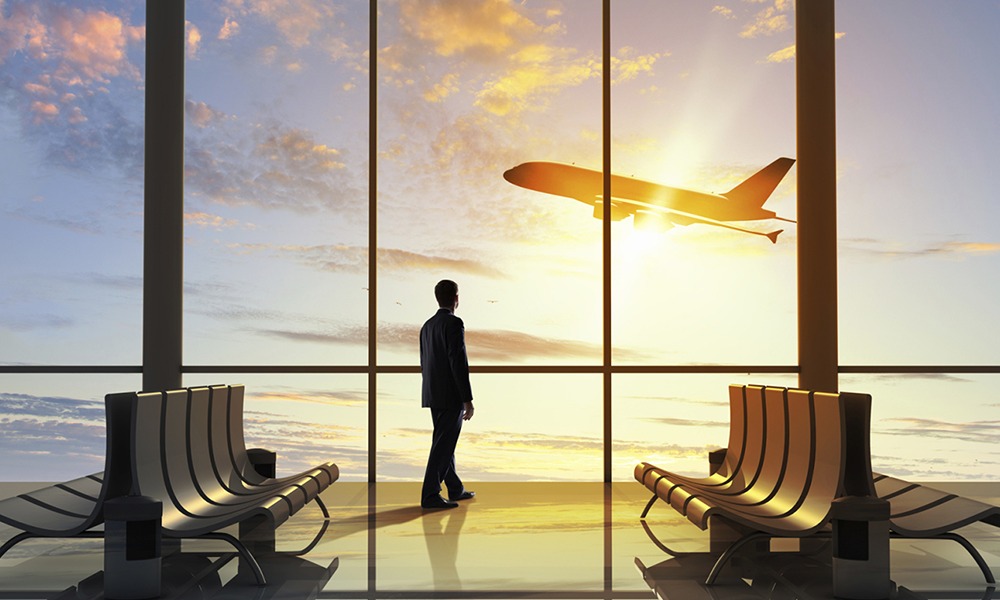 Crowdfunding is becoming one of the most popular sources of financing for startups and creative minds and is even projected to contribute more capital than the VC industry by the end of this year.
Today, crowdfunding acts as an integral part of the startup ecosystem and supplies Venture Capitalists (VCs) with ideas and concepts that have proven their appeal. In 2014, a research study of 443 hardware campaigns launched on Kickstarter and IndieGoGo, showed that 9.5% of these campaigns went on to raise capital from VCs to a combined tune of $321 million. More recent data on crowdfunding research provided by IndieGoGo (via Recode) suggests that successful campaigns from that platform later raised more than $500 million in investor financing.
After the campaign closes
Crowdfunding success Tile recently announced $18M during series B funding round from Bessemer Venture Partners, however, not all the campaigners have the necessary skills to bring their projects to the next level and turn successful campaigns into profitable businesses. A successful campaign is not a successful company yet. The Coolest Cooler Saga was one such example of a great crowdfunding campaign let down by poor management.
Some of these campaigners turn back to crowdfunding to launch their next project; after all, they know best how it works. Others who have successfully built lucrative companies on the back of successful campaigns also reappear, making the most of the myriad of advantages crowdfunding offers.
Who's likely to reappear?
We sought to get into the campaigners' mindset following a successful crowdfunding campaign. Ostensibly, the goal of our crowdfunding research was to determine whether these guys were likely to return to crowdfunding in the future, but we discovered that there's far more to this simple question there first appears.
The Study
We questioned 1124 crowdfunding campaigners from the two major platforms; IndieGoGo and Kickstarter. We asked two simple questions:
Are you planning to crowdfund again?
Will you choose IndieGoGo or Kickstarter?
To get an accurate overview of the entire process, we scaled the sample to the size of each category on both platforms.
We then further divided the groups into three sub-categories:
Those who raised less than $50,000.
Those who raised $50,000 to $150,000.
Those who raised more than $150,000.
Will you do crowdfunding again?
To the first question of our crowdfunding study, 62% of crowdfunders said Yes. Of those left, 18% replied with a resounding No, and 20% remained undecided.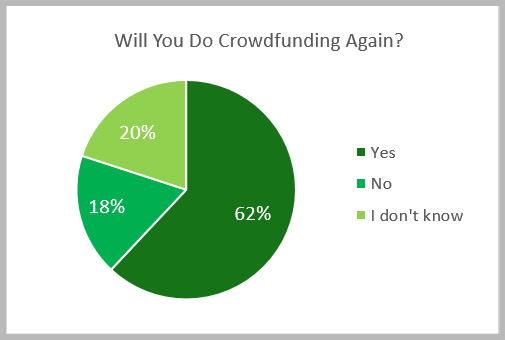 Seems pretty straight forward, right? Well, when you look at the responses relative to the amount raised, it gets even more interesting. Campaigns in the bottom bracket – those that raised <$50,000 – are the most likely to plan on launching a second campaign. But the big earners? Those who raised $150,000 plus? The chances of seeing them again are pretty slim. In fact, 74% of the campaigns who said they are not planning any crowdfunding campaigns in the future were campaigns that raised over $150,000.
There are two explanations for this. First; raising that amount of money ($150k+) requires a marketing budget and serious manpower. Six-figure crowdfunders know this well, they're not about to re-invest huge chunks of that hard-won cash (not to mention months of their lives) in another campaign. They're looking to the future, focusing their budgets on the operations, production, and PR activities that will launch their business. Why start the crowdfunding journey all over again?
Second, these are the campaigns that catch the attention of the VCs. These crowdfunders are likely to close their campaigns and walk straight into VC seeding rounds, attracting large sums from investors. And VCs want returns; they aren't about to agree to another crowdfunding campaign – and the campaigners certainly won't need to argue.
Take the first step towards your $1M+ Campaign now! Apply here.
Does category matter?
The category a campaign launches in will determine its success, as well as how likely the crowdfunders are to attempt a second campaign.
The categories most likely to go back for another go are music, technology, and film/video. Hardly surprising, given that these are the projects that lend themselves well to sequels – no band is happy launching just one album, no scriptwriter stops after one film. They are also the campaigners most likely to have a following outside of the platform, an audience they can rely on to boost their campaign and help publicize it.
The campaigners we're not likely to see twice sit very firmly in the journalism, politics, and sports categories. These guys rarely have an outside following, and don't appeal to the majority of crowdfunding audiences. In fact, recent data from Kickstarter suggests that journalism is one of the least popular categories, with backers boasting a success rate of just 22% – the second lowest on the platform.
It was interesting to note that the Kickstarter community is 2.7% more likely to embark on a second campaign than IndieGoGo campaigners. This is likely down to the higher traffic Kickstarter attracts. By comparison, IndieGoGo campaigners have to rely on their own efforts much more.
How likely are campaigners to change sides?
Unsurprisingly, the vast majority (76%) of campaigners who would consider a second campaign intend to stick to the platform they know. After all, why mess with a winning formula?
23% of campaigners mentioned choosing neither Kickstarter nor Indiegogo, probably planning to start crowdfunding on their own websites.
We know that there is a churn taking place between the two platforms, and it is more than 1%, but our data suggests that this most likely occurs among campaigners who failed to reach their funding goals. Rumor has it that this churn flows towards IndieGoGo, with unsuccessful campaigners ditching Kickstarter's 'No goal, no funding' policy for  IndieGoGo's more flexible approach (campaigners keep what they raise regardless of whether they hit their funding target). It can't hurt that a recent update by IndieGoGo allows Kickstarter campaigners to continue fundraising on IndieGoGo's 'In-Demand' section.
Most telling of all? The 1% of successful campaigners who would jump the other ship, all had experience using both platforms.
To sum up…
If there's one thing to take away from our crowdfunding research, it's that small campaigns are most likely to start crowdfunding again, probably because the amount of time and resources required to achieve that success is considerably smaller than that of six-figure campaigns.
It's also worth noting that successful campaigners are unlikely to defect to the rival platform, and any churn happening between the two is most likely a result of unsuccessful campaigners trying their luck elsewhere.
How small non-profits are driving their volunteer engagement with the help of volunteer management tools.
Startup Grind, the global entrepreneurship community.