Do you want your company to be featured in high-end media outlets to boost your brand performance and generate leads? High-five!
A  targeted digital PR campaign is manifold and revolves around 3 main pillars:
Media research
Outreach
Monitoring
Many of the processes in these stages can be automated to streamline the workflow and garner great results, saving you heaps of time and other resources.
In this article, we're about to reveal some of the greatest digital PR tools to help you land high-traffic coverages and cement your brand recognition with a stamp of approval from reputable media sites.
Let's dive right in!
Media Research
As a Digital PR and Outreach Expert, I am frequently asked what the crux of successful media outreach is. And the answer is simple — it all boils down to thorough and accurate research.
Buzzsumo claims that journalists may get up to 100 pitches a day, so you should save your time (and theirs!) and write emails on a topic they will probably be interested in. Make sure to find journalists with a track record of coverage in a niche related to yours.
Here's your first set of online PR tools to easily find robust databases of journalists categorized by their focus area, location, outlet name, and relevance.
Their usage is fairly self-explanatory, so we won't go into much detail here. We'll help you out with details on the harder ones later!
PressRush
PressRush allows you to communicate with journalists by identifying their needs and providing exceptional value. It is extremely simple to use. By clicking a single button, you can add a journalist to a specific list in PressRush.
You can pitch journalists right from within this PR tool, or if you prefer to outreach them via email (which is what I would recommend) PressRush scrapes journalists' emails too.
Anewstip
Like PressRush, Anewstip allows you to set up notifications to monitor your target niche. 
Muck Rack
With Much Rack Beats, you can not only narrow down journalist searches based on their niche topic and countries but even cities! So next time you need a quick set of journalists in San Francisco, you know where to look for them.
LinkedIn Sales Navigator 
LinkedIn Sales Navigator provides many more filters than its counterparts to build the most targeted database of journalists. You can see it here: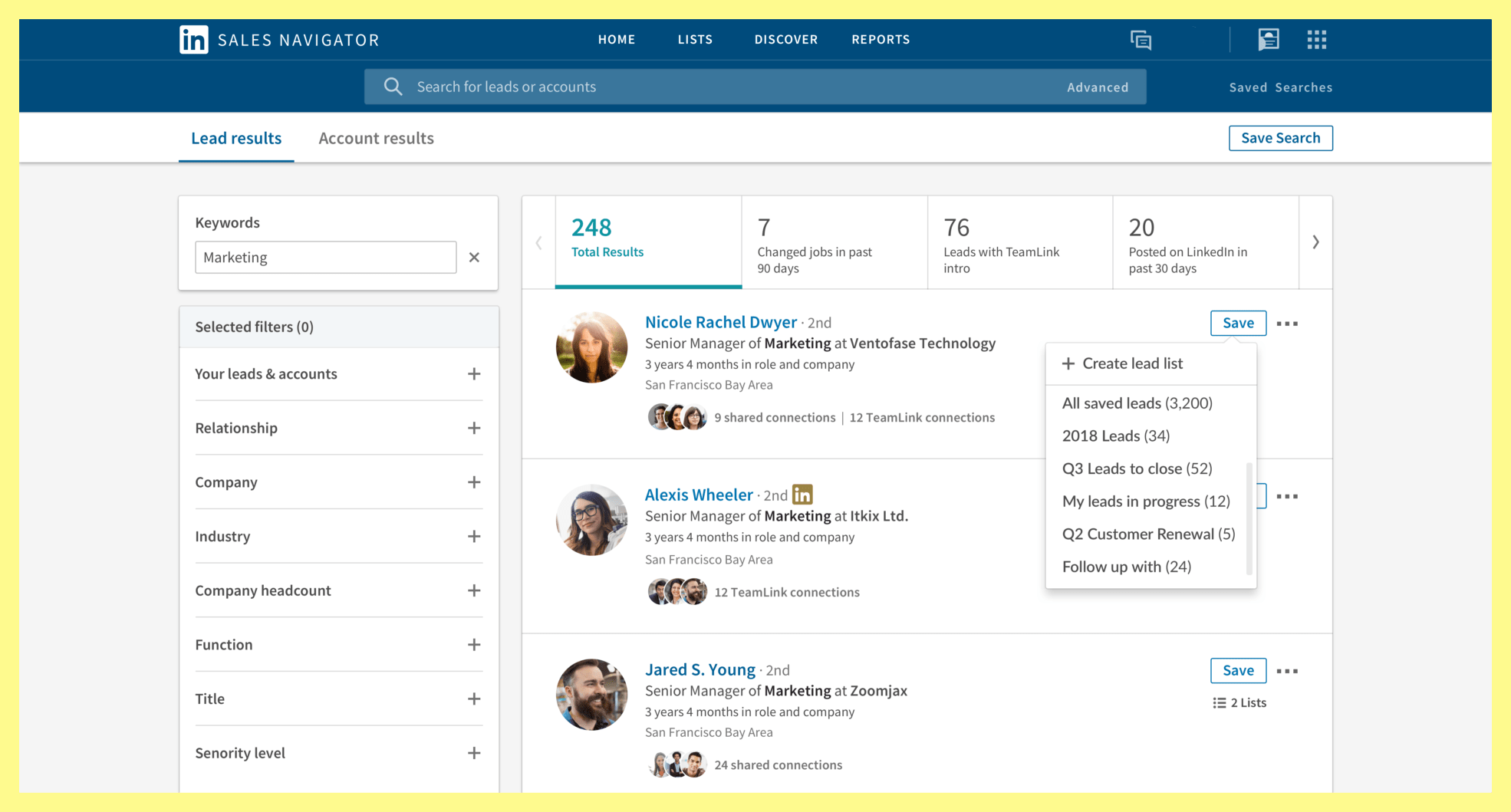 HARO
Through HARO—Help a Reporter Out—journalists set up requests to hunt for unique stories that are sent to PR specialists three times a day. Once a source request relevant to your niche comes up, you can reach out to a journalist with a personalized, articulate pitch to land high-traffic coverage. 
If you opt for HARO's paid plans, you can specify keywords to get source requests within your pre-set niche. 
This great PR tool boasts a robust base of journalists from big and small outlets alike. Mashable, Forbes, Reutors, and Chicago Tribune are just some of the highly-respected media you can get your product featured on through HARO. 
Google Dorking
Many of you might have heard about Google Dorking or Google hacking. This helps you filter down the search for bloggers and find information that a simple Google search would never be able to find. 
When used smartly, keywords and modifiers can do wonders. 
Let's take a quick look at this example:
What happened here is that with the simple combination of the above-mentioned keywords I found a huge database of tech bloggers in Excel's XLS format which then I quickly converted to Google Sheets. Awesome, isn't it?
Sidenote: Journalists tend to hop around between niches quite a lot. What this means is that someone listed with an interest in tech in a database may well be covering lifestyle topics now. The best way to determine whether a journalist is still relevant or not is to look at the topics his/her latest articles touch.
Google Advanced Search
Google Dorking, no doubt, is the smartest way to avoid the tediousness of manual research — by hacking comprehensive databases someone else has compiled.
Yet successful Google Dorking is an exception rather than a norm. Most of the manual research is done by a Google-native tool —Google Advanced Search.
Google Advanced Search allows you to build highly targeted databases of relevant journalists with significantly less effort than with a simple Google search.
Featuring a vast range of filters, the tool not only allows you to narrow down your searches based on language, location, or a certain media outlet, but goes as far as letting you specify the exact set of keywords you want to appear in the results.
Speaking of keywords…
You are probably wondering where you can find multiple varieties of one generic keyword to help search engines display as many relevant results as possible.
While there are many keyword generation tools offering valuable insights, articles in a relevant niche are by far the best sources to tap into fresh keyword ideas. Scan related articles from the title to the bottom and jot down a list of keywords and phrases to guide you through the next steps of your research.
Protip: To free yourself of the hassle of copying and pasting one keyword at a time, you can use Multicopy, a Chrome and Firefox browser extension allowing you to copy up to 30 keywords at a time. Simply right click to choose any of the keywords saved in the drop-down menu and pop into a browser search bar in mere seconds.
Finding Journalists' Emails
So you've found your niche and the journalists who write on it. So, what now? You could walk down the street, hope to bump into them, and give them a quick elevator pitch… 
Or you could send them an email. But where can you send it?
If you are familiar with any type of media outreach, you probably know that emails are quite easy to scrape from LinkedIn and Twitter. Google Chrome extensions such as Nymeria and Uproc will provide you with email addresses of the accounts you've searched with a pretty high level of accuracy. The latter will also display journalists' phone numbers—I hope you weren't worried about privacy…
Try most of these for free before you sign up for the paid versions depending on which email-finding tool works best for you.
So, let's see how these digital PR tools work:
Nymeria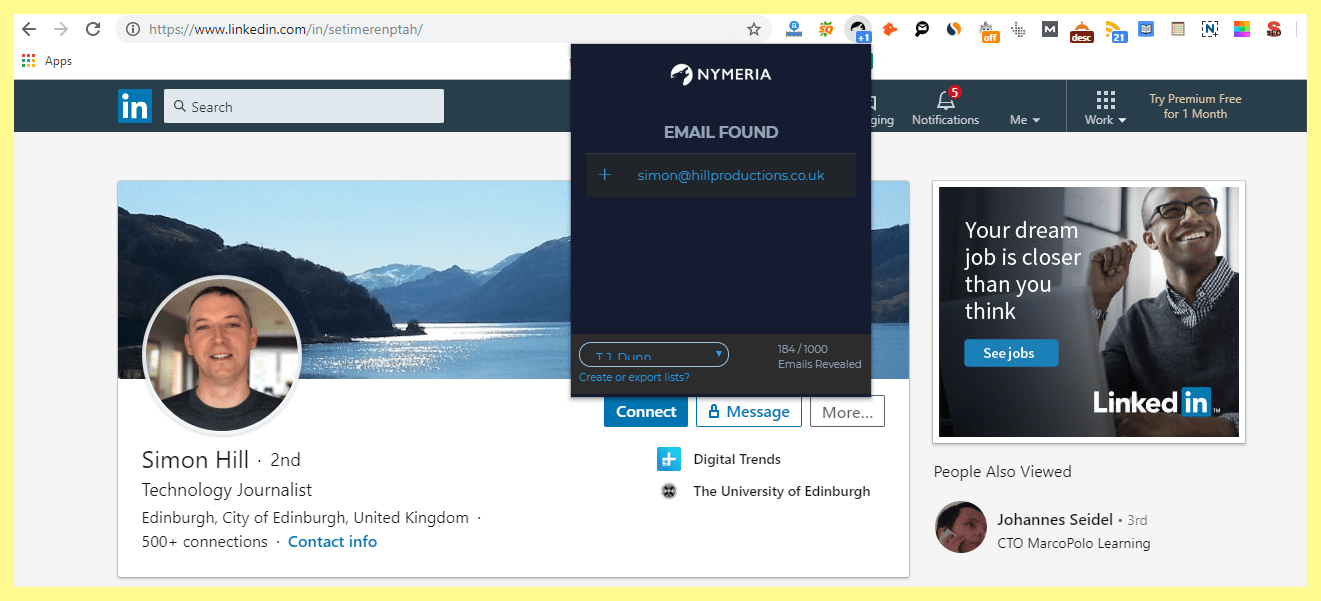 To find someone's email address from LinkedIn using Nymeria, go to their profile and click on the extension icon. The tool will show you email addresses with up to 98% accuracy. 
Uproc


When it comes to Uproc, it will pop up in the right corner every time you open a LinkedIn profile, so you don't even have to bother to click on an extension icon. 
Disclaimer: The accuracy of the email addresses scraped with Uproc is slightly less than that with Nymeria. To be on the safe side, I'd advise you to double-check the validity of the email address on Zero Bounce before outreach. 
ContactOut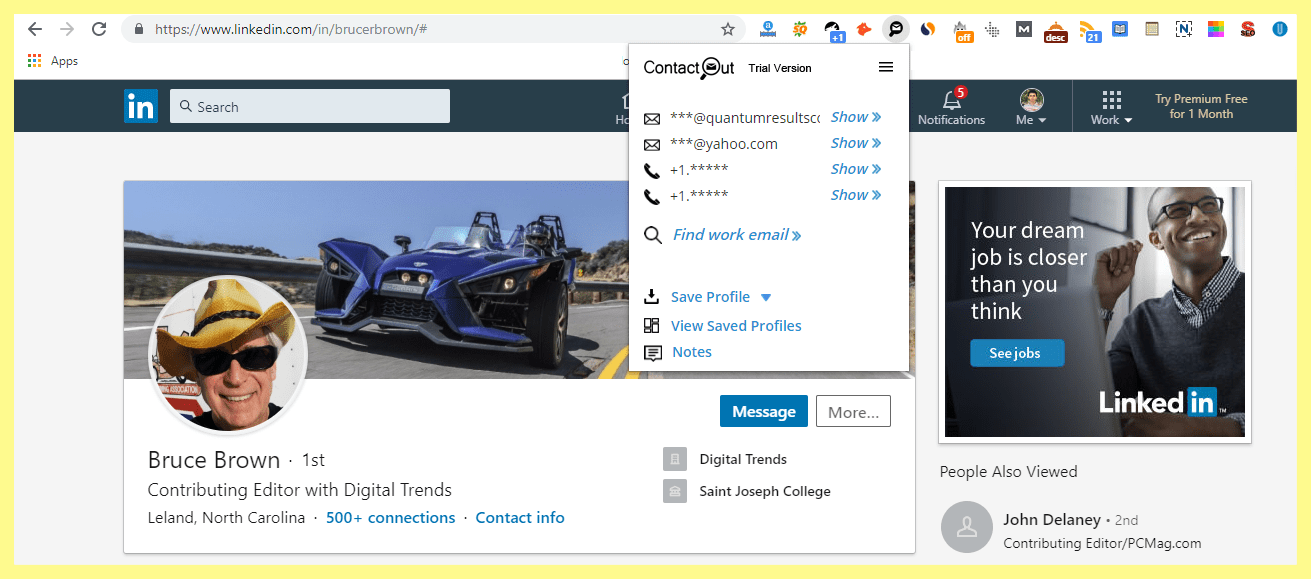 Here's another email finder PR tool I love — ContactOut. ContactOut is worth a try as it displays email addresses and phone numbers, all with significantly high accuracy. Install this very handy extension, click on the icon, and it appears in a journalist's inbox within seconds. 
Find That Email
Yet another email-finding tool is Find that Email. I love this PR tool because of its credibility—it even shows the percentage of email accuracy, and if that percentage is 100% or even close to it, you can be sure you got it right.
Kendo-LinkedIn Email Finder 
Kendo- LinkedIn Email Finder can identify, verify, and save leads with enriched information such as name, company, position, and email addresses. This Linkedin email finder chrome extension can locate contact-enriched data with a single click.
Kendo-LinkedIn Email Finder usually displays one or two emails associated with each LinkedIn profile opened. If you spot an email ending with a media outlet domain, I'd say there is roughly a 90% chance that the email address is accurate. Use your limited credits in the free plan or upgrade to unlock company emails and add them to your growing database. 
Bulk Media Outreach
So far so good? That part was easy, wasn't it?
Now that we have a big database of relevant journalists and bloggers, we are ready to jump on to the next stage of our PR campaign: Outreach. 
You can contact the journalists via email or LinkedIn, depending on where they spend most of their time. Sometimes even both.
But with hundreds of emails, this can become a pretty tedious manual task. 
Before you throw your hands in the air, we have some great PR tools that help automate the outreach process. They're a little harder to use than the ones from before, but don't worry, I'll run you through them in a little more detail.
Bulk Outreach Via Email
Here at The Crowdfunding Formula, we use Streak or GMass for bulk pitching. Follow these quick steps to streamline the automation processes. 
Go to chrome://flags, search "network service," disable it, and press "Relaunch now." 
To use Streak you need to:
Have the database of journalists open.
Have the Streak Chrome Extension installed in your browser.
Install the Streak CRM Importer add-on to your spreadsheet.
Once you have it installed, you'll see the Pipeline button in the left corner of your Gmail interface.
Create a pipeline and import all the data from the spreadsheet by clicking on the add-on.
Here's what your data will look like in the Gmail Pipeline: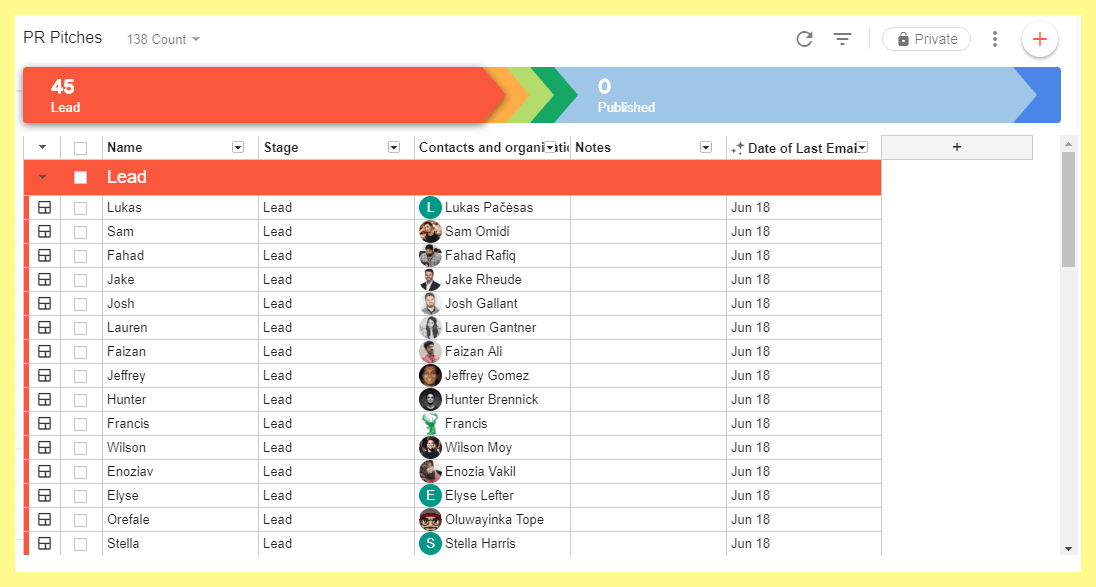 Tracking emails on Streak is a no-brainer. 
When you open Sent Emails, you'll notice an icon of an eye colored in grey next to each email you sent. Once it turns green, it means the email has been opened.
Now let's turn to GMass.  
Install it on your browser, and you'll notice red buttons appear right beside the search bar in Gmail.
Click on the Spreadsheet button, import your database and start your outreach.
Press the GMass button once you've composed the email (instead of Send).
To see whether the email has been opened and the link within has been clicked, check the folders in the left side of the Gmail interface. Here's what it looks like in action: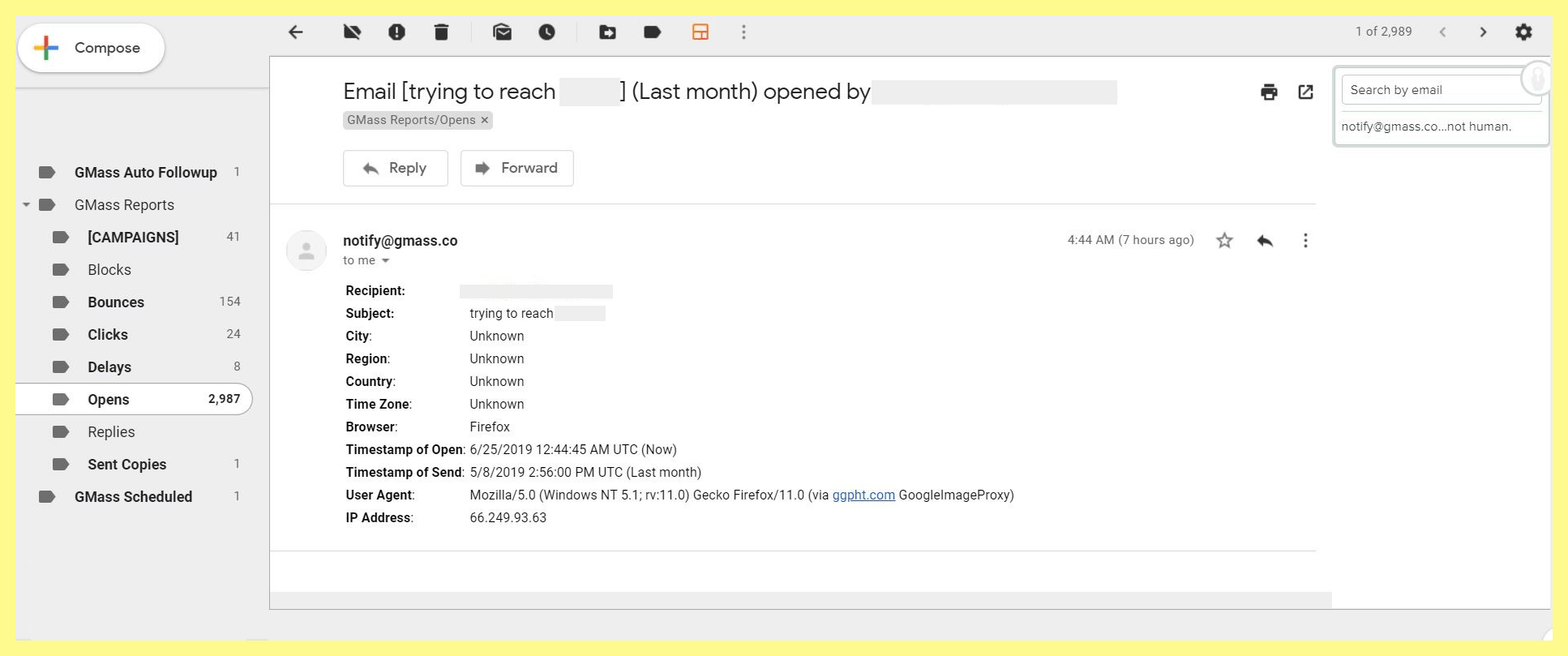 Once the bulk outreach is done, you must focus on well-timed follow-up emails. This can also be easily organized by the above-mentioned PR tools. GMass, for example, allows you to automatically send follow-ups to those who have opened the mail, replied, or haven't opened it.
An alternative to it is the Batch Reply. This Chrome extension sends emails to several people by including them in bcc.
Bulk Media Outreach Via LinkedIn
LinkedIn is one of the best platforms to research targeted journalists and outreach them. A concise, articulate pitch on LinkedIn helps avoid the formality attached to emails and keeps the communication flow more natural, translating into a significantly higher response rate. 
Outreaching on LinkedIn may seem like a manifold process of bulk connection requests, exhausting waits before they are accepted, and following up with individual pitching. Well… it's not. 
Luckily, there is a great variety of PR tools for LinkedIn automation nowadays. I highly recommend you use Phantombuster. On top of its simple workflow, Phantombuster's algorithms work in tandem with LinkedIn's privacy regulations. This diminishes the possibility of your account getting blocked or permanently removed, a potential risk that's always there when you use third-party PR tools on LinkedIn. 
Phantombuster is a code-free automation and data extraction platform with various APIs for different social media platforms. To access it, simply sign up, go to the API store and pick the "LinkedIn Message Sender" API from the list.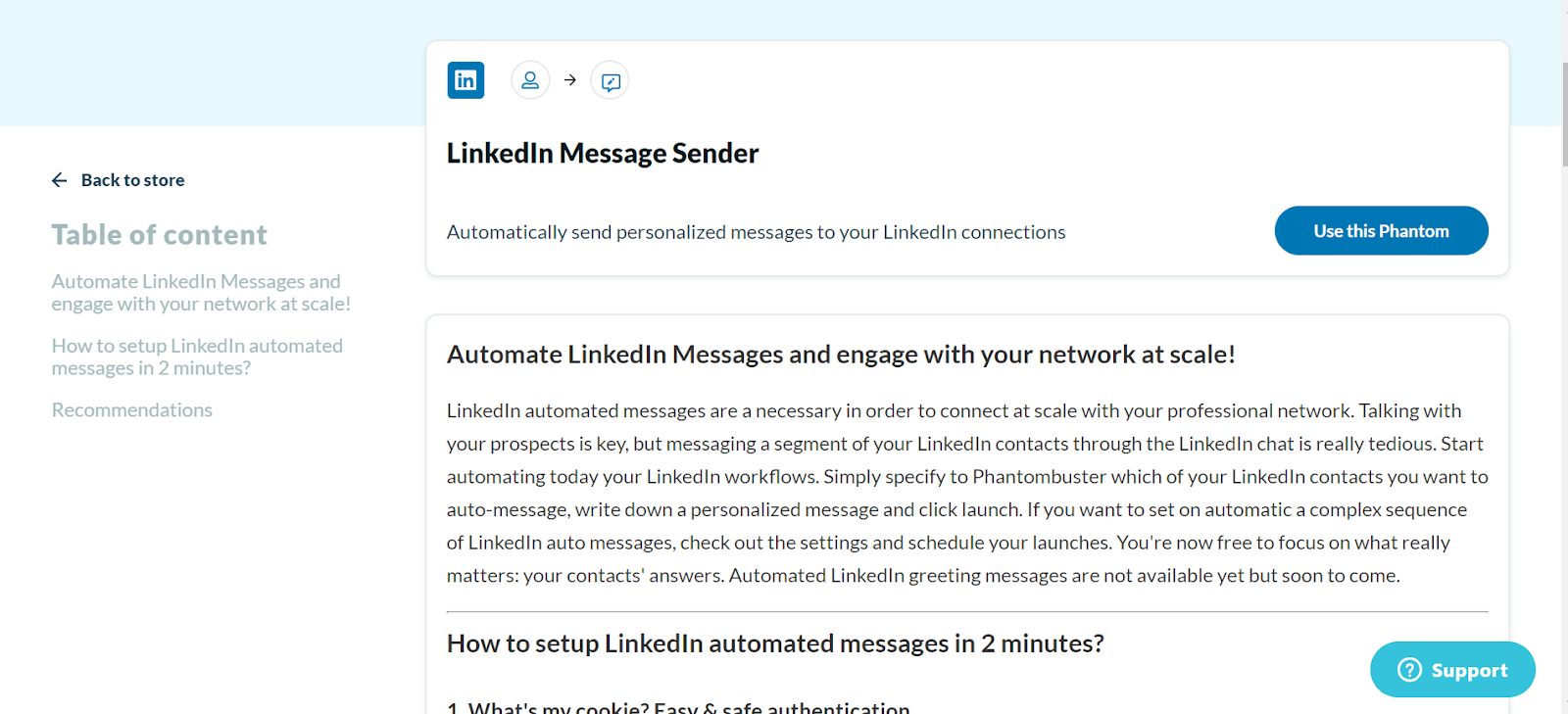 Set it up in seconds, and write your pitch in the Message section. The genius part here is to make use of Phantombuster's automation codes. With them, you can personalize your LinkedIn messages by automatically using the journalist's first name, thus increasing the likelihood of getting a reply.
Media Monitoring Tools
So you send out a hundred emails, and then… crickets.
Sure, some journalists are amazing. They are polite, adorable, interested, and enthusiastic. You hit it off right after you press send. Others, not so much as a reply.
Either way, you wait a week and move on with your life. Until one day, a friend sends you a link to a piece about your product in Forbes, and—while happy—you think, "Wait, she didn't even reply to my pitch!"
You'll be happy to know that noticing media mentions doesn't have to be a word-of-mouth mission. You don't need to have 100 websites open, constantly refreshing, waiting to see if you're up.
Because monitoring the results of your PR campaign is now easy with these two media monitoring tools I use. Brand 24 and Mention. All you need to do is input keywords, and every single time the keyword is mentioned on the web, you'll get a notification and see the links on the dashboard. Let's take a quick look through at the interface to get a taste of how it works:
Brand24
Mention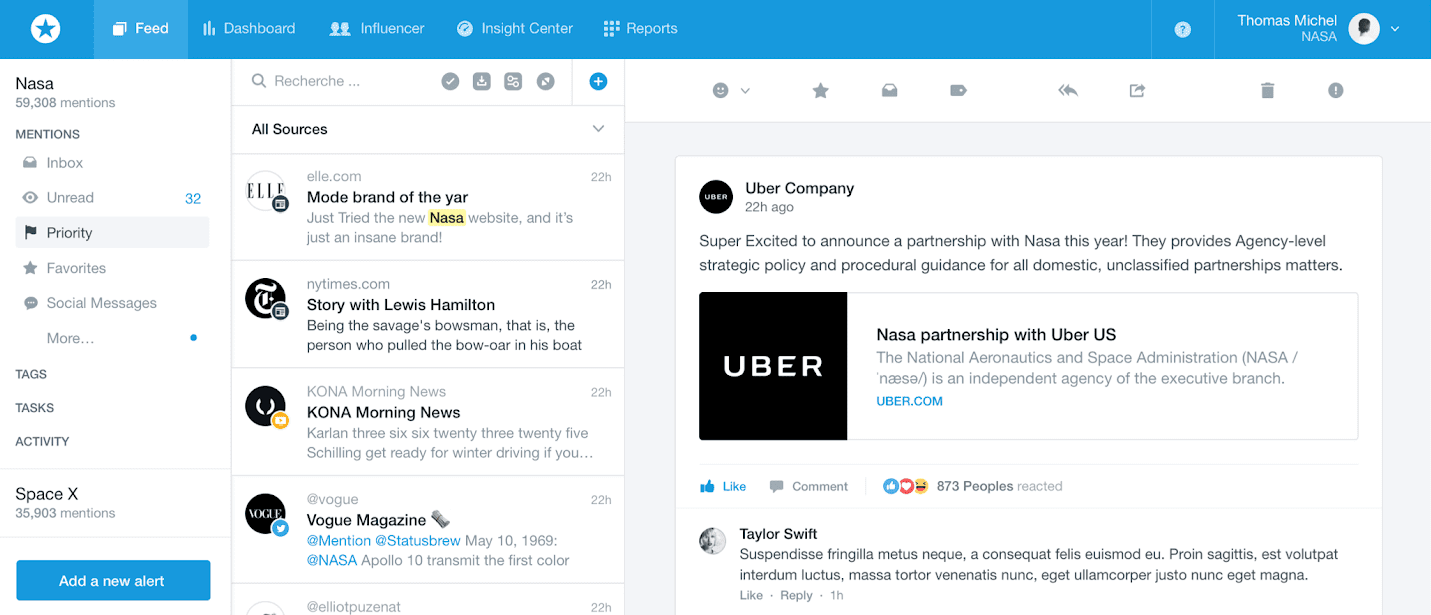 But discovering that a piece about your product is up on Forbes or PCWorld isn't all about it.
You want to measure the published article's impact, tapping into important metrics that reveal the relevance of incoming traffic and their behavior on your site.
Where can you get these crucial stats?
Don't look any further. Google Analytics should be your go-to resource to derive numerical insights on each article's performance.
We always ask journalists to include our UTM trackable links in the article to be able to keep track of the data. This is crucial because unless it is a highly authoritative media site, like Forbes or New York Times, the likelihood that Google Analytics will recognize the traffic source without the UTM links as a hint stretches to zero.
To access the data on Google Analytics
1. Go to "Acquisition."
2. Click "All Traffic."
3. Pick "Source/Mediums."
From the displayed results, choose the Source/Medium of the specific article you want to look into
And you'll be presented with a dashboard like the one below.
Here is a quick walkthrough of some metrics to help you navigate what may seem like data overload to someone unfamiliar with Google Analytics.
Users: This metric quantifies the incoming traffic from the article to your site. Needless to say, the higher the number is, the better.
New Users: This metric displays the number of users who have interacted with your site for the first time. The rest may have been captured through retargeting or other means.
Sessions: This is the cumulative number of interactions with your site. The former can range from visits to other pages in your site to "Add to Cart" actions and more.
Bounce rate: Bounce rate shows the percentage of incoming traffic that, once landed on your company's main/home page, didn't visit any of its other pages. A low bounce rate is what you actually should strive for as it signals traffic's interest in your company and willingness to explore it beyond the main page.
Avg. Session Duration: Another metric to prove the relevance of the traffic is the average time spent on your site. The more time people spend on your site, the more interested they are in your product and, consequently, the higher the chances of conversion.
Ecommerce Conversion Rate, Transactions, and Revenue: Fairly straightforward, these three metrics show the percentage of the converted traffic, the number of transactions made, and the revenue raised —all from one great coverage of your company on an influential media outlet.
All good? I know that was a lot of info to digest.
But before we cap it off, let's quickly go through one more thing.
What if you discover an article that performed well and would like to boost it, lifting it from just "good" to "remarkable"?
Below, I've laid out 3 actionable strategies you can employ to appear in front of more eyeballs and throttle a pipeline filled with convertible leads to your site.
Use Pressboard to boost your articles in the name of the media outlet.
Ask the outlet to include the article in their newsletter based on affiliate commission that can be tracked with the help of affiliate tracking software.
Hire someone on Fiverr to share your article widely (around 100 times) across a vast range of social media channels (subreddits, Facebook groups, Quora, and news aggregators) to garner more views and drive traffic to your site.
Good Luck… and never stop trying!
Whether you're already using some of these PR tools to accelerate the repetitive processes along your PR campaign or bookmark them for later use, trust me when I say you'll need them sooner rather than later. Hopefully, they will make a good addition to your arsenal of PR tools and push the effectiveness of your campaigns to the next level.