The word "value" has been thrown around a lot lately. But it is never overrated. 
Long gone are the days when you could inspire sales with a mediocre message, send a couple of lousy emails to your prospects and call it a day, or get your leads to act upon a sleazy, clickbait headline. In today's jam-packed competition, people no longer tolerate anything less than a meaningful value that is also thoughtfully tailored to them. 
It is the backbone of any marketing venture—from email marketing and advertising to PR outreach and SMM.  
Besides learning how to adopt a value-driven approach to finding crowdfunding partners, find out why "negative" ad banners can be more impactful, learn a forward-thinking tactic to increase the traffic to your campaign by increasing it to your PR coverage, discover a genius automation to scrape a complete database of influencers in just a split second, atop of some other powerful hacks and tactics in this week's Know How series. 
Copywriting: Offer New Partners Something of Immediate Value
Advertising: Embrace Negativity In Your Facebook Ads
PR: Drive High-Converting Campaign Traffic Through Flipboard 
Influencer Marketing: Build Influencer Databases From Scratch Within Minutes
PR: Give Yourself A Creative Reboot With Clear Mindmaps
Advertising: Revamp Your Pinterest Ads With High-Potential Keywords
Ready to upskill? 
Let's jump right in!
Offer New Partners Something of Immediate Value
Outreaching new partners presents lots of challenges. Especially when they have no clue who you are.
Still… sending them an email that is all about you is not the answer.
As with most aspects in life, people care more about themselves than you. They're not interested — as much — in you as a company, but in what you can do for them. And your first cold email is the perfect place to showcase this.
Rather than sending them a boilerplate email about your successes, filled with what your potential partner will read as empty promises. Send them concrete, actionable advice that they can immediately put into practice.
For free!
Tailor each email to each specific partner. Study their product. Their needs. And provide valuable solutions that only you could know as an expert in your field.
Examples from our experience include:
For a home gym product — attach a list of engaging influencers with highly-converting audiences and a price list. 
For a tech product in a highly competitive niche — offer suggestions for their Facebook Ads that will put them ahead of their competitors, things you know have worked for you in the past.
For an educational product with a strong story — put them in contact with a trusted journalist.
Send them a list of manufacturers you trust and offer to put them in touch.
Rewrite their headlines, develop their messaging further, offer them a new market position to test… 
Create a short SMM schedule… 
The list is endless.
To speed up the process, always keep a database of "advice" at hand, and add to it with your growing experience. When you discover a strategy that works, add it to the list. New influencer? Add their details! 
Then whenever you want to outreach a new client, search through your database for relevant advice, give it some personal flair and send it out.
I know what you're thinking, "I spent years becoming an expert in my field, to just give away this information for free? What will they need me for?"
Don't sell yourself short!
Surely your worth lies more in your skillset than your knowledge… 
You can put that information into action in a way your potential partner can't. And by giving them something of immediate value, you're doing what very few do. Your cold pitch will stand out.
Once they test your advice and find that you do indeed know what you're talking about, you'll have broken the ice and paved the way for a trusting relationship.
At TCF, we may have one of the biggest marketing teams in the crowdfunding industry. But even if you're working alone, you still have the expertise you can share. 
Your future clients will appreciate you going the extra mile by offering them something no one else did.
P.S. There's more to cold pitching than just offering something of value for free, of course. But this is one aspect that's often overlooked.
Embrace Negativity In Your Facebook Ads 
By Ani Hakobyan
Social media is saturated with look-alike promo content, making yours blend into others and hardly grab people's attention. On our ad banners, we usually put Kickstarter or Indiegogo badges and pair it up with texts about limited-time discounts or special offers. 
And yet…
People have seen a similar copy and banner so many times that they are just primed to gloss over the next one in the line. 
So I started digging into some of the eye-catchy ways I can spice up my ad banners to differentiate them from the countless other promo posts floating online.  
In marketing, we tend to shower our message with positivity often conveyed through superlative adjectives. 
The best, the safest, the most beautiful… we all know it!
This awe-inspiring, sometimes over-promising language, packs a powerful punch to a certain extent. But when played out too hard, it becomes like a run-of-the-mill romantic comedy—it just no longer triggers curiosity. 
That's why I decided to reshuffle the good ol' marketing cards and embrace a little bit of negativity in my ads! And you don't have to look further for it. Your ads' comment threads are home to at least a moderate dose of harsh critique—which also directly speaks to your product. 
One of the projects I have been working on—LaMarque—has been bombarded with a lot of upsetting comments. But this punchy, two-word description definitely stood out: "Awful pen". 
I took this text and pasted it right on the top of the ad banner to immediately captivate users to stop their scroll. This was accompanied by the bottom text "Said no one ever" to illustrate how good the product is to even convince a person with a negative first impression to change their opinion, and also hook users to click. 
Here is how it looked!         
Disclaimer: I created this banner just for the sake of this test! So don't pay too much attention to the design.
Instead, look at the ad performance!
The CTR was almost 2x higher than average. And the ad delivered 2 conversions immediately after spending only a few dollars. 
While I was expecting to see some negative commenters reinforcing their attitude toward the product—i.e. "Hi! I am still saying it's awful!"—I was surprised to have not spotted even a single one. 
After such an inspiring first debut, I am now researching impactful "negative" words and concepts to infuse into my ad copy and wrap it in a more appealing design. 
If this bold new vertical sounds as exciting as it does to me, subscribe to TCF's newsletter to not miss any of my intriguing ad banners in the future! 🙂 
Drive High-Converting Campaign Traffic Through Flipboard
With roughly 7.40 million monthly visits, Flipboard hardly needs any introduction. But let me give it a spin! 
Flipboard is an all-in-one platform where people come to read the latest articles on topics they are interested in, published by journals they follow—from political issues to health all the way to business and technology trends. 
Many journals have their individual boards inside Flipboard where they flip their daily articles as they come to light.
Let's take Forbes' board as an example! 
Forbes created different boards named "Green Tech", "Working Remote", "Forbes Advisor" and many others, and every day they flip new articles onto the relevant boards.   
Flipboard is one of the best ways to increase a magazine's readership and cultivate a highly-invested audience, explaining why almost every good magazine has an active flipboard! 
That's the media angle. 
But on the business angle too, FlipBoard harbors massive potential to increase the traffic on articles about your product and massively improve your sales. Just lately, I have created my own flipboard where I am posting the most intriguing and mind-blowing innovations in the crowdfunding space.  
As you may know, I constantly land articles for TCF's crowdfunding campaigns as part of the tailored marketing strategy to drive conversion-prime traffic to the campaign page. And every time there is new coverage, I make sure to flip it to my "Kickstarter & Indiegogo Smashes" board and let my Flipboard audience know about it too!
To make the flipping a breeze, I use the +Flip it Chrome extension. While on an article, click on it and it will instantly bring all your boards on Flipboard to post the article onto the relevant one in just a matter of seconds. 
While my flipboard was launched less than two weeks ago, I expect to significantly grow my following and make it a major traffic source to funnel in qualified prospects to our campaigns, and generate conversions! And all these at essentially no cost!  
If you too want to stay on top of the boldest crowdfunding innovations, go ahead and follow my flipboard, so you'll see my articles on your personal board. 
Build Influencer Databases From Scratch Within Minutes
If you've been following along with our Know How series, you've likely spotted the (unintentional) pattern of at least one automation tool per every article. It's because they streamline the daunting repetition into just a handful of seamless steps to supercharge your creative flow and not let it cripple it in the tedious copy-paste mode. 
As an Influencer Marketing expert, I rely on several automation tools to source the best-fit influencers in each niche who will bring traction (and conversions!) to our campaigns. 
From scraping influencers' contact information to assessing their audience engagement—we are all on the automation streak! 
And while I'd usually enlist different tools to perform every single of these processes, this week, I found an all-encompassing automation to build highly-targeted databases of influencers, their competitors, and audiences—at a blazing fast speed! 
I do mean it! 
You can use GrowMeOrganic to scrape just any Instagram profile's information—including email, phone number, website, business details, and a lot more.
It fetches in several different verticals to scrape different pieces of data not just about influencers but their audiences too. You can leverage this pain-staking detail to build high-converting lookalike audiences around and remarket your product to the audiences of the influencers you collaborate with. 
Hashtag users
Media Likers
Media Commenters
User followers
User following
Custom lists
To set GrowMeOrganic to cast its magic, simply choose the scraper from the left navigation bar and define the profile count to scrape in a single session. 
Don't rush to scrape thousands of profiles at once and call it a day! The stakes are too high. Instead, cap it to 40-50 profiles per session or Instagram may just paralyze your automation flow. To start off, I'd even advise you to open several fake accounts to assess the impact of this automation. 
For the most targeted results, you can fast-tune your search with some handy filters. 
Extract only the profiles with email or phone number, define the maximum or minimum follower count, exclude private accounts, and a few more filters to drill down your search. 
Once the scraping is completed, save the extracted data to a CSV file to have it handy as you move to outreach. 
And you are all set to ignite your next influencer marketing campaign!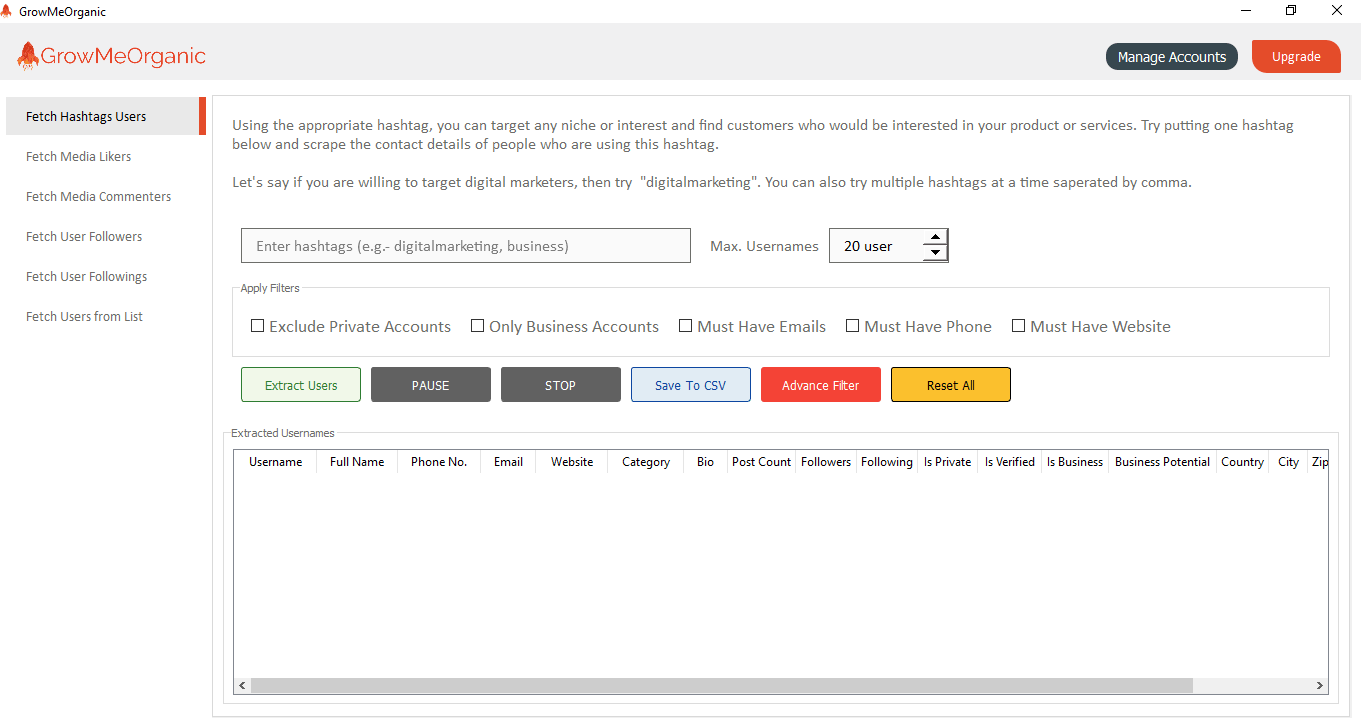 Give Yourself A Creative Reboot With Clear Mindmaps
By Mary Baboyan 
While on a creative streak, ideas come just as fast as they leave. That's why during a team brainstorming, we often delegate a note-taker who will jot down all the ideas to make sure we don't miss out on the next masterstroke. 
But a note-taker doesn't curate the inventive thought process. Their role is simply to document what often resembles just a messy creative pour. Especially if you are talking about a team of 80 vibrant and out-of-box thinkers. That's why we often wind up with millions of great ideas—scattered in an unorganized and unrelated fashion. 
But this week I discovered a visual mind-mapping tool to help bring clarity to your thoughts right from the start. 
Excellently simple, Coggle lets you set up a flowchart or a mind map in just a fraction of a minute. Break your thought process into little compartments and populate them with your ideas. Then easily create branches to illustrate their links, color them, and arrange them the way you envision them.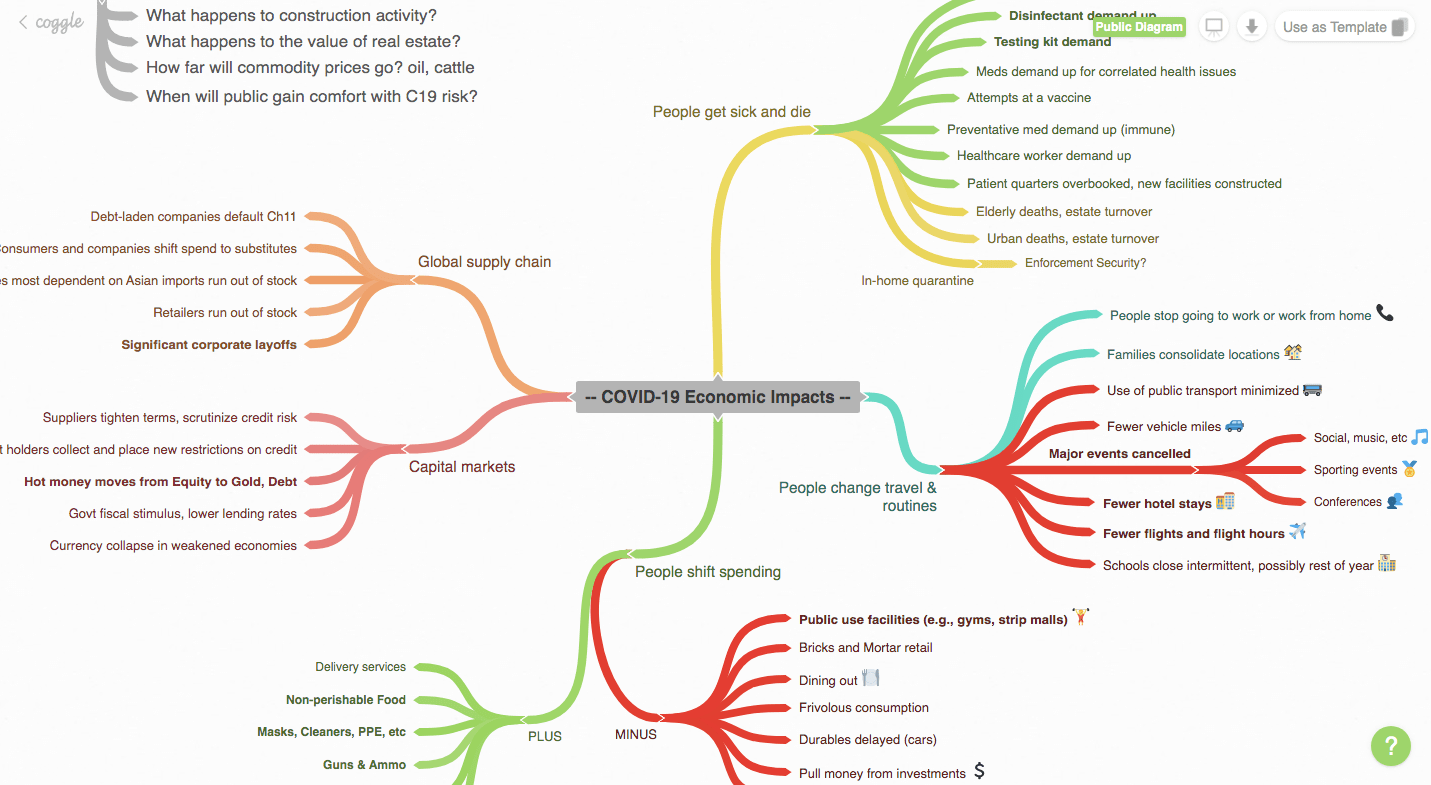 On days when you feel like you've hit a creative roadblock, browse the Coggle Gallery for a pinch of inspiration! And pick one of the diagrams to use as a template! 
Another thing I absolutely love about Coggle is that, atop of sharing your diagram with teammates to brainstorm together, you can also discuss each other's ideas in real-time in the discussion window. 
What's more, you can jazz up your coggles with some lively visuals too! Upload images and sprinkle in some icons and emojis to convey emotions, highlight things, and approve or reject concepts (after discussing in the discussion window, of course!).   
Fuel your inner creative genius with clarity and map out all the ideas as they cross your mind.     
Revamp Your Pinterest Ads With High-Potential Keywords
With a whopping 83% of weekly US pinners making a purchase based on branded pins, advertisers didn't delay to include Pinterest to their advertising vault. 
As in Google Ads—in Pinterest Ads too—high-volume relevant keywords pack the most decision power as to whether your ad will pop up when a relevant query is made. But here you also need to pay attention to hashtags!
I use the ClipRise (also known as Pinterms) Chrome extension to fuel my Pinterest keyword research. With just a couple of clicks, you can see all the top-ranked keywords related to the entered seed keyword, and export them in a CSV file, or view in plain text. 
While scrolling through Pinterest for a pinch of curated inspiration, ClipRise will display all the keywords and hashtags used in pins upon a mere click on the extension icon. So you can borrow some for your ads too!  
When creating an ad or just a regular pin, the minified search bar will appear on the right bar of the screen for more convenient use.   
With ClipRise under your belt, your Pinterest ads will reach shoppers who are actively seeking a solution you offer! And if you are a creator in Pinterest, it will serve as a smart keyword assistant to suggest related keywords to include in your pins to amplify your visibility and attract more followers. 
———
This wraps up this week's Know How article! 
Now it's your turn!
Have you already made your first "negative" ad banner? You'll be far more likely to get your foot in the door with real negative feedback than with straight-out, douchey promo.
How about the value-driven approach to pitching new clients? Figure out what they would need, offer your best insights, and lead with value. They will most likely choose you at the end. 
And as you leave with this bundle of mind-shifting tactics in your pocket, don't forget to also read our recent Know How article to discover a genius hashtag strategy to finally get in control of your organic reach! 
And don't forget to subscribe to our newsletter to receive an exclusive video tutorial and 4-6 know how hacks straight into your inbox every Thursday! 
I'll see you next week!