We are back with another Know How!
In this week's article, discover a robust data analytics tool to get ahead of the TikTok curve, learn about a smart hack to get high-converting copy ideas. Also, find out about a great tool to analyze as many influencer pages as you want, discover a piece of great software to create immersive multimedia, along with more powerful tips and tactics in this week's Know How. 
SMM: Propel Your TikTok Ahead With Your Competitors' Learnings
Copywriting: Source Copy Ideas From Location-Specific Search Results
Influencer Marketing: Analyze Instagram Influencer Pages At No Cost
Design: Create Immersive Multimedia To Channel Your Product Story
Let's dive right in! 
Propel Your TikTok Ahead With Your Competitors' Learnings 
With its 800 million active users worldwide, I bet you've reserved your brand's presence on TikTok. Because, despite its turbulence in the US, TikTok continues to expand its business tools now allowing users to drop a website link on their account. 
All you need to do is to turn your personal account into a business one and voilà! 
You can include any link you want.
But my today's know how isn't about the "link in bio" feature. But rather about analytics and data. 
As content creators, we are always on the lookout for analytics tools to gather as much data as possible and create highly-engaging content primed to go viral. We also use them to spy on our competitors and stay in the loop of their every move. 
One of the best social media analytics tools is undoubtedly ViralStat. Traditionally used for Youtube and Instagram (to export Instagram analytics), they have recently expanded their fine-grained data tracking to TikTok. 
Once inside, you'll be greeted by a series of data metrics aggregated on this one simple dashboard.
One of the most crucial among them — and the one you'll likely spend most of the time parsing through— is the Performance Tracking. Just like the name implies, you can use this feature to track any TikTok account you want. It populates it with helpful stats, including views, likes, comments, and shares, to get a holistic view of any TikTok account's performance.
You can also see most of these metrics for every single video.
The next cool thing is its charts illustrating the progress in different metrics over time. By looking at its fluctuations, you can easily draw correlations with the published content to quantify the impact each video had on the page's overall performance. 
You can also export all the data in the CSV file and send it to the rest of your teammates.  
The next feature that I absolutely love is the video charts. 
Through this, you can find out the videos that spurred the highest engagement based on the number of views, likes, comments, shares, and few other related metrics.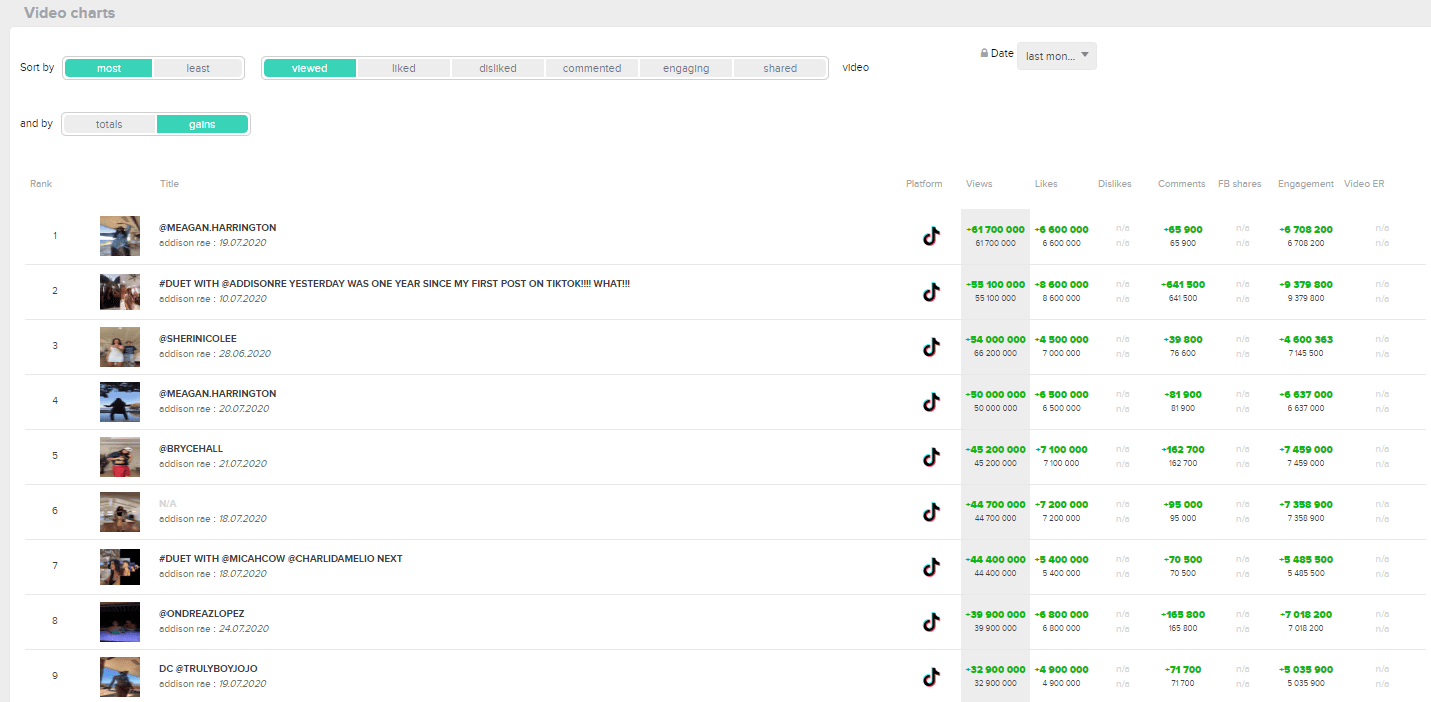 This is the data that you want to have at fingertips, especially if you're still a newbie TikToker.  
Because you need to understand what reels TikTok users in and what psyches them out, so you too can mimic some of the high-performing trends. 
And we've just scratched the surface. There are so many more handy features the tool has up its sleeve. 
Like setting up email alerts to not miss a new data insight. Or comparing two profiles to see the growth rate of each. 
You can also use it to discover TikTok influencers in your niche.   
Go for a spin through some of viralstat's features and leverage them to take your TikTok page to the next level. 
Source Copy Ideas From Location-Specific Search Results 
Copywriting is about the precise wording that speaks to the hearts of your prospects and reels them in.
But the same text that inspires U.S. consumers may be completely unrelatable for someone in The Netherlands or France. Besides the different subsegments within each, these are two separate audiences — each with a distinct background that dictates their pain points and shapes their buyer psychology. 
The generic writing guidelines in Facebook's Ad Library will never reveal these idiosyncrasies. But there is a rather simple yet powerful indicator to sneak into our prospects' minds and understand what they are moved by.
Google search results! 
It's no secret that Google tailors its organic results and ads to the given geolocation the query is made from. Hence, you can analyze their click rates and filter out the ones with the highest rates to get some precious copy ideas that will cater to the audience in one specific country. 
And to accelerate your search, you can use I Search From to get easy access to search results from different locations without having to activate a VPN. 
Select a country and language, type in a few relevant keywords, and the tool will instantly return you a Google results page — just like the one you would have seen — if you really were searching from the chosen country. 
Since the top 5 results receive a disproportionately higher share of clicks, don't waste your time chasing after the ones towards the bottom. Narrow your focus on just the top for Google ads and organic results alike and distill the ones that are best aligned with the search intent. Now take your time to thoroughly explore their copy and understand how they position their product. 
What features do they focus on? What words do they use to describe their product? 
If you've done your task well, you should now have a list of potentially high-converting directions to incorporate into your copy strategy.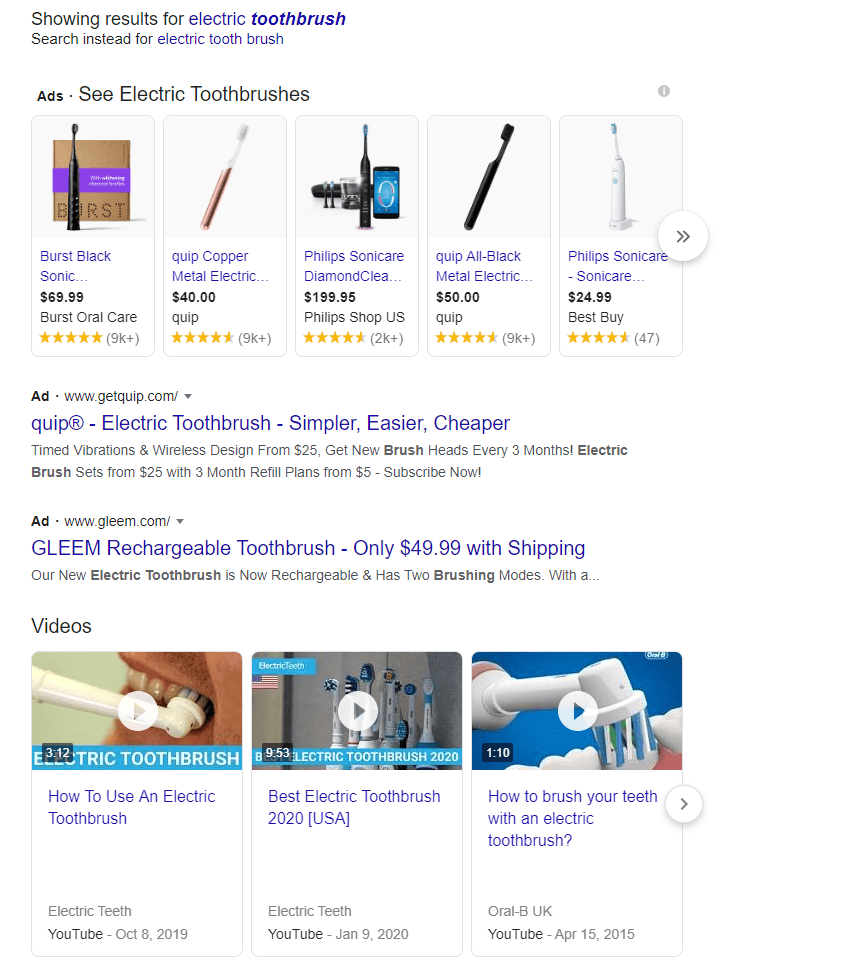 Analyze Many Influencer Pages At No Cost
The influencer space is crowded with tools and services. Yet few are as all-encompassing as Grin. 
Grin is advanced all-in-one influencer marketing software that will become your new holy grail for all influencer marketing-related activities. It offers a host of features including relationship management, influencer recruitment, campaign management, reporting, and attribution among some others.  
But today I want to briefly introduce you to its Instagram page analysis feature which you can perform through its handy extension.
Once added to your Chrome browser, you can now analyze any Instagram influencer page you want. Just click on the extension whenever you've opened an Instagram page to see these bite-sized data reports. 

Here you'll find crucial metrics such as: 
Total reach of the page
Engagement rate
Average likes 
Average comments 
Likes-to-comments ratio
Average views
Why should you switch to Grin for Instagram page analysis? 
The reason is evident. 
Among all the other tools trending in the market, most are meager in their free plans— take Phlanx as an example which allows you to analyze only 2 pages a day. And when it comes to paid plans, most choice lands itself into highly-priced annual subscriptions. And no matter how good they are, not every company can afford one.  
On the other hand, the Grin extension lets you analyze as many pages as you wish at $0 a month. 
Create Immersive Multimedia To Channel Your Product Story
Northwestern University designers, developers, professors and students established Knight Lab to develop vital projects that are important for digital media representatives. To date, the team has developed a few creative projects you can use on your blogs — visual comparison, VR stories, inline audios, storyline, and timeline generators. 
These tools are easy to use and are cool interaction touchpoints with your audience. Knight Lab helps you tell better stories! 
For the past month, our team was actively fundraising for UVMask, the next-generation reusable antiviral, and anti-pollution face mask with the most powerful UVC sterilization. On top of many features and benefits provided, the mask comes with a unique design to prevent your glasses from fogging up.  How about creating a small "Before-After" comparison for this feature using the JuxtaposeJS frame comparison tool developed by the Knight Lab team?
Once on the page simply click "Make a Juxtapose" button or scroll down a little bit. Small hint, when you scroll down you will see some really amazing examples of usage. 
When on the creating screen all you need to do is simply paste the image URL or connect the tool to your DropBox and use images from there.
Once selected simply hit the Publish button. Right below the creating part you will see the share and embed links. 

JuxtaposeJS offers an easy, quick, and creative experience for your audience.  
Recently, we also launched a blog for Theta, the world's 1st patented dual laser measuring tool to accurately, immediately, and easily measure distances and angles, marking guides, and level surfaces. 
While working on the Theta blog, we decided to include a special section on measurement history and developed a short timeline with numbers.
For this, we referred to Knight Lab's Timeline tool. 
Like in the JuxtaposeJS case, once you hit the "Make A Storyline" button to you will be redirected to the place where you need to insert Google Sheet timelines. 

Luckily, the tool comes with the pre-built solution to help you easily make changes and generate your own timeline. 
Once you input all the data and paste it on the page, you can also make some minor changes and arrangements.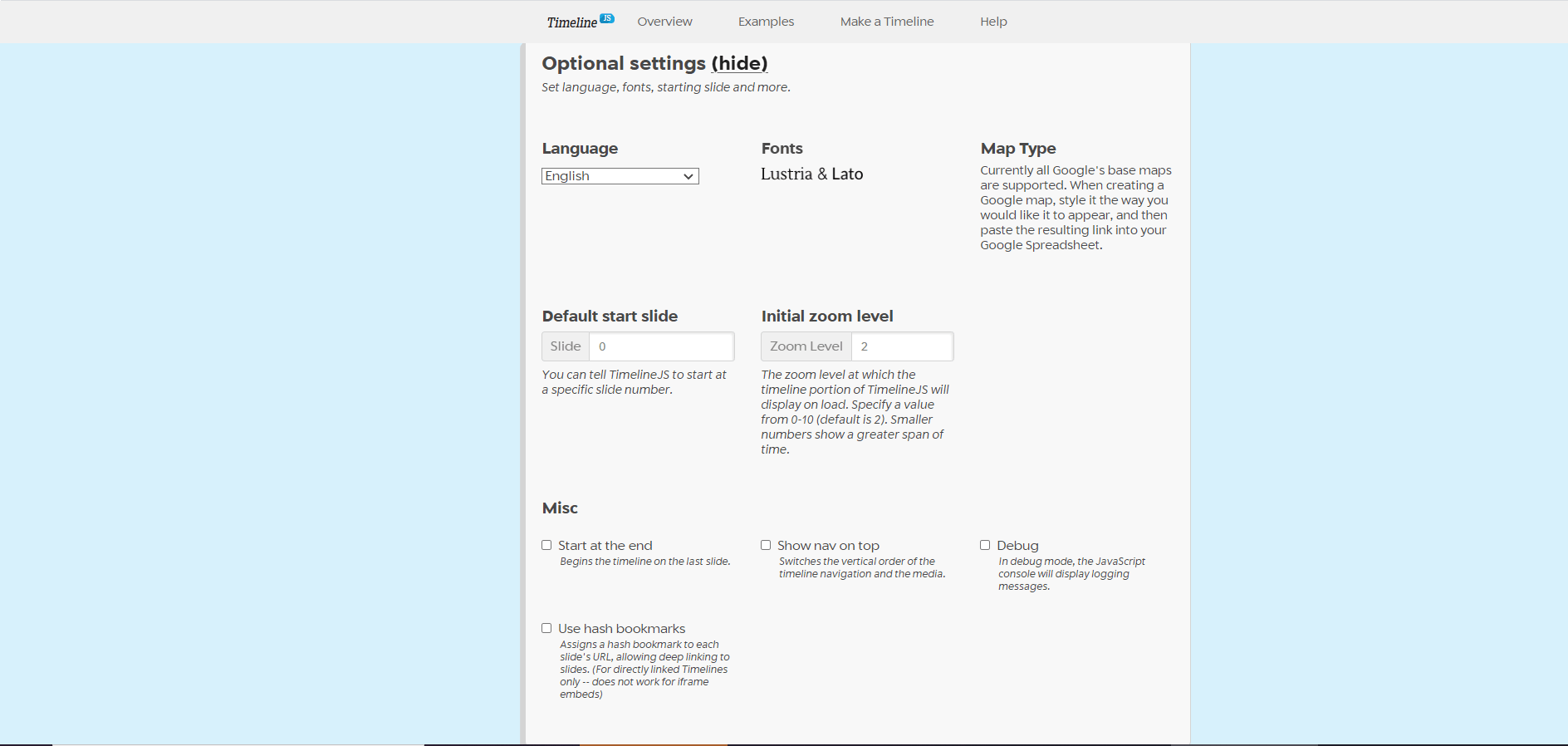 Hit "Preview" and enjoy your new timelines. Copy the link and share it or simply embed on the page.
——-
This much for this week, folks!
Which of this week's strategies and tools was your favorite? Grin is, no doubt, a needle mover, in the influencer space.
Keep your eyes peeled for our next Know-How blog post to not miss another wonderful bundle of the coolest marketing tools and tactics.
Lastly, don't forget to check out Narek's recent article on 10 lucrative growth hacking strategies you probably still don't know about. 
And don't forget to come back in a week!