Despite the marked slowdown in many walks of life, digital marketing isn't running out of steam.
With tech giants launching new features to address the challenges of the time and inject excitement into our boring routines, we growth hackers are seeking a good position in this new landscape to tap into more opportunities with the best seo tools.
Discover a fantastic SEO audit tool to dominate SERPs, how to analyze On-Page SEO and link-building prospects, how to optimize images before upload, and many more in this KnowHow article.
Ready to fly?
3… 2…1
Sidebyside SEO
SidebySide is an SEO tool that helps us compare our articles with their competitors and get tons of information with just one click. So you collect the URLs of the competitor pages, put each in a line and press "ninja check".
You get:
Number of words on page,
Number of external and internal links,
Page size,
Title and Description,
all the headlines,
internal and external links and more.
Combining this tool with Ahrefs's batch analysis will give you everything you wanna know when doing competitor analysis
Serpstat Website SEO Checker
Serpstat Website SEO Checker is a browser extension, which gives in-depth SEO metrics of any page or domain in one click (visibility, traffic, number of keywords, top competitors in the region).
The tool offers:
On-page SEO parameters – [Page Source, Google Cache, PageSpeed Insights, Site start date, Meta tags, HTML tags, Words Count / Symbols Count, Favicon checker, and many others.
Page analysis – [Top 10 keywords in Google ranking, URL that ranks for this request, Ranking position for this keyword, Position change and search volume, Keyword CPC, URL Competitors, Keywords the site ranks in, Missing keywords.]
Domain analysis – [Domain visibility, Domain traffic, Number of keywords, Improved and declined keywords, New and lost keywords, PPC keywords, Number of results in Google and Bing,Yandex Quality Index, Number of images in Google Image Search, Alexa Rank, Visibility change graph.]
Note: sign up on Serpstat.com to get full access to all its features.
Google Data Studio
Need to merge data from Search Console, Google Analytics, visualize it and share?
Welcome to Google Data Studio's comfort zone.
Google Data Studio is a reporting tool to transform your data into an appealing and informative report.
Our SEO ninja Zhirayr uses this tool to better visualize our web traffic data from Google Analytics.
Find out more about the benefits this tool offers!
SmallSEOTools
The SEO tester on SmallSEOTools allows its users to analyze the SEO performance of any website in a couple of clicks.
This tool generates results in a matter of seconds, and the results help you assess the factors that impact SEO, such as backlinks summary, Google page speed, MOZ authority, etc.
SEOminion.com
SEO Minion — latest free tool from my beloved Keywords Everywhere — gives information-rich overview of your onpage SEO.
Features:
Analyze On-Page SEO – It is the tried and tested tool for finding broken links and missing alt text on images on a specific webpage. Check your meta tags, h1,h2,h3 tags in your articles.
Highlight All Links – shows all the internal & external links of the webpage
Check Broken Links – make sure you don't have broken links, as it's a must if you want to rank your website on first page of Google
SERP Preview – Shows how your article will look in the search engine.
Optimizilla.com
Why optimizing images is important before you upload?
Simply put.
The larger your images are, the longer it takes for the page to load.
The longer your website takes to load, the higher your bounce rate will be. In other words, slow website, poor user experience!
There are a bunch of other factors why your website has low site speed, but image optimization is a great place to start!
After using Optimizilla, we realized how fast and convenient this tool is!
It has an option to bulk upload up to 20 images.
But the best part is yet to come!
We can control the quality of the image by the percentage and it reduces the size respectively!
CanIRank
CanIRank is an AI SEO software that prioritizes actionable opportunities rather than just SEO data. Utilizing artificial intelligence, CanIRank's opportunities are unique to your business.
With CanIRank you can easily see how you rank against your competitors, and your likelihood of ranking for individual keywords as well. You can find new keywords. Or, grow your followers, and optimize your page – all in one platform. Plus, the Opportunities tab shows you specific Opportunities for your business that you can do now. It is an amazing tool for businesses looking to ramp up their local SEO.
Key Features:
Marketing Dashboard
Opportunities
Grow my Content
Promote my Content
& More!
As an affordable solution, CanIRank has a freemium version as well as three other affordable solutions for DIY SEO's ($49.99) per month and DIY Pro's at ($79.99) per month and an Agency solution at ($79.99) per month.
As a unique, up and coming solution – CanIRank is worth giving a try out today.
Happy Ranking!
ClickFlow
ClickFlow is a suite of SEO tools that helps you to grow organic traffic. It is a simple toolset that works well, and helps guide your SEO decision-making with data. Some of the features include:
SEO a/b testing – run tests to increase your CTR with new titles & descriptions to increase traffic
Content decay – quickly identify posts and pages on your site that are declining in traffic, so you can update them & get back on track
Write great content – ClickFlow's content editor tool is an alternative to content optimizers like Clearscope or SurferSEO. It helps determine which keywords to use to rank.
See full features & benefits on their website. A $1 trial is available to test drive the software.
Chart Your Way Up To Google Through Periodic SEO Audits 
Whether you are looking to hike up to the first page of Google or maintain your hard-earned rank, an SEO audit at least once a quarter is paramount to your site's long-term success. 
It is a comprehensive analysis of your site to assess the effectiveness of its on-page and off-page optimizations, identify architecture-related pitfalls, analyze the quality of backlinks, scan keyword density, and examine a variety of other metrics that Google considers while ranking your site. 
If you're anything like me, you've likely experimented with many SEO audit tools, which more often than not, provide insufficient or inaccurate reports that are incongruent with data on Ahrefs or Moz. 
However, recently I found what I later concluded is the best SEO audit tool. 
Rank Math Seo Analyzer crawls your site and performs in-depth SEO analysis according to various ranking signals before categorizing the results into small, bite-sized reports. It accurately identifies all the issues that hinder your site from defeating the hazy Google algorithms and offers actionable insights to quickly fix them. 
But what's more, it's free and doesn't require you to register. 
Just head to Rank Math Seo Analyzer, paste the URL of your site in the search and wait for a few seconds while it generates your SEO score accompanied by a comprehensive analytics report.
Let's audit our newly-launched influencer marketing platform Viral Mango!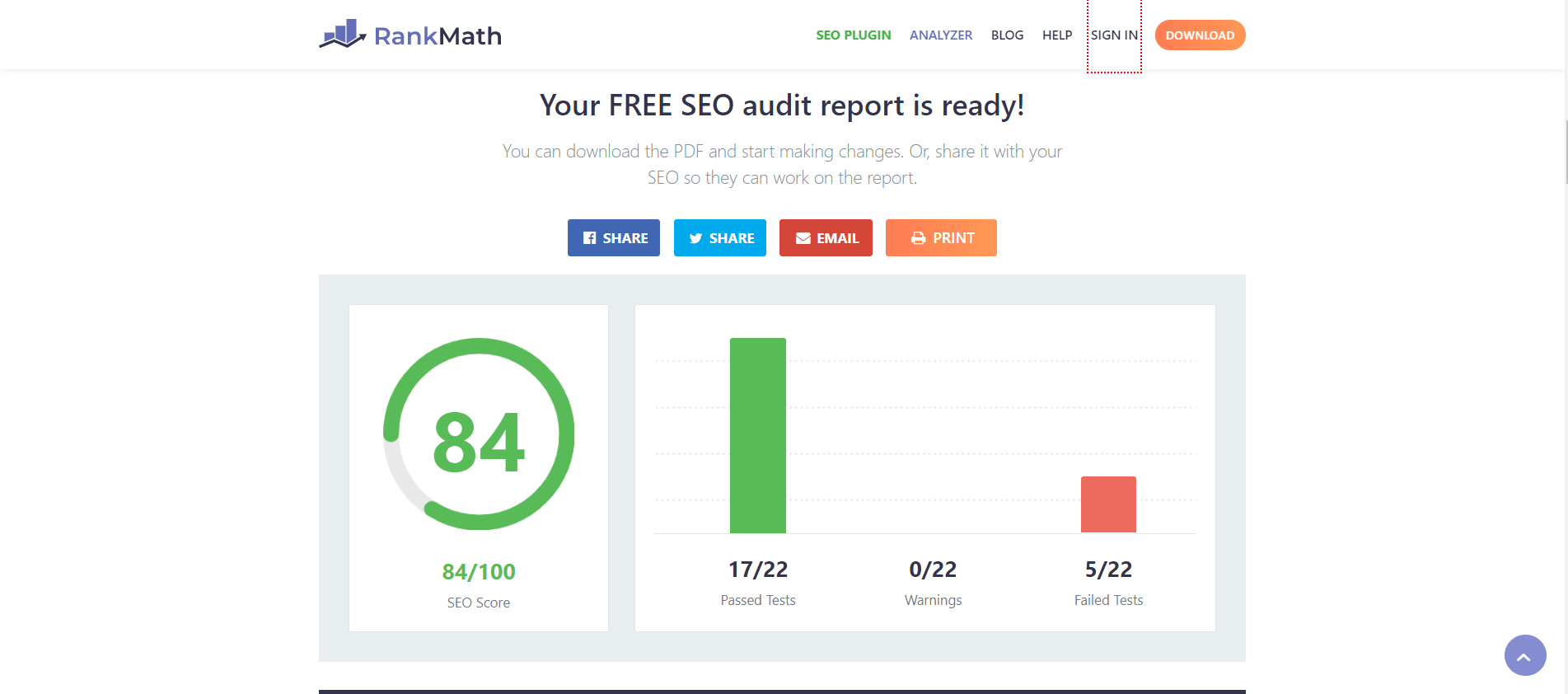 The advanced SEO report includes everything. From "alt" descriptions and external/internal link ratios: 
To mobile automation and WWW canonicalization: 
To the minification of your resources:    
And plenty more ranking metrics related to the site's performance and security:

For a site that was launched just 2 months ago, an SEO score of 84 out of 100 is pretty good! But it seems like we should invest some time in minifying the CSS and JavaScript files to trim the load time and accelerate the site speed. 
Much like how good SEO is a shared effort, fixing the faux-pax shouldn't be just one person's responsibility. 
I'll now download the PDF document of the SEO audit report and send it to our IT team to use the guiding tips and shrink the site code.
And, if you want to get some bullsh*t-free tips on how to run buzzworthy influencer marketing campaigns, I'd definitely recommend you to check out some of the great advice my team members—seasoned Influencer marketing experts and A-class growth hackers—share on Viral Mango every week.
Optimize Your Content Around your Competitor's Brand Name
Amidst the increasing rivalry to dominate SERPs, marketers are now in search of untapped ways to crack the top 10.
Namely, there is a spiking tendency in SEO to optimize content around brand names. And this comes with two main advantages.
First, many of the brand keywords have a significantly low keyword difficulty which means you have a good chance to come up to the first page of Google and garner your content sheer visibility.
And second, due to their popularity, brand keywords enjoy a massive search volume that can potentially be translated into some valuable traffic to your site.
While this could make a great keyword selection strategy to boost your blog content—as it already is for some businesses—I wouldn't just reserve it for this purpose.
Instead, my idea is to harness the potential of this tactic in striving for a bigger objective.
Like to "steal" some of your competitors' leads and funnel them in your direction.
How?
You can create an amazing piece of content optimized around a target keyword of your competitor's name and leverage their big audience to promote your brand.
This could take a form of a comparison article such as "Convertkit vs. Aweber" or adopt any other style you prefer. The crux here is to ensure that your content is well-optimized around your competitor's brand name and is relevant enough to appear on the page if a person searches your competitor's name.
Like with any new tactic you undertake, there will always be factors to hamper the odds of your success—here, it's the search intent.
Most of the people searching for a particular brand name on Google have a specific intention, and in this case it's reaching your competitor's brand page.
However, I would argue that someone interested in the services or products offered by a certain brand, will be tempted to know how their selected brand compares to the audience. Maybe they're paying too much? They aren't getting the results they desire?
By tapping into this desire, you address a number of cognitive biases that all consumers suffer. People want to know they're making the best decision, that the money or time they're spending is well-spent, they're averse to lose.
Show them that your product or service is the better option, and you've sowed the seed of doubt in their minds and potentially converted a competitor's lead into your own.
As with anything in SEO, it will probably take some time before the results are tangible enough to notice. What does this mean for you?
The best time to implement this tactic was yesterday!
When this simple tactic plays out, it becomes a game-changing tactic that generates a wave of leads and expands your brand visibility at literally no cost.
________________
This wraps up this Know How article about best seo tools!
When was the last time you ran an SEO audit of your site? RankMath will surface all the issues and share expert guidance on how to fix them, so you can start amplifying your search visibility.
Social Media like facebook , instagram and twitter plays a crucial role in your SEO efforts. When it comes to resize image for facebook cover you may checkout Skylum.
And as you step out armed with these upskilling tools and tips to kick your marketing up a notch, don't forget to also read our post on the 20 timeless PR tools and tactics you need to master to land your crowdfunding campaign top-notch media coverage.