Howdy fellas! It's Know How time again! And we are back.
This is 2020, the year when your competitor is only one mouse click away, and we, as digital marketers, should never forget that. 
We need to be curious, find new and creative ways to capture our audience, new tactics to save money, close a perfect deal with partners, and discover new means to boost our sales and revenue. 
This past week, we again worked on high converting hacks and tricks that I am sure will crush it. 
With the world moving all online, the negotiation table (aka platforms) is changing, but the essence is the same. Get ready to explore very cool negotiation tactics that you can implement in any online or offline situation. 
We will also dive into the ads world and, together with our pros, will hack underperforming ads to increase your ROAS. And last but not least, we will talk about broadcasts and their impact on our sales. 
Hack: The Subtle Art Of Asking Questions During Negotiations
Facebook Ads: Hacking Lookalike Audience Ads
Ads Manager: An Alternative Use Case to Export/Import Feature in Facebook Ads Manager
Sales Tip:Upscale Your Sales With ManyChat Broadcasts
From the art of question-asking that will trigger positive outcomes to advertising tips to broadcast calls to boost your sales, all is brought to you to explore and test out.  
Ready… Steady… Go! 
The Subtle Art Of Asking Questions During Negotiations
by Mary Baboyan
You mastered the art of negotiations long before you started walking or talking — through non-verbal communication. You tricked your parents into giving you the candy or the toy you so much wanted. As you grew older, you started mastering this skill and using it everywhere, from shopping to communicating with partners to making journalists write about you. 
This week I tried out a negotiation strategy proposed by Chris Voss, a former FBI lead hostage negotiator. I learned about this hack a while ago and ever since wanted to implement it daily. I took the advice, slightly modified it and… well, check out the outcome. 
He proposed to use calibrated questions — "How am I suppose to do this? What will be the outcome if I do that?" throughout the whole negotiation process, thus putting the other party in your shoes. It's easy and possible for even a person who is making his first steps in business negotiations.  
I project this tactic on my paid media potential partners by asking them many questions, like "How many page clicks can I expect? Is the article going to be on the Homepage or not? Who is going to write an article for me? What are their audience insights?" 
Aside from this, I also added that I cared only about a high Return on Investment (ROI). 
Sometimes asking questions is way more important than finding answers. These questions are lifesavers asking about budgets. But they are way more significant help when forming your image in front of your potential partner — the more questions you ask, the sooner they'll understand you are well-informed and data-driven and the quicker they will be open to offer discounts. 
In one of my cases, I received a 50% off discount. And the best part — drum roll — without even explicitly asking for it.
Same Audience, Same Ads, Different ROAS — Hacking Lookalike Audience Ads
Whether you are a noob or a professional advertiser, you are well familiar with cold, lookalike and custom audiences and how they work. 
At the beginning of the campaign, we use various audiences, which initially run well but begin to underperform after a while. As a digital advertiser, you cannot deal with a more annoying thing than an underperforming ad. I know the feeling. 
So what can you do? 
One way to reactivate these audiences and fully benefit from them is to create a separate campaign with the same audiences. During one of our recent campaigns, I tested this hack — and discovered that underperforming ads can be fixed. 
I created a campaign with an ad-set that included one of the best-working lookalike audiences I had. I then narrowed it down with the most relevant interests and duplicated that same ad-set 5 times within the same campaign. 
Once I turned on the Campaign Budget Optimization (CBO), the incredible results started pouring in. 

The ad-sets started to compete with each other and deliver outstanding results with ROAS higher than 6. 
In 3-4 days, I killed the ad-sets that weren't performing well and duplicated new ones. On top of this, I also got to test these audiences with different creatives and copy!
An Alternative Use Case to Export/Import Feature in Facebook Ads Manager
Long time no hear from me, huh?!
Well, here I am, back with yet another cool ad hack — with an alternative method of using Facebook's native Export/Import feature as a template for all newly launching ad campaigns. 
Whether you're a creator who runs advertising on his own or an advertiser with a streamlined ads-launching procedure like I do, you most probably have a range of standard targeting you do for every project. 
As the Facebook Liquidity strategy implies, you need to start from extensive targeting to avoid unnecessary constraints on your campaign and not limit Facebook algorithms. 
Okay, Boss! Your Platform — your rules, which frankly speaking, work pretty well.
And this is where I actually started using the Export/Import feature, but for a totally different purpose — saving templates to use in other projects with similar targeting. In fact, I have the targeting templates ready for pretty much any campaign I work on. 
And you wouldn't believe how much time this saves me when preparing for the initial test ads!
So here are the things I do with the Export/Import feature. I know you will be excited about them (I was)!
First things first — create your whole campaign with specific ad-sets you would like to test out. You are going to do this only once, so take time to make it neat and tidy, all well thought and organized).
Once done, tick the campaign you created as a template and push the Export/Import button and from the drop-down menu choose the "Selected" option.  
You will see the pop-up. Select the format you like and hit "Export". Personally, I enjoy working with *.csv files, so I choose this option. 
This might take some time — wait. 
Then open the exported file and delete everything under the Campaign ID, Ad Set ID, and Ad ID columns. Well done. Save it.
Go back to the Ads Manager and push the Export/Import button. Select the Ads option under the Import section this time.
Press "Choose File" and upload the file you were working on. 
It will start parsing aaaand Done ✔️
Now you can make a few minor tweaks, such as adjust creatives, and your 100s of ad sets are ready to be tested. That easy and that fast!
How else can I use this Export/import? If you have a hint, drop it in the comments and I will test it for you.
Upscale Your Sales With ManyChat Broadcasts 
For any campaign we work on, ManyChat subscribers are the primary traffic source for the Sales department. In general, we try to bring traffic from different places into one place — ManyChat. 
Why? Because our chances are higher in ManyChat to convert the traffic in various ways, including broadcasts, one on one sales, and most importantly, keeping in constant touch with our customers. 
What's important to know in sales, is always warm-up your leads before jumping in with various strategies to convert them into real customers and buyers of your product. 
While the majority of people are comfortable with chatting via Messenger, many customers prefer calls. And we came up with a solution. We decided to send out a broadcast and invited out ManyChat subscribers to a direct call to answer all their questions. 
We tested out this hack during the PomaBrush campaign, the most powerful silicone electric toothbrush. And it worked! 
First, you'll need to set up a calendar event for your product. Why? 3 reasons — different people, time zones, preferences. 
Once you are done with the calendar, it's time to work on the copy and broadcast message. The final result of my message looked like this: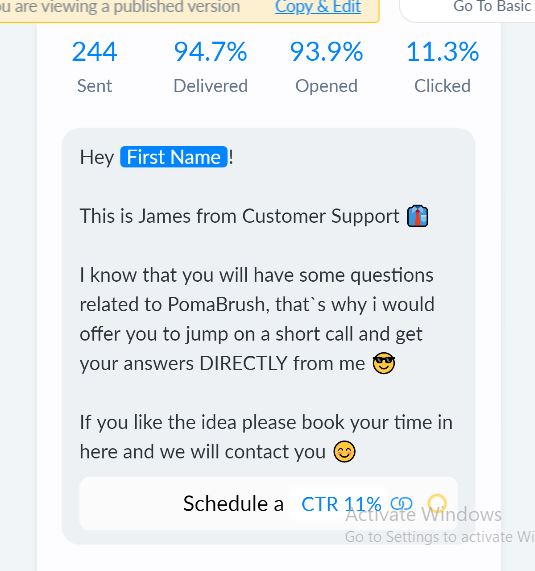 You will see the broadcast's outcome in the stats above — 244 users, 93 percent open rate, and 11% clicks. In the end, we received 9 call requests and got three new conversions! 
So, this is another way to get the best out of your subscribers. You just need to warm them up and approach them in the right way!
Create your messages and share your experience with me, I am all ears.
—————————
What do you think of the new negotiation method proposed? I bet you are thinking of a place to implement it. I did when I first heard about it. 
Or maybe you are here because of the Ads? What about the broadcast calls? Do you think you can implement that for your project? Please share your experience once you tried them out.
Wrapping up this Know How I would like t to propose a challenge. Ready?
Take a paper and a pen and throughout this week, write down all the challenges you faced as a marketer. Once done, drop them here under the comments, and let's see whether we can answer them or not.  
This much for this week, fellas! See you soon. 
And before you leave, don't forget to check out our previous Know How: Manage all your ads from one platform