There's ambiguity about which "strategies" predict success and real results.
Know how weekly digest has A players, marketing gurus behind the scenes hustling, generating ideas to get the stuff done.
For You, the ninja player – here's the top tested and proved tools, social updates and hacks of the week.
Social Platforms
1. Facebook Messanger major updates coming… TODAY! Goodbye, Share Button
Facebook periodically updates the data-heavy and rarely used features of Messanger app for the sake of lighter, better and simpler Messanger experience.
This time, they had a clever idea to remove the "Share" Button for good.
"Share buttons will no longer appear on cards, lists, and other media after August 15th, 2019." – Manychat
This reflects the following changes in your Messanger bot flows:
People can use the "Forward" button, which is more practical and hassle-free.
"Share" CTA is still eligible to use but you might want to point to the "Forward" button
You can use the arrow to point out to the button from inside an image.
Tip: Test to make sure the arrow lands towards the button.
This is all great…
But, another update…
2. New dashboard for Instagram is integrated into Facebook Creator Studio
Creator Studio is a globally powerful tool to help creators manage their pages and better understand their content performance.
So!
Facebook's Creator Studio incorporated an Instagram dashboard!
Meaning you can post content, carousels… and IGTV (no other tool except the mobile IG allows this) from a computer! (While we all love Instagram, nobody likes to trach the data on the phone)
What does this mean for marketers?
Instagram section in Creator Studio lets you manage all the posts from one dashboard
Access all your posts – videos, photos, carousels, stories and even IGTV (hallelujah) from the Content Library
The dashboard gives you deeper insights into your data – want's working and what's not
Added Bonus: its a single entry point for reporting and comparing both Facebook and Instagram data on the go!
But before all these, make sure to link your Business or Creator Instagram account to Creator Studio first.
But remember that by integrating Instagram, you won't get any additional insights than understanding the most active time of your audience, how they engage with your content or analytics on the reach and total impression.
Speaking of Instagram… one MORE cool feature for Instagram.
3. You can now add more than 5 business accounts through multiple login
Did you know that you can connect up to 25 accounts to your Instagram mobile app?
Here's how:
Go to your profile, then tap menu.
Tap Settings.
Click multiple account Login.
Login in with the other business accounts
You can connect up to 5 accounts, yet multiple accounts, store the accounts, making the content management a breeze.
4.Linkedin anonymous browsing
Ever wished to browse other people's Linkedin profile anonymously?
There are 3 ways to set profile viewing options.
Your name and headline
Private profile characteristics
Private or anonymous mode
Basic Linkedin accounts:
If you have the free Linkedin account, and choose "private mode" viewing option, Linkedin won't let you see who's viewed your profile either.
Premium Linkedin accounts:
With Premium account, however, you can browse in private mode yet still see the list of people who viewed your profile in the last 90 days.
But Linkedlin respects the anonymous mode, so those with Premium account still can't view the names of private mode viewers.
This is a very useful tool if you are:
just beginning to find your way on LinkedIn
researching other people's profiles to help write yours
researching potential clients, employers, sales leads or business partners
To change your browsing mode:
Click the Me icon.
Select Settings & Privacy from the menu.
Click the Privacy tab at the top of the page.
Find How others see your LinkedIn activity section.
Click Change next to Profile viewing options.
Select the mode you'd like to browse in.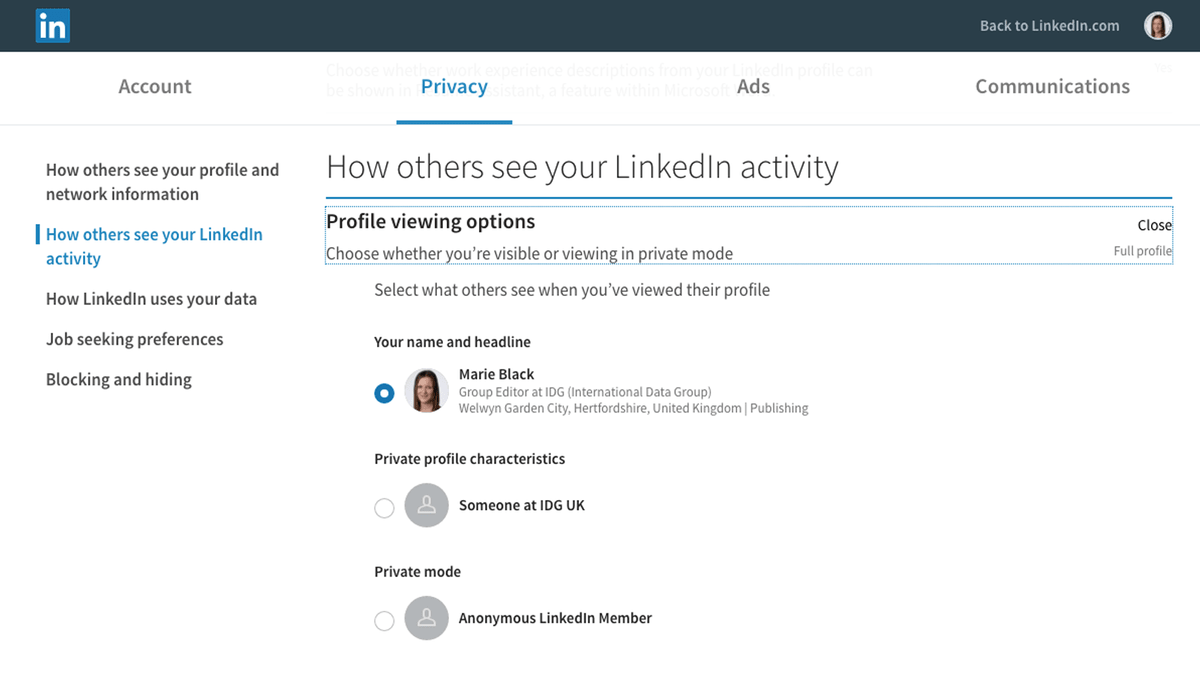 Ads
5. Microsoft or Bing Ads magic
Just like Google Ads or Adwords – Bing Ads (Microsoft Ads) is a contextual advertising tool to find a target audience and acquire qualitative traffic with conversions.
Microsoft owns Bing, Yahoo and AOL – so advertising here has epic benefit: your ad is seen on all three.
More to the point now:
Did you know that the official search platform for Siri is Bing?
Utilizing Bing ads in keyword-heavy question-like ads will give you a leg up from your potential competitors.
Nonetheless the huge volume of the Google network, we can try the search platform which is twice cheaper and has to some products – additional search volume.
No brainer to try, right?
6. Google Gallery ads
Speaking of Google Ads – lately, Google enabled pictures inside the search results.
Its an Ad with swipeable carousel images, which users can click, expand into a vertical view to swipe through.
With the help of Google's new mobile search ad format, you can upload from 4 to 8 Images with individual 70 ch. descriptions or taglines and up to 3 different headlines for testing.
These 3 headlines leave you room for testing keyword combinations, different value propositions and CTAs.
Tools
7.OCam – Screen recorder
oCam is a free OhSoft product, tool for capturing and video recording a computer screen, taking screenshots. Even supports GIF recording.
oCam breaks the mold by offering a flawless recording free software – has a straightforward control panel and, in addition, is a lightweight program.
Consists of a main screen and a green-bordered capture area, it only captures onscreen images, videos, and audio.
The program is 100% free and supports most popular audio and video codecs.
8. Compressor.io – compress and optimize images
Compressor.io is a Saas tool to help marketers shrink files with minimal quality loss.
Lossless compression supports JPG and PNG formats, You can compress GIF and SVGs as well.
The tool also optimizes the images for your website to help decrease the load time dramatically. Unfortunately, the tool doesn't have bulk upload feature, you have to upload the one image at a time.
9. Sort Range Plus to help sort spreadsheet with color or… font
When working with a huge database in google sheets. You often have cells in different colors or fonts to segment and easily navigate through your data.
What if i tell you, there is a tool – Sort Range Plus to extend Google Sheets's built-in Sort Range tool.
It adds the ability to sort rows based on cell background color and text color or even font, not just by cell value.
10. open-startups.xyz
Open-startups is a movement initiated by Buffer, where startup companies operate in the open and publicly share their statistics, metrics such as revenue, users, and traffic.
Companies turn into success stories and you and I can openly view and "be a part of that growth".
Hacks
11. HARO paid keywords
Help a reporter out – HARO is a great platform to find sources and journalists for stories quickly.
You receive three e-mails per day from your pre-set interests.
To get notified with the right and targetted keywords, HARO offers three different plans based on your intentions and budgets.
This is the wrap up for today, see you in a week!