Here at TCF, we breathe, sleep and eat digital marketing… to chart your path to success!
This week our team of marketers came with hand-collected hacks and tactics, growth-expanding strategies — some really neat ways to put digital marketing to new… revolutionary use.
Social updates
Gmail calendar sync
Now Gmail allows you to see whether email owner is available to answer your emails for that specific period or is out of office at the moment. A great opportunity to save time instead of emailing someone and getting an auto-reply.

Mark yourself as on leave on Google calendar and your colleagues will get a heads up before they click "the send the email" button.
A yellow banner will pop up above the send button to notify that the addressee is currently out of the office.
Available for G Suite users.
Strategy
Autopilot Email Sequence
Email marketing is the single most effective way to nurture your potential leads and thus create a lead-generating funnel.
Without this tool, you're leaving a lot of revenue on the table!
Email sequence is time-consuming…
But what if I tell you…
Imagine you can keep all your potential customers interested without lifting as much as one finger.
Automating your email sequence takes the whole process to another level… so you put it on autopilot… and here's the step-by-step guide.
Create your email sequence from welcome to launch – suppose, you have 6 emails to send

Choose time-based and pre-determined intervals to send your messages – let's say you send 1 per week
Choose the max period you can send with 5 business intervals to your subscribers
Schedule all the emails one-by-one with the pre-determined interval to complete the timeline of 5 day intervals
Now, repeat step 4 by creating separate automation relevant by form and 3, 2 and 1 day interval
Tip: You can remove some emails from the sequence if you think its not time-wise to send it
Tip 2: When duplicated the sequences and automation, exclude the users from other sequences
Pro Tip: the 6th and 7th aka pre-launch and launch emails are fixed. They are sent 24 or 12 hours before and at launch day.
This is the full circle!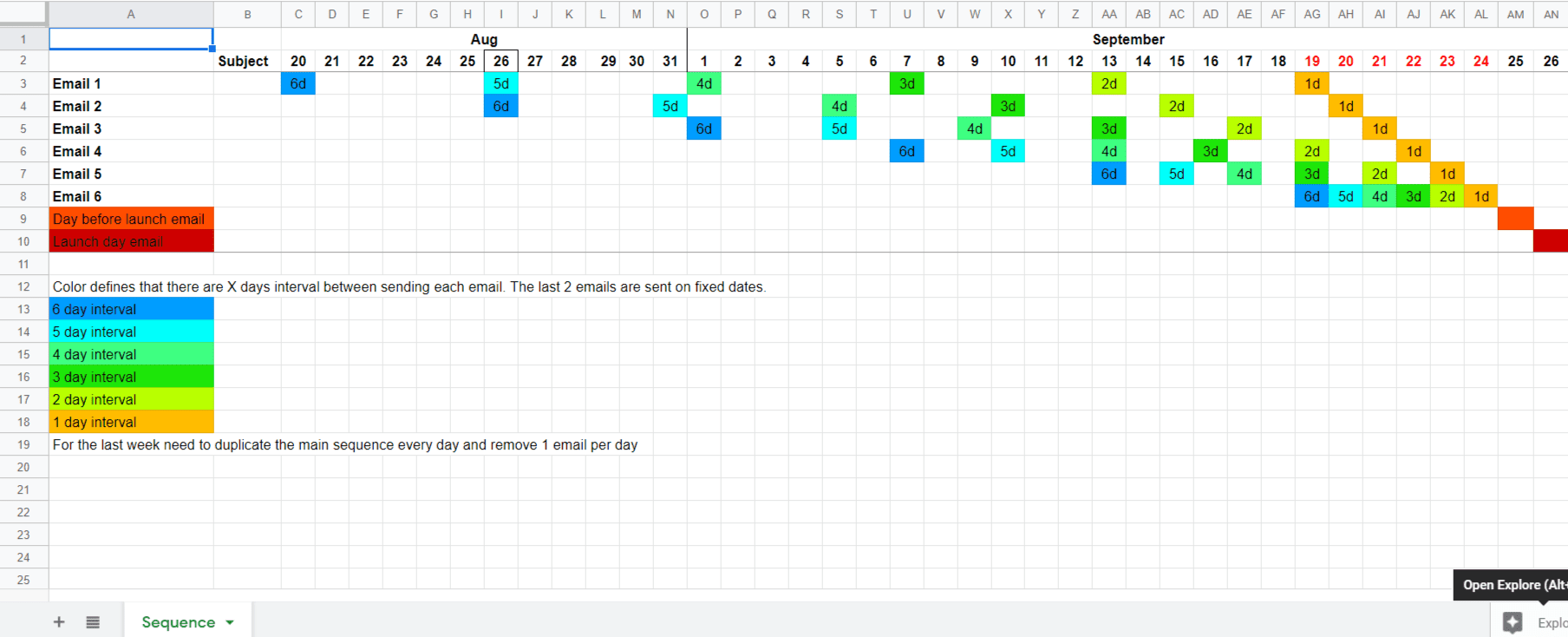 Ads
Prelaunch Strategy
Create a related lookalike audience with your target geolocation or best working countries and … here's the trick… Include 5 more random countries. (the latter can still become subscribers, but not backers of your crowdfunding campaign)
This is a strategy to "teach" the pixel which subscriber conversion are we targeting.
Keep the ad running for 2 days, and after it collects some history – exclude the random countries and keep only the best working ones.
Tools
KS tracker extension
Kickstarter tracker is a Chrome extension, which allows keeping track of the progress of as many campaigns as you want.
It shows the number of backers, days left, funded amount and goal, the pledge history or how trendy is the campaign… all in one place.
Moreover, it also sends notifications as soon as the campaigns get more funding.
Also, if you open the extension pop-up, the active icon badge will show how much funding the project got since the last time you opened it.
Adtracker.io
Get notified about a competitor placing a new Facebook ad directly on your email.
Adtrackr.io allows to track up to 3 active trackers. The tool updates the information every 24 hours and notifies you with any positive change on the page/s.
Connection to Zapier wan never this beneficial.
Firstly, the tool increases the page number AND also sends notifications right to your Slack account.
Social Blade
Want a deeper understanding of user growth and trends?
Utilize Social Blade – clear leader and #1 authority for digital media news – to track user statistics on YouTube, Twitch, Instagram, and Twitter!
Install the Social Blade Chrome extension and monitor all the important statistics from an added box.
Segment
Segment – another great extension to analytics, which provides you with additional data and off-the website data per user.
So you can track the attribution and behavioral performance like scrolling down and going from one page to another, search intend and page visits of the user individually – not as an aggregate.
With this tool, we can now track the path before the final conversion and analyze it.
It is open-sourced and free!
Sidebyside SEO
SidebySide is an SEO tool that helps us compare our articles with their competitors and get tons of information with just one click. So you collect the URLs of the competitor pages, put each in a line and press "ninja check".
You get:
1. Number of words on page,
2. Number of external and internal links,
3. Page size,
4. Title and Description,
5. all the headlines,
6. internal and external links and more.
Combining this tool with Ahrefs's batch analysis will give you everything you wanna know when doing competitor analysis
This much for this week.
Happy analyzing, folks!