It's been a while since weekly Know Hows became an intrinsic part of The Crowdfunding Formula's team culture. Every Monday our team of A-players and growth hackers gets together to watch their colleagues and friends unlock the best tools, strategies and hacks in this ever-changing enterprise.
Instagram is an amazing marketing machine on its own, Instagram for Business is a marketing machine on steroids.
There are however a number of disadvantages of using Instagram for Business you should be aware of before jumping in and starting to use it. On the large scale, the pros outweigh the cons.
This week we were surprised with ways to use IGTV to promote your brand, to generate sales using Instagram Carousel Posts, to manage your Instagram Ads comments right from within Facebook Ads Manager, and many more.
Read on and pick up the best Instagram tips and tricks for your marketing campaign!
IGTV Instagram Branded Content Tool
Instagram branded content has just rolled out some tags through which long-form content once published in IGTV will be labeled "Paid Partnership With" and also carry the partner's name.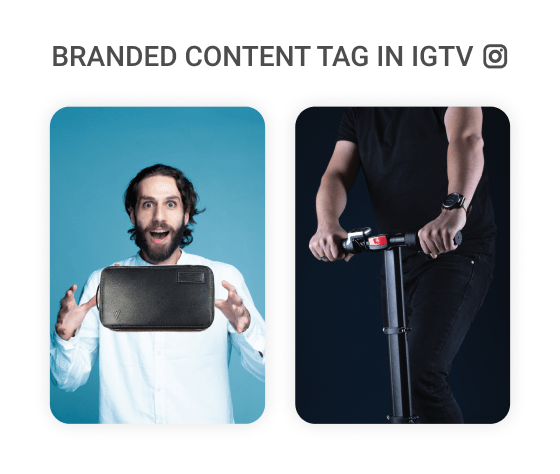 To be able to make use of the Instagram paid partnership label, a user should either have a Businesses or Creator account and meet the predefined eligibility standards. If you want awesome templates to create an Instagram ad, please go to Visme.
The Instagram branded content tool is particularly interesting for those seeking to work with influencers to promote their products. And it makes influencers far more willing to collaborate, given the vast opportunity it offers to monetize their efforts.
To access the Instagram Branded Content Tool:
Click "Advanced Settings" in the menu below "Title & Description" before posting the video.
Tap "Tag a Business Partner'' and search for the business you would like to tag.
To tag them you will need to have your business partner add you as an approved account in their Branded Content settings.
Easy!
And there's more to this Instagram Partnerships than meets the eye.
You already should know how hard it is to link your website on Instagram. The only available place is the Bio section.
But now, IGTV opens up a new location for your website link! And businesses will definitely leverage this unique opportunity for Instagram
Paid Partnerships to drive traffic to their pages.
WeFind Instagram Extension
If you have ever manually calculated the engagement rate of influencers on Instagram or Youtube, you know how tiresome it can be!
Click, open, check. Next. Click, open, check. Next…
But now, with WeFind, our SMM pro Zhenya can see a myriad of useful data in just a few seconds. From the engagement rate of different pages, to downloading posts directly from IG, WeFind allows her to check:
The Engagement Rate of photos and profiles on Instagram,
The Engagement Rate of channels, users and videos on YouTube,
The average Instagram comments for different influencers,
The average Instagram likes for different influencers,
Each influencer's post frequency on Instagram
Then she simply saves the data with its built in functionality, in a spreadsheet that automatically gets updated over time. And she's not alone, this data can easily be shared among members of the team, so we're all up to date on who's the next PewDiePie.
Instagram Carousel Posts to Generate Sales
Let's talk about what's trending on Instagram.
Many businesses love posting a single photo on Instagram of their product accompanied by a long, fluffy description that rarely gets read.
But I'm here to show you a creative tactic to use Instagram Carousel Posts to increase your product visibility, interest, and generate some sales!
Follow the AIDA principle:
ATTENTION: Grab users' attention with a catchy headline or title slide touching the problem.
INTEREST: In the following 2-6 slides, delve deeper to dismantle the problem your product solves. One way to go about this is to evoke emotions. Use visuals and texts to frame the inconveniences someone without your product faces. In the example below, the Carousel Post takes the form of advice touching the problem and painting the product as the ultimate solution to it.
DESIRE: By now your followers are dying from the excitement to see the solution to the problem that bugs them so much. It's time for your amazing product to step in with sleek visuals.
ACTION: In the last slide ask your followers to click on the link in bio to buy or sign up or do some other action (i.e. follow your page, comment, etc.)

On average, a good Instagram Carousel Post can generate up to a 70% save rate. So if done wisely, this can hugely inflate your posts' organic reach and increase conversions.
A Strategy To Promote A Tech Page
How can you promote a tech page on Instagram and raise brand awareness? This is a question that hundreds of startuppers have in mind. Of course, one of the traditional ways is to run many ads targeted on different audiences.
But I prefer unconventional ways.
And to give you a detailed walkthrough of my strategy, I picked one of our recently-launched projects—Tech I Want. This community-oriented platform showcases the coolest tech products with access to very special discounts for its followers.
What I suggest is to harness the full potential of social media to raise brand awareness of the Tech I Want platform while using ads as a complementary strategy to promote our social presence.
The first milestone in my roadmap is to make our own in-house videos with the Tech I Want logo. This is crucial as tech geeks love sharing tech-related videos with their friends who will, in turn, see our logo and unconsciously be familiarized with the brand.
This will help target tech-savvies directly and promote the brand by the trustworthy channel they have been following for a while. The compilation video should be super engaging with fast, mind-blowing scenes and a bold call to action at the end.
Something like "Follow Tech I Want for the coolest tech stuff" to guide viewers through the next stage of the funnel—that is to subscribe to the Tech I Want newsletter.
As a build-up to our brand awareness efforts, we can move forward by cross-promotion with The Crowdfunding Formula's partner tech pages.
In exchange for sharing Tech I Want videos, we can either share theirs—if we have a similar number of followers to make the collaboration mutually beneficial—or offer them a small sum of money to post a compilation video.
Why don't you subscribe to it and get a fresh suite of the newest tech in your inbox every Wednesday?
Just an idea.
Manage Your Instagram Ads Comments Without Having an Instagram Page
It turns out there is a hidden way to manage your Instagram Ads comments right from within Facebook Ads Manager without even needing to create an Instagram page. Beyond just a handy convenience, this will allow you to swiftly hide or delete negative comments, as those will significantly degrade your ad performance.
Here's how to do it.
Step 1.
First, select the ad in the Ads Manager that you want to moderate.
Step 2.
Once on your selected ad interface, click on the 3 dots in the upper right corner.
Step 3.
Then go to More Options and choose Manage Instagram comments.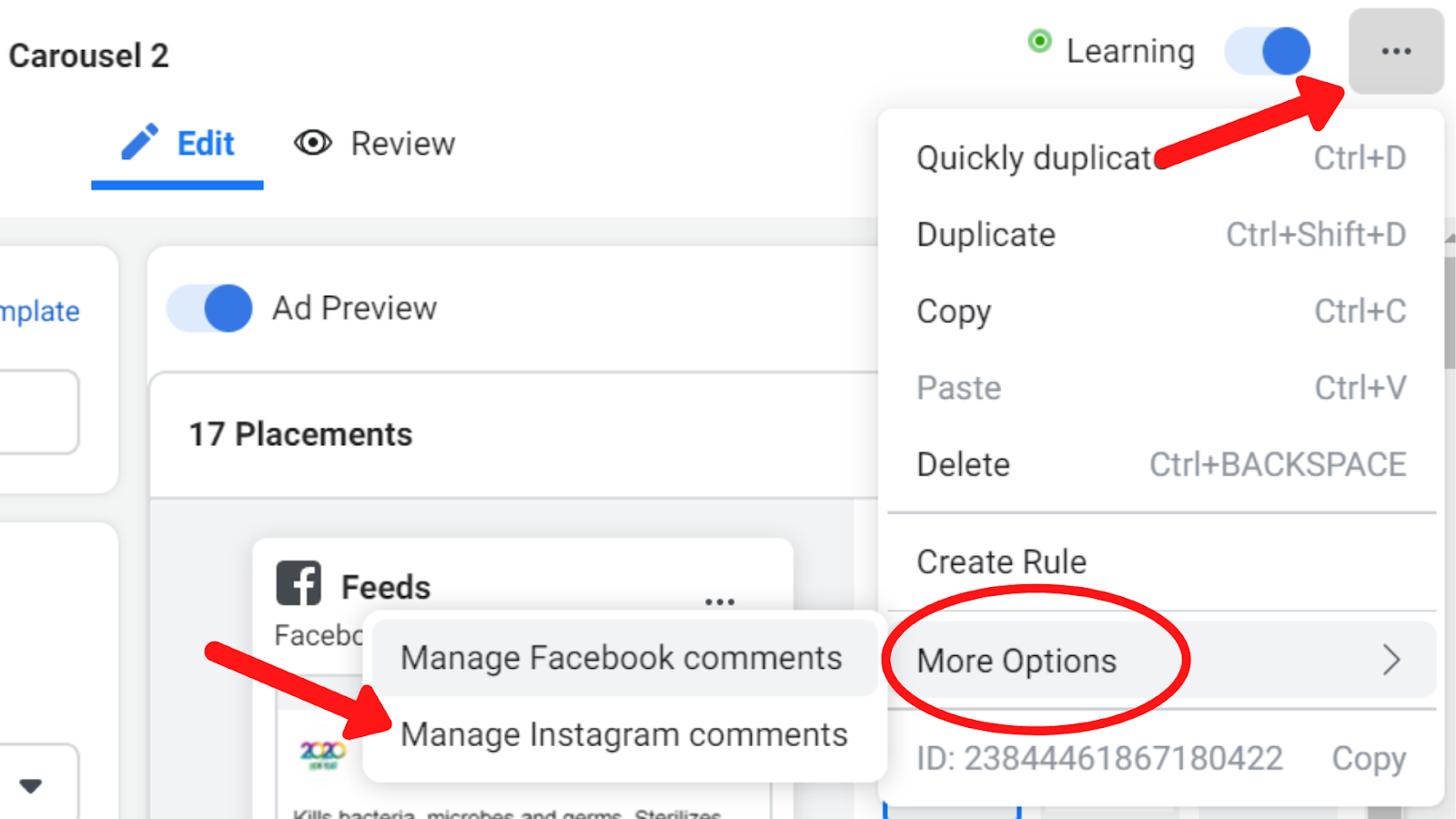 From here you can see your Instagram ad, and easily hide or delete any negative comments.
There is no need to even create an Instagram page only to link it to your Facebook later to manage your ad comments. You can keep track of your audience's reactions right from within Facebook Ads Manager.
It's this simple.
Hook Your Followers With Striking 3D Instagram Stories
Enveloped in a bubble, seeking outside entertainment has become comforting. Beautiful collages, brightly-lit faces, little chats in every corner… all these pack a powerful emotional punch to escape the gloominess of our boring #WorkFromHome days.
And you know our go-to. Social media!
In fact, Pinterest, Instagram, TikTok have shared record-high engagement on their platforms. The new, interactive features on the horizon are just more proof of their immense traction.
And if you look on the bright side, you'll realize you now have more time to engage your customers and approach new ones. To ensure your followers don't just scroll by you, here's how to entice your leads with an immersive AR experience.
Spark AR Studio is a piece of top-notch AR software developed by Facebook themselves, allowing marketers to create stunning filters. And they recently rolled out two new features to make more engaging 2D and 3D Instagram Stories.
How can your brand benefit from this?
In 3D, you can create different stickers, filters, and product models that showcase the exact look, size, and shape of your products. And for 2D objects, you can insert PNG pictures that will further customize your Instagram Stories.
We tried out the Spark AR 3D filters for one of our projects—Cheerble Board Game for cats. And here is how cool they look:
I would recommend everyone reading this post to try out Spark AR. Easily create striking product shots, hone your brand voice, and connect with and nurture your community.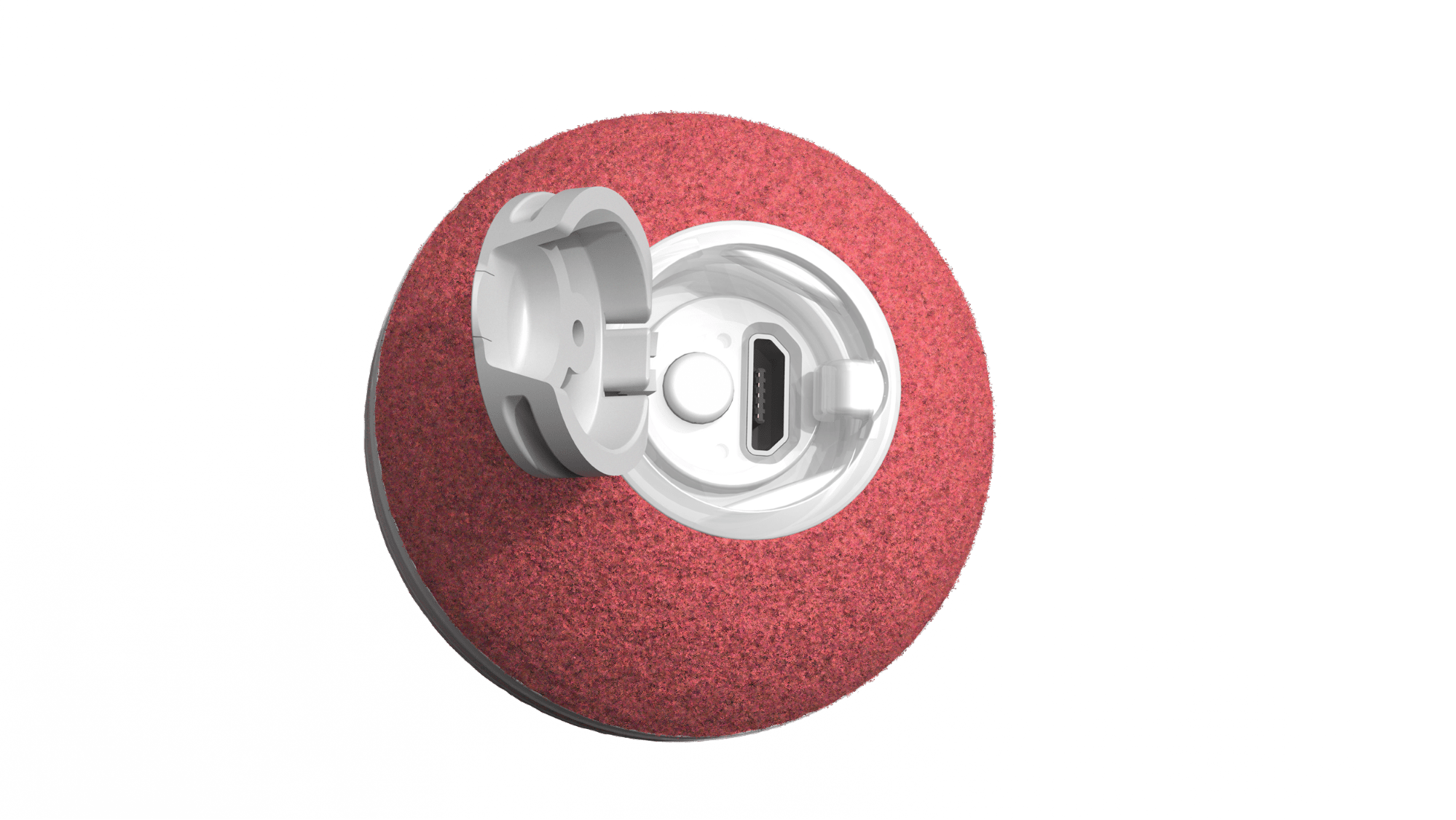 Instagram Like Counter to unhide Instagram likes
Instagram is hiding like counts to help people see their self-worth beyond these superficial numbers. While the majority of Instagram users, including many high-end celebrities, felt positive about this shift, this is a nightmare to marketing specialists.
After all, how are we going to determine if a particular influencer page is a good one to post our product on if we don't know how many people on average like their posts?
Or get an idea of our post reach and engagement when it's published via another account without such key metrics on display?
This is where the cool Instagram Like Counter comes in. The Return of the Likes is a Chrome extension that overlays the numbers of likes and comments on the top-right corner of any post on Instagram's website.
Simply install the extension on Chrome and eliminate the guesswork from your work.
You probably aren't going to switch to browsing Instagram on the web alone, but if you see a post you want to know the Like count of, you can easily send yourself the permalink and look it up on your laptop later.
Your Website in an Instagram Story Format
Create websites, presentations, pitches, or first impressions with storyland.mobi.
Dependence on our smartphones no longer surprises us. We seem to be glued to our screens, consuming content on-the-fly which means mobile-first websites are the absolute winner in the battle for attention.
Storyland.mobi is an intuitive builder used to create mobile-first pages that look like Instagram stories. The approach itself is attractive because it engages Insta- and FB-story-lovers to enjoy story-like presentation beyond their favorite social sites.
Storyland.mobi allows you to connect your custom domain which gives the service some additional traction. Its Interface is built in a simple and minimalist way, allowing you to create a page with eye-popping features including images, videos and buttons in a matter of minutes.
A product of Russian web developers, storyland.mobi currently supports 2 languages—English and Russian. The team is planning to improve the product and release many more new features in the near future.
Storyland.mobi is paid, but you can try it out for free. And considering the great quality of the service, the prices are fairly low.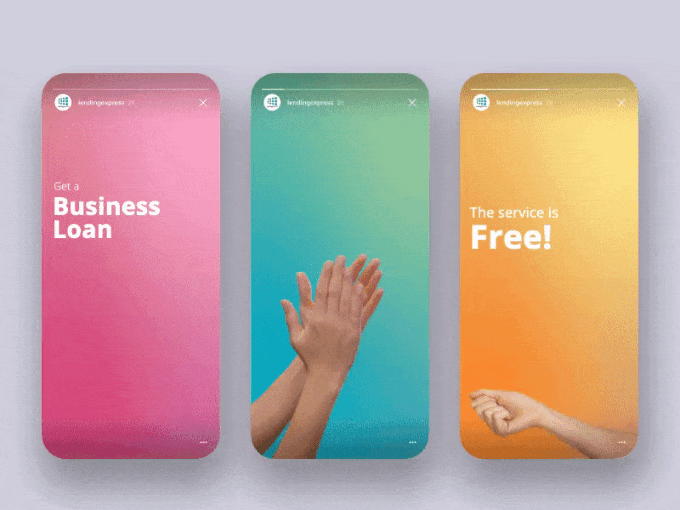 Product Launch Posts on Instagram
It's been a couple of months since Instagram started testing its new feature—Product Launch. Much like its name suggests, you can use it to create a post to inform your followers of your product launch date—also perfect for engaging with our social media base and warming them up before your crowdfunding campaign goes live!
Once you click on the post, you'll see when the product will launch with an option to set up a reminder within Instagram to be notified about it.
People will also see how many followers the post has. If you have lots, that's just some extra eye-popping social proof in your favor.
Next time, use the Product Launch feature to notify your followers of an approaching release and tell me how it went in the comments.
All Hashtag
Getting your post seen by the right people can seem like a nightmare. But with the right hashtags, you will achieve the best results from a single post, expand the reach of your content and improve your SEO ranks.
How? There are hashtags everywhere!!
All hashtag cuts through the haze and lets you find the top, live or random hashtags that can best boost your post.
With it, our team can quickly find many hashtags in any product's niche on Instagram, Twitter, Pinterest, and Facebook.
________________
This wraps up this Know How about Instagram!
What are your thoughts on some Instagram tips and tricks shared in this article? Will you apply them to your marketing campaign?
Give it a try and comment with your results. We'll be happy to hear how it went for you and help you out if you have any questions.
Stay tuned for our next Know How and expand your marketing arsenal with a new tested tool set!
Lastly, check out our article on Practical Growth Hacking Strategies.
And don't forget to come back in a week.