Good morning, afternoon or evening, Know-Howers!
They say simplicity is the trademark of genius.
Small hacks you add to your marketing can sometimes turn out to be simply genius and bring you huge results.
This week's all about those kinds of simple, yet out-of-the-box solutions and hacks to boost your marketing.
Specially for you, our TCF team has worked hard to come up with an amazing solution for newsletter popups, an effective hack for significantly increasing your Google Search Ads CTR, a genius trick to get followers right from inside your YouTube video, and a super useful tool to help you keep track of interesting events on Clubhouse.
Enjoy!
SEO: Creative Popups: Never Annoy your Newsletter Subscribers again
Ads: Boost your Google Search Ads by Registered Symbols
YouTube: Easily Turn your YouTube Viewers into Subscribers
Clubhouse: Never Miss an Important Event on Clubhouse
Creative Popups: Never Annoy your Newsletter Subscribers Again
"Some more beer, sir?"
This is just a simple question a waiter may ask you in a pub when seeing your glass is empty.
Nothing unusual.
But what if the waiter keeps asking it every time he comes close to your table?
You'll probably think he's crazy, feel annoyed, and leave the place.
Well, the same is with subscription popups.
If you have already subscribed to a newsletter, you may wonder why on green earth would the same subscription popup show up every time you open an article?
This was exactly the problem we experienced with our TCF website.
Not to annoy our website users who had already subscribed to our weekly newsletter, we began to think of ways to show a different popup to them.
And voila! We found a solution!
Turns out Optimonk has a feature, which allows choosing who should see the popup.
Using this feature I managed to replace the subscription popup with a new popup campaign for our existing subscribers.
Now every time our subscribers open an article, instead of the annoying subscription popup they'll see the popup below: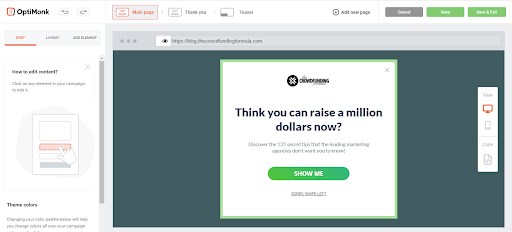 Once they click on the "Show me" button, they will be redirected to one of the most valuable and popular articles on our website—131 Kickstarter Campaign Tips for Successful Crowdfunding in 2021.
This way we're on the one hand bringing value to our subscribers, and on the other hand, increasing sessions for our blog article.
Want to do something similar for your subscribers?
Here are the easy steps:
In the "Settings" section choose "Select who should see the popup" and add new conditions.
In my case, I added two new conditions.
The first one is "Engaged with OptiMonk campaigns", where we can choose visitors who have seen or filled in specific OptiMonk campaigns.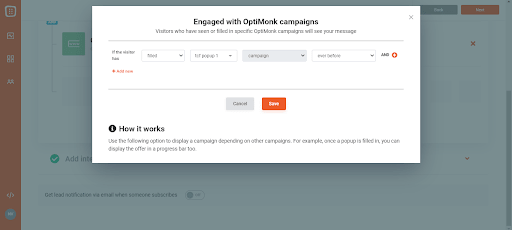 Note that here "tcf popup 1" is our main popup for newsletter subscription. By selecting this option, the popup we have chosen will show up to the users who have already subscribed to our newsletter.
For the second condition, I chose "Current Page / URL" to exclude the users who are currently reading that article not to redirect them to the same page. For this, I added the article's URL—kickstarter-campaign-tips-for-successful-crowdfunding—to the Page URL "doesn't contain" field.
The result?
An unprecedented 46.27 % conversion rate!
So next time you want to offer your existing subscribers an additional value by your popup and increase your website's "Pages/ Session", you know what to do.
Cheers!
Boost your Google Search Ads by Registered Symbols
If you're working with ads, you know that Google doesn't allow us to use symbols or emojis in our ads.
But this never kept me back from looking for other ways to make my ads stand out. I was specifically looking for a way to increase the Click Through Rate for my Google Search ads when selling products on Google Shopping.
Then came the eureka moment.
The trick that crossed my mind is pretty simple yet super effective: turns out by using registered symbols (©, ™, ®, etc.) in your text you can make your search ads stand out and get much more clicks.
And the cool thing is that you don't have to worry about Google: Since the symbols are registered, Google can have nothing against your using them in the ads.
Here is an example of how I used the registered symbol © in one of my ads:
The use of the symbol next to the brand name—GigaDrive—added credibility to my ad and certainly attracted lots of attention.
Wondering how much "lots of" attention actually is?
Well, you may be surprised, but this simple trick helped me increase my search ads CTR by 2 and in some cases even 3 times!
So don't underestimate the role of registered symbols in your Google Search ads if you are aiming for a really high CTR.
Easily Turn your YouTube Viewers into Subscribers
Did you ever pay attention to the bottom right corner of a YouTube video?
Not really?
That's because the brand logo appearing there doesn't say much to you.
The only thing viewers will understand once seeing the logo is that this random video belongs to a certain brand. It's just part of branding on YouTube. Nothing else.
But did you know that YouTube allows putting any photo in that space and that you can use it more effectively?
Say, why not put a call to action there?
That was exactly what I did: Instead of a logo, I inserted a picture that looks exactly like a YouTube subscribe button. It unconsciously tempts the new viewers to tap or click on it and easily subscribe.
The result?
The number of my followers grew over time.
And here are two easy steps to help you do the trick with your videos too:
Go to your YouTube channel, click the customize channel button, branding section. Here you will see a video watermark under all branding sections.
Click change and choose a photo that looks like a subscription button or has a YouTube logo on it.Yesss, now it's there!What happens next? As soon as your new viewers see this PNG photo, many of them won't resist tapping on it. And once they tap…
… a subscription button will appear, allowing them to subscribe right from inside the video! As simple as that.
With this simple trick, over time you'll notice an increase in the number of your followers, and thank your subscription button for that!
Never Miss an Important Event on Clubhouse
If you are a Clubhouse user, you probably face the issue of not finding relevant events or missing important ones because you turned off notifications.
If that's your case, then Housely Club is the best tool you can ever dream of.
Here you can select from the wide range of topics of interest to you, find all the upcoming events, and add them to your calendar.
Once you open their webpage, you'll see the topics of interest grouped in different categories.
Go choose the ones relevant for you, hit the green Let's go button below and all the events will appear on the calendar, just like this:
The tool also allows you to see the upcoming events not only for the next day but also next week and month. Also, you get an option to change your interests, add new interests or remove the old ones—so no way you'll ever get bored!
To add a specific event to your calendar, simply click on it and press the "Add To My Google Calendar" button.
That's it!
Never miss an important event you wanted to participate in and always stay tuned with everything at Clubhouse.
______________________________________
That's it for this week, folks!
Dig deep, never give up and always be on the lookout for genius tricks.
Would be extremely interesting to know how the popup hack, registered symbols, YouTube subscription button, and Clubhouse tool worked for you. Feel free to share your impressions, comments, or questions under this article. TCF team would really love to hear from you and answer any of your questions.
Till next time!