When it comes to Indiegogo success stories, it doesn't get much more impressive than Dolfi, the ultrasonic washing device that raised over $1,000,000. I recently caught up with their marketing executive Erik Solis and asked him to tell us how they did it…
Enter Erik

Choosing the Right Platform
Finding the best crowdfunding platform to launch on was our first hurdle. We were obviously considering Kickstarter, to begin with, but after comparing the stats, we realized that Indiegogo is not so very far behind. On some key parameters (like funding success) it is actually way ahead of Kickstarter, which is one of the reasons we chose it.
There were other factors, too. Procedure for launching a campaign on Kickstarter for the non-US citizen is complicated. We also believed that Indiegogo is cleverer and more user-friendly than Kickstarter, there are some great features like flexible funding, built-in referral programs, the InDemand option, the flexibility to add new rewards and information to your campaign while it's in progress, etc.
Now, having run a successful Indiegogo campaign, I can add another benefit: the dashboard. From here, campaigners can check out stats, change their pitch, and add stretch goals. I also like that the Indiegogo support team was guiding and helping us all the time, they actually contacted us before we started.
Our pre-launch activities
Our initial launch was planned for September 2014 (way too ambitious), the second for November 2014. We finally launched in January 2015.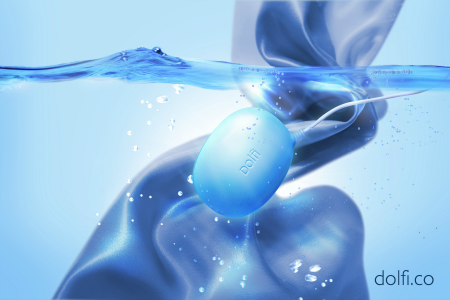 We were stressed as hell and incredibly nervous. We knew we had a bad starting position – we didn't have any internet marketers in our team and almost no audience on social media and our few attempts to work with PR or crowdfunding service agencies had been unsuccessful.
So, we created a plan based on guidelines we found on the internet, the information we received from Indiegogo, and advice from people who had done it before. It really was a shot in the dark – there were so many unknowns in that plan.
Our Pre-Launch Campaign Plan:
1. Leverage Personal Networks
Our audience was a weak point. Dolfi has universal appeal so we couldn't target a small group or location. We started out by listing every connection each member of the team had and adding them to our mailing list.
2. Find Influencers
We did our research and tracked down some influencers (bloggers and individuals with a large social network) who might be interested in promoting our product.
The replies were slow, and some never got back to us. Most people wouldn't write about a product they hadn't tested themselves. This made complete sense, but we only had lab prototypes, which we couldn't distribute for safety reasons (our device operates in water). We struck out with this part of the plan.
3. Launch a ThunderClap Campaign
We ran a Thunderclap campaign to promote Dolfi on social media channels. This worked OK, and we managed to reach an audience of around 100k, but it's hard to say how that success influenced our final funding amount.
4. Showcase our Product
Our designer, Andre, put a post on yankodesign.com which generated a good bit of traffic (around 500 visitors a day) and netted us our first real exposure.
5. Crowdfunding PR
We made a list of journalists who might be interested in the project and put together a press pack to try and encourage them to write about us. We were prepared to pitch the idea to them but, in the end, we never got any interest. Here's the media kit we created.
Our Story
The trick with crowdfunding is to engage the majority of your audience at the right point – the moment when the campaign starts. We failed there, but surprisingly our failure created our success.
A few days before the campaign, when we were hurriedly preparing for launch day, something unexpected came in. We had a press release prepared, but we didn't hire any PR agencies – we'd tried it in the past and it didn't work out. Instead, we put a button on our homepage that read "Media Kit" (it's still there).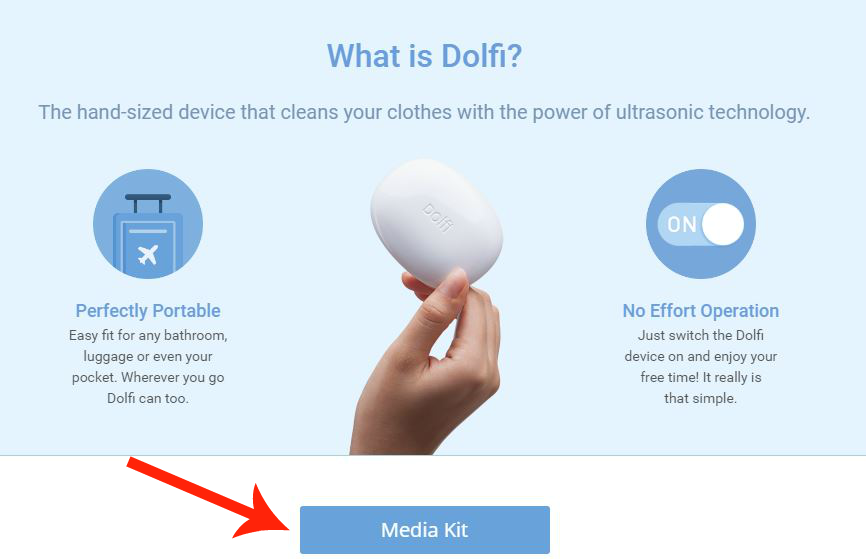 On January 15th, we received an inquiry from a UK national press agency, BNPS, answered their questions and provided them with more pictures. We told them that our campaign started on January 20th, and hoped they'd bear it in mind when publishing their article (we had no idea how long the process would take).
The next morning, this article came out on Daily Mail. Traffic on our page exploded, other media outlets started to reprint the story from Daily Mail, and we were happy and worried at the same time. There were still four days left before the campaign started, the more exposure we had in the next few days, the more worried we were about a false start.
By this point, we were getting a lot of exposure worldwide: in one day our video was translated into Chinese and appeared on Indian TV. Plus, the Daily Mail article continued to be published in other outlets. We were worried people would lose interest before we launched.
Luckily, that wasn't the case. On the night of the launch, The Huffington Post contacted us for an interview and interest snowballed. Since our device was in the most popular category – gadgets –  the media remained keen to cover our product. We didn't do any paid advertising, and we didn't pay any agencies, yet more than 400 publications in over 20 different languages published stories about Dolfi.
Lesson Learned: Not everything is as complicated as it looks, and PR is not rocket science.
Our Crowdfunding Campaign
We had a good start, not amazing, but good. The dynamics of the campaign were really interesting, and the first week we reached around 40-50% of our total funding goal.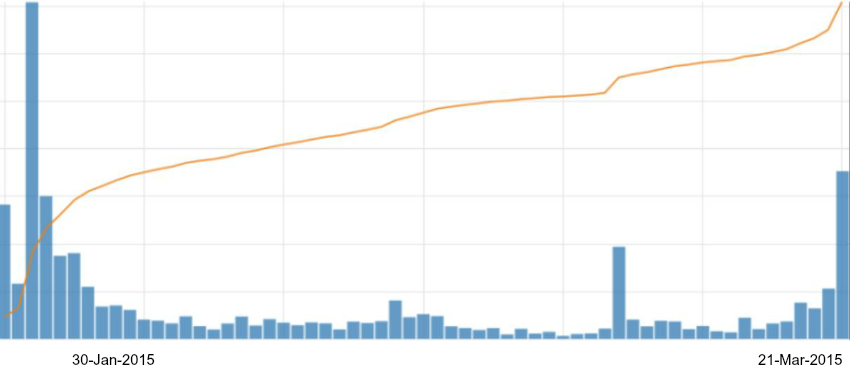 You can see from the graph two spikes at the beginning and middle of the campaign (day 3 and 5th March), they happened because of an Indiegogo newsletter. This newsletter is one of the most powerful promotion tools out there. When the first newsletter was published, we had 30k visits to our campaign page (by the second time it was 'only' 6k).
During the Campaign:
Even once we'd launched, we were still manically trying to make the campaign a success. Our campaign plan involved:
1. Publicizing the campaign launch.
By this point, we had 1875 email subscribers – thanks mainly to the Daily Mail interest. We used MailChimp to email our subscribers and networks. Message open rate was 69%, click through rate 43%.
2. Retargeting adverts.
We used Ad-Roll. After about a week we had 35k impressions and only 80 clicks. Obviously, we were doing something wrong, but we didn't have the time to figure out what, so we dropped the campaign.
3. Publicizing the campaign.
We commented with a campaign link on all the discussions on media articles featuring Dolfi. We're still not sure how useful that was.
No success here. We tried a few times, but they wouldn't feature us. I don't know how they select the products, but we only received a polite auto response to our emails.
5. Using crowdfunding service agencies.
This was a complete waste of time and money. Once the campaign had started, we were bombarded by different companies offering their PR, advertising, and social media services. We were skeptical but tried a few. No luck.
6. Launching a referral program.
We offered a $10 refund for each successful referral. We still haven't processed all the data, but it looks that this was a moderate success.
7. Translating our campaign page to Japanese and Chinese.
We noticed a huge interest from Japan, China, Taiwan, and Hong Kong, so we translated our page to make sure more people in those countries could access information about Dolfi.
8. Using Headtalker to drive traffic from social media.
It is strange but, from almost 3.8 million impressions, we got exactly no extra traffic to our page. It's a mystery.
9. Adding stretch goals
It's difficult to say whether stretch goals substantially increased our funding, but we definitely hit them!
10. Cross-promoting Dolfi
We teamed up with another successful campaign, Sprayable Sheep. We both introduced each other's product on our campaign updates. I think it was good practice, but it's difficult to give any numbers, as it overlapped with other promo activities.
Another cross-promo we did with Backershub. We gave away five travel accessories kits for the contest, and they emailed it to their list of 10k crowdfunding backers. To take part in the contest, backers had to contribute to our campaign and share it on their social media pages. Not sure if it really worked, probably would not do it again.
11. Upselling
About a week before the campaign ended, we offered our 3.5k backers a special upsell deal – they could each purchase an additional device for only $79. This worked really well (you can see the resulting spike on the graph above).
Indiegogo InDemand
By the time our campaign closed, we'd reached an amazing $428k. Then, we switched to InDemand status. I really like this option on Indiegogo. It allows you to continue to pre-sell but change the conditions.
We removed most of the perks and left only three options priced slightly higher than the campaign. The demand didn't fade out, and pre-sales worked really well – we more than doubled our funding total in the months following the campaign.
Learning From Our Mistakes
We missed out on opportunities to promote our campaign, but we were complete newbies with very limited resources. There are only 24 hours in a day, and running a crowdfunding campaign takes up nearly all of them.
Successful campaigns require fantastic communication. First with your backers, then with the avalanche of distribution inquiries from all over the world, and – of course – PR.
If I had to summarize the crowdfunding campaign experience, I would say it's a crazy roller-coaster ride. Fast, breathtaking, and exciting. Definitely worth trying out!
Tools the Dolfi Team Loved: