Traditional TV ads are steadily declining in popularity.
In times when every marketing strategy is backed by data, it didn't take long to abandon the largely unquantifiable TV ads from today's data-driven landscape. 
But… were we too fast?
With the incredible increase in major streaming services in this #stayhome climate, Google has now created a dedicated TV section in its Google Ads marketplace to run streaming ad campaigns. 
Advertisers can now choose from predefined packages categorized by genre, popularity, seasonality, formats, or audiences—for example, "Hulu-Parents"—to run highly-targeted streaming ads and what matters most—track results! 
But first off, do you think you have all the data to measure the performance of your Google ads? 
Besides discovering a robust data source in your Google Ads account, learn about how LinkedIn Polls can boost your personal brand, discover a fantastic SEO audit tool to dominate SERPs, find out about a simple automation to streamline Gary Vee's $1.80 Instagram strategy to revamp your network, along with some eye-opening tips and tactics in this week's KnowHow article. 
Advertising: Scale Your Ads Through Fine-grained Targeting
Partnerships: Make Connections Through LinkedIn Polls
SEO: Chart Your Way Up To Google Through Periodic SEO Audits
Partnerships: Automate Gary Vee's "$1.80 strategy" To Boost Your Network
I know you are aching to start… 
Let's dive right in!
Scale Your Ads Through Fine-Grained Targeting 
Robust data is integral to the success of any advertising campaign. 
In terms of availability, Google Ads is one of the most open channels, giving you enough data points to measure your ad performance, assess your user behavior, and borrow data-driven insights to strategically pivot your advertising efforts, and harness better results. 
One of the sources of data that I just uncovered is the "Segment" button that resides in the Campaign section of your Google Ads account.
Click on it and it will roll out a menu with metrics that shoot through the roof! 
Time, Click type, Conversions, Device, Network, and plenty more—each giving you a new launchpad to explore your ad performance from a different angle. 
Let's look into some of the most crucial ones! 
Hit "Time" and Google Ads will segment out your conversions by, you guessed it, time! The most useful ones for us are by hour of the day or by day of the week. With them, you can easily pinpoint the day or precise hour range when most of the conversions were logged. 
Here is our ad performance configured around day of the week. As you can see in the chart below, Monday outperformed all the other days in terms of the number of conversions and conversion rate alike. 
Maybe we should look into incrementing the daily ad budget on Monday to reach a wider audience?
Segmenting by "Click Type", on the other hand, allows you to see where exactly your leads clicked on your ad. And the options aren't as abundant here. It's either the headline, the sitelink or the promotion extension, which usually includes a highlight about the limited-time deal or sale to add scarcity and make the ad look more click-worthy. 
In the snippet below, you'll see that the vast majority of our leads were hooked by our ad headline which compelled them to click and convert down the funnel, driving a massive 42K+ revenue! 
Great job copywriters! 
While disproportionately fewer, we also had users who landed on our page following a click on the sitelink or the promotion extension.
Moving forward! 
The data in the "Conversion" section, along with some other helpful metrics, sheds light on your customer journey from the very first interaction all the way up to conversion.
Do you know how much time your leads take to make a purchasing decision after seeing or clicking on your ad?
In our case, most of our prospects converted within a day. However, we did have a few prospects who took 21-30 days to rethink a purchase before returning to the site to convert. 
You'll find that the time window between the first interaction and conversion is often directly correlated to the price of the product. Hence, if we were speaking about a high-ticket product, you would likely expect the conversion peak to be up a week after the ads were first launched. 
If we hit "Device", we can see which devices our prospects used to make the purchase. 
In our case, most of our leads converted through a mobile device. This drives us to think of ways to optimize our ads so they better fit the mobile interface and offer our leads a seamless navigation experience. 
The last section called "Top vs. Others" shows how our ad performance varies depending on the ad placement. Namely, these include the top or bottom surfaces of Google Search (remember Google allows a maximum of 7 ads on a SERP— 4 at the top and 3 at the bottom), Search Partners, Google Display and Cross Networks. 
I know this data overload may seem too overwhelming at first sight. 
But trust me! Once you take the time to thoroughly analyze, these seemingly distinct data points will eventually align to map out a series of data-driven pivots you can use to ramp up your ad performance exponentially and drive significantly more conversions with an improved ROAS. 
Make Connections Through LinkedIn Polls
By Lili Avetyan 
I don't know about you but I personally find any types of polls on social media very engaging. I engage with them all regardless of the topic. 
It takes less than a few seconds to read the question and choose an option—yet it gives me a sense of contributing to something. Whether it's a poll about how short someone should cut their hair or a mini-survey by a company that is collecting vital information from their followers. People. Love. Participating. 
It was only fair that LinkedIn would eventually introduce its own polls too. It only takes about 30 seconds to make one. All you have to do to use it for your own personal branding or your company is: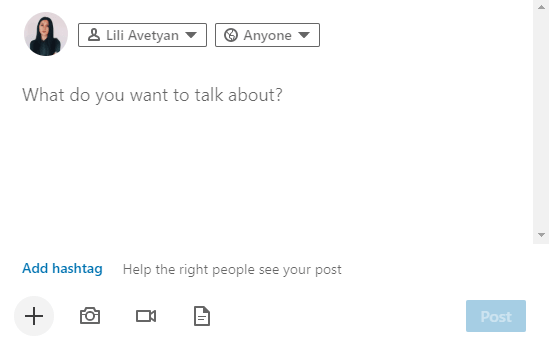 Create a new post like you normally would
Tap the little + sign
Choose "Create a poll" from the dropdown 
Write your question and set the options people can choose from. You can add up to 4 options 
And choose the duration of your poll. Unlike Instagram story polls that are available for only 24 hours, on LinkedIn you can have your poll active for 1 day, 3 days, 1 week, and 2 weeks.  
LinkedIn polls are an amazing way to boost your engagement and reach a wider network. Not only will people interact with your post more, thus increasing its visibility, but you will also get enormous value from your professional network, industry representatives, and more.
Chart Your Way Up To Google Through Periodic SEO Audits 
Whether you are looking to hike up to the first page of Google or maintain your hard-earned rank, an SEO audit at least once a quarter is paramount to your site's long-term success. 
It is a comprehensive analysis of your site to assess the effectiveness of its on-page and off-page optimizations, identify architecture-related pitfalls, analyze the quality of backlinks, scan keyword density, and examine a variety of other metrics that Google considers while ranking your site. 
If you're anything like me, you've likely experimented with many SEO audit tools which more often than not provide insufficient or inaccurate reports that are incongruent with data on Ahrefs or Moz. 
However, recently I found what I later concluded is the best SEO audit tool. 
Rank Math Seo Analyzer crawls your site and performs in-depth SEO analysis according to various ranking signals before categorizing the results into small, bite-sized reports. It accurately identifies all the issues that hinder your site from defeating the hazy Google algorithms and offers actionable insights to quickly fix them. 
But what's more, it's absolutely free and doesn't even require you to register. 
Just head to Rank Math Seo Analyzer, paste the URL of your site in the search and wait for a few seconds while it generates your SEO score accompanied by a comprehensive analytics report.

Let's audit our newly-launched influencer marketing platform Viral Mango!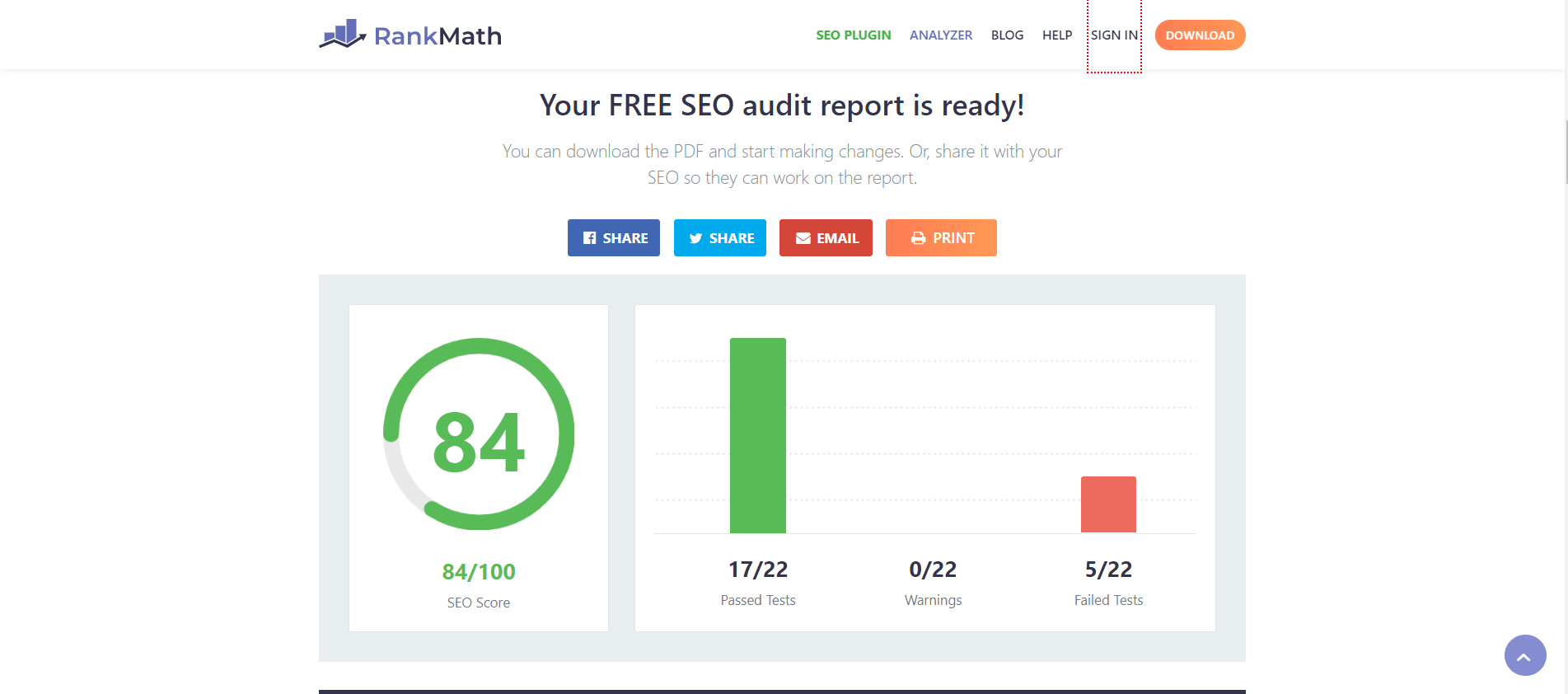 The advanced SEO report includes everything. From "alt" descriptions and external/internal link ratios: 
To mobile automation and WWW canonicalization: 
To the minification of your resources:    
And plenty more ranking metrics related to the site's performance and security:

For a site that was launched just 2 months ago, an SEO score of 84 out of 100 is pretty good! But it seems like we should invest some time in minifying the CSS and JavaScript files to trim the load time and accelerate the site speed. 
Much like how good SEO is a shared effort, fixing the faux-pax shouldn't be just one person's responsibility. 
I'll now download the PDF of the SEO audit report and send it to our IT team to use the guiding tips and shrink the site code. 
And, if you want to get some bullsh*t-free tips on how to run buzzworthy influencer marketing campaigns, I'd definitely recommend you to check out some of the great advice my team members—seasoned Influencer marketing experts and A-class growth hackers—share on Viral Mango every week.
Automate Gary Vee's $1.80 strategy To Boost Your Network
Have you heard about Gary Vee's famous "$1.80 Instagram strategy"?
In his own words:
"$1.80 Instagram strategy translates to leaving your personal .02 cents on the top 9 trending Instagram posts for 10 different hashtags that are relevant to your brand or business every single day."
In other words, Garry Vee suggests we choose 9 trending posts with 10 different hashtags that are relevant to our niche and leave a comment to boost our visibility. He advises us to repeat the exact same steps every single day in order to see tangible results. 
Want to hear my ultimate tip to achieve top-notch productivity?
Whenever something smells like repetition, look for automation!
Which in most cases is synonymous with a careful scroll through Phantombuster's magic Phantoms. 
And this time too, I wasn't wrong! 
To save yourself the tedious legwork of finding 9 trending posts in each hashtag category to interact with every single day, Phantombuster has just released a simple automation to take the manual flair away from your networking routine. 
Ready to get your hands on it?
Step 1: First, choose 10 valuable hashtags that are most relevant to your niche and business 
While the temptation may be big, my advice is to stick with rather smaller hashtags so you don't lose relevance and get lost in the never-ending threads of comments. 
Because remember—dropping a comment is not the final goal. Getting people to interact and remember you for it is! 
Step 2: Extract the posts with the relevant hashtags
Once you've picked your 10 hashtags, it's time to extract the 9 trending posts in each hashtag category. 
To do this, first copy this template. It will be your main dashboard. In the Master sheet, input the 10 hashtags you've chosen. 
Step 3: Set up the Instagram Hashtag Collector
Now head to Phantombuster and add the Instagram Hashtag Collector Phantom. Set it up as follows:
As an input, give the URL from cell D2 of your Master sheet from Step 2.
Scrape 9 posts per hashtag.
Scrape 10 hashtags (lines) per launch.
In the "Advanced settings" pick "Repeatedly", then "Once a day" to refresh the posts you comment on every day.
Also in "Advanced settings", under "Folder Management", pick "Delete all previous files at launch" so that you process new comments every day and keep the spreadsheet light.
Launch the Phantom and paste the resulting URL in the F2 cell.  
Now navigate to the "Feed" sheet where you'll find the top 9 posts with each of the 10 hashtags extracted and laid out for you. 
Step 4: Write the default comments
Now, navigate to the "Comments" section of the Master sheet and write in the comments that will randomly appear under posts. 
Make them sound inspiring to convey your excitement and encouragement to the publishers for the great content they produce. Because at the end of the day who doesn't want to hear a word or two about how appreciated they are?
Now, return to the "Feed" sheet where you'll see a cell below every single post. This is where your randomly chosen comment will appear.    
Step 5: Customize the comments you want to change
The only drawback of this Phantom—as with any other automation—is that your comment will never be hyper-personalized to speak to just one particular post because… it's just an automation!   
However, if you do want to write a personal comment under the few most relevant posts, you can still do it! 
In the green cell, you'll see the comment that was randomly chosen from the list of the comments you've input in Step 4. If you want to replace it with a personalized note, type in your variant in the yellow cell instead.
While posting your comment, the Phantom will automatically pick that one. 
If you don't want your comment to appear on the post at all, just check the tiny box in the upper-right corner of the post. 
Now you are all set to launch the Phantom and ignite your Instagram network! 
Just make sure to do this slowly but consistently. 
———-
This wraps up this week's Know How article! 
When was the last time you ran an SEO audit of your site? RankMath will surface all the issues and share expert guidance on how to fix them, so you can start amplifying your search visibility. 
Have you already checked out your ads' data in the "Segment" section of your Google Ads dashboard? You may well be alienating a high-converting fraction of your audience just because your ads may be misplaced or poorly mobile-optimized. Do you have a few minutes to boost your ad performance? 
And as you step out armed with these upskilling tools and tips to kick your marketing up a notch, don't forget to also read our post on the 20 timeless PR tools and tactics you need to master to land your crowdfunding campaign top-notch media coverage. 
I'll see you next week!