Hey Know How-ers,
Winter is right around the corner and we got some hot tips to keep you warm this SEO-son!
Whether you are trying to get updated on the news or are trying to update your analytics we got you covered. In this Know How segment we will show you how to get back on that news story without pesky pay walls and how to save time, and your nerves, with an all in one SEO tool that you can't imagine how you lived without before.
Productivity: Bypassing Firewalls Near the Fireplace
SEO: Chrome Lighthouse: The All in One SEO Tool
Bypassing Firewalls Near the Fireplace
When you're trying to stay on top of all the latest news, tapping into what's going on in the world to tie it into your product press releases, make your SMM pop, and your newsletters more current, there's one wall you'll always end up running into — the paywall.
As news moved from print to the web, they ran into a problem they hadn't faced in the 400 years since their inception. How do you make money on information that can technically be disseminated free of charge?
Ads? Won't cover it… Subscription? You'll alienate all your readers…
So they settled on a happy medium — no, not that Medium — read a few articles for free every month, pay for the rest!
Sometimes you don't even need to pay, as with The New York Times above. In these situations, and just for the multi-site convenience, I recommend you look into one extension that unlocks access to most important paywalled sites — the aptly named Bypass Paywalls.
Available for both Chrome (and chromium-based browsers) and Firefox, it's installation is a little involved. So let me run you through it.
Download this zip file.
Unzip the file.
Navigate to your extensions page:
chrome://extensionsedge://extensions
And enable Developer Mode:
Drag the unzipped folder you just made (should be called something like bypass-paywalls-chrome-master) into your browser window.
Done!
Now, whenever you travel to a site with a paywall, click on the extension and it will ask you to reload the page: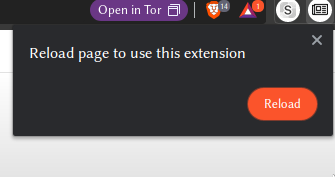 Reload, and you're good to go!
There must be over 100 supported sites, with more added every few weeks.
And while the Firefox extension will update automatically, for the Google Chrome and Microsoft Edge versions, you'll need to go through this process again every once in a while.
Just bookmark this page so you can remember how to do it 🙂
Chrome Lighthouse: The All in One SEO Tool
Everyone in the SEO field may have heard of and even used some of the more popular Google tools for checking website performance, such as the Mobile-Friendly Test Tool and Page Speed Insights. However, whenever checking metrics, we need to keep switching in between tools, which takes extra time and leaves us more prone to mistakes.
What if I tell you there's an all-in-one SEO audit tool right in your Chrome browser that combines all the important metrics you may need when checking a website's technical SEO performance.
Introducing Lighthouse. A hidden treasure only several clicks away.
Just go to the page you want to test. Right click and choose Inspect from the list.
Tip: I suggest that you use incognito mode. Lighthouse sometimes conflicts with other extensions.
Now when you've opened the Inspect tab, go find Lighthouse among the tabs (it's usually the last one):
When you click it you'll see this window from where you can choose the metrics you're interested in (I always leave it as it is) and hit the "Generate report" button.
That's it. In just a minute you'll have all the necessary technical SEO metrics to skyrocket your website's performance.
Aren't you glad you found out how to save some time and hassle?
Let us know how these two add-ons helped you and if you have any other tips and tricks to share with us.
Comment Below!