After getting a newsletter in February 2020 from Trends — about indoor growing having a lot of potential — our team started looking for what could become the most successful Kickstarter campaign in the industry to partner with. And in the midst of the 2020 lockdown, we found it!
Pico was a small product with big dreams. This palm-sized planter equipped with a self-watering mechanism and high-power grow lights came at just the right time. 
With people confined to their homes… looking for new hobbies… new perspectives on eating healthy… and new ways to liven up their makeshift home offices. This little campaign struck a chord with everyone at TCF and the nearly 18,000 backers we reached.
We took on Pico with only a few days left till their launch on Kickstarter. With 0 leads, no email warm-ups, and almost no time to prepare, our team of expert digital marketers strapped in to make this one of the most successful Kickstarter campaigns in its category.
Read on to discover how we managed to create one of the most steady funding graphs ever, with a clean average of $30,000 a day culminating in an intense final 24 hours that pushed Pico over the $1.5 million milestone!
Note: Pico Max — the larger, improved, second iteration of Pico — is live now on Kickstarter.
Making the Most of PR-Friendliness in a Successful Kickstarter Campaign
In crowdfunding, getting media coverage in a short time is always important. But journalists like to test products before writing about them, and this means it can take a long for them to cover — as they need to reach the journalists and test them! 
The Pico team offered us tons of prototypes to send to journalists, so we decided to make this process as desirable as possible for them. 
Social Proof through Existing Reviews
We added a Reviews section to the press kit and shared past reviews from influencers and journalists. This gave them the needed proof and credibility, and worked so well that journalists started to cover Pico without even testing it — something practically unheard of in crowdfunding!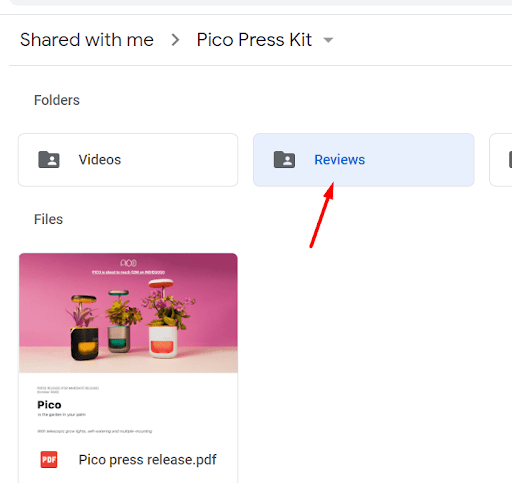 Repeat Coverage with Incremental Commissions
Commissions are one of the most effective strategies to increase a successful Kickstarter campaign's productivity. It helps to motivate partners and simultaneously increase sales. However, it is important that the commission strategy aligns with the brand's plan. 
With Pico, we started each partnership with a fair commission rate and constantly increased it with each media's repeat promotion. This kept them motivated and made them boost Pico again and again. 
My Modern Met was one of our first boosters and at the very beginning, the deal was to work on a 10% commission from each sale. As it was performing really well and we needed more and more boosts from them we increased it by 1% at a time. As a result, we had the article boosted 9 times! 
This was a win-win as 19% commission was a pretty good commission for them, and we received a lot of conversions from them in exchange!
As usual, we used Kickbooster for this aspect of our affiliate marketing. This platform made our strategy with Pico extra effective, as it sent notifications to our affiliates every time we increased the affiliate percentage. 
So, even though they had already shared Pico with their audiences — without any extra messaging from us — they'd be incentivized to share it again. 
Kickbooster boosters have many other campaigns from where they earn money and it becomes really hard for them to keep track of all of them. So we sent each one a countdown follow-up, to remind them how many days were left before the campaign ended. 
As a result, we created a major boost of over $11,000.
The Perfect Pitch
Years of experience in the crowdfunding PR sector have helped us craft the perfect pitch. Studying data from pitches that work — and those that didn't — we knew we needed a concise, powerful, personalized outreach strategy with Pico.
We dug deep into small details about our targeted journalists' previous articles, found the strings we needed to tug, and outreached them — clearly mentioning why they might be interested in Pico and why they should cover it.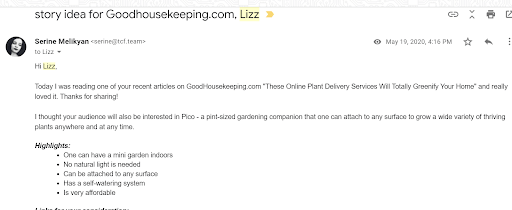 We did the same for each broad audience, finding the topic we could relate to each journalist on. 
And for the tippy top journalists, we developed completely personalized pitches — essentially writing each one from scratch. Obviously, it's impossible to do this for a list of 5,000 media outlets… but if you know the biggest influencers within your niche, you can target them with a pitch they'll be happy to receive and act upon.
This got us covered on Wired, Yahoo News, Core77, GearHungry, TreeHugger, TrendHunter, KnowTechie, MSN, and Family Handyman, among others.
Nobody Wants to Miss Out
A great strategy we used in the last days of the campaign to boost sales was the social anxiety of our generation — FOMO (Fear of Missing Out). 
In Pico's case, this often-used yet effective strategic move helped us to urge journalists to cover Pico as soon as possible. Especially as there were only a few days left until the end of the successful Kickstarter campaign. 
This worked great, especially in combination with the incremental affiliate link strategy. Not only were journalists jumping at the chance to share Pico again — with a higher affiliate fee — but backers were flocking to the last days. We made this opportunity clear to the journalists, and it worked!
Make the Most of Your Niche
While there are many ways to increase your brand awareness, one of the most critical techniques is to have journalists in your niche — and similar niches — write about you.
One of the most powerful niches is tech, and although Pico might not seem like much of a tech product at first glance, getting the authority of these journalists behind us gave Pico some real social proof. 
While reaching out to them can be more of a challenge, getting them behind your product is vital, as some of the major tech influencers can make or break a new company's reputation. And by highlighting Pico's smart watering system and grow lights in the pitches, we attracted tech product writers, and made a fresh start on new powerful alliances. 
Tell Your Story
Of course, we never forget about storytelling marketing and you shouldn't either! 
By using a narrative it communicates a message that makes your final viewers feel something, and inspire them to take action. 
We created a story around the idea that Pico automates gardening, and helps anyone — even those who have killed hundreds of plants before and have given up — to get into the world of plants. By humanizing our brand we made it clear why they should care about it.
Don't Forget Your Home Country
Last but not least, never underestimate the power of a patriotic heart. 
Always use the origin of the product — in Pico's case, India — to promote the product in a supportive local environment. We targeted Indian journalists who highly boosted sales in India, where people felt an added responsibility to support their fellow citizens' brand.
This is an example of a pitch we sent to an Indian journalist, highlighting the fact that it's an Indian product in the first line:
His answer:
When there is a great product and you combine it with a story, this is what can happen. This is what journalists want and to have all these results do consider all the mentioned strategies and adjust them accordingly. Thanks to all our PR efforts, Pico was mentioned across the media 160 times. This brought over $30,000 in conversions, and lots of brand awareness that will last long after the campaign's end. 
Influencer Marketing
One of the most important tools in an influencer marketer's arsenal is prototypes. Lots of them. Being able to send them out to influencers so that they can actually film and photograph themselves using your product — and not just resharing your own videos.
So, how many Pico prototypes did we have?
None!
This made everything twice as difficult for us — on top of the lack of prototypes, influencers were locked up at home, and the world was distracted by global events. Which meant we had to strap on our creativity hats and try different strategies to deliver the results we've grown to expect. 
Our goal for influencer marketing, as always, was to bring the most relevant traffic to our Kickstarter page. And these are the strategies that made that possible:
Find the Best Pages in Your Niche
Before starting to outreach anyone, the first step is to understand who you need to outreach and why.
We started the Pico campaign by diving deep into the product and the psychology of its buyers, and understood that — obviously — plant-related pages were important, as were healthy food-related pages, as Pico allows you to grow small amounts of edible plants at home. We also tried different gardening and housekeeping niches, and these also proved to work well.
Using these niches, we managed to run amazing influencer marketing campaigns without even having a physical product — finding commonalities in our product and the influencers' audience interests.
One example was our partnership with a food blogger Lola Bernabe with 229,000 followers, with whom we collaborated on a number of stories. She talked about Pico, and instead of showing the product she showed our Kickstarter page. Even without Pico in hand, she engaged her followers and we received many visitors from her page.
How much can you commit?
As covered in the PR section, creative commission strategies always work — and influencer marketing is no stranger to commissions.
And with Pico, commissions helped our results skyrocket!
The main strategy was to increase the commission for influencers whose posts worked the best and who were ready to go the extra mile with us. We constantly increased the commission rate along with the campaign duration which resulted in a huge amount of influencer posts and boosted the campaign as expected. 
Telling the Best Stories
Based on our expertise, stories tend to work better than feed posts in the last days of a successful Kickstarter campaign. And we proved this once again during Pico's promotional campaign. 
During the last three days of the campaign, we ran stories on Instagram with a countdown clock on them. They worked 3 times better than the usual feed posts or simple stories with a swipe-up link.
Start with a Large Net
When starting an influencer marketing campaign, it's very hard to understand which channels will work the best during the first days. 
So rather than focusing on one platform or style, we started the Pico campaign by getting influencers to create posts and stories on all the relevant platforms. By analyzing the results, we were able to understand which platforms performed the best. And by concentrating our energy on those channels, we were able to rapidly scale our activities.
One of the best platforms for Pico was Facebook. But not the regular posts you're used to… 
Once you've found engaging and effective FB groups in your niche, reach out to them directly, even if they're small. Our way to plant lovers' groups was through a personalized outreach sequence to each group admin. This generated a lot of positive replies from admins — who identified themselves with us.
Then, instead of posting about the product on the groups ourselves, we asked the admins to and offered them high commissions. This served a few purposes. The community would trust their admins more than our own Pico page. Our posts wouldn't get taken down — even if you try to post in a natural way, many groups won't approve promotional posts. And as they knew Pico was very relevant to their audiences, knowing there would be lots of conversions and they'd be getting the commissions, incentivized them further.
Play on their Fears (sometimes…)
FOMO can't come out of nowhere. People need to know your brand before feeling like they're missing out on something.
That's why when we used our FOMO strategy within influencer marketing, we actually built on a long series of posts and stories. First, we introduced Pico to influencer followers. As we neared the end of the successful Kickstarter campaign, we began sharing posts with countdown timers and an increased sense of urgency.
This drove a lot of traffic and conversions to our successful Kickstarter campaign in the last few days. In fact, over the last few days, we had double the traffic from influencer marketing than we did at the start!
Match Your Influencer's Visual Language
Remember that each influencer strongly cares about their page aesthetics. One brush won't cover the breadth of style of your influencer database. That's why you need to examine each of your influencers' page content and create unique content that they and their followers will love!
For Pico, we created original materials — photos, and videos — for each influencer post, that matched their style and looked very organic on their feeds. We also asked influencers to just talk about PICO via stories, while showing viewers our website or IG page. 
This approach is effective as it not only increases sales, it also gives the followers the feeling that influencers really love the product. They're not just promoting sales, they actually want to share a cool product.
Can it Become a Successful Kickstarter Campaign without Prototypes?
As for the prototypes, we didn't have any available samples to send for review. Because of this, many influencers refused to work with us, but we didn't give up there.
We asked for their contact details and saved them for later so that when we finally had the prototypes ready we would be able to get back to them. Why do this? Even if you can't get influencers on board for some reason or other, it's better to keep the partnership going. 
Some day, when we have the samples, we'll send them to our list of saved addresses, reminding them about the product and collaboration opportunity, and have a new wave of promotion!
In total, we had over 11,000 tracked visitors from our influencer marketing activities. We can assume that we influenced their audiences, and certainly received a lot more untracked traffic via other channels thanks to these efforts.
You can understand the effectiveness of your influencer marketing campaign not only from the tracked traffic and conversions but also by analyzing and comparing the campaign performance during the days you have influencer posts and stories and during the days you don't. 
And in the case of Pico, we saw huge bursts in traffic whenever we had influencers share our campaign!
Advertising
With 2 days till launch and a goal of $1 million, our advertising challenges were laid out before us.
To prepare in that short period of time, we quickly got together a dedicated team of our best advertisers, gathered all our research on the product category, researched our competition, collected all our ideas and past insights, and set up our ad accounts. 
We even set up a backup ad account, just in case we decided we'd need to get "really creative"!
Maintaining a High ROAS for Low-Price Products
We managed to get a few initial ad creatives ready, with solid banners and short videos, and rapidly saw conversions coming in. By the end of the first day, advertising was raising 30-50% of the total raise on Kickstarter with a return on ad spend (ROAS) of around 4.
But Pico was an affordable product, and maintaining a good ROAS was a big challenge. 
During the first 2 weeks, we came across a great insight that helped us boost revenue. Any ads containing a badge or text mentioning Kickstarter outperformed the rest. It was clear to us that we needed to double down on this style, so we created hundreds of variations that emphasized Kickstarter on the banner or in the copy.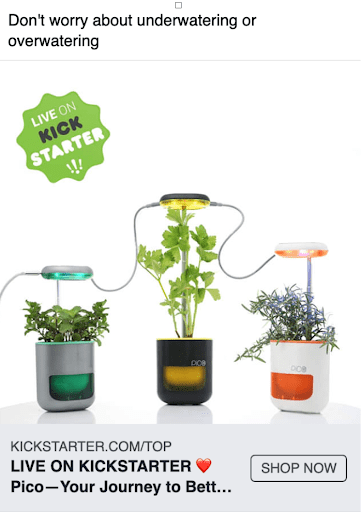 Another challenge we faced early on was competitors in the same segment. It turns out that Pico wasn't the only one who realized that people working from home would be getting into interior decoration. And plants were a great solution!
But this made it super difficult to scale our ads… 
CPM was rising. ROAS was dropping. And we definitely needed something to give this successful Kickstarter campaign a big boost! 
Find New Interests in Past Results
This big boost came from new audience insights we discovered in Google Analytics.
The Affinity and Other Interests categories helped us discover directions that we didn't even think of, or at least hadn't concentrated on as much before.  
We sorted out all the sources according to Transactions and carefully checked out which source had the highest eCommerce conversion rate.
The above table shows the best-performing interests tracked by GA. 
I don't know about you, but some of the interests we discovered shocked us! Nintendo? Starting a new job? Fishing?
We went ahead and created ads on Facebook and Instagram, targeting people with those interests. But as everyone has more than one interest, we kept track of new things that popped up and kept building new combinations of interests. 
And with every new direction we explored, we dug back into our Audience insights to find out what else our target audience was interested in. What kind of people they were? What pages they were following? And kept building a variety of new, narrow segments targeting these pages and interests.
Who do Successful Kickstarter Campaign Backers Look Like?
Creating new lookalikes during the campaign is a must, but for Pico, we took it one step further.
For the last 7 days, we built a list through a survey we automatically sent out to each new backer on our backers list that not only asked them for feedback and interests but also linked them to the different reward tiers.
Not too useful when you just have 100 backers, but with 17,000 people, all of a sudden patterns emerge!
From this list, we built value-based custom audiences, from which we created various lookalike audiences. And by continuously experimenting on our growing backer lists, and the patterns between them, we managed to keep scaling right to the end of the Kickstarter campaign.
Last Days
The last days of any successful Kickstarter campaign usually see a buying frenzy. And with Pico, it was no different.
We increased our daily ads budget and created a variety of new banners for the occasion. Knowing that our Kickstarter badges had worked, we used the same colors and styles to make "Last Days" and "Last Hours" badges, even down to the 2-hour left mark.
And with hundreds of ads created over the course of the campaign, we decided to try some of the best out again. Rather than leave them to waste in a paused state, we turned them back on and found many of them to start working even better than they had initially!
To always keep exploring new ad directions and implementing new strategies is one of the most important tips for advertising. 
By doing so, we found new directions using "other categories" and targeted them. Also, by diving deeper into our Audience Insights, we found new audiences and pages that our target audience was following. The results were incredible!
Main Takeaways
Our advertising mission on Kickstarter ended successfully, with over $600,000 raised directly from trackable advertising. We managed to stabilize the fluctuating ROAS, averaging out to $3.34 raised for every $1 spent.
Our biggest lesson came from not just creating a single buying persona and running with it, but on returning to this multiple times and allowing it to evolve with the new interests we discovered. We were guided by data, cross-checked across multiple platforms, and performed a deep analysis of our competitors and our own data.
This amazingly successful Kickstarter campaign was a great team collaboration that completely destroyed the narrative that a low-priced product can't have a high ROAS.
Cross-Promotions
At TCF, we always use cross-promotions as an alternative source of relevant traffic. The ultimate advantage with cross-promotions is that they don't require any marketing budget — yet can still net you substantial profits!
The idea is fairly simple:
Similarly, successful Kickstarter campaigns partner up and promote each other to their own backer audiences via their updates. If done right, each one can benefit from an injection of new traffic to their campaign, of highly relevant potential backers, who are ready to support you as they did your partner — perhaps even more so, because they were led there by someone they already trusted with their hard-earned cash.
But this is easier said than done!
To manage a successful cross-promotion campaign, you need 2 main things. Campaign traction, and a continuously growing number of backers.
In Pico's case, we had both. The campaign had really picked up traction early, and by the time we started doing outreach to potential cross-promotional partners, we already had over 2,000 backers.
We had high goals with Pico, however. During our previous cross-promotion-intensive campaign, Winston, we raised $25,000 over 2 weeks with cross-promotions alone! And with 4 weeks of the campaign left for Pico, we set ourselves a goal of $50,000.
There was one big difference, however. We marketed Winston at $200. Pico was $35. That meant that we needed to increase our cross-promotion efficiency over 4 times! That would mean a lot of manual work…
Manual Cross-Promotions
Manual cross-promotions are very time-consuming. You need to manually scroll through Kickstarter looking for relevant campaigns — both in terms of category and backer numbers. 
You need to reach out to the campaigners individually. You need to follow up with them via email. You need to agree on the rules of collaboration, a date for the update, a spot within it. You need to exchange materials. And keep following up with them as the date gets near.
All in all, too much work!
Over the first 20 days of the campaign, we only raised $9,000. Definitely nowhere near our planned results!
But then, 2 things happened that accelerated the campaign's growth substantially… 
Testing Our Crossprom Platform on a Successful Kickstarter Campaign
We'd been building our own proprietary crowdfunding-based cross-promotional platform for a while. But the Pico campaign was the first time that we were able to fully use Crossprom. 
With Crossprom, we were able to automate most of the manual processes. It helped to manage all cross-promotional requests from a single dashboard, have campaigns' marketing assets in one place ready to be posted, be able to follow up with our partners and retarget visitors coming from these cross-promotional activities.
And the best part, the platform was free. Not only for ourselves, of course, but for everyone we were invited to use it. This meant that neither we nor the successful Kickstarter campaigns that joined in the first few weeks, had to pay for a single conversion we got via cross-promotions!
More Backers = More Cross-Promotional Requests
And secondly, the campaign was growing insanely, and the number of backers had already crossed 10,000 people!
This meant we were starting to get cross-promotion requests from larger campaigns, increasing traction with every cross-promotion we ran.
With just one single update through Crossprom, we raised a whopping $7,300 — far more than our previous record!
Eventually, by combining the effort of both manual cross-promotions and the Crossprom platform we managed to raise just under $50,000 with a $0 marketing budget. That made Pico one of the most successful cross-promotion campaigns in all of crowdfunding history!
SMM
The goal of social media marketing on any successful Kickstarter campaign is to increase brand awareness, build active communities on all social media platforms, and increase sales through these channels. 
But with the rise of the pandemic and most people at home, we faced a number of challenges with Pico. We had to convince people that this was the time to start a new habit, growing plants indoors. We had to show that Pico was the best solution for this. And we had to compete against everything else trying to steal the attention of our stay-at-home audience!
Growing Plants as a Habit
Growing plants is a conscious choice. Many people don't have the time. They fail and give up. The idea of having a green or black thumb in the plant world is common. And starting a new habit such as this, in an uncertain world, is no easy feat!
But with everyone sitting at home, and so many new people spending more time online, we began showing them that with Pico it would be easy to start — or restart — this healthy habit. After all, it was just one little plant pot!
For research, we used Facebook groups devoted to indoor plant enthusiasts. We discovered where they hang out and discussed interesting topics regarding plants. 
Ask open-ended questions, and you'll get a lot of insights!
We found out that people grow plants to relieve stress, or for therapeutic reasons. Some plant enthusiasts use plants to improve the quality of indoor air. Others like the process of watching their babies grow. Some do it for herbs and edibles. Others do it for decoration…
All in all, we got a lot of answers about what plants people love to grow, and why they love them.
And based on these insights, we created a content strategy for the Pico campaign. Everything tied back to showing people how they could start this new habit.
For Pico, the main working content direction was educational posts that aimed to educate people who hadn't tried growing plants on why they needed to start growing indoor plants. We posted about the benefits of this habit by quoting studies and useful scientific facts about indoor planting.
But it can't all be about serious science! We also had to match the product's fun and light mood, by drumming up curiosity in the habit of growing plants, and inspiring people along this new journey they were about to start.
We constantly ran new photoshoots to show Pico in a new light. By reacting to what our audience found most interesting — bright, colorful images — we steadily built a theme around Pico and increased our audience's engagement.
Followers were actively engaging with new posts and leaving their comments. They started DMing us about Pico and giving feedback on how much they loved the idea behind this product.
We also ran a variety of special content, including timelapse videos, giveaways, interactive stories, interviews with the founder and plant enthusiasts, and special offers like this one for Earth Day.
As a result of all our SMM efforts, we increased Pico's following on Facebook, Instagram, Twitter and YouTube to over 17,000 new members, and raised just under that much on Kickstarter thanks to them. But these weren't just numbers, this was an active community engaging within themselves. And when we did post, we had engagement rates of 7 or more!
This community of followers on social media will continue supporting Pico for years to come.
Sales
Direct sales are a fundamental part of any successful Kickstarter campaign. And it's not just for high-ticket items like our $3,500 Fuell campaign. No matter how wide your reach on social media, through your landing page's leads and email marketing, through ads and influencers and journalists… people will slip through the cracks if you don't reach out to them directly and resolve their doubts.
You need to understand your customer's needs, find parallels between these and your product, show this connection and the other benefits your customer can receive, and solidly close the deal!
Stopping Refunds
Whether you're giving your backers gold for free, you will have refunds on your crowdfunding campaign. But don't worry. There are strategic moves to help you bring your refunded customers back.
We reached out to these backers and analyzed their pain points in Pico's case. Some people were unsure about the price, so we offered them extra discounts and special offers. Others were worried that even with Pico, they would still have problems growing plants, so we gave them custom add-ons and secret perks that would help them automate their plant growing even more.
The result? 
Pico set a personal record as the campaign with the highest return of refunded customers!
Automate Through ManyChat
Sales can be hard when you're talking about 10,000+ backers. There's no way to talk to all these people! 
Thankfully, tools like ManyChat automate at least some of this process. As was the case with out "Last Chance" message, which led to a conversion rate of over 10%! 
We sent it out to 1,200 potential customers, and ended up with 150 new backers — without even directly interacting with them!
Don't Ignore the Comments Section
Many potential backers will scan through the updates and comments sections of a campaign before making the decision to back. They want to see the campaigner actively engaging with their audience. And they want to see that the community is actually behind the idea, and isn't calling it a fraud. 
With Pico, we took over the comments section and rapidly replied to anyone who had a question. Not only did this help convert the people we were directly talking to, but also everyone else who happened to see the public chats we were having days down the line!
Catch the Stragglers
At the end of a successful Kickstarter campaign, there will always be a certain percentage of backers who have payment issues. While this might not be a problem when you're buying something from Amazon — you'd just rectify it immediately when you saw the payment didn't go through — a lot of people don't even realize their pledge hasn't gone through on Kickstarter. Especially if they backed weeks ago!
Kickstarter charges all backers at the end of the campaign. If a payment fails, the platform sends a small notification and gives an extra 5 days to let backers sort their issue out.
So rather than leaving it up to Kickstarter, we took these failed payments into our own hands.
We sent them notifications on 3 different channels:
Via an update, clearly showing them all the steps they needed to follow in order to fix their payment and get their Pico.
Reaching out to them via email.
And sending them messages through Kickstarter's native chat. 
This is just one example of how it went down:
But by the time the backer got back to us, the extra days were over!
Or were they?
Although this was a little extra hassle on our end, if we could get another Pico into the hands of someone who really wanted it — how could we say no?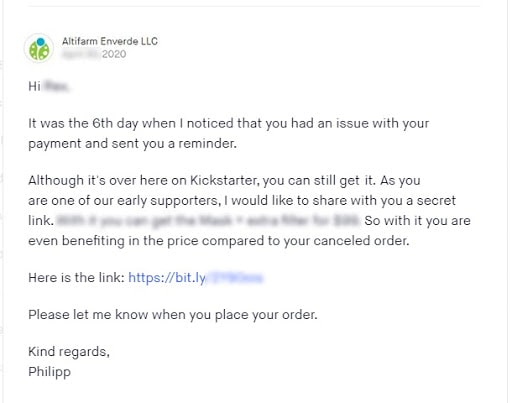 By the end, we had the payment and one more happy backer!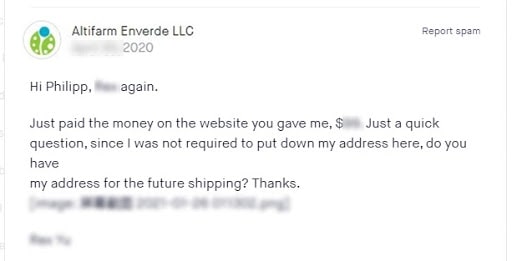 By the time the campaign ended, we'd interacted with over 700 backers and helped 150 of them make a decision to get Pico. Our sales efforts alone managed to raise over $15,000.
Design
Pico was a highly visual product. Affordable, colorful, and easy to understand at first glance. Adding in the natural element of plants, and you get a very photogenic campaign. 
This had its downsides too, as the visual content we produced for ads, influencers, and SMM meant more people than usual were clicking. How do you capture the visual essence of Pico in the minds of actual buyers, while also reducing the amount of irrelevant traffic?
Add to this the fact that we had a direct competitor — Terraplanter — with stunning visuals and a beautiful page design, and we had a challenge on our hands!
Visuals Without Prototypes
In the beginning, our visuals weren't perfect. But with 2 days till launch, we had to do something with what we had. While we waited to receive a few prototypes, we took all of Pico's existing photographs that had humans in them — to highlight the human element, and afford the product some emotion — and gave the ads team a series of different images to test.
By intensively working with our advertising team, we analyzed the difference between using more or less emotion, having men or women holding Pico, and even blurring the person more or less.

And when Pico finally arrived in the office, we knew which direction to pursue!
The above 2 images on the right, are actually our very own teammates — and these ended up becoming the best-converting images over the entire successful Kickstarter campaign.
Native Kickstarter Badges
Kickstarter backers are sure to recognize one thing — Kickstarter's visual brand identity. That vibrant green, the rounded fonts, the fun shapes… 
So rather than designing our own badges for Pico's equally fun and colorful persona, we used badges reminiscent of Kickstarter's style. These highly outperformed any banners with regular text on them.
Why? 
For a few reasons. People immediately associate your product with the Kickstarter brand they know and trust. They understand it's a crowdfunding campaign. And return backers are more likely to click. You also get rid of irrelevant traffic who wouldn't back projects on crowdfunding sites.
Fine Tune Your Photoshoots with What's Working Best
Don't think that you can take one pre-launch photoshoot and be done with it! Make the most of the advertising feedback loop to see what works best, and keep taking new photos that improve on your past results incrementally.
We ran a number of photoshoots for the Pico campaign based on our ad department's valuable insights. 
Attractive and eye-catching visuals were one of the key factors that increased the audience's engagement rate. So as we honed in on the best graphics, we even started running experiments on the campaign's thumbnail image on Kickstarter. 
Don't forget that no matter how much you advertise, a lot of your traffic will still be organic. These are people who find your campaign through Kickstarter's home or search pages. And in order to get these people to click, you need a really compelling thumbnail. Not only as a standalone graphic, but in contrast to the other campaigns on Kickstarter.
Once we gathered enough data to definitively prove which were the best visuals, through ads and SMM, we went through the Kickstarter page and updated all the images. This not only meant that our Pico page would make the most of our data-driven design but would also improve the user experience.
Users who click on an ad will see a similar image or design on the page. And people who watched an influencer story would find the same style when they clicked through. This consistency helps potential backers know that they've landed in the right place — the opposite can lead to unnecessary confusion.
But our biggest success was when we realized that journalists, bloggers, and influencers were taking the visuals we'd made directly from the page and sharing them with their followers!
Delivering Results Until the Very End
All of our activities for Pico culminated in an intense final 24 hours.
When we woke up on that last day, we were just $50,000 away from a nice round of $1.5 million. After a month's effort, we couldn't just leave it at that. So for the following 10 hours, we drove all our efforts towards reaching that nice round number.
And just as the clock hit 8 pm, we just turned a dream into reality as Pico crossed the finish line with $1,500,698 raised by 17,751 backers!
In the words of Pico's Creator, Arun:
This cemented an already successful Kickstarter campaign, full of new strategies, creative approaches, and solid experimentation.
For more insights into those final hours, check out our intense, personal account here.
P. S. A year after Pico's first launch, and after successfully delivering to over 17,000 backers, they're back!
On May 25, 2021, we launched the Pico Max campaign on Kickstarter, raising over $100,000 in the first 12 hours.