Ahoy Growth Hackers!
Last week just flew by, and so much went down during those days — some amazing hacks, tools, and creative strategies.
Building a converting digital marketing campaign is a challenging attempt, but thanks to our weekly hacks and tools, you can make a few steps towards your ultimate goal.
Following is a handpicked kit of this week's tips and strategies, with their detailed explanations to help you scale up your campaign. We'll explore how to make the most out of LinkedIn notes, optimize Facebook ads, so they'll perform better, YouTube and TikTok's new features, and look into the crop video content for social platforms.
Are you ready? Let's go!
What we are going to talk about:
Private Notes For LinkedIn
I am from the Partnerships Department, and well as you can guess from the department name, communication with current and potential customers is among the core activities of mine. I get in touch with them via email, LinkedIn, or other channels.
Way too often, I run into a profile I am connected with on LinkedIn and can't seem to remember if I've already outreached, talked, and at what stage of communication we are with the person. Or sometimes even in which company, crowdfunding campaign, or project they work.
While there is an internal CRM program that helps us keep track of our contacts, sometimes the back and forth is time-consuming. Recently I came across a LinkedIn extension — "Private Notes for LinkedIn" — that helps you add private notes to each LinkedIn profile regardless of the fact you are connected or not.
Amazing, right? All you need to do is open a LinkedIn account you are interested in and add the relevant information to the profile.
And every time you open a profile, you have the private notes right there. That's it — tons of time saved and no hassle.
Facebook Ad Set  Strategy for Higher ROAS
Any digital advertiser would confirm that we want to spend less and get better results from our Ads. For a while, I have been playing around and testing different strategies to improve and optimize the Ad Sets so they'll bring in higher conversions.
After many tests and successfully implemented campaigns, I am excited to uncover yet another strategy that'll help you save your budget and eventually result in higher ROAS.
Usually, I would create a campaign and populate it with several Ad Sets, and finally, I would configure with campaign budget optimization. A day later, I can clearly say which AdSet is underperforming and which will be a success (numbers speak louder than words).
Next, I would stop the underperforming Ad Sets, so the better-performing ones get more budget and provide results in more conversions. This strategy worked for the past four to five months. But Facebook is good at surprising us all, and during the past few weeks, the strategy would not perform as it had used to.
Something was needed to be done, and I thought, "What if instead of stopping the underperforming ones, I will let all the Adsets compete with each other?" Instead of turning them off, I decreased their budget and set a $1 budget for underperforming ads.

Guess what? It worked, and thanks to this hack I started gaining much better results with higher ROAS.
Boost Views on YouTube with Hashtags
Hashtags — the most favorite tool of any Social Media Marketing specialist. Like most professionals, I use hashtags on platforms like Twitter, Instagram, Linked In, and a few even on Facebook. But never have I considered using the Hashtags on Youtube up until this year!
The hashtag is a word or phrase, preceded by a hash (#) sing, used on social media platforms to help easily identify and search content on a specific topic.
This year YouTube has rolled out the hashtag search new feature, which provides a full-page display of YouTube videos that include your chosen hashtag, along with usage insights — all on one screen.
As you can see in the following example, YouTube brings a separate page of the specific hashtag (I just typed #macbookpro) we have searched. When you click on it, you'll go to that hashtag page, where you'll find a full listing of videos with that specific hashtag.
At the top of the screen, right below the hashtag you've searched, you'll find the general insights information for that exact hashtag — the number of videos posted, channels using the same tag.  
Previously, if you searched for a hashtag or clicked on one, you'd see a combination of content using the hashtag in the video as well as other related videos. Anyone searching for a specific hashtag on YouTube will see a new page containing videos with the hashtag, which are sorted to keep the best videos at the top.
So this new feature will help you see related videos to your niche; moreover you can easily find and analyze videos from yours. Additionally, it's a new way for your channel and videos to be discovered by your audience.
My advice to anyone who uses the hashtags is to use 3 – 4 relevant hashtags in every video description. If your channel is new, avoid using hashtags that have high competitiveness and were used by many channels. Try using more specific hashtags like #macbookproreview or #macbookprounboxing if your video is about unboxing a MacBook Pro. Analyze the hashtags and choose the right ones for better results.
Horizontal Video to Vertical In Secs With AI Tool
Horizontal vs Vertical videos the never-ending "battle" between the video content and SMM departments. Way too often, we end up having horizontal orientation videos, which are optimized for campaign pages, landing pages, YouTube etc.
I know, I know… It would have been perfect if we shoot vertically along with the horizontal ones, but in some cases that's impossible. And if you like me end up with a horizontal video, I am here to uncover a time-saving tool that'll easily transform the video orientation.
Meet Kamua! 

The tool comes with a simple and intuitive interface. Thanks to the AI it can effortlessly convert your wanted horizontal video into vertical, at the same time keeping the main object in the vertical frame. You can also select the vertical frame area manually. What I like the most about the tool is that you do not need to be a video editing guru to use it! 
I have been using the tool to create TikTok and Instagram Reels videos from my YouTube video (yeah, ended up with a horizontal one again). Yet another handy feature is resizing that'll help you cut the exact video frame, add subtitles you want and test the new content out! 
Btw, this tool has very reasonable and affordable price plans.
TikTok Marketplace Research & Outreach
Nowadays, the first thing that probably comes to your mind when thinking of an influencer is TikTok. Starting as a small application for creating short funny videos with a minimum message, TikTok has managed to become an industry-leading marketplace for creators worldwide. When taking enough time to explore the platform, you will realize that it gives a wide range of opportunities for creators and those who are looking for someone trustworthy to represent a brand/campaign. Here is one of the features that I found recently that helps to find and connect with relevant influencers in one place.
How to register
You need to visit the platform at creatormarketplace.tiktok.com and create a new account. Just fill in your personal information such as email and password and you are ready to go.
How to create a campaign
Click on the "Create campaign" button on your page. You'll be redirected to a new section, where you'll need to fill in some more info regarding the campaign you plan to create and promote. Scroll down at the bottom of the page and click "Create."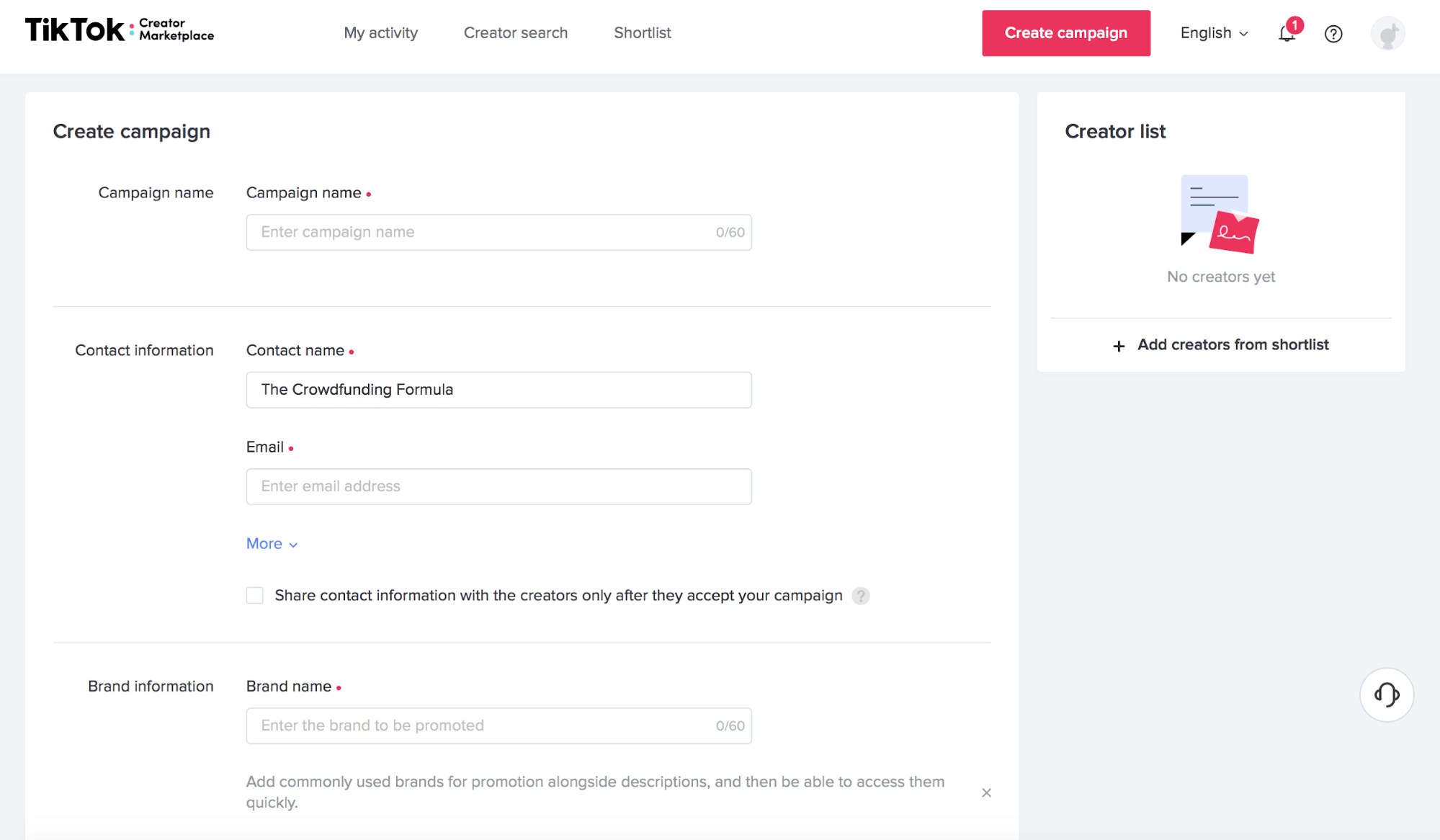 How to organize the research and outreach processes?
Click on the "Find now" button and start your keyword-based research by searching for your campaign's most relevant keywords in the search bar. Want to make your results more specific? Use the variety of filters provided by the platform for narrowing your target, such as "Country or Region," "Topic," "Followers," "Average views," etc. . And finally, the best part of this is that you can invite relevant influencers to collaborate with one click. Once your request is approved, you can quickly start your communication with as many influencers as you want in one place, thus spending in these activities twice as little time as you used to with manual research.  
—
That's all for today, growth hackers!
And while you think of whether you are going to test out the Ads strategy the first or TikTok's new marketplace, I'll try out the hashtags for youtube under my recent videos.
Don't forget to drop under the comments your challenges and maybe our team can find the solutions for you as well.
Have an amazing day and week ahead.
See ya!