We're back, with another fantastic Know How!
This week, find out about a hack to create an audience with Audience Insights data in just one step, learn about Chrome's goldmine of experimental features, discover a tool to change the subject line of your follow-up emails, and some other fantastic tools, tips, and tactics.
We're also testing a new service—find out which at the end.
Let's dive right in.
——————
Experience The Future of Chrome Browsing Today
Google continuously adds new capabilities to enhance its users' Chrome browsing experience. But very few know they can get their hands on a host of new Chrome features before they even find their way to Chrome's public surface. Or leverage the chance to try them out before they get abandoned.
Chrome Flags is home to dozens of Chrome's experimental features that are still not available in your Chrome settings. Some are focused on users. Others, on developers, to become a part of Chrome Developer Tools when they are released.
One particular tool that I just started using is Tab Groups, allowing you to classify all your tabs into visually distinct, color-coded groups.
There are, of course, extensions offering similar functionality. But they display all the tabs in a sidebar only after you click on the extension icon. It just isn't convenient. Having all your group tabs neatly laid out in the top bar right before your eyes, navigating through them makes so much easier!
To enable Tab Groups:
Pop chrome://flags/ into your Chrome Browser Search Bar
Once on the page, search "Tab Groups"
Change its status from "Disabled" to "Enabled"
And save your changes by clicking "Relaunch now" at the bottom of the page
Then just click on a tab in your Chrome, and choose "Add To New Group" from the dropdown menu. Write your group's name and pick a color to easily differentiate it from other groups.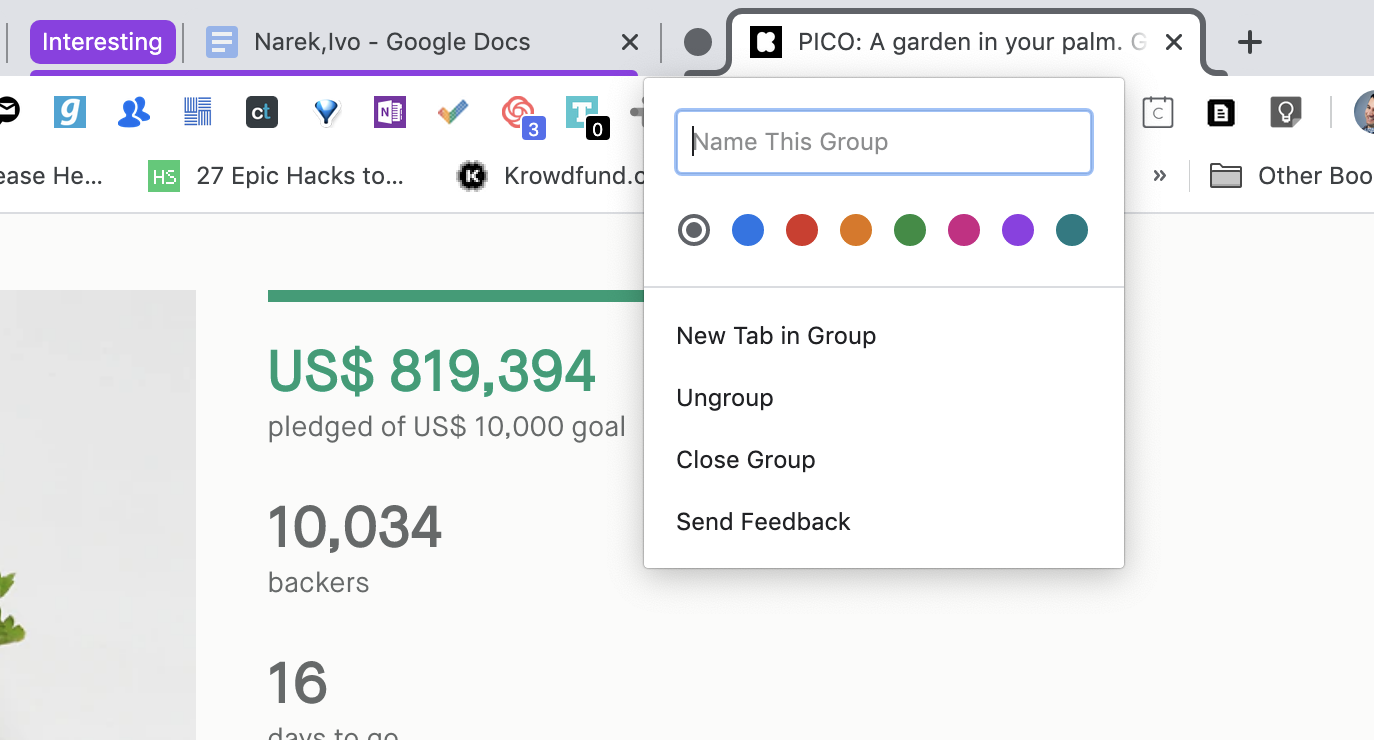 And you're good to go!
The next time you want to add another tab in your group, just tap on it and choose "New Tab in Group" from the menu.
Here's how organized my Chrome browser top looks with Tab Groups.
Create A New Audience With Audience Insights Data In One Step
Facebook Audience Insights gives you aggregated information about two segments of your target audience—people already in your audience and people on Facebook who you still don't target, even though they match your buying persona.
Put plainly, Audience Insights shows you how your current audience compares with the rest of the people who, according to Facebook, will likely be catered to your product.
Here you can find information about demographics, interests, and behaviors of those two audiences. You can also make use of the variety of filters on the left-hand side to explore a particular feature that defines your audiences—location, genders, interest, languages, education, work, etc.
Once you've applied your desired filters, Audience Insights will display interactive graphs, illustrating the audiences that are most likely to be converted.
For instance, if your product is a USB device, you can see that in the United States, married men in the age bracket of 25-34 are your most converting leads. You can also notice that they mainly live in Los Angeles and speak English and Spanish.
Use these insights to run tailored ads that will speak to each designated segment of your audience and explore new targeting directions.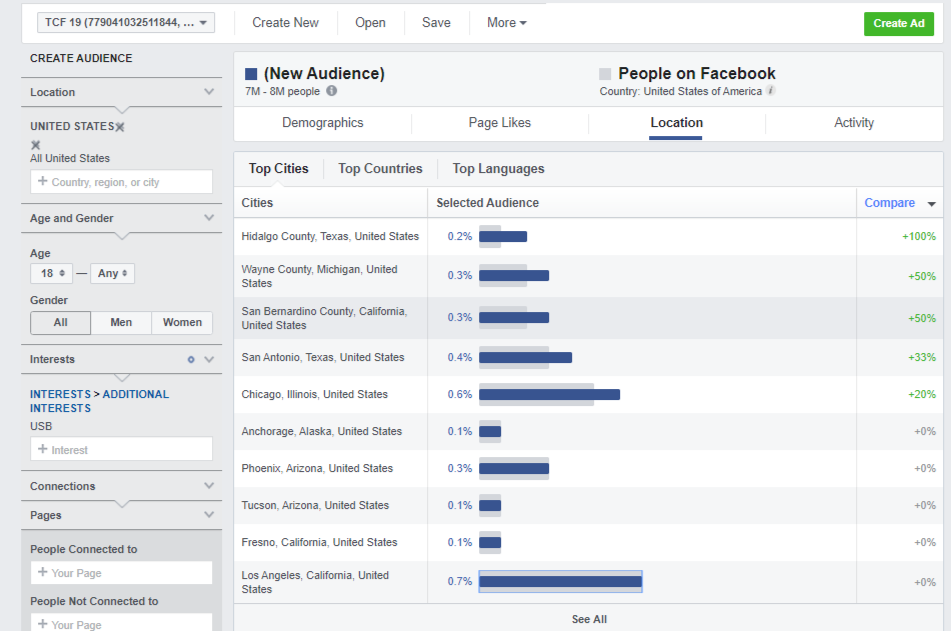 This was a little sneak peek of the tremendous potential of Facebook Audience Insights which I've been using for a while now. And this week, I also discovered a handy feature to save all the collected data and migrate it directly to your Audience Section.
So you'll no longer lose time manually inputting every single feature of your newly-created audience, which can be set up with a mere tap on the "Saved" function in the top bar.

An important pointer: while defined as "saved", keep in mind that you can still make edits in your audience. Change the gender, age, or pick a different location, to experiment and test the ad performance when targeting a different audience. 
Create A Snapshot of Any Webpage With One Click
Archive.today is an alternative to Wayback Machine which lets you create a snapshot of any website you visit. Archive.today records only texts and images, excluding video, XML, RTF, spreadsheet, and other scripts that power non-static content to avoid potential malware.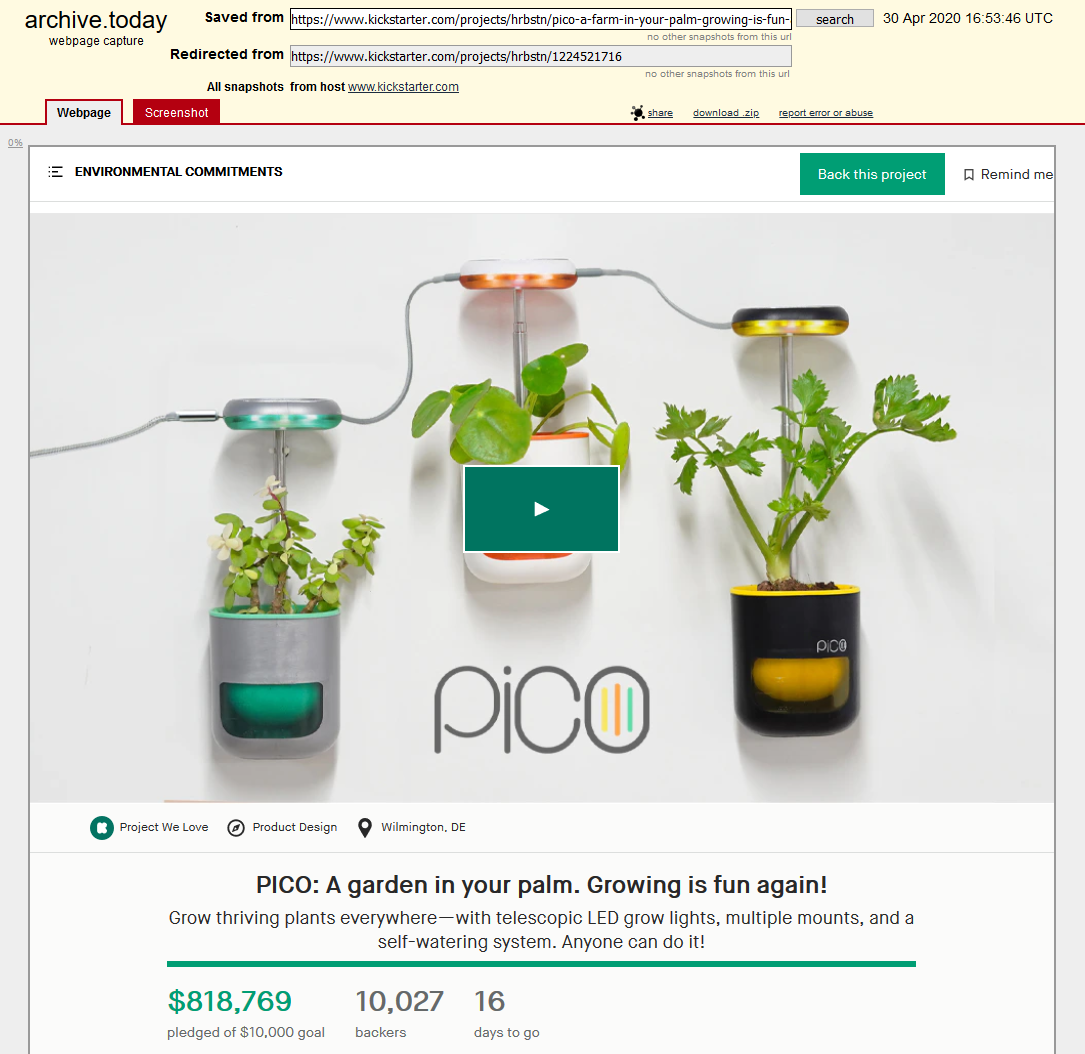 Archive.today keeps track of the history of snapshots saved, returning to the user a request for confirmation before adding a new snapshot of an already saved Internet address.
Once a web page is archived, it cannot be deleted directly by any Internet user.
Active.today also has a very handy  extension which lets you save a copy of the webpage with a mere click on the extension icon.
Change The Subject Line of Your Follow-up Email To Bolster Response Rate
"Everyday I'm hustlin'" may sound cliche to many, but it captures the nature of any partnership efforts.
The truth is not everyone—indeed very few—are going to reply to your email. More often than not, it will take you the third, the fourth, sometimes even the fifth follow-up before you hear back from your prospects—which in many cases is a disappointing no.
But you can't just leave the success of your outreach campaign to chance. What you can do instead, is to understand how your prospects react to your emails, analyze the reasons behind and make changes to harness better results.
Every time I send a partnership offer via email, I always track it to see what fraction of my prospects opened my email.
If the number is small, it can usually be explained by two reasons—either the email landed in their Spam folders or your prospects weren't appealed to open your email. Once you make sure all the spam-triggering words or elements (i.e. excessive hyperlinks and images) are eliminated, it's time to think how to pique your prospect's interest and boost your likelihood of getting a reply.
How about you change the subject of your followup?
This way your email will come as unfamiliar to you prospects, and if your new subject line, indeed, sounds more compelling, inspire them to click Open.
Since Gmail doesn't have a native feature to edit the subject in reply messages, the extension Rename Email Subject by CloudHQ  comes in handy.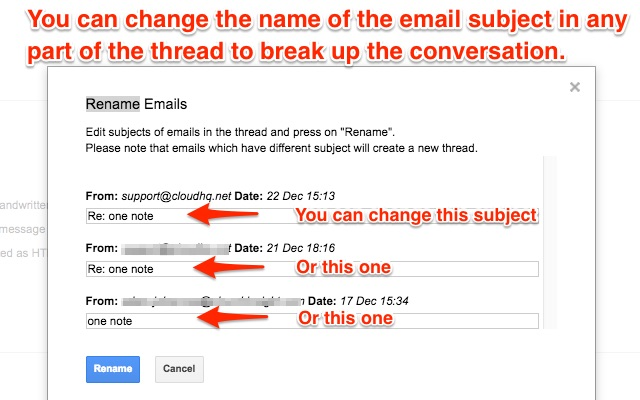 Besides allowing you to edit the subject lines of the emails you send out, you can also change the subject lines of the emails you receive—a handy feature to include a note or a reminder to organize your inbox.
Test this new subject line tactic and see how it goes. If you see a spike in the open rate with almost no responses back, maybe consider revisiting the content of your email to make sure it resonates with your prospects and offers them value.
Don't forget to also check out our Partnership Expert Lili's Know How on to include a preheader text to preface the content of your email and hook more of your leads to open your emails.
Listen to "WorkLife With Adam Grant" To Create a Great Company Culture
Recently I was listening to the audiobook "Power Moves: Lessons from Davos" by Adam Grant and it was so captivating that I was drawn to discover other topics explored by the author.
Adam Grant is an organizational psychologist, Wharton professor, and New York Times best-selling author.
Among his insightful works, some of the best known are Give and Take: A Revolutionary Approach to Success, Originals: How Non-Conformists Move the World and WorkLife with Adam Grant: A TED original podcast.
Without spoiling its eye-opening nature, let me give you an idea of what it's about.
In each episode of  WorkLife with Adam Grant, Adam examines different human behavioral topics related to organizations, multinational corporations, and startups interspersed with interviews with top-tier business figures revolutionizing the world, who share insightful and practical advice on how to navigate any business situation.
There are 3 seasons with up to 10 episodes in each, available on Apple Podcasts, Google Podcasts, and Spotify. I highly recommend everyone reading this post to start from the first one and make a habit of listening to an episode a day.
Testing This Week: Udimi!
Udimi! Read that again—it's not Udemy.
Udimi is a managed advertising marketplace, connecting buyers with sellers. Sellers on Udimi have their own audiences, ready to partner up with over 2 million customers and drive qualified traffic to their products.
Sellers' ratings on Udimi are based on reviews of their customers and their repeated orders ratio.
Udimi claims that their algorithms filter out any fraudulent clicks, ensuring their customers pay only for genuine prospects to view sellers' offers.
I am about to test Udimi to promote one of our crowdfunding campaigns—Egret, a powerful disinfectant that cleans every surface at home and outdoors.
I normally would have been skeptical about a platform like this, but Udimi seems to be in line with all our requirements. And while my expectations are not very high, I am way more hooked by the significantly low CPC, or Udimi's equivalent—price per visitor.
And who knows, maybe it does work.
I'll share the step-by-step process in next week's newsletter, from choosing relevant sellers to the results they brought. So make sure to subscribe to not miss on what can potentially be your next traffic source.
——————-
This much for this week!
Have you already enabled Tab Groups in your Chrome Flags? I believe you too have a tab group named "Learning resources".
Have you already saved your Audience Insights data to migrate it into the Audience section of your Ads Manager in just one step? Give it a try. It's game-changing.
And as you walk out armed with fresh insights to revamp your marketing campaign, don't forget to bookmark our latest article to discover the PR trends in 2020.
And don't forget to subscribe to our newsletter to know if Udimi is worth a try.
I'll see you in a week!