Today, we're going to show you how to launch and run a 7-figure Kickstarter campaign step-by-step.
While 63% of crowdfunders fail and the remaining 37% raises on average less than $10,000, we raised more than a million dollars 9 times.
And the best part?
We explain everything comprehensively, so you don't have to be a professional to understand all the stuff
We give you all the working tools, which are 100% tested
We give you additional resources and all for free!
In this article, you can find the exact tactics our company uses to drive waves of traffic to our campaign pages and generate up to 3 million dollars with minimal resources.
A Taste of What You'll Learn:
How to get prepared for a successful Kickstarter campaign
How to collect an audience dying for your product
How to create a campaign page that will attract visitors like honey
How to build an ARMY of journalists and influencers to create buzz around your product
How to create the most awesome Facebook ads
Tones of other crowdfunding promotion tips & ideas
This monster 10,000+ word article is designed both for those who are going to launch their crowdfunding campaign for the first time and those who are doing that every day.
It contains 131 tested crowdfunding tips to create and promote your campaign on Kickstarter or Indiegogo.
With the links to case studies, research, resources, and tutorials, you will have everything at hand to understand how to run a successful crowdfunding campaign.
This is indeed the ONLY guide you need if you want to get your Kickstarter marketing plan succeed.
To help you navigate easily, we have divided the article into sections corresponding to stages that a Kickstarter campaign passes through: research, pre-launch, and funding stage.
Research is the very first stage of a crowdfunding campaign, which is crucial in that it can determine the further success of your project. Its main aim is to understand the value of the product, its demand on the market and explore the strategies your competitors have successfully implemented.
As to the pre-launch and funding stages, they require lots of work, flexibility and continuous contact with the backers, the importance of both being equally crucial to successful crowdfunding.
Feel free to use the links to jump to a specific section which is of interest to you. There will also be links at the end of each section to quickly scroll back to the top of the post.
Research
Pre-Launch campaign
The campaign page creation
Funding stage: Going Live
Crowdfunding research
During the research stage, the product is compared to other similar products, as well as the product benefits, target audience and positioning are determined.
But it should also be kept in mind that the crowdfunding process is flexible, which supposes constant change of previous decisions. Therefore, certain decisions made during the research stage, such as the one on the positioning can often alter as a result of testing.
In a nutshell, after the research, you should be able to answer one simple question: "Why should people want to buy my product?"/"How does it make their life easier/better?".
Below we are presenting a few super-useful steps and tools to make your research maximally effective and lay the foundation for a successful Kickstarter campaign.
Product research
Tip #1. Use JungleProof to check your product/market fit
Whether you are a startupper or a serial entrepreneur, your first task should be to make sure you have a good product-market fit. In other words, your idea of whether your product is good or bad should not be based solely on your or your friends' biased opinion. To get a more objective idea about its potential, you should opt for a prior market validation from its potential backers.
JungleProof is a tool specially designed for this purpose.
What you need to do is to create a 3-page website for your product with JungleProof and launch it via ads to:
1. Learn if the audience is interested in your product
The tool tracks the behavior of your page visitors to find out if your product is of interest to them.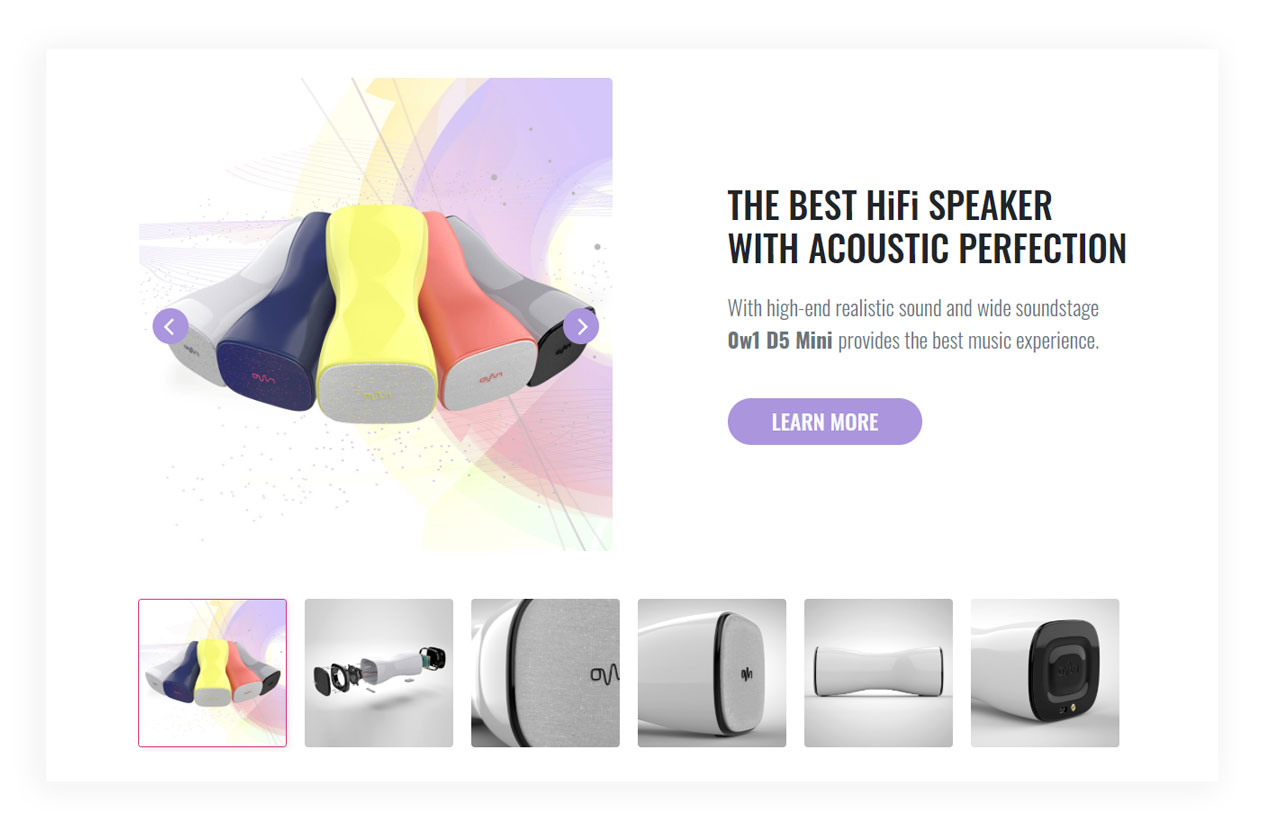 2. Check whether they will actually BUY and test your price
Jungleproof determines the add-to-cart to purchase ratio and the correlation between behavior and purchases. This is done by tracking the visits on the page and actions taken by the visitors such as subscribing, pressing on the "Buy Now" button and validating the price. Based on certain behavioral patterns, Jungleproof can forecast through real market projection which percentage of people with a certain behavior will back your Kickstarter campaign.
3. Get Early Bird subscribers
JungleProof can also help you shape your first audience and obtain ambassadors of your product.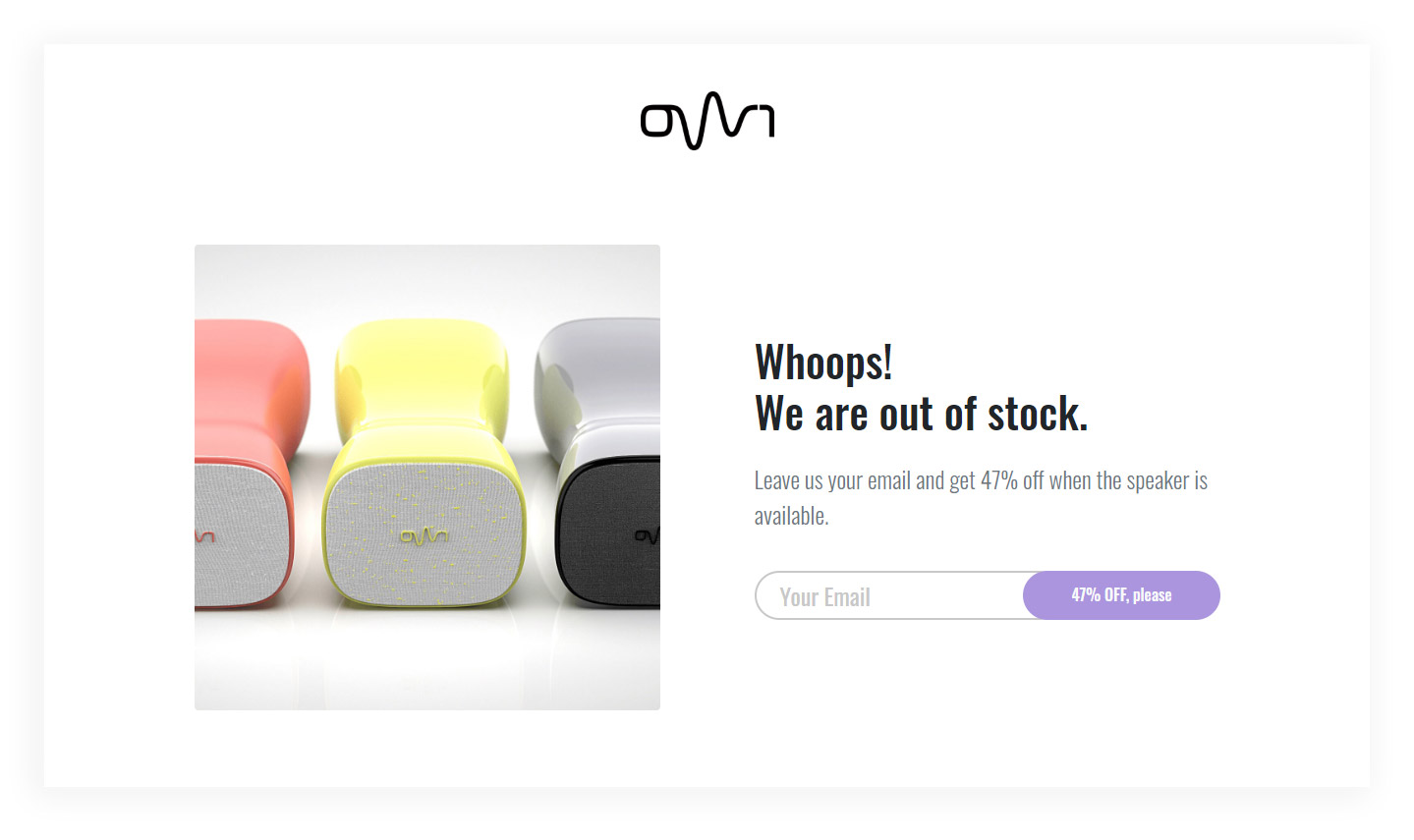 As a result, you will get insightful analytics on how well your product does based on industry averages and benchmarks. Having this early knowledge, you will be able to make the respective changes in your product's features or price to make it more fit for the market and avoid being kicked off from the industry by the criticism of your backers.
It is thus an affordable method to have a scientific backup on the potential of your product, find the right market and the right price for that market and, of course, make sure your product is absolutely JungleProof.
Useful, right? Try JungleProof now, it's free.
Tip #2. Search how the campaigns similar to yours performed on Kickstarter and Indiegogo.
One of the useful methods to analyze the performance of your competitor product is to analyze their funding curves. This can be done by using such campaign trackers as Biggercake (only for Kickstarter) and Backertracker.
In the case of a U-shape curve on Biggercake you know that the given campaign mostly benefited during the first and last days, most probably thanks to their subscribers.
Whereas the more homogeneous curve shows that the platform's audience had a continuous interest in the product, which is already a good sign.
The shape of the curve can also indicate the optimal resource allocation, which we will discuss later.
This analysis will also help you determine which of these platforms will work best for your product. In doing so, you should also consider the relevant traffic your competitor products attracted to their campaign pages.
Another thing to remember while researching similar campaigns is that you should analyze recent data from fresh campaigns, since old campaigns may present products which might have once been highly demanded, but have later been pushed out from the market by other products.
And if during the research you have come across many competitors, don't worry: This is a good sign, since you can improve your product and make it stand out taking into account your competitor's experience, users' feedback, etc.
Tip #3. Carefully examine similar products on Amazon and eBay.
Another way to increase the chances of your product's success is to examine similar products on Amazon and eBay. In doing so:
1. Pay close attention to the number of reviews the products have. Remember, the more reviews, the better.
2. Read the comments and reviews to get an idea of what features the customers would like your product to have, what is not working well, what needs to be improved, etc.
This way you'll find tonnes of precious insights on what your potential customers want or expect from the product and what they don't like.
Typically we look for products that are not just slightly better than their competitors in Amazon, but significantly, 10 times better.
So, make sure the benefits your product provides make significant difference among potential backers.
Read this guide on Amazon product research for more detailed tips (in many cases the techniques are applicable to eBay as well).
Research on competitors' strategies
Tip #4. Find the coverages of similar Kickstarter campaigns to assess how PR-friendly your product is.
Simply searching your competitor's name on Google by putting it in double quotes will bring you all the results you need. But if you want something, in addition, you can use the MediaToolKit.com media monitoring tool to find all the mentions of your competitors in the press.
You can also list all the relevant journals and blogs that covered your competitor's product and later use them for your own campaign.
Tip #5. Examine your competitors' ads.
To see your competitor's Facebook ads go to your competitor's page and find "Page transparency" below in the right sidebar.
Hit "See more" and then click "Go to Ad Library" in the "Ads from this Page" box.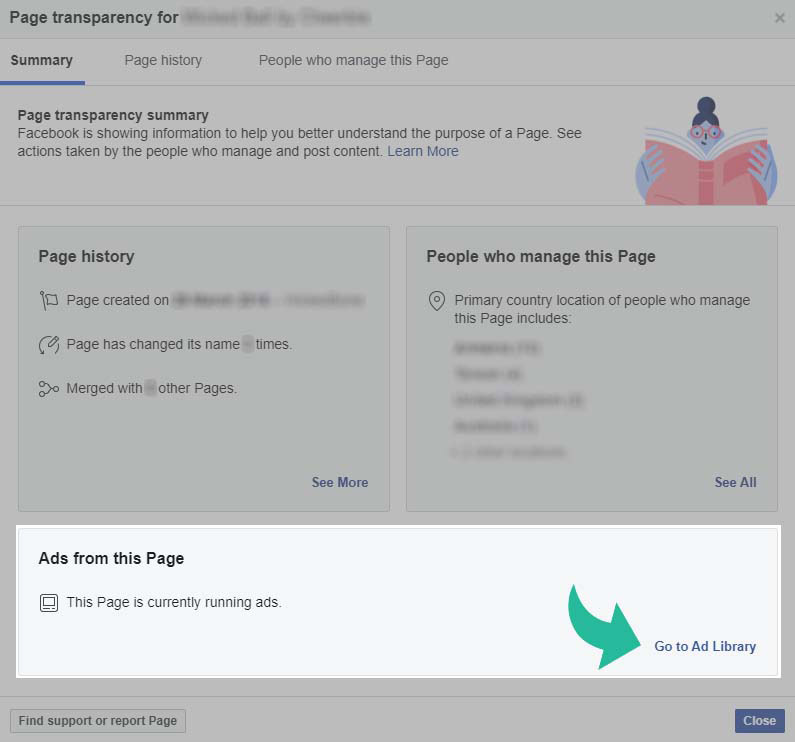 Tip #6. Read crowdfunding success stories and case studies
If you want your campaign to be successful, you should first opt for studying the success stories and case studies of other campaigns. This will allow you to learn the best practices from the best campaigns and apply them to your own one. You can find plenty of such sources on the web or you can check out a couple of really amazing cases we have picked specially for you: Volterman case study, Snapmaker 2.0, and Pilot.
Tip #7. Brainstorm with your team/friends to find out potential targeting options
Finding the right targeting options is one of the most crucial parts of the crowdfunding campaign. It's really worth investing your time in brainstorming for keywords that are somehow related to your product These keywords will be used when creating content for your campaign page on Kickstarter or Indiegogo, on your social media, pitches, etc to attract a relevant audience. Take a look at these tested brainstorming tips we use here at TCF.
Pre-launch campaign
Many people think launching a campaign is as easy as ABC. They just take and submit their product on either Kickstarter or Indiegogo and wait for it to meet its goals. Well, dude, it's not working like this. First, you need to start preparing months before the launch of your campaign.
This is exactly what we do at the Crowdfunding Formula. And the result? Well, if other campaigns raise $25,000 in 2 months, we raise almost $50,000 in only a day!
Think this is some kind of magic?
Well, not really, unless thorough preparation qualifies as magic. Thanks to this preparation we manage to shape an audience looking forward to our launch long before the campaign kicks off.
In fact, the pre-launch phase is twice as important as it seems. It helps campaigners test the market, find an appropriate niche before going live and collect emails of potential backers. Market validation and email subscribers play a key role in the success of a Kickstarter campaign.
Usually, this pre-launch campaign consists of 3 main parts (not including the research stage):
1. Collecting and warming up subscribers,
2. Video creation and photo-shootings,
3. Collecting the PR database.
Collecting and warming up subscribers

Email Marketing

Creating a pre-launch landing page

Tip #8. Create your pre-launch landing page with landingi.com or 10web.io (if you prefer WordPress).
These tools will help you build super cool landing pages for your pre-launch marketing campaign. They are the ultimate winners among the hundreds of tools our project managers have tried.
Some common advantages are:
Landingi
Hosted in the cloud
Simple domain setup
Super easy and fast way to build and manage landing pages even for newbies
Intuitive drag & drop website builder
Ability to add custom HTML, CSS and JS code
Special WordPress plugin to host the landing page under a custom directory on the same domain as the main website. And not only for WordPress.
10Web
It can be hosted either using a custom hosting solution or 10Web (Google Cloud) for full functionality which makes it easily scalable.
Uses WordPress as the engine, so you get all the advantages from WordPress plugins.
Has special plugins developed by 10Web for Security, Performance, SEO, and backups.
Drag & Drop website builder "Elementor" with a lot of customization options and built-in elements.
Here are some resources that will help you get started with Landingi and 10Web.
Tip #9. Integrate your landing page with Google Analytics and Facebook Pixel.
With Google Analytics you can easily track your results, while the Pixel allows you to run ads on Facebook.
Here's how to set up your Google Analytics profile and Facebook Pixel.
Tip #10. Use ConvertKit for email marketing.
Did you know your email list is your biggest asset? With ConvertKit, it's easy to customize and embed forms on your website to turn casual readers into subscribers. This is another great tool recommended by our Project Managers.
Tip #11. Use Optimonk to remind your visitor to subscribe.
This unique platform has a lot of variations for adding pop-ups on your landing page. We would especially recommend exit-intent pop-ups, which retain visitors that are going to leave your page giving them "the last reminder" to buy your product.
Tip #12. Don't use pictures that say nothing about your product.
Try to capture your product in the situations it is meant to be used. Try to make your target audience identify themselves in your pics. Also, don't forget to emphasize the unique selling points of your product in the photo.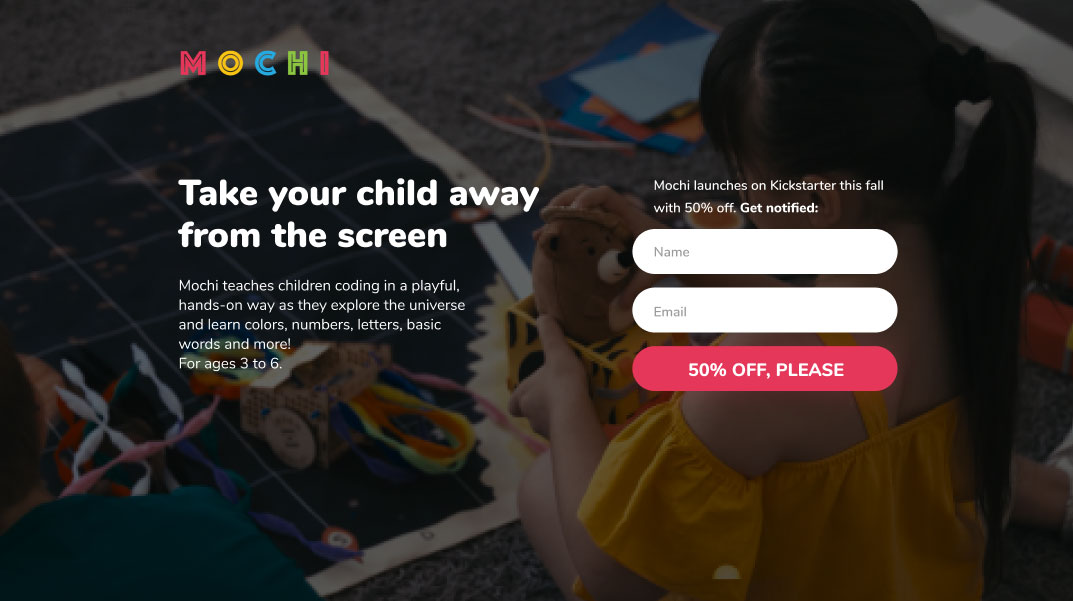 Tip #13. Use 2-3 subscription forms along the landing page depending on its length.
These forms allow the visitors to get subscribed to your page and get a certain amount of discount for the product when your Kickstarter campaign is live.
Tip #14. Describe your product with one sentence in the introduction message.
This descriptive sentence should highlight the most important features of the product and the problem it solves for your prospect. Generally, avoid using long sentences on your page. The user should get the message at a glance. Use visuals instead of text when possible.
Tip #15. Don't show the price of the product if it's expensive.
If you don't want to reveal your price, using the percentage of that price can be a good strategy. For instance, if the product is not too expensive you can use a CTA like "$17 instead of $50" or "Get with 46%/$100 OFF".
Driving traffic to the landing page
Tip #16. Use Facebook Ads to drive relevant traffic to your totally new webpage.
Use lead generation ads or preferably create custom conversions instead to increase your traffic.
Tip #17. Create at least 2-3 versions of your landing page.
This allows you to test which landing page resonates more with your backers and then choose the one that works best.
Tip #18. Organize a referral program on your "Thank you" page.
You can use the Kickoff labs to let your backers refer to their friends and earn rewards. Learn how to set up a Kickoff labs campaign here.
Tip #19. Keep the text of a referral program short and precise.
Your backers must be able to easily grasp the meaning of the referral program and understand how it works.

Tip #20. Reward the participants with tangible gifts.
If you want to really motivate the participants to take part in your referral program, give them something they would really love to get. Telling that you're going to give them a 5% discount for a $20 product won't make sense. In case of our Wickedball campaign, for instance, we offered the participants a FREE Wickedball – the product itself.
Sending emails
Tip #21. Include 5-6 emails depending on the length of the preparation period.
The email sequence should tell about the creator, how and why the product was created, its benefits, as well as "We're going to launch in 24 hours", and "We are live" messages. You can find a few samples from our Mochi campaign here:
Tip #22. Consistency matters.
Plan your emails for the same day(s) every week. Make your subscribers wait for your next email. Also, It's not recommended to schedule any email on weekends and holidays, as the open rate is usually very low on those days.
Messenger Marketing, aka Chatbots
Tip #23. Use ManyChat to reach your audience on Facebook Messenger.
ManyChat is currently the best messenger marketing platform: Its user interface and flow building are perfect and straightforward. Besides, all the texts and actions can be edited in one place. Moreover, platform builders are doing a great job by constantly developing and enhancing it in terms of functionality and usability.
Here are a few tips for its initial setup:
Add your Facebook page in ManyChat (it's as easy as 1-2-3, we guarantee) and create the welcome flow and persistent menu flows, which include CTA to your landing page (or a flow, where you tag them and send a campaign launch broadcast later) and "Unsubscribe" button.
The latter is one of the most important things to remember since if you don't provide an easy unsubscribe option to your subscribers, they're gonna go mad and report your bot. Consequently, your page will be blocked by Facebook.
Here is an article to guide you throughout this setup process.
A small tip: Always monitor your Facebook page Insights for page reports and try to keep them as low as possible.
Tip #24. Automatically tag people at your pre-launch stage and have a separate segment with the ones who wish to get notified about your Kickstarter campaign launch.
ManyChat gives you the opportunity to schedule a broadcast for your segmented audience to get in contact with them whenever you wish.
Tip #25. Collect subscribers organically from your Facebook page or by dedicated ad campaigns.
If you have built a decent community on your Facebook, you can make engaging posts and use the Comment Growth Tool. The latter brings the followers into your chatbot automatically given their consent.
Video creation and photo-shootings
Tip #26. Planning is the key.
Take your time to plan every single detail concerning your commercial video so that you don't lose track of even a small thing.
Tip #27. Brainstorm with your team/friends for the plot ideas
Write down each and every crazy idea you can come up with. Remember, great ideas have a tendency to come suddenly and fly away quickly!
Tip #28. It is recommended that your video follows the structure below:
The Introduction: Describe your product briefly, just in a few words.
Define the problem: Briefly discuss what problem you are trying to solve, and why your competition hasn't managed it yet.
Introduce your solution: Talk about your motivation and a little about your product. Tell your viewers why you decided to solve the problem and what solution your product offers to help them. You can also start by discussing some traditional ineffective solutions⁠—if there are some⁠—and only then introduce your solution. This will make your product look stronger.
Introduce your team: Tell your potential backers who you are and shortly tell about your story. You should look capable and professional to your backers so that they can trust buying your product with their hard-earned cash.
Present the features of your product: Tell your prospects how they can use your product to solve their problem. In doing so, try to be honest, show your product in action and don't use technical language.
Include a Call to Action: Once you have aroused your prospects' interest, don't let them lose it by the end of your video. End it with an effective call to action—something that encourages your potential backers to act right away. Try to make them feel their contribution can be crucial to the campaign's success.
But if you want to make your video even cooler, read our article on Kickstarter video creation.
Tip #29. The video should not exceed 4 minutes.
You don't want to bore your potential backers to death, do you? Keep your video short and sweet.
2.5-3 minutes is more than enough to achieve your desired effect.
Tip #30. Make your video emotional
Did you know people most often buy with emotions rather than logic? Do your best to arise the desired emotion in your prospects
Tip #31. Prepare for the photo shooting
Look through the commercial photos of similar products on Pinterest and prepare a storyboard that the photographer can use during the photo shooting.
Collecting PR database
Collecting databases of relevant journalists and influencers sets your Kickstarter campaign off for further promotion. Here are some tips which will help you collect these data in a tried and tested way.
Journalists and bloggers
Tip #32. Find a list of journalists based on their focus area
You can use websites such as Pressrush & Anewstip to find relevant journalists for covering your product.
Tip #33. Use specific Google Search commands to find targeted journalists.
Here are some common commands that will make your Google Search effective:
Exact-match search: "relevant keyword"
Search in the titles: allintitle:relevant keyword
Search for relevant writers in the journals you want: "keyword" site:the-journal-you-want.com
Find reviews of your competitors: allintitle:review (competitor1 OR competitor2)
Add loc:placename for local search
Tip #34. Include Alexa Traffic Rank of the journals/blogs in your database to sort the journals by popularity.
You can use the Alexa Chrome extension for easy navigation. You just need to go to the page you want to include in your database, hit the icon and copy the number next to the globe icon. If the number is 30 it means the website is the 30th most visited site in the world.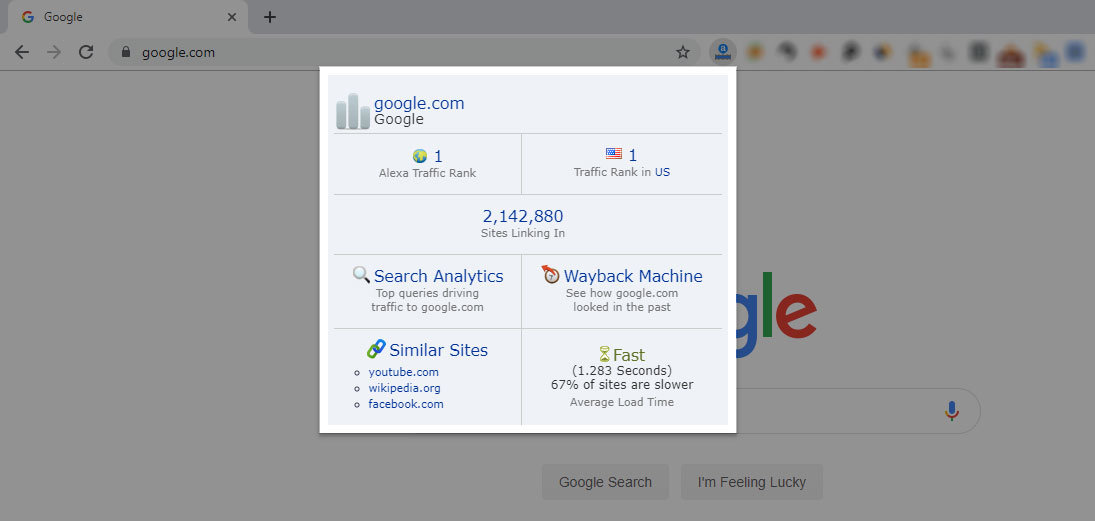 Tip #35. Use tools like Nymeria, Findthat.email, Contactout to extract the emails of the journalists from Linkedin.
After completing your media research, you should have a data structure similar to the one below:
Tip #36. Try Google Dorking to find ready-made databases for your campaign.
Using Google Dorking is quite easy: Combine a few useful search commands and you'll get some ready made data for your campaign. Look at the example below and try to play with the commands to get the best outcome:
E.g. "blogger" OR "editor" OR "journalist" "email" filetype:csv OR filetype:xls OR filetype:xlsx
You can also read this article to learn how to make the most of Google Dorking.
Instagram influencers
Tip #37. Leverage Instagram suggestions.
Use Instagram to search for a popular name that is in the niche you are interested in. Click the small arrow next to the "Follow" button and Instagram will display similar profiles taking into account the niche, interests, number of followers, etc.
Tip #38. Conduct hashtag research.
Search for some keywords related to your product on Instagram search (Tags). Click on one of the suggested popular hashtags and you'll get hundreds of thousands of profiles among which you can easily find the ones that constantly share similar content.
Tip #39. Look through listings by popular magazines and journals.
Just go to Google and search for "Best your-keyword influencers on Instagram". Go through the list and collect some relevant influencers.
Tip #40. Keep an eye on your competitors.
Frequently check your competitors' profiles. You'll immediately see if an influencer tags them in photos. Go and add them to your database.
Tip #41. Use Influencer marketing tools and platforms like Klear & Upfluence for easier navigation.
These tools will let you easily do all your research all in one place. You can use their free trials for testing.
Tip #42. Don't forget to include the engagement rates of the profiles you collect. This will be of great help later.
There are a number of ways to calculate engagement rates. But here is what we suggest:
Sum the number of likes and comments of the last 12 posts and divide it by 12 to get the average for these 12 posts.
Then divide the number by the total number of followers and multiply it by 100.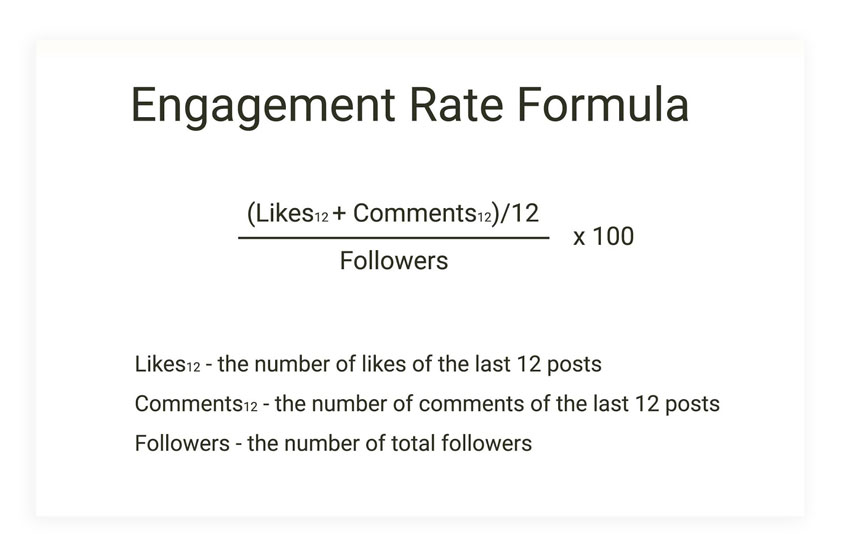 You can also use Analytics by WeFind Google Chrome extension to have this done automatically .
Read our article about finding and reaching out to relevant influencers for more detailed insights.
Facebook pages
Tip #43. Brainstorm for keywords and use the simple Facebook search with main and long-tail keywords.
If you want to find pages that might be related to smart wallets, first go and search for the word "wallet" and then add additional words to the keywords—e.g. "smart wallet" or "leather wallet"—to get a lot more results.
Tip #44. Find relevant blogs with Google Search and then go to their FB pages.
Use Google Search to find blogs that cover content relevant to your product (you can actually take them from your database of bloggers), then find their Facebook profiles from the blog and add to your list.
Tip #45. Use FB Ads Manager to find pages attached to specific interests.
Here's how you can do this:
First, go to Audience insights.
Then choose "Interests" from the left column and search for the interest you have in your mind.
Then go to the "Page Likes" section and you have the pages.
Tip #46. Use BuzzSumo and Behind.ai for more organized research.
Both of these tools are very helpful when doing influencer research.
BuzzSumo offers a limited 7-day free trial plan. It has a "Find influencers" feature, which makes influencer research for Facebook and Twitter quite easy.
Behind.ai is another similar tool: Just write down the keyword and the accounts of the bloggers, influencers and their social media will all be at your disposal!
Tip #47. Mind the engagement rates.
When looking for relevant influencers, pay close attention to the engagement rate of their posts. There are special tools like Meltwater that can help you do that.
But you can also search for them manually. Just look through the influencer's videos and photos to find out whether they are engaging or not.
For instance, if the given influencer's videos have 500,000-700,000 views or if their photos have 1000+ likes and 100+ comments, this obviously means they are quite engaging.
Also note that you don't have to scroll down through all the posts of the given influencer to assess their engagement rate: Looking through the last 20 posts is more than enough to understand whether they resonate with the audience or not.
The campaign page creation
Your Kickstarter campaign page is your business card. It's the bridge between your product and your potential backers. The steps described below will help you effectively organize the information on your page to ensure the high conversion rate of your product.
Tip #48. Create a high-level structure of the page.
Carefully plan the initial order of your page sections. Note that there is no single formula for this: each product dictates its own logic.
For instance, in the case of Fuell, we started with the introduction of the team to emphasize the ebike is designed by the legendary Harley-Davidson engineer Erik Buell. Whereas in the case of Mochi—which is a far more complex product to explain—we started with 'What's included' and 'How it works' sections.
The ultimate goal should be to present the product in the simplest and most understandable manner so that the prospect gets a clear idea about it after reading the page.
Once you're done with this, focus on the marketing and design elements to make the best out of your page
Marketing elements
Tip #49. Set your goal wisely: the smaller the better.
Setting the funding goal is probably one of the most important moments when creating a crowdfunding campaign. After all, the only thing you want is to reach your goal, but do your potential backers really need to know what your real goal is? Probably not.
The secret is that people are more likely to invest in a project which has been funded successfully and exceeded its goal by 10 times. And the main thing that tells the backer that your campaign is successful is the bar which shows how close you are to your goal. So, set it $25K and reach $2.5M to make your campaign more attractive by keeping your funding bar green.
Tip #50. Create unique content for your page
You are the one who decides how the storytelling will flow on your campaign page. Make it as interesting and engaging as possible. One of the ways to do this is to personalize the storytelling and write as if the user of the product (or the object for whom it is designed) tells his/her story.
Tip #51. Showcase the benefits rather than the features of your product.
Present your product's features in the form of benefits so that your potential backers know what they can get out of your product.
Tip #52. Include a comparison chart.
Use a well-structured comparison chart to show the obvious advantages of your product against that of your competitors.
Tip #53. Add a technical specification chart.
If your product is technical, including a technical specifications chart on your page is a good way to inform your backers on the tech details of your product.
Tip #54. Add testimonials and media sections where you can include all the media outlets which covered your product.
If authoritative media outlets are talking about your product, you should, no, you MUST let your backers know about that.
Tip #55. Include customer testimonials to improve your product's credibility.
People tend to listen to others' opinions when buying a product, so make sure to include the feedback of other users about your product on your page.
Tip #56. Introduce your story and your team.
Include a story behind the creation of the product that will resonate with your backers' emotions. Also introduce your team members so that your backers know you are real people.
Tip #57. Use satisfaction guarantee and guaranteed delivery badges.
These badges are super useful in minimizing the risk of buying your product. In fact, they can significantly increase the conversion rate. This was exactly the case when we added the badges on the page of one of our products—Winston.
Tip #58. Integrate your campaign page with Google Analytics and Facebook Pixel.
Make sure to integrate your campaign page with Google Analytics, which is the best tool to easily track your conversions and user behavior. It can be used both on Kickstarter and Indiegogo.
Another useful tool is Facebook Pixel. It collects data that helps you measure, optimize and build audiences for your campaigns, also by means of retargeting to people who have already taken some kind of action on your page. Note that Facebook Pixel is compatible only with Indiegogo.
Tip #59. Use countdowns (applicable only on Indiegogo) or any other visual methods to create a sense of urgency.
This will push your backers to take specific actions right away. For example, you can use this kind of gif:
Or this kind of badge on your perks:
Design elements
Tip #60. Use only high-quality photos.
The better your page, the more conversions it can bring. High quality images make your product visually attractive and much more likely to be noticed.
Tip #61. Describe your product maximally well in your photos and videos.
You should make it possible for your potential backers to learn about your product merely from looking at the pictures. Therefore, your pictures should reflect the key features of your product and show them in the best light. Pay special attention to the first picture on your page: It is the most influential one and should thus maximally express the market positioning of your product.
Tip #62. Include short GIFs on your page.
GIFs add liveliness and interactivity to your page, contributing to its better performance. But to avoid overloading the page, keep your GIFs short: they should not exceed 2 MB.
Tip #63. Be super short in your texts.
People are lazy creatures, who would rather look at visuals than reading lengthy texts. In fact, research shows that content containing visuals performs much better than the textual one. So try to deliver your message to the page visitors with minimum text and lots of visuals.
Tip #64. Don't overload your page with disorganized content.
A page overloaded with disorganized content is like an untidy room: There is no much space to move and you don't want to spend much time there.
In fact, 90% of crowdfunding campaign pages face this problem: On many of them, you can notice that the titles are too close to the body text or pictures, which makes it hard to group the information in mind.
Tip #65. Include interactive CTA buttons.
Your CTA buttons can be in the form of GIFs or include interactive elements such as a finger.
Tip #66. Add 3-4 'Chat with Us' buttons throughout the page to give your backers confidence that they can get help whenever they need.
The button will lead your visitors to Messenger and give them a chance to connect with you directly.

Tip #67. Include social media buttons at the bottom of your page
This will help promote your product on social networks and enlarge the scope of your potential backers.
Tip #68. Add a 'Press Kit' button to your page
The clickable button leading to your press kit will make the whole information about your product easily accessible to journalists. Check out Point 85 for more details on what to include in the press kit.

Tip #69. Maintain consistency on your page.
If you have chosen a certain style for your titles (e.g. uppercase writing, underlined, etc.), stick to it throughout your page to avoid confusion.
Perks/Rewards
Tip #70. Use high quality and maximally descriptive pictures for your Indiegogo perks.
Though Indiegogo recommends that the prices and other information not be displayed on the perks you can follow these tips to make your perk section attractive:
When possible, show the number of perks in pictures. That is, instead of writing 2x, show 2 of your products in pictures so that your potential backers can get an idea about the reward number without reading the text.

Clearly mention the advantages of your product, e.g. worldwide shipping, which can increase your conversions.
Tip #71. In addition to the rewards/perks section on your Kickstarter/Indiegogo page, include pictures of the rewards/perks at the bottom of your page.
When designing the pictures of your rewards/perks section, there is a certain hierarchy you should follow :
Show your product using contrast:
Mention the product price and discount
Add the name of your reward
Note what's included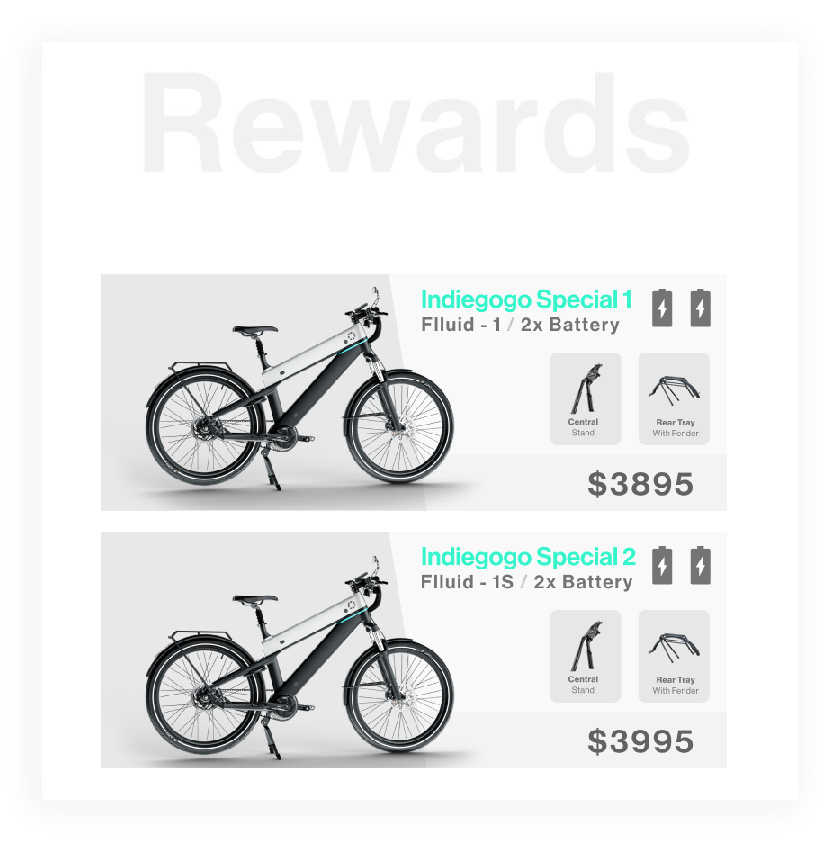 In fact, points 3 and 4 are optional. For instance, there are cases when the 'What's included' section is more important than the reward name.
If you are using Kickstarter, you can also make your rewards clickable by adding the corresponding link to the picture.
Another important thing to consider is the use of correct fonts and contrast in the textual part of the aforementioned pictures. Remember, your rewards/perks should look attractive and readable to everyone, including people with disabilities.
Tip #72. Follow the mobile-first rule of your page design.
After your page is ready, make sure to check whether you can read it using a mobile. If you cannot do this, then there are certain issues related to fonts and organization.
Tip #73. Keep the quantities low.
Limit the number of rewards you offer at some levels to create a buzz. Your backers will see the reward/perk is selling out quickly and be motivated to act quickly.
Tip #74. Don't offer too much at once.
If your product comes in five variations — five seasons of your film or five levels of your game — don't offer all five at once. Instead, start with one or two variations and introduce other options as stretch goals.
Tip #75. Automate your rewards with PerkFection
Perkfection is a tool that automatically tops up your rewards when they are reaching out to their limits. Keeping the quantities low is a great way to increase the conversion rate on the campaign page. Perkfection automatically increases the number of rewards left by 2 or 3 when they reach 1-2, helping to keep the number of remaining rewards always low.
We have used Perkfection to keep the rewards always-low for our project PICO, which helped us increase the conversion rate on the page by 33% and raise more than $1.4 million on Kickstarter.
Funding stage: Going Live
Once you are all done with the pre-launch stage and feel you can handle the campaign, take the steps below to make your funding stage as smooth as possible.
Tip #76. Mind the difference between Kickstarter and Indiegogo when launching your campaign.
Note that it takes about 3 days for Kickstarter to approve your campaign, whereas Indiegogo does that instantly. To learn more about the differences between these two platforms, read our most in-detail and comprehensive article here.
Tip #77. Launch a Kickbooster campaign right after you Kickstarter campaign launch (though you might need to start preparing for it couple of days before)
Kickbooster is an affiliate marketing platform for Kickstarter and Indiegogo campaigns. It helps creators run and manage their affiliate marketing programs all in one integrated platform. What you need to do is to set up a campaign on Kickbooster and push your media partners, social media influencers and affiliate marketers to promote your product and earn commissions.
Learn how to set up a Kickbooster campaign here. Also, you can find answers to all your questions in this official FAQ page.
Tip #78. Plan your resources in a way that will enable you to have a relatively constant sales graph during the whole period of funding.
Most of the time, conversions of Kickstarter or Indiegogo campaigns take the form of a U-shaped curve as shown below:

That's probably because campaigners usually use all their resources in the beginning and start to raise more during the funding stage.
In contrast, well-planned and distributed resources can result in the constant growth of conversions during the entire funding process, as can be seen below: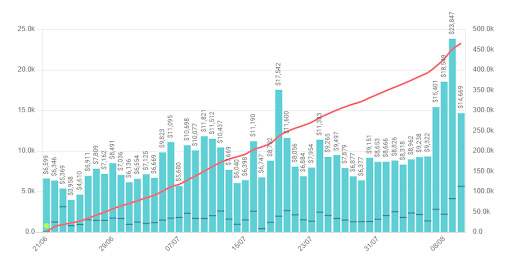 8 Communities to quickly boost your Kickstarter campaign
Tip #79. Submit your project to backer communities.
There are a number of product listing and newsletter services that can greatly contribute to your fundraising efforts.
Long story short, some of the platforms list the best Kickstarter and Indiegogo campaigns in relevant product categories and send newsletters to their backer communities.
Here are the best crowdfunding promotion services which are proven to be highly effective:

Tech I Want


Product Hype


Backerland.com


BackersHub


BackerClub


Gadget Flow 
Tip #80. Submit your project to Product Hunt
Product Hunt is a platform that lets users share and discover their new products. Uniting a huge community of inventors, early-adopters and simply gadget-geeks, it can thus be used to significantly raise awareness about your product and lead to conversions.
Here's how the platform works:
You first submit your product which is listed along with other products in a linear format by day. Then the site uses a voting system to promote the products, and the ones with the most votes become the product of the day and appear on the list of that day. This list of top 5 tech "hunts" is then sent via email to subscribers.
But appearing in top 5 is not only a matter of luck but also knowledge of how to use this platform correctly. Consider the tips below to run a successful ProductHunt campaign:
1. Launch at the right time
The best days to launch your product are from Monday to Thursday. Product Hunt doesn't send a newsletter at the weekends so they handpick only 5 products from Friday, Saturday, and Sunday to be included in Monday's newsletter.
If you want to be visible to a greater audience and get maximum upvotes, launch Midnight PST, since it's the time when you can break into the USA competition and get upvotes from the EU traffic. This can let you get a top ranking and ensure your early kickstart, which is nearly impossible in case of late launch.
2. Ensure your upvotes before launching. Want success? Be prepared for upvotes! If you have a pre-launch list of 1k people prepared beforehand and can get about 200 upvotes (especially early in the day), be sure to be off for a great headstart.
3. Get everyone to hit up their friends and family who already are Product Hunt users to support you. Never ask for upvotes, ask to give feedback/ support.
4. Make sure the CTR on the home page of ProductHunt is high. Let your audience go to the front page, scroll to you, click on your product and only then upvote you from inside of your actual page. If you send them directly to your page, the impact will be much smaller.
5. Reply to comments swiftly. By doing so you'll actually kill two birds with one stone: First, your fast reply will impact the Product Hunt algorithm. And second, people will appreciate your fast response and be eager to share your product.
6. Put effort into your comments and try to answer as thoroughly as possible. Remember, your commenters can become the ambassadors of your product and your voice!
7. DM commenters with 1k+ following. Ask them to share your product on social media for you.
8. Post the first comment. This can help you:
Give additional information about your product either by sharing the link to an article about your product or Press Kit.
Show that you're engaged and eager to answer any questions people write in the comments .
Encourage comments and get more of them, which is a ranking factor.
7 main Crowdfunding Promotion channels
Ads
Tip #81.Use Audience Insights
Audience insights are a great tool to better understand your audience.
They give you in-depth information about your custom audience, people connected to your page and all people on Facebook.
There are many ways you can use audience insights, but here's the one that we use and love most.
On the left side of the page you can see the following metrics by which you can filter your audience. Select the best working countries (you can keep it worldwide as well), age, gender and of course interests.
Select the best working interests for you.
Here, as you can see, I've selected "electric bicycle" as an interest, narrowed the age to 25-45, and then opened the "Page likes" part.
In this section you can see what pages people in your selected category like.
Scroll down a bit and sort by Affinity to see this.
You can use those Page names as interests (if there are interests for those pages).
To discover audience insights fast, you can use a handy Chrome extension (Interests highlighter for Audience Insights), which will show you which page names have appropriate interests, and which ones don't.
Another great feature in audience insights is that after putting the interests you want, the locations, and age/gender, you can save that audience, and it will appear in the selected ad account.
This means you only need to do this once per audience. Afterwards, you can use the saved audience in any of your ads.
Tip #82. The Best Tools for Finding Hidden Interests — Engine Scout & Audience Builder
Facebook doesn't usually show all the available interests in its suggestions. But there are many hidden interests which you can reveal with the help of the following tools: Engine Scout and Audience Builder.
Engine Scout
In the search bar, input the main keyword that describes your product and hit Enter.
We searched for "pen" and were given all the interests that contained that word. On top of that, you can even see the audience sizes and categories of each one in the ads manager.
Audience Builder

Audience Builder is another great tool with an edge over Engine Scout.
As you can see from the screenshot, Audience Builder also gives other suggestions which are connected to your main interest. And you can even narrow it down to only receive suggestions with audiences above a certain size!
Like a keyword search tool, this is very cool and can be useful when you have a lack of ideas.
Tip #83. Experiment with Lookalikes

If you are here, then you already know about the main benefits of Lookalike audiences. But you also know that at TCF we don't discuss boring stuff which is already available on the internet. We only suggest strategies that we have tried and tested, and found they work perfectly for us!.
One of those strategies is using lookalike audiences with worldwide targeting, without selecting any interests at all. Instead of targeting via interests, you can try targeting via copy and visuals.
So if you are targeting young people who are interested in dogs, use Facebook's high-performing AI to narrow that search for you.
Young people speak and write differently than older generations. So, include some words or expressions in your copy that are commonly used by them. Use product-related words/expressions. And Facebook's AI is so smart, that based on what kinds of people are engaged with your ads, it will show it to more and more people who would be interested.
You should also create lookalikes from different custom audiences that you use for retargeting. For example, create lookalikes from people who've added your product to their carts or just visited your page.
As you can't be 100% sure that these people have purchase intent, you should also include such interests as engaged shoppers, online shopping, and ecommerce in your targeting.
When using lookalike audiences in your ads, it's important to remember that the people in this audience already have certain things in common. So you don't need to go too narrow.
There is an option to create lookalikes with up to 10% of your audience size range. Usually the best working ones are those till 3%. So we suggest you create 3 lookalike audiences (1%, 2% and 3%) (with specific countries or worldwide) and target them separately or all together in one ad set.
Another great option is to target a worldwide lookalike audience, and then within the ad set section narrow it with specific locations.
All these strategies represent different kinds of targeting options, and these audiences don't overlap at all. So make sure that you work on finding the best ways to use lookalikes in different ways!
Tip #84. Optimize for Value

When you've already gained 25+ conversions over the past week, you unlock a really cool optimization type — Optimize for Value.
Instead of maximizing your number of purchases, you can now maximize the generated revenue. Essentially, you set the minimum ROAS you want to get from the ads.
Of course the minimum ROAS needs to be a reasonable number, so try to resist the temptation to put 100. It won't work properly. And as it might differ from campaign to campaign, you need to test and understand which is the best option for you.
Start with 2 — I know that most probably this is not your desired ROAS, but you need to test it and make Facebook work for you.
Tip #85. Bidding
It's a heated battle for advertiser of the day… the one with the highest bid will win the battle
Advertiser 1: $0.7
Advertiser 2: $1.2
Advertiser 3: $1.8
Advertiser 4: $3.4
Highest bid, $3.4! Going once… going twice… sold to advertiser #4 in the red jacket!
That's how we like to picture how the automated auction goes and how one campaign can win over another with bidding.
Bidding is the amount of money you are willing to spend for 1 unit of conversion. Facebook does this auction all the time, because there's no way you are targeting an audience which is not targeted by other advertisers.

Of course other factors such as product relevance, quality of creatives, appealing copy and call to action, attractive offer and etc matter too. And if —- in the short run — advertisers with poor ad quality and support win the auction with high bids, they'll end up losing their place in the long run.
So all components matter. Now, Let's speak about ceteris paribus (when all other conditions are the same), how to bid, and what types of bidding are available on Facebook.
You choose your bid strategy right from your Campaign level.
Highest Value or Lowest Cost
Facebook will aim to spend the entire budget and get the most purchases using the lowest cost bid strategy. In this case you are not able to put any cost cap. You have no Cost Control.
Lowest cost itself implies giving the best possible options for the lowest cost possible. That's what we usually recommend and that's what we use 90% of time when putting up our desired ads.
The rest of the bidding options go under the Cost Control category, giving you some control over spend, over ROAS, and over cost per action.
Here's how the rest work:
Cost Cap
This is specifically useful when you need to keep the cost within a specific threshold. Cost Cap can be associated with Cost per Action, so when you put your Cost Cap at $2 when collecting leads (subscribers), this means you are willing to pay $2 for every lead you get from ads.
This is a clear message to Facebook that you are seeking to maximise conversion volume within your acceptable Cost per Lead, that is $2.
What you also say is that you're looking to minimize your cost when possible and take no manual action in adjusting the bids.
This works pretty well with Lead generation and Conversion campaigns. And we do recommend this when you want to be on top of your spending.
But remember, when you choose Cost Cap, it doesn't necessarily mean that Facebook will not go over it. In a majority of cases, it will — as you'd otherwise lose the auction battle and discover how competitive your target niche is.
However, Facebook will also learn in accordance with the predefined guidelines you set. Facebook will find those who are more likely to convert with low Cost Per Action and show them your ads.
Minimum ROAS
If it's the primary measure of success and if it's available in your account, go with Minimum ROAS bidding. Just remember that lead generation doesn't work with this strategy.
Tip #86. Scaling
One of the trending topics regarding Facebook ads is scaling. How should you scale your ads to generate more revenue? Well, there are several methods we have tried and had great results.
10% to 20% Scaling Strategy
One of the easiest and most effective ways to scale your highly-performing campaigns is by scaling their budget from 10% to 20% of the overall budget depending on performance. Let's say you have a strongly performing campaign with a $50 daily budget, after a week you see you get stable results from it and want to get more.
You can start by increasing its daily budget by $10 (20%) and wait for 2 or 3 days to see what kind of impact it had. If the performance gets better, scale it again with 20%, which will be $12. Continue these steps for another 2 or 3 days.
One of the best things regarding this strategy is that if you scale your campaigns by 20%, it won't disrupt its learning process, as the amount is not very big.
Also it won't have any impact on ROAS, as again you're not scaling it drastically, so everything will be under your control.
Scaling your good ads by 50% or more can hurt the overall performance and is a waste of money. As in most cases, Facebook won't have enough time or data to fully utilize the added budget of your campaign.
One thing you can try with this strategy as well, is to scale your audience size with the budget scale. So every time you scale your budget, scale your audience size. How?
First change the target age by targeting more age groups, next try to target both males and females, then check the Expand Detailed Targeting option… This list goes on and on.
This method is very effective and can bring you consistently better results!
Create New Ads
Another great way to scale is by creating new ads. Always try to have better ads than you had before. Try to reach new targets and expand your reach. This strategy will always work if you do it right.
Duplicate Your Successes
The third best scaling strategy is to duplicate your best-performing campaigns or ad sets and increase the budget from 30% to 50%. In addition, duplicating the turned off ads that once performed really well and changing the creative can work really well too.
Tip #87. Always Use 3 Types of Ads 
You never know what type of ad will attract your audience exactly. That's why we highly recommend you create at least 3 types of ads: video, image and carousel.
We always do, and the results are amazing. And the logic is simple.
Let's say you create an ad with only 1 image. I am a potential backer, but when your ad appears on my news feed, I'm watching videos on Facebook, and as I didn't even go to the news feed, I never saw your product.
But if you had had a video among your ads, I probably would have seen it while watching other videos, and would definitely make the purchase.
And of course there is another type of people who are more likely to shop from carousel ads. Not to lose all these types of audiences, create different variations and let Facebook do the right targeting.
Tip #88. Best Working Visuals
Introducing several visual hacks that worked perfectly for all of our campaigns.
Carousel ads


Just look at these incredibly cutted carousel ads. They are not only beautiful looking, but also work well.
Bright gradient background images.
Search in google for different gradient backgrounds. Here are the examples:
Create your product image with transparent background, and put it on these images.
They look so eye catching, that when somebody is scrolling through his/her news feed, they will definitely stop in this ad and if they are interested, they will click and in the best version of this story, they will go and back it.
Short thunder-videos
This is what we call this type of videos – thunder. They are hard to create without an online video making tool, but if there is a will, there is a way 🙂
https://drive.google.com/drive/folders/1y9cmVCWt0uQLZL1BYTZfEyuDqFwhOA3R?usp=sharing
20% text overlay hack
If you don't know Facebook limits the reach of the ad if the photo or video thumbnail contains too much text overlay: the text shouldn't be more than 20%. This limit greatly reduces the reach, which means less exposure of your product and less conversions at the end of the funnel.
But there are still cases when you indeed want to have some Facebook text overlay on the banner. Why? Because your product might need some added explanation, or you've thought of an awesome headline that you can design into your banner.
Whatever the reason, this problem is bad news. No text, no conversions. Too much text, no impressions, no conversions.
This means that potential customers are lost because of a factor that can—in fact—easily be controlled.
So here is how we can outperform Facebook's AI: 
Facebook's AI uses advanced algorithms to detect ads with too much text. After some trial and error, we found a Facebook ad hack to make Facebook text overlays without getting caught.
One of the rules the AI follows to find text overlays is by looking at contrast. Usually, text stands out, clean lines with lots of contrast between the letters and the background.
So, if the contrast is too high between colors, the sharp edges of the colors will be flagged—this can even happen if you have no text overlay in the image.
When we discovered this, we tried to find ways to use this insight to fix our images, dialing back the contrast between colors in photos.
In the following image, notice how the black and white option has higher contrast compared to the light green and dark green option. Facebook's AI claims the first ad has too much text, and its reach will automatically "be much lower."
The second image has even more text overlay, but because of the reduced contrast, Facebook's AI claims it is within the text limit, and the "ad will run normally."
Tracking on Kickstarter
There are 3 ways of tracking results: Facebook ads manager, Kickstarter dashboard and Google analytics.
Tracking ads revenue of Kickstarter projects is not one of the easiest things to do. There are a few reasons for that. First of all Kickstarter doesn't allow to install a pixel in it, and it makes it impossible to track the number of conversions and the purchase value in ads manager, and what is worse, it makes it impossible to do appropriate optimization.
To track results on Kickstarter dashboard we need to create referral tags:
Then take the generated link and put it in your ads. Whenever your ad brings conversions, it will appear in Kickstarter dashboard:
To track the ads in Google analytics, you need to create UTMs from the generated tags. You can do it inside Ads manager or use UTM builders.
In the ads manager, above the Website URL field, you can see "Build a URL Parameter" option. You should click on it, and fill in the source, medium and campaign name (as shown in the screenshot).
Then you will be able to track the results in Google analytics, by searching for the source and medium written by you.
These tracking methods are not 100% accurate and they all have bugs and incorrections, but they still exist and help us do our job. But still we have a problem with optimization, because we don't have a pixel or any trackable conversions, so Facebook is not able to optimize the ads so that people who have purchase intent saw them and make the purchase.
So only here and only now (drum rolls), introducing an amazing solution which will make the job of advertisers much easier.
Kickstarter lets us send messages to our backers, and that process is done inside of Kickstarter. So we suggest you to create a survey (you can use typeform or other tools), embed a pixel there, and include that survey link in the  messages you send to your backers. And in the message you should just ask them to fill the survey which is important for your working process.
For example in Typeform you can embed your pixel in the survey simply by going to the "Connect" section and pasting there your Facebook pixel ID.
Here is an example of a message that our backers receive as soon as they back.
In the survey you can write whatever questions you want, but keep everything short (3-4 questions overall). See survey example here. After embedding a pixel in your survey, you need to go to ads manager, and create a custom conversion. In the URL contains the section paste the URL of your survey link.
Soo, whenever somebody opens the survey link, the pixel catches them and it is tracked in the ads manager via already created custom conversions.
This solves 2 major problems: you will see the number of conversions from each campaign (it's not 100% accurate but still works) and it will help you with optimization. People who opened the survey link are already backers, and when you optimize for the custom conversion that you created, that means that you are optimizing Facebook to find more people who are more likely to back.
Media Coverage / Outreach campaign
Tip #89. Choose relevant media outlets for your product
While planning the outreach campaign, select outlets that have the potential of driving the most traffic for the publication and offer them an exclusive.
Tip #90. Create a compelling and media-friendly press kit.
Press kit is the first-hand information that journalists receive about your product and crowdfunding campaign. The more detailed your press kit, the easier for a journalist to write a story about your product without the need to search for other reliable source information. A proper press kit should include an interview with the founder along with FAQ, pictures of your product and GIFs. You can also use it exclusively.
Here are a few press kit examples: Winston, Ciga, Wicked Ball.
Tip #91. Nail a perfect subject line for your pitch
When writing a journalist pitch, first think about the subject line. Keep it short (an average subject line should not exceed 50 characters) but catchy.
The aim of your subject line should be to give an insight into the email content, at the same time leaving room for curiosity. Besides, it is recommended to create a personalized subject line for each segmented list of your database to target the right beat.
To make your pitch even more personalized, you can use the journalist's name in the subject line.
Here are a few subject lines with high open rates from our own pitches:
STORY IDEA: "short product description"
trying to reach you, "name"
news tip for you, "name"
"name", your readers will love this
Tip #92. Write a convincing media pitch
First, briefly introduce yourself—who you are and which company you represent. Second, mention from the start the relevance of your product to the topics the journalist is covering. Remember, journalists are busy people who get lots of different pitches every day and won't spend time on something that is irrelevant to their beat. Also, include a brief description of your product, mentioning its features and benefits.
Here are a few other tips for writing a perfect pitch:
Don't make evaluative and unjustified judgments on your product. Instead, provide facts to show what makes your product stand out from other similar products in the market.
In case of complex content, use bullet points to make your email short and visually attractive.
Attach a link of your press kit in the email to give journalists comprehensive, first-hand information on your product or campaign.
Keep your email concise: Don't exceed 190 words.
Here is an example of a successful media pitch: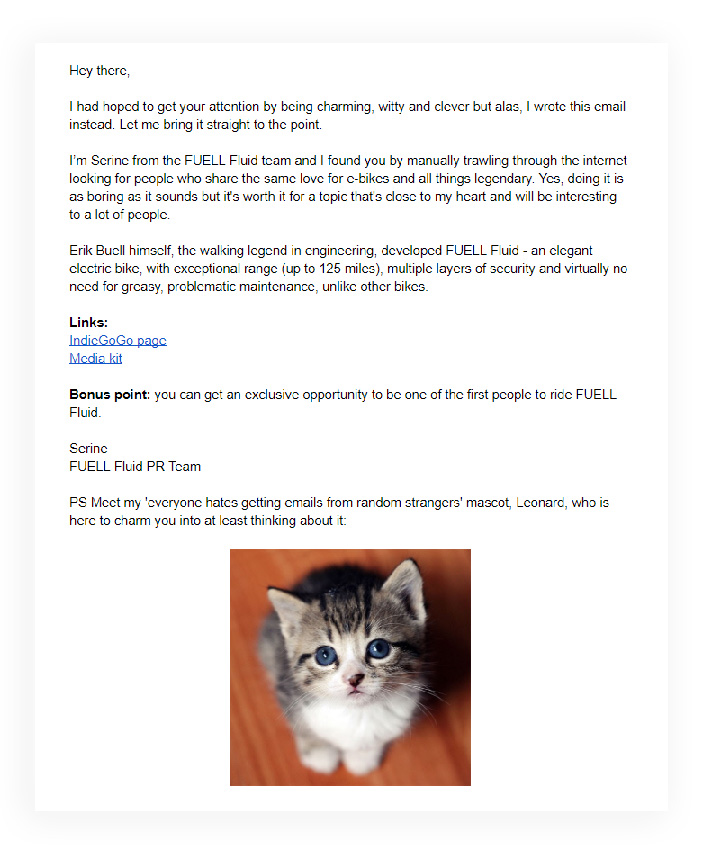 Tip #93. Follow up on your pitches.
Properly following up on the sent pitches is one of the most important skills for your Kickstarter campaign. Send your first follow-up pitch 2 business days after sending the original one. You can also attach your press kit to it to introduce something new to the journalist.
Tip #94. Use bulk pitching tools.
You can use tools like Woodpecker, Streak or Mailshake to automatically send pitches and follow-ups to many journalists at once. These tools save you lots of time without sacrificing the "personalization" element: the mails are sent one by one, appearing exactly the same way as they would if sent manually.
Tip #95. Use email validation services.
Before sending your pitches make sure the journalist emails on your list are correct and available. Different services such as Zerobounce can help you here. The only thing you have to do is import your mail list and wait for it to be verified.
Tip #96. Create special domains for your outreach campaign.
This is a good way to increase your trustworthiness among journalists. Imagine you get 2 emails one ending with @gmail.com the other one @company.com. Which one would you trust more in this scenario?
Influencer marketing for Instagram, YouTube, and Facebook
Tip #97. Choose influencers with engaging posts.
Pay attention to how engaging the influencer's posts are. The number of comments received from the audience can serve as good guidance for assessing their engagement rate.
Tip #98. Choose the right social media channel to promote the product.
Here you should, first of all, consider the price of the product: Cheap products work really well on Instagram, while for more expensive ones Youtube is the best place.
Tip #99. Don't take the high number of followers for granted.
A large number of followers does not yet mean the given influencer is a good one. Remember, money can buy anything, even fake followers.
Tip #100. Tell the influencer about your expectations.
Give the influencer a basic idea of what kind of content you expect, but never limit their creativity.
Tip #101. Consider the X amount of free samples to send to your influencer.
Even if you are going to pay, the presence of the sample in the video post will bring the best exposure to your product.
Tip #102. Create a secret perk specially designed for influencers.
This is a great way to motivate your influencer to promote your product.
Tip #103. Collaborate with popular Facebook pages that operate in the same niche as your product.
This way you can promote your product more organically and effectively since you'll be dealing with an interested audience.
Tip #104. Use the 'Branded Content' tag.
This particular boost option allows brands to increase the reach of the content posted by a partner page.
Tip #105. Get a temporary advertiser role on your influencer's page.
This way you'll be able to use their audience to target and advertise your posts on their pages.
Here are some examples to get you motivated:
A post on Instagram which had over 450,000 views.
And another one on Facebook with 1.5M views.
Social Media Marketing
Tip #106. Define your target audience.
First, understand who you are creating your social media campaign for. And then try to look for them on social media, find out which platform they frequently hang out on and what kind of content they are interested in. Your initial research will be of great help at this stage.
Examine the social profiles of your competitor products. Find out who they target, how they do it and what type of content is getting more engagement.
Tip #107. Build engaging social media content.
Do not post only commercial content. You should first give value and only then think of getting something in return. To be more precise, the content you post should be 80% informative and only 20% commercial in nature.
And don't forget that you are writing for people: Show your product features in the form of benefits to make them more attractive for them.
Tip #108. Choose hashtags wisely.
If you are using popular hashtags in your niche with engaging content, you can level up. Go find the best hashtags on hashtagify.me, Instavast.com and RiteTage (Google Chrome extension).
Tip #109. Invite all your friends and everyone who liked your posts to like your page.
You can do this easily with a special tool like Invite post liker (Google Chrome extension).
Tip #110. Engage with other pages in your niche.
You can promote your product by leveraging cross-promotions on social media.
Tip #111. Organize giveaways.
This is a way to get more traffic to your page and grow your followers. First, you need to come up with a prize which suits your audience the best. Be precise and short in your requirements.
Also, be transparent and show all the processes to the participants. When giving the prize to the winner, try to encourage the other participants with a secret perk which includes a special discount for them.
Here are a few examples of SMM posts from our Fuell and Minifalcon campaigns: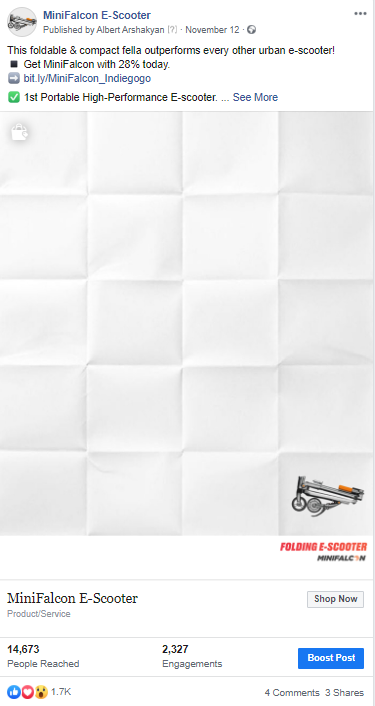 Facebook Messenger Marketing
Tip #112. Announce your launch with Messenger
Now that you have built a substantial amount of subscribers in ManyChat, tell them your Kickstarter campaign is already Live. You can even give them something extra to appreciate their patience and make them feel special.
Tip #113. Keep your audience warm and engaged.
You can achieve this by constantly doing a broadcast on different occasions, as well as offering them appealing perks and discounts.
Tip #114. Make quizzes right inside chatbot.
If you are making quizzes, make sure to reward winners. You can reward losers, too.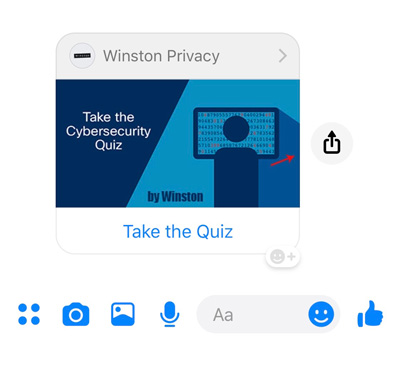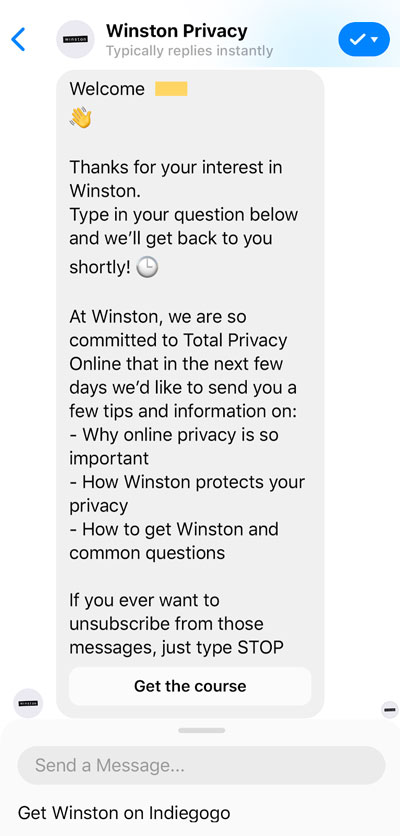 Tip #115. Set up a referral campaign with a giveaway.
Reward referral points and give some valuable gifts to the most scored subscriber. In this respect, messenger giveaways have proven to be very cost-effective. In the end, you do a broadcast and give them the discounted perk.
Tip #116. Do several "ending soon" and "limited time left" themed broadcasts at the end of the campaign.
Such broadcasts create a sense of urgency and thus result in the highest conversion rates.
Direct Sales
Tip #117. Use the potential of the "Chat With Us" buttons on your Kickstarter campaign page wisely.
The traffic that comes with the help of the buttons is highly converting. They just need a little push before making the final decision.
Tip #118. Capitalize on the traffic.
Direct sales to the traffic which comes from the campaign page and social channels.
Tip #119. Mind your communication strategy.
Do not just answer the questions of your potential customers, instead try to ask more and more questions which will lead them to buy your product.
Tip #120. Consider your customers' needs.
Try to understand your customers' needs and emphasize the product features which suit them best.
Tip #121. Make your customers feel special.
Build warm relationships with your customers: offer them a secret perk with special discounts or gifts to make them feel special.
Tip #122. Add a sense of urgency.
Create a sense of urgency by telling your customers the prices are going up, the number of products is limited, etc. so that they order your product as soon as possible.
Tip #123. Keep in touch with the backers who refunded.
Try to find out the reasons for their refund and encourage them to advise how to make your product better.
Cross Promotions
Tip #124. Use cross-promotions in campaign updates to increase your traffic and conversions.
Cross-promotions are one of the most effective sources of relevant traffic and conversions for two reasons:
Updates that contain campaigns' promotional information go directly to the backer's inbox. The open rate of those emails is extremely high since backers are awaiting news on the products they have pledged for.
Crowdfunding campaign backers are the audience of early adopters and innovation-seekers, who are always ready to invest in something new. Thus the conversion rate of this audience is extremely high.
Use crossprom.com to automate your cross-promotion processes.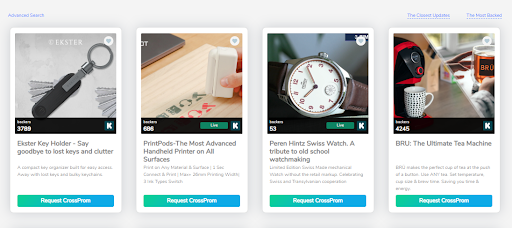 All you need to do is to register your campaign on the platform from Navbar:
Plan your updates and set up the updates schedule.
The more updates you post the more cross-promos you can land and the more conversions you can bring to your campaign.
Find your best matching campaigns in Advanced search taking into account 2 factors:
The relevance of the campaign. The best working cross-promotions are among 2 complementary products.
The number of backers. The larger the number of backers, the more exposure you get.

Send a cross-promotion request by choosing the update date and place in the update you want to be mentioned. Suggest an update date and spot in return.
Manage all your received and sent cross-promotion requests in a single dashboard. Accept, decline or send counter-offers to requests:

Get all the information to be posted in your update in Updates schedule:

Make sure to use the links generated by the platform for all cross-promotions:
It will allow you to track the results of every cross-promotions and use this knowledge for your marketing efforts.

Get notified when your campaign is mentioned in your partners' updates:

Tracking the results
Result tracking is crucial when it comes to choosing relevant strategies for your Kickstarter campaign as it helps you understand what you should focus on more.
Tip #129. Track your campaign page results
Here are two tools to easily track conversions and other metrics related to your campaign page:
a. Native Indiegogo or Kickstarter dashboard
Depending on which platform you are using, you can always have access to your analytics on the native dashboard of the platform.
b. Google Analytics
GA is the most reliable choice when dealing with conversions and user behavior of your campaign on Kickstarter or Indiegogo. There is a lot to tell about this tool, but here we'll shortly present the most important functions you'll need to use in your daily work.
To set up your GA account, first, you need to add the tracking ID to your product page.
Here are the simple steps to follow:
Go to the Admin page in Google Analytics;
Choose Tracking info then Tracking Code from the Property column;
Copy the Tracking ID;
Paste it in your Kickstarter (Page's Basics -> Google Analytics -> Tracking code) or Indiegogo (Campaign editor -> Extras -> Google Analytics ID) page.
Don't forget to enable Ecommerce and demographics settings.
Ecommerce:
Go to your Admin panel
Choose the "Ecommerce settings" from the "View" column -> ->
Turn on the "Enable ecommerce" button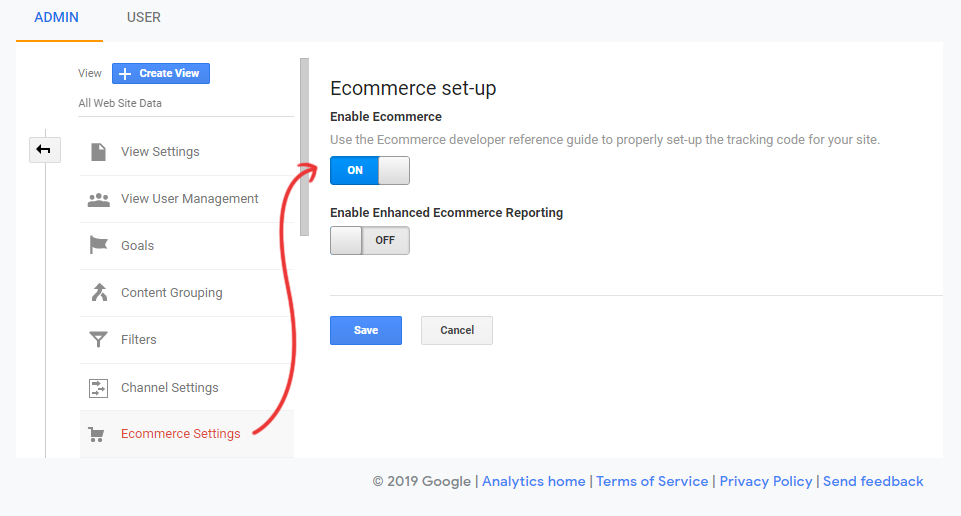 Demographics:
Go to the "Audience" section from the left panel
Choose "Demographics"
Then go to "Overview"
Enable demographics setting
Keep your eye on these metrics
Age & Gender. You can find them from the "Demographics" inside the "Audience" section.
Finding the most relevant age and gender of your real visitors and customers will help you target your ads more precisely and find influencers with a relevant audience.
Bounce rate. You can find it in the "Acquisition" Overview. If the rate is higher than 80% it means that something is wrong with your page's content, design or maybe the price. So you need to experiment with them to get better results.
Conversion rate. Well, this is the metric that you should care most about. This is the percentage of sessions that resulted in a transaction. For live campaigns, 6-7% is considered a positive result, for InDemand campaigns 3 is okay.
Funding per visitor. This is is one of the key financial performance metrics, which expresses the proportion of raised funds to the number of visitors. For instance, if you had 1000 visitors, each of which contributed $1000, the figure is 1, since the ratio is 1:1. In case of successful projects—like Fuel—this number can reach up to 5-7.
Tip #130. Create unique trackable links to make sure you know the exact source of your traffic.
Even though building UTMs for Google Analytics works both for Kickstarter and Indiegogo, it is recommended to use Kickstarter's native tracking method if the campaign is on Kickstarter.
Here's how to create those links:
For Google Analytics we prefer the Campaign URL Builder tool. Here you have to fill 4 required inputs — the original URL, Source, Medium, and the Campaign name. Fill this info in a way that will later help you group your traffic sources. For example, if you're giving an influencer a link to use in an Instagram story, you can fill the info like this:
Source: infl,
Medium: instagram,
Campaign name: the name of the influencer.After the first click on the created link, you can track the visits and conversions on your Google Analytics dashboard.
For getting a unique referral link on Kickstarter, go to your campaign profile page, Dashboard, then scroll and you'll see Custom referral tag:
You simply give it a label and generate the tag.
Tip #131. Keep analyzing all the time.
To analyze is to understand and fix the problem in time. The analysis of your results allows you to find out what is going wrong with your project and look for ways to improve it.
For instance, if you have low traffic, the analytics will help you understand whether it is a traffic problem or one related to page conversions. Keep testing new strategies and tactics all the time to improve your results.
---
If you kept reading up to this point, you are fully ready to launch your next successful Kickstarter campaign. We did our best to give maximally detailed information on all the crowdfunding stages and tools.
Now it's your turn.
Take the first step towards your $1M+ Campaign now! Apply here.
Good luck!
Comment any question below and we ensure you'll get your answer within hours.