We as marketers tend to spend a lot of time trying to come up with compelling subject lines that will entice people to click our emails. But what we see time and time again is people using simple ideas in mind-boggling titles one can barely grasp the meaning of.
Yet sometimes all you have to do is just sprinkle in some eye-popping elements to make your simple email subjects look appealing, eliminating all the fluff around.
Besides a handy extension to format subject lines, get ready to discover an SEO hack to steal your competitor's leads, learn about a platform to streamline feedback on videos, grab the nowhere-available Facebook Pages Directory link and some more fantastic tips, tactics and strategies in this week's Know How article.
Let's dive right in.
Optimize Your Content Around your Competitor's Brand Name
Amidst the increasing rivalry to dominate SERPs, marketers are now in search of untapped ways to crack the top 10.
Namely, there is a spiking tendency in SEO to optimize content around brand names. And this comes with two main advantages.
First, many of the brand keywords have a significantly low keyword difficulty which means you have a good chance to come up to the first page of Google and garner your content sheer visibility.
And second, due to their popularity, brand keywords enjoy a massive search volume that can potentially be translated into some valuable traffic to your site.
While this could make a great keyword selection strategy to boost your blog content—as it already is for some businesses—I wouldn't just reserve it for this purpose.
Instead, my idea is to harness the potential of this tactic in strives for a bigger objective.
Like to "steal" some of your competitors' leads and funnel them in your direction.
How?
You can create an amazing piece of content optimized around a target keyword of your competitor's name and leverage their big audience to promote your brand.
This could take a form of a comparison article such as "Convertkit vs. Aweber" or adopt any other style you prefer. The crux here is to ensure that your content is well-optimized around your competitor's brand name and is relevant enough to appear on the page if a person searches your competitor's name.
Like with any new tactic you undertake, there will always be factors to hamper the odds of your success—here, it's the search intent.
Most of the people searching for a particular brand name on Google have a specific intention, and in this case it's reaching your competitor's brand page.
However, I would argue that someone interested in the services or products offered by a certain brand, will be tempted to know how their selected brand compares to the audience. Maybe they're paying too much? They aren't getting the results they desire?
By tapping into this desire, you address a number of cognitive biases that all consumers suffer. People want to know they're making the best decision, that the money or time they're spending is well-spent, they're averse to loss.
Show them that your product or service is the better option, and you've sowed the seed of doubt in their minds and potentially converted a competitor's lead into your own.
As with anything in SEO, it will probably take some time before the results are tangible enough to notice. What does this mean for you?
The best time to implement this tactic was yesterday!
When this simple tactic plays out, it becomes a game-changing tactic that generates a wave of leads and expands your brand visibility at literally no cost.
We'll be experimenting with this in the coming weeks, with some new articles. I'll disclose the results of our experiment in our coming newsletters.
Make sure to subscribe to our newsletter below to discover how well it worked!
Improve Your Email Subjects with this Formatted Subject Lines Extension
Are you looking for a way to make your emails stand out in someone's inbox and bolster your response rate?
Formatted Subject Lines by Cloud HQ—much like its name entails—lets you repackage your  monotonous subject lines into an appealing style that catches the eye.
Once installed, you'll see this magic paintbrush icon appear on the right-hand side of the subject bar.
With a mere tap, the paintbrush rolls out a list of different styles you can use to make your subject lines an artsy feat that will pearmete people's minds and engage them to open them.
Bold, bold italics, underline, strikethrough… the choice is yours!
Want to get more creative? Interchange between different styles in one subject line. Just highlight any part of your subject line and format only that part. Then do it for other parts you'd like to change. Here is what your end result may look like.
With this little eye-popping tactic in action, you can be sure your emails won't be gone unnoticed.
Now sit back and let the wave of responses come in.
Discover All Influencer Pages with Facebook Pages Directory
If you've ever searched for influencer pages on Facebook, you probably know how hard it is to discover a cluster of relevant pages to outreach.
Popping different variations of your keyword into Facebook's search bar, trying to tackle the breath of your niche, returns just a fraction of potential partner pages.
But those times are well behind the door.
Because this week I've uncovered Facebook's goldmine!
Its comprehensive directory of all the People, Pages and Groups on Facebook arranged in alphabetical order.
So if you were to promote a dog product, with a click on the letter "D" you'll be presented with an exhaustive list of all dog-related pages on Facebook.
Convenient, isn't it?
With this pool of pages at hand, you can now divert your focus to finding the most relevant pages and craft a compelling pitch to draw their interest.
While the launch of the directory traces back to 2011, its link is nowhere publically accessible on Facebook's surface yet.
So make sure to bookmark it before you exit.
It's right here: https://www.facebook.com/directory/pages
Get Your Twitter Notifications On Slack
By Lili Avetyan
What do you do when on top of all your tasks you can't afford to miss any news in your niche and can't possibly use all the social media channels to stay updated? Or in this case, what if you need to follow updates on Twitter but you'd rather use a different platform?
Here is my little hack to declutter your workflow.
You can integrate the platform you rarely use—Twitter, in my case—with the app that you do love using everyday—Slack.
And to join the two buddies, let Zapier act as the middleman.
Zapier lets you connect Twitter and Slack by choosing specific triggers and actions.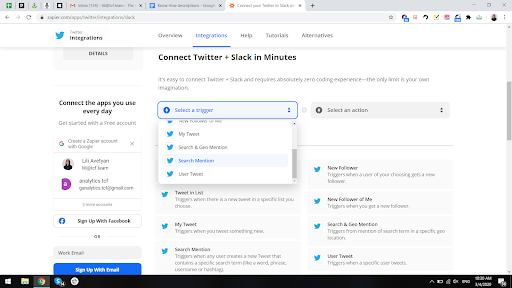 As I needed to get notified every single time someone tweets something that includes the word or hashtag "crowdfunding", I selected the "Search Mention" trigger and the respective action to be sent a private Slack channel message every time someone mentions my search query.
Easy.
Streamline Video Feedbacks With Wipster
As a Project Manager at TCF, I always need to provide succinct, actionable feedback on the many videos we create every day to promote our campaigns through various channels.
To say something as simple as, "The visual at 3:11 is blurry and should be substituted with something more lively," I first have to determine the exact time the visual is placed at (usually after hopping back and forth several times), type in my comment and send it to everyone involved in the process…
Not the best workflow perhaps, but I manage.
The real hassle comes later—managing the incoming wave of feedback that I have to tackle one by one.
Now, imagine you could just stop the video and leave your comment right on the scene for all collaborators to see? Or start a thread to discuss each others' feedback, all in one place?
With this new platform I discovered, that's exactly how your new workflow is.
Wipster lays out a super-intuitive collaboration platform to streamline constructive feedback cycles. Much like Figma—just for videos.
Upload your video to Wipster and share the link with your teammates. Then everyone can view and leave their comments right on the frames.
Double-tap on collaboration to create a thread to discuss each other's suggestions and exchange ideas to create a video that will showcase your product in the best light possible.
Video creation, no doubt, is a dynamic process requiring dozens of interactions before the desired result is achieved. And it's important to keep record of the great ideas that surfaced along the way.
That is why Wipster saves all the prior versions of your video with all its notes, so you can always take a look back as you watch your content progress through feedback cycles to final video delivery.
Source: https://wipster.io
And there is more up its sleeve!
What distinguishes Wipster above all is its handy mobile app available both for Android and iOS, allowing you to provide and receive feedback even when you are on-the-move.
In addition, Wipster is seamlessly integrated with Adobe Premiere Pro, Adobe After Effects, Youtube, Wistia, Vimeo, Slack and many more platforms to help chart your way to stellar visual content with a minimum input of time and effort.
————–
This wraps up this week's Know How article.
Did you bookmark Facebook's Pages Directory link? If not, save it now. You definitely won't find it elsewhere. Also, have you installed the Formatted Subject lines extension?
Send your next set of emails with eye-popping subjects and comment about the spikes you saw in your open rates.
And before you leave, don't forget to grab the link to 131 incredible Kickstarter marketing tips.
See you in a week!