This week was marked with a data-driven shift in the media landscape. With the popular PR software Muck Rack making its Trends feature free for everyone, PR pros can now leverage this goldmine of data to almost guarantee a buzzworthy PR campaign. Or change it on-the-fly and flip it around a different angle, if that's what it takes to hop onto an emerging trend.
Besides Muck Rack Trends, discover a genius strategy to bump your ROAS with identical ad sets, learn how to migrate ad sets to a different campaign with just 4 clicks, find out about a not-yet-so-popular Instagram feature, along with some other fantastic hacks and strategies.
Let's dive right in!
Identical Ad Sets in One Campaign To Increase ROAS
One thing that continuously catches my eye is that Facebook ad sets love to compete with one another. And like in any real competition, there are ad sets that win and some that lose.
But what would happen if the competing adsets were exactly the same? Would they behave as rivalries or rather band up? And what the results would look like?
This is what I tested this week!
I created 2 identical ad sets with the same lookalike audiences in a single campaign and picked CBO as the budget distribution between the two ad sets. Essentially Facebook's way of budget allocation across the best available opportunities, Campaign Budget Optimization (or CBO) is usually the most efficient use of your ad budget, generating the best results overall.
And so I hit the "Post" button and started to closely monitor what the next 7 days would bring.
The results were very much intriguing… and lucrative, too.

As both ad sets started to compete with each other, each performed outstandingly in its respective targeting direction to harness the best results possible.
This reduced the Cost per Click (CPC) and Cost per 1,000 Impressions (CPM) by a remarkable 4 times, which in turn led to a significantly higher ROAS.
I would highly recommend all advertisers reading this post to test this strategy and share their results in the comments. Let's generate more data points to confirm this pattern.
Muck Rack Trends to Get Instant PR Reports on Any Term
When designing the PR strategy of a new product, competitor research is usually where it all starts. Finding out the media outlets where our competitors get featured shows us possible coverage opportunities, and insights on how to position the product while pitching it to a journalist.
A filtered search on Google is, of course, an option. But who wants to spend heaps of time to find what may potentially turn out to be irrelevant.
Let's save it as a last resort.
Especially now as Muck Rack made its Trends absolutely free!
Appropriately dubbed "Google Trends for PR Pros" by PR Week, Muck Rack Trends not only generates a comprehensive PR report on the term in a split second but also illustrates the trend and its PR coverage over the pre-selected timeline.
Here's the past 7-day PR trajectory for Zoom:
Simply pop the term into the search bar, choose the time interval and go!
Similar to Google Trends, you can also include two or more search terms at once to project possible correlations and draw insights.
You can not only see the cumulative number of articles published over the set time period but also hover on your desired date to see the number of articles just for that day.
The report also features the list of Top Outlets that covered the product and Top Authors with their respective social media accounts.
Towards the end of the report, you'll also see a bar chart where all the Unique Outlets are illustrated along the timeline.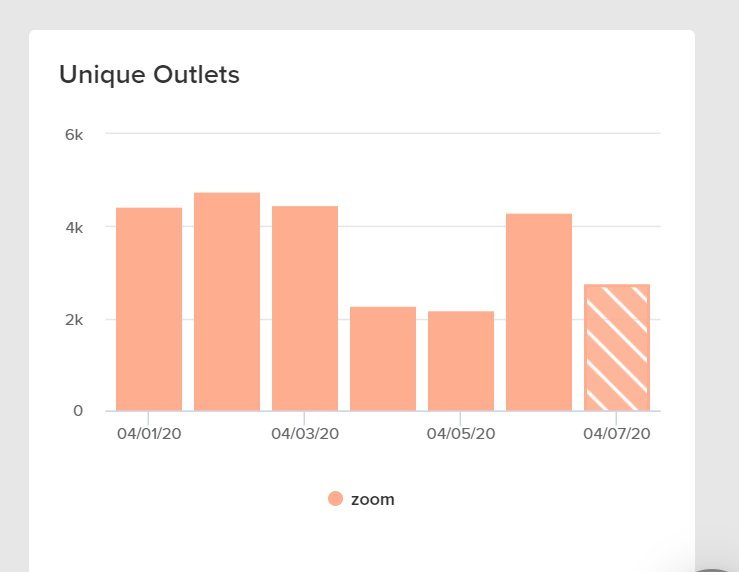 Muck Rack Trends is a goldmine of data-backed insights to tweak strategies and swiftly respond to the emerging trends in PR.
Give it a try now and let me know how you like it.
Time-Bound Cookies To Retarget Only Qualified Leads
We tend to spend a lot of resources trying to capture our page visitors through retargeting ads and return them to our sales funnel. But the simple fact we overlook is that some fraction of our visitors, indeed, have never been our leads. Some of them may just have clicked on the ad and pogo-sticked the minute they landed on the page.
It's OK. But with the steady influx of varied traffic to your page, how can you distinguish the hotter leads from the masses?
This small growth hack I came up with will help you capitalize on people who are more relevant to your business.
The idea is to hide retargeting cookies for a certain number of seconds and later retarget only those who spent more time on your website and, hence, are more likely to be interested in your product or service.
How to hide time-bound retargeting cookies? You need to incorporate a small piece of JavaScript code in your website. Enlist some help from your developers who'll get the job done in minutes.
Product Launch Posts on Instagram
It's been a couple of months since Instagram started testing its new feature—Product Launch. Much like its name suggests, you can use it to create a post to inform your followers of your product launch date—also perfect to engage with our social media base and warm them up before your crowdfunding campaign goes live!
Once you click on the post, you'll see when the product will launch with an option to set up a reminder within Instagram to be notified about it.
People will also see how many followers the post has. If you have lots, that's just some extra eye-popping social proof in your favor.
Next time, use the Product Launch feature to notify your followers of an approaching release and let me know in the comments how it went.
Migrate Ads to a Different Campaign with 4 Clicks
By Astghik Azaryan
Migrating ads from one campaign to the next is a tiresome routine. Headlines, descriptions, images, videos, destination URLs…. it's just a frustrating repetition of a simple copy-paste of every single one of your ad elements that can often consume your whole day.
The "Duplicate" feature has long resided in your Ads Manager. But I bet just a small fraction of advertisers hardly ever use it for this. Most of us haven't yet unleashed its full potential, beyond copying ads in the same campaign or ad set.
It appears the well-known "Duplicate" feature not only duplicates ads within the same campaign and ad set, but also transfers them to any existing or newly created campaign and/or asset.
This simple yet powerful automation helped me streamline the manual routine, and accelerate my ad creation by 2x!
Let's visualize it with this step-by-step walkthrough.
Here's an example of several ads I created before which I now want to duplicate into another ad campaign:
First, click on the 3 dots and (you guessed it!) choose Duplicate:

In a newly opened window, choose the ad set and the ad campaign you want to migrate it to:

Select "Add to all" if you want to add all the ads included in the ad set to the chosen ad campaign.

Then just click Duplicate.
And that's it.
Now you can see the exact same ads you selected as part of your other campaign:

Having spent daunting hours on duplicating ads, getting it done with 4 mere clicks is immensely satisfying. Test this powerful hack and share your results in the comments.
See if you can surpass my personal record of 200% time saved!
PPC keyword Wrapper for Google and Bing ads
By Ani Hakobyan
In Google search ads, there are 3 main ways in which the user query keyword and your ad keyword can relate to each other:
Broad match, when the two keywords are semantically affiliated ("red blouse" and "pink color blouse")
Phrase match, when they are synonymous ("red shoes" and "red footwear" or "girl shoes in red")
Exact match, when they are identical ("red shoes for boys" and "red shoes").
These 3 variations of keyword matching are differentiated by simple punctuation marks. The phrase match keyword is wrapped with quotation marks, the exact match—with square brackets while the broad match just stands for itself.


You've probably used the quotation marks in your searches before, to find the exact phrase you typed, or to specify a word that HAS to be included in the search results.
For ads, we also previously had to include punctuation marks around keywords to signify each match type, manually. Just picture how tedious it was…
But with PPC keyword wrapper for Google and Bing ads extension installed, wrapping keywords is just 2 clicks away.
Click on the extension and paste your list of keywords in the first window.
Then tap on the Wrap button and you'll have all your keywords wrapped and their phrase and exact match variations ready.

What's left for you to do is to just copy this wrapped list into your ad group.
Simple!
————-
This wraps up this week's Know How!
What are your thoughts on some of the tools and strategies shared in this article? Will you apply them to your marketing campaign?
Give them a try and comment on your results. We'll be happy to hear how it went for you, and help you out if you have any questions.
Stay tuned for our next Know How and expand your marketing arsenal with a new set of tested tools!
Lastly, check out our article on how to raise 7-figure amounts on your Kickstarter campaign.
And don't forget to come back in a week.