With dozens of new marketing guides coming out every day, the world is only getting more competitive. The tricks and hacks that generated millions of dollars of revenue back in their time are now commonplace for most.
To stand a chance in this growing competition, you really need to enrich your video marketing tools arsenal to get ahead of the game.
Video Search Youtube
Have you ever skipped through tons of Youtube videos using keywords in search of one small part?
With Video Search Youtube, you can search inside the text content of any YouTube video.
Atop this main feature – the video search extension automatically suggests places to look, so that you can locate content faster.
Save time by skipping to the content you're looking for!
Clipomatic
Clipomatic is a smart video editor that turns all you say into live captions.
All you have to do is hit the magical record button, speak clearly and your words will appear in a form of a stylish caption right on your recording.
It's a perfect tool to create pre-recorded webinars or videos for Youtube. The expected level of video content quality is quite high nowadays. Producing captions that guide and help your audience will definitely keep your viewers watching the video for longer.
Streamline Video Feedbacks With Wipster
As a Project Manager at TCF, I always need to provide succinct, actionable feedback on the many videos we create every day to promote our campaigns through various channels.
To say something as simple as, "The visual at 3:11 is blurry and should be substituted with something more lively," I first have to determine the exact time the visual is placed at (usually after hopping back and forth several times), type in my comment and send it to everyone involved in the process…
Not the best workflow perhaps, but I manage.
The real hassle comes later—managing the incoming wave of feedback that I have to tackle one by one.
Now, imagine you could just stop the video and leave your comment right on the scene for all collaborators to see? Or start a thread to discuss each others' feedback, all in one place?
With this new platform I discovered, that's exactly how your new workflow is.
Wipster lays out a super-intuitive collaboration platform to streamline constructive feedback cycles. Much like Figma—just for videos.
Upload your video to Wipster and share the link with your teammates. Then everyone can view and leave their comments right on the frames.
Double-tap on collaboration to create a thread to discuss each other's suggestions and exchange ideas to create a video that will showcase your product in the best light possible.
Video creation, no doubt, is a dynamic process requiring dozens of interactions before the desired result is achieved. And it's important to keep record of the great ideas that surfaced along the way.
That is why Wipster saves all the prior versions of your video with all its notes, so you can always take a look back as you watch your content progress through feedback cycles to final video delivery.
Source: https://wipster.io
And there is more up its sleeve!
What distinguishes Wipster above all is its handy mobile app available both for Android and iOS, allowing you to provide and receive feedback even when you are on-the-move.
In addition, Wipster is seamlessly integrated with Adobe Premiere Pro, Adobe After Effects, Youtube, Wistia, Vimeo, Slack and many more platforms to help chart your way to stellar visual content with a minimum input of time and effort.
BombBomb.com to send personalized video pitches
It's no surprise that the success of any crowdfunding campaign is directly influenced by the level of publicity it achieves. Most of the brands running crowdfunding campaigns have barely established themselves as startups and rely heavily on diverse sources to drive quality traffic to their campaign page to generate more leads.
As a Project Manager here at The Crowdfunding Formula, I have experienced first hand the daunting effort it takes to find and outreach relevant journalists and social media influencers to spur the much-needed buzz around our campaigns.
To make sure our pitch emails evoke actionable interest in the other party—that translates into a great article or valuable post—we always try to come up with new tactics to make our pitches look and sound more compelling.
These range from changing subject lines to inserting interactive visuals like GIFs in the body text. As we can never really predict the result any new strategy will bring, you can assume this is possible only with A/B testing.
A lot of A/B testing!
This week I stumbled upon a great cloud-based messaging platform, BombBomb. It allows you to transmit a real personal touch in your emails, with personalized video messages.
With its seamless integrations in Gmail, Outlook, Salesforce, iMessage, and 50+ other email services, BombBomb makes it easy to leverage your best asset—YOURSELF—in digital communications.
Among numerous other features, the platform also provides in-depth, real-time analytics to deliver comprehensive insights to track the performance of your email outreach campaign.
BombBomb also comes with a user-friendly mobile app and a handy Chrome extension.
In case you are still dubious whether personalized video emails will complement your outreach strategy, watch BomBomb's Evangelist Ethan Beute's interview to unlock some great tricks and tactics you can use to create powerful video messages.
You can never say anything for sure before you try it. So just send your next few pitches in this video format and see how it goes!
I'll be glad to hear your results.
Quicktools by Picsart
 As a marketer, you are often THE person to look after the company's promotional videos. However, marketers aren't video editors.
Quicktools has all kinds of video tools that allow YOU to act quickly on editing or converting videos yourself, for example, convert WebM to MP4 or trim a video.
All the video tools are super easy to use; you upload a video file, choose the right settings, and download the result. And then easily share it with your colleagues, clients, or directly via social media channels.
Get Authentic Feedback With Interactive Videos
Mari Smith once said, "Content is the King, but Engagement is the Queen and the lady rules the house."
A single sentence that captures the essence of the entire world of modern marketing.
Because no matter how creative, dynamic, or informative your marketing content is, if it doesn't spark engagement, it's just as good as dead.
Great marketing is a two-way street. There are seasoned creators paving the way up with engaging content and genuine prospects, ready to leave their two cents, upon picking it up.
Interestingly enough, this engaging quality has been mainly attributed to written text. And while the precise wording still plays a prime role, lately we've watched it diffuse into visuals too.
Interactive videos are the last word in digital marketing. Unlike traditional videos, they engage with consumers through polls and quizzes to instantly discover their pain points and inspire authentic feedback right on the spot. You can create an online quiz that will help you drive more engagement, bring quality leads, and increase conversions.
Interactive videos also lead to a whopping 25% increase in sales ― why they are so popular, from newbie startups to big brands.
And to save yourself heaps of time, I discovered this stellar software to make interactive videos in just a matter of minutes.
Super intuitive, Vizia lets you easily embed multiple-choice quizzes, polls, and short answers to engage with your audience.
Copy the URL of your video from YouTube or Wistia, paste it into Vizia, and click "Continue".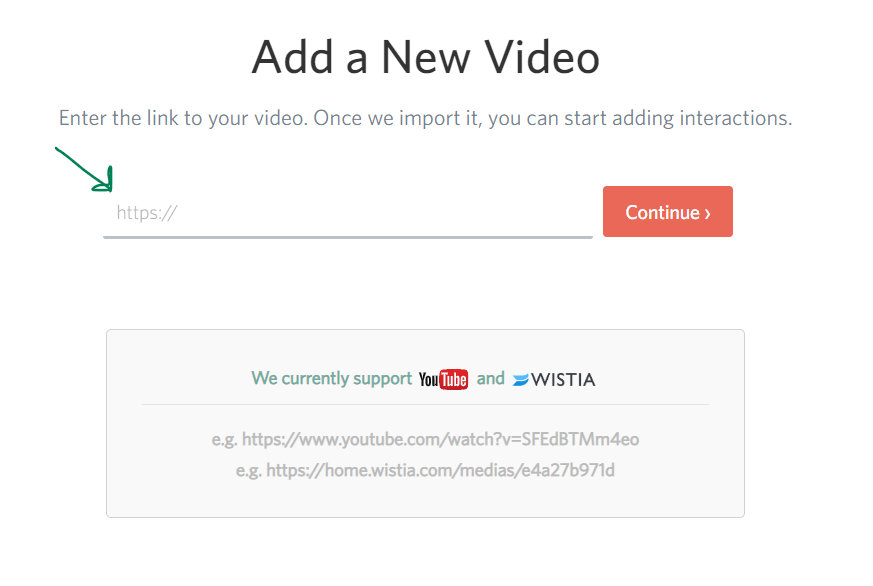 You will be automatically redirected to the design page. Stick around for 3-4 minutes for the video to be loaded, and start building your first poll.
As you can see, the interface is very intuitive to navigate.
Give your video a title and click on where you'd like to add an interactive poll or a quiz.
Once you're done with all the steps, copy the little code snippet to embed the video on your webpage or the share link to post it on your social media pages.
Easy. Fast. And far more effective.
Picture-in-Picture Extension – Adjustable floating TV
Install, go to your fav video streaming channel & enable the PiP.
Oftentimes, you get lost in all the opened tabs. This tool helps you to 1. Keep the track on the video while interacting with other web pages 2. Momentarily stop the mini-party-in-the-earbuds.
Promo.com
What do marketers need today to promote products and digital services in the best way? Right GREAT VISUALS.
Promo.com has all the videos you need to promote your business. Simply add your message and logo.
Wrapr.com
Okay, seriously now…ya'll know that we love cool tools! Who doesn't, right?
Tools that allow us to create awesome stuff in short order…
Wrapr.com helps to create rich videos with unique AND powerful visual solutions.
These eye-popping and impossible-to-miss templates make amazing – V I R A L videos. Boost your engagement rank and organically drive more traffic towards your business with this intuitive software!
Creatopy
Creatopy is a collaborative ad design platform that can be used as an online video ad maker besides its many other functionalities.
They boast an easy-to-learn drag-and-drop interface that makes sure you can bring your creative ideas to life in the simplest way possible.
Whether you want to create display ads, advertise on social media platforms such as Instagram, Facebook, or YouTube, or just spice up your marketing campaign with some stunning visuals, Creatopy does the job.
OCam – Screen recorder
oCam is a free OhSoft product, a tool for capturing and video recording a computer screen and taking screenshots. Even supports GIF recording.
oCam breaks the mold by offering flawless recording-free software – has a straightforward control panel and, in addition, is a lightweight program.
Consists of the main screen and a green-bordered capture area, it only captures onscreen images, videos, and audio.
The program is 100% free and supports the most popular audio and video codecs.
Create On-Point Demo Videos With ScreenRec
People love to see exactly how something works before they invest in it. And creating a smaller version of your software for this purpose isn't always practical. Recording your PC screen is an excellent alternative and ScreenRec is one of the best tools for this task. It allows you to record anything from your screen, microphone, webcam, and the audio on your computer. And you can record all of these simultaneously. So there's no need to edit additional data into your video.
When you're done and happy with your video, you get an instant sharable link and everything is encrypted to protect your content. On top of that, you have 2 Gb of private cloud video storage that is enough for hours of video recordings.
You can use ScreenRec to record personalized demos or even sales pitches that you can send instantly to your customers. All videos are automatically uploaded to the cloud but, if you want, you can download them on your computer and edit them as you like.
Best of all, ScreenRec is so easy to use that anyone can get the hang of it in a few minutes. You either click on the camera button or press 'Alt + S' to start capturing your screen. It doesn't get simpler than that…
Videohive.net
Videohive.net offers stock video footage and effects – single or multi-use licenses for pre-made videos to customize and use them to your advantage.
Not only do these ready-made templates increase the quality of your production but also are invaluable time-savers.
The Most Personalizable Video Journey
Interactive visuals have become so fundamental to how we perceive and interpret things, that it is hard to picture any successful marketing campaign without striking creatives that surprise and inspire. They have even permeated mediums that have remained static for decades!
Like email.
Who could imagine that embedding a video in an email can increase the click-through rate by up to 300%? With the massive exposure to interactive features online, our eyes are inherently biased towards a visual invite to preface what to expect in the written text.
With over 81% of people keen to watch videos online, it is now the most sought-after content on social media. And it's not just to entertain. 44% of people are more likely to purchase a product after watching a video about it. And most of the brands don't pass up on this opportunity, so you are already in competitive territory.
Video marketing also generates 66% more qualified leads, as prospects have more time to interact with the product and understand its individual relevance prior to taking a step forward along the conversion funnel.
And this is just about traditional video marketing—with a single generic video targeting the different segments of your audience—with the same scenes, the same message, and the same CTA.
But are your many audiences triggered by the same psychological impulses?
Your target audience is manifold, so why to keep your videos onefold?
You can create dozens of different videos to appeal to each distinct segment of your audience. Or you can just let your prospects personalize it from within.
How? With Interactr!
Interactr is the world's first customizable interaction layer builder that allows users to add and customize interaction layers in their videos.
You can embed clickable multiple-choice questionnaires directly into your video overlay. From audience segmentation surveys to interest insights. Once clicked on the respective option, your incoming traffic will be split to be shown a distinct video that will speak to their needs, packaged in a theme that would appeal to them.
Making an interactive video will likely consume more of your time than putting up a just single generic one. But it's definitely worth the effort!
Interactive videos are proven to generate 2x conversions, 3x engagement, and 14x higher click-through rates.
So carve out some time in your calendar and make your next marketing video with Interactr. Then reply to our newsletter next Thursday and share the spikes you saw in the 3 metrics above. I can't wait to know how it went for you!
Handbrake.fr
HandBrake.fr – originally developed back in 2003 is a free and open-source transcoder for digital video files.
Available for Linux, macOS, and Windows, HandBrake is a cross-platform video converter with buckets of features.
It's a tool to use to transcode the video to and from a large number of formats
It converts under 1 minute, without sacrificing the video quality.
It also can be used to rip DVDs
It's not one for beginners, cause there's little attempt to explain the video encoding terminology, so if you are unfamiliar with the jargon, you're going to have to do a little research.
Bitable
Biteable's strength is in its simplicity.
They have a huge library of professionally designed templates that are fit for all your video marketing needs. Add music, choose stock footage and imagery, or edit your own clips, all within the simple and easy-to-use online video editor.
Kapwing
As its heart, Kapwing.com is a video, image and GIF editing tool, and this includes the ability to resize and loop videos– a great addition to the program – but it's the "add subtitles to video" side of things that we're interested in.
Within a given timeline, you can add text captions to your video upload or even a link, which you can preview and finalize.
Download hassle-free and easily share on social media.
Fastreel
Fastreel is another cool and free online video maker. There's a bunch of tools for quality enhancement, such as cutting, cropping, and rotating, as well as some advanced special effects like speed change and looping.
For more stunning results, you can use one of the templates. Intros, product demos, resume videos, customer testimonials – this free video editor covers it all.

If you need a complete toolkit to edit videos online, we recommend you start with Fastreel.
___________
This wraps up this week's Know How bundle!
Will you be applying these video marketing tools and tactics? Let us know in the comments below.
And don't forget to check out our previous article to learn more digital marketing strategies and tools.