While we appreciate (and receive) great tips and tricks from all our great growth hackers across our digital marketing departments, this week's Know How is a little Ads centric.
The Ads Team presented so many great tips that besides them, only our Social Media Marketing expert Zhenya managed to make it into this week's article.
Find out how a simple hack can export and import all your ads from a deactivated account to a new one, learn a genius strategy to boost a poorly-performing ad in the Active and Learning Phases, discover how you can increase engagement by adding a poll to video ads, and explore the ins-and-outs of Facebook's great new Inbox+.
It's gonna be intense!
So let's dive right in!
---
Ads: Export and Import of Ads Made Simple
Ads: Significant Edits as a Key to Boosting Ad Performance
Ads: Poll Ads to Boost Your Ad Engagement
SMM: Addition of Inbox+ to Facebook's Creator Studio
---
Export and Import of Ads Made Simple
By Ani Hakobyan
Very often we struggle with deactivated ad accounts, and it's a big hassle to open a new one and manually recreate all our campaigns there.
Especially if we're talking about hundreds of campaigns.
It turns out we can streamline this banal repetition and complete the process in under 5 minutes.
Here's how:
Step 1. Select the Ads
Go to Ads Manager, select the ads that you want to transfer to the new ad account and click on the  icon:

Step 2. Export the Ads
Select the option to export them to an Excel file. You can choose to export all your ad campaigns, just those selected, export them as text (essentially a fancy Ctrl+C) or customize your export to your needs. In this example, we're just going to export the selected ads.
Step 3. Tidy Up
Open the Excel file and clear the values in the following columns: Campaign ID, Ads set ID, Ad ID.
Keep in mind that you should leave the first row intact and only delete the content in these specific columns.
Step 4. Import the Ads
Once the changes in the Excel file are saved, go back to the Ads Manager and select the new ad account where you want to import your ads.
Choose the Excel sheet you just updated, click on the icon and select "Import Ads".
Step 5. Publish
Click "Review and Publish".
Really, that's all there is to it!
Significant Edits as a Key to Boosting Ad Performance
By Astghik Azaryan and Elen Afrikyan
There are several stages your ad can be in throughout its lifecycle. The most crucial one is probably the Learning Phase which comes immediately after you publish a new ad.
As the name suggests, this is a learning period when the delivery system, a.k.a. Facebook, examines your audience and tries to find the segment your ad will cater to best. During this period, the ad performance fluctuates greatly and the cost-per-action (CPA) is generally higher.
While Facebook never really stops seeking the best way to deliver your ad/adset, it exits the Learning Phase as soon as ad performance stabilizes.
To get out of the Learning Phase your ad should hit the recommended threshold of 50 conversions. If it doesn't, it will go into the Learning Limited Phase, which means Facebook couldn't understand where to place your ad, significantly restricts Facebook's ability to examine your audience further, and brings you fewer conversions.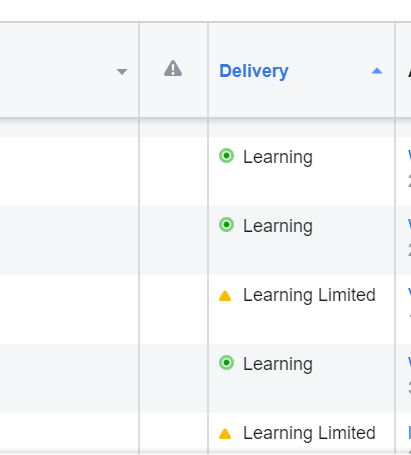 If you find that your ad is stuck in the Learning Limited Phase, you need to get it out of there. Fast!
The best way to do this is by making a significant edit to transition it back into the Learning Phase and find a new targeting direction to pursue.
Here are some edits FB considers significant:
Any change to its targeting options
Any change to the ad creative part
Any change to optimization events (events set up with pixel)
Adding new ads to our ad sets
Pausing your ad campaign (even though FB allows a certain amount of time for pausing, in most cases the performance of the ad will drop)
Changing the bid strategy
On the flip side, here are some examples that won't affect the ad performance to a notable extent, should the degree of change not be significant:
Bid control cost control or ROAS control amount
Budget amount
Take the last point with a grain of salt, however. If you raise the budget from $100 to $110, in most cases this won't affect the ad performance. But if you double the budget from $100 to $200, Facebook will sense something's going on and could send your ad back into the Learning Phase, negatively affecting an Active ads performance.
So you made a significant edit and got your ad out of the Learning Limited Phase. What next?
If 7 days have elapsed since a significant edit was made, yet your ad still hasn't exited the Learning Phase, its status will automatically move back to Learning Limited.
You may have to go back and forth between these two phases over and over again until Facebook identifies the best-performing audience segment. The key is to keep on testing new variations of ads and hit the benchmark conversion rate needed to move to the Active Phase.
While you could also use this strategy to signal Facebook to start seeking new targeting for an ad that is still in the Learning Phase, be careful. Unless you know what you're doing, you could negatively affect the learning algorithm. By resetting it, you could send an ad that was just about to make it into the Active Phase, back towards the Learning Limited Phase.
But the great thing we realized through all of this is the following.
The fact that pausing an ad can affect its performance in the Learning Phase, made us think of how we could use this potential elsewhere.
What happens when an ad in the Active Phase stops performing as well?
Pause it! A quick break—between 1 and 48 hours—can jump-start its performance again!
We've tested this tactic on dozens of our campaigns and have seen a notable increase in the overall ad performance.
From now on make the most out of your ad edits!
Poll Ads to Boost Your Ad Engagement
By Hayarpi Igityan
Facebook recently introduced a new feature to run ads with video polls. It positions itself as a unique way to increase engagement with ads and streamline feedback between leads and product creators.
With FB Ad Polls, you can ask a question to your audience and derive valuable insights from their responses, such as their opinion on your promo video or a feature of your product, that can be used to devise a super targeted and effective marketing campaign.
On top of this, the easy-to-use poll is one of the best ways of ensuring that your audience engages with your ads, increasing their "rating" and potential reach on Facebook.
For now, Facebook Ad Polls can only be displayed on video ads and are available only if you optimize your ads for Brand Awareness, Engagement, Conversions, Reach and App Installs.
Adding a poll to your ad is easy. Here is what you need to do:
1. Optimize your ad (brand awareness, traffic, targeting, placements and budget).
2. Upload and select a video.
3. Click "Add a Poll"

4. In the Creative Editor, add your Poll Question, and the options for Choice 1 and Choice 2.
5. Add URL links for both options if you want your leads to be directed to your webpage.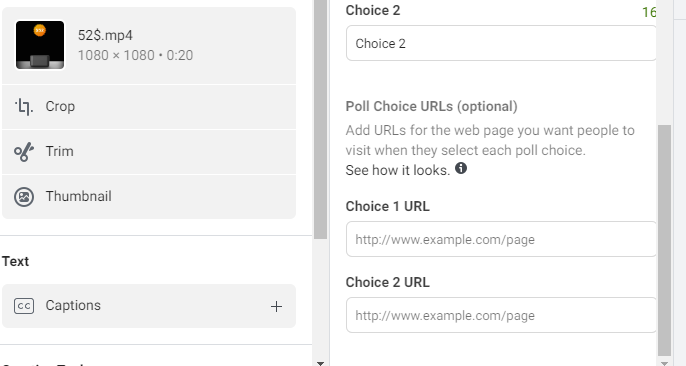 Done!
The recent ads we've tried this on have seen a massive increase in engagement. While you may not be able to use it for every type of ad, it's definitely worth considering.
Addition of Inbox+ to Facebook's Creator Studio
By Zhenya Hovakimyan
Recently, Facebook introduced Inbox+ to Creator Studio. And its benefits are tremendous!
It combines messaging, commenting and many more capabilities from two platforms into one. This greatly simplifies the process of engaging with your Facebook and Instagram audience across the different methods of communication.
This means less time hopping around between Apps and Pages, and more time actually interacting with people.
Here is just a fraction of what Inbox+ offers:
Messenger—you can send and receive messages as your Page, and even manage automatic responses.
Facebook comments and reactions—you can see the comments and reactions people leave on your Facebook posts and join the threads.
Instagram Direct Messages—you can receive and respond to all of your Instagram page's direct messages.
Instagram comments—you can see the likes and comments that people left on your Instagram posts and engage with them.
Amazing, right?
But you know what distinguishes Creator Studio's Inbox+ above all?
You can now choose the page you want to work on right from the drop-down menu within it, a feature that comes very handy if you manage multiple Facebook and Instagram pages like I do.
Otherwise—if you do it through the regular Facebook Inbox—you'll end up wasting a ton of time jumping back and forth between the pages over and over again.
And don't worry! There aren't a kazillion steps you need to take to get there—we're not the ads team!—it's just 3 simple steps:
Go to Facebook and select any Page you manage
Open Creator Studio
Choose Inbox+ from the sidebar
Easy!
As you can see from the image above, you can change to another Page's Inbox+ with the dropdown menu at the top.
——————————-
This wraps up this week's Know How!
What are your thoughts on some of the tools and strategies shared in this article? Will you apply them to your marketing campaign?
Give it a try and comment with your results. We'll be happy to hear how it went for you, and help you out if you have any questions.
Stay tuned for our next Know How and expand your marketing arsenal with a new set of tested tools!
Lastly, check out our article on Kickstarter campaign promotion.
And don't forget to come back in a week.