Here's the painful truth about journalist outreach.
You may spend countless hours creating the perfect pitch, coming up with an irresistible subject line, writing the most compelling preheader to illuminate your cutting-edge idea, and… barely get any responses back.
When correlated to the pressing timeline of your live crowdfunding campaign, this ambiguous silence packs some grueling uncertainties.
Will I land an article before the clock strikes 12? Will I manage to get any conversions? Do they even like my product in the first place?!
The truth is there are hundreds of other people just like you racing after that one press mention. And in all fairness, sometimes they are no worse than you.
Besides learning how to create a storyline with your follow-ups to capture journalists' attention, discover a great tool to edit your Google Ads hassle-free, find out about the new Google Analytics feature to segment out unique visits to your site, learn about Google Ads scripts to revamp your ad performance, along with some other eye-opening tips and tactics in this week's Know How article.
PR: Create A Storyline With Your Follow-Ups
Advertising: Edit Your Google Ads Hassle-Free
Project Management: The Cross-Device Feature In Google Analytics Is Now Up
Advertising: Track The Performance of Your 100+ Ads Through Ads Scripts
We've got so much to explore today! 
Let's dive right in!
Create A Storyline With Your Follow-Ups
Whether you are a novice about to set out on a bumpy PR ride or a seasoned PR guru, you likely know that in PR outreach follow-ups tend to pack a more powerful punch than the pitch.
At TCF's PR department alone, roughly 35% of all journalists' responses come after the first follow-up message and often disproportionately fewer from the first pitch. And the reason behind this clearly defined response pattern is twofold.
Reminder: Journalists' inboxes are crammed with emails and getting lost among the noisy walls of lucrative content offers isn't hard at all. Especially if you use the same cookie-cutter approach to every follow up (which you, of course, shouldn't!) with absolutely no personal appeal.
It's fascinating how journalists are enthralled by even the tiniest moves that accentuate attributes of their personality—especially their name. And while both you and I (and the journalist too!) know it only takes a few quick automation twists in the email software, it acts like a magnet to attract and immediately submerge them into your story.
On one of the hashtags I follow on Twitter—#prpitches—used by journalists to publicly share their most nerve-wracking and riveting pitch experiences, a journalist tweeted how flattered she was to notice her name in the bitly link!
I told you personalization can go a long way.
There may be times when your pitch may just fail to convey the exclusivity of your content to evoke the journalists' curiosity. Overly lengthy narration, convoluted jargon, or just wrong timing may simply repel. It happens.
But if approached correctly, follow-ups are potent enough to recreate new impressions and offer a different lens to perceive your product through. If you think your pitch didn't capture your innovative feat, why don't you list out the main points in the follow-up with a new narration? This way, they won't even need to scroll up to read your original pitch.
Now, as you know the power of a strategic follow-up, let's dive into my this week's know how.
As I was getting ready for the launch of PomaBrush, an all-silicone minimalist electric toothbrush, I thought I'd reshuffle the good ol' follow-up game that was essentially a series of boring reminders.
"I wanted to follow up in case my previous message slipped through the cracks."
Or cutting right to the chase…
"Did you manage to read my previous email?"
And while both of them do accomplish the task, let's be fair—neither offers any additional value. And so, I decided to create a sequence of engaging facts about PomaBrush to share in each of my follow-up messages.
Some note-worthy product refinements PomaBrush creators have made, the design prize they won, and challenges they overcame as a newly launched startup in the over-saturated market.
Follow up 1
Follow up 2
Follow up 3
Besides serving as a reminder to revisit the initial pitch, each fact unlocks some valuable information, engaging journalists in a compelling storyline to discover PomaBrush from various touch points. You may also notice that each follow-up deliberately sets an expectation to receive another fact in the coming days.
If journalists are interested in PomaBrush, this sequence of short, sweet product peeks will definitely build up the hype, increasing the likelihood of getting coverage.
Edit Your Google Ads Hassle-Free
If you have ever created an ad in Google Ads, you know that bulk actions require a more granular effort.
You need to add keywords one by one, locations one by one, and even audiences—one by one.
The manual routine at its finest!
While this may seem like an atypical break from the seamless automation streak, it will likely take just a few seconds before it becomes infuriating.
50 countries to add, another 50 to exclude, and just gazillion keywords each to be wrapped in 3 different punctuation marks to define their query match… Glad our Ads Pro Ani found that Keyword Wrapper extension at least!
But this week I discovered Google Ads Editor—the revolutionary way to manage Google Ads. This software can be easily installed on your laptop to streamline bulk actions within any campaign set up on your Google Adwords account.
To eliminate all the hassle, I'll even share my handy location and keywords lists, so you can copy or make edits to customize them to your own campaign specifics.
Side note: The sheets are all on view mode. To access them, simply login to your Google account, click "File" in the top left of the menu bar, and click "Make a copy" to create your own copy.
Now let's visualize the process step-by-step, starting from the installation.
Type in "Google Ads Editor" in Google's search bar, click on the first result and you'll be immediately redirected to this page.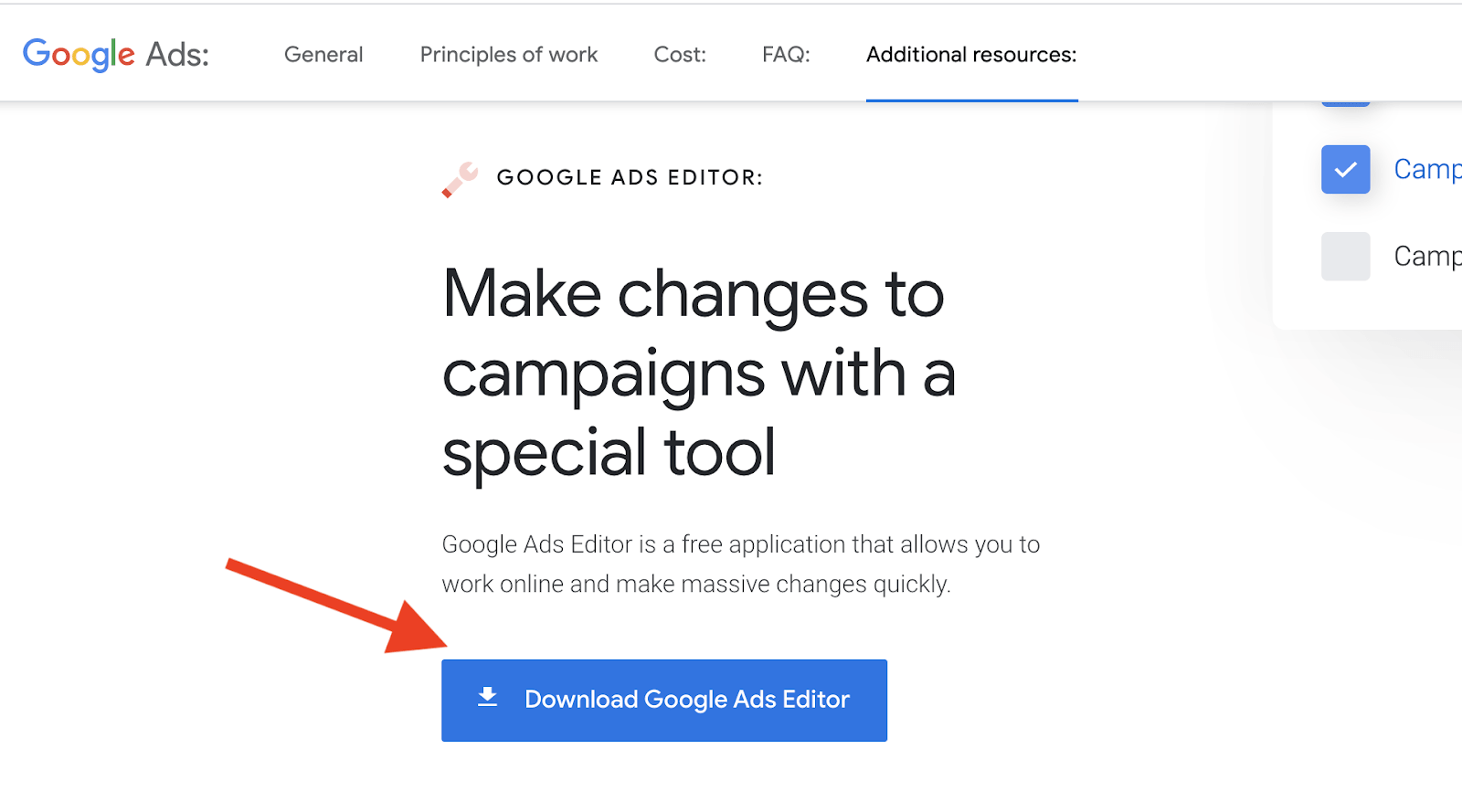 Press the blue button to start downloading Google Ads Editor.
Once installed, save it on your laptop and run the software.
In just a fraction of the second, the Ads Editor's dashboard will appear on your screen. Press the "Add" button overlay.
This will redirect your Google Ads account to choose the "Open browser to sign in" option. 
Next, this screen below will pop up to choose the email you've created your Google Ads account with. Then press "Allow". 
You'll soon see your unique code to activate the Ads Editor application. 
Paste it in the browser window opened and push "OK". 
That's it 🙂 Now let's start the party!
Checkmark all the ad account(s) you want to download to your Ads Editor and hit "OK". 
Now you just need to decide which campaigns on the given ad account you want to download.
You can be selective and download only specific campaigns while leaving others intact… Or you can download them all right off  the bat!
Now hit "OK" and you'll have your campaigns downloaded and segmented according to their attributes just like in the screenshot below. 
Now hit "Open account".
Follow the 3 quick steps illustrated below to start editing your ad campaign.
Click "Keywords and targeting" in the sidebar, from the drop-down menu choose  "Keywords, Negative" and hit  "Make multiple changes" in the top overlay. 
All that's left for you to do now is simply copy the respective keywords from the sheet shared at the beginning of my know how, paste it right into Ads Editor and hit "Process". 
And you're done! 🙂
Replicate the exact same steps to modify your list of locations and feel the breeze of bulk actions.
Deflect your focus from tiresome repetitiveness and capitalize on strategizing, while the Ads Editor takes care of all the automation.
If only there was something similar for Facebook Ads…
If you are familiar with Ads Editor and know other applications, I would love to hear from you! Comment them below and I will personally check them out and reply back to you with how it went.
The Cross-Device Feature In Google Analytics Is Now Up
It shouldn't come as a surprise that people today own more than just a one device and interchange between them all the time.
A smartphone, a personal laptop, a bedside tablet, you name it…
The challenge is Google Analytics treats all visits from the same person logged in with different devices as a distinct user visit resulting in misleading data and consequently, flawed inferences.
But this week I came across the new Cross Device feature in Google Analytics.
This beta feature lets Google Analytics identify users with a unique user ID if the same person switches between different devices to land on your website.
Cross Device tracking uses advanced JavaScript technology to match your user ID with the one in your CRM, email marketing platform, Google Analytics and other platforms. 
To enable this feature, navigate to your Google Analytics account, hit the "Cross Device" feature under the Audience Menu and click "Enable".
That's it! Now you can segment out your visits from unique users from the ones who logged in through just another device in their possession.
Track The Performance of Your 100+ Ads Through Ads Scripts
Using Google Ads is great. Using Google Ads' native scripts to make cool automations is even greater.
These scripts operate on your behalf and let you optimize your ads in ways you could have never done manually.
The Google Ads dashboard shows you all the metrics through columns and reports and helps you get a better grasp of the changes to make to boost your ads' performance.
However, it can be overwhelming to dig into the individual reports of the hundreds of ads you are running to analyze, make edits, and keep the pulse on results as they come.
Every advertiser wants to run more ads, but we're so lazy to do it manually. So these tiny Adwords scripts come as a rescue to save us from manual optimizations.
I know the word "scripts" may sound scary to many of you. But you definitely don't need to be a geeky developer to wrap your head around it. 
Because all you need to do is to find the solution that best suits your needs and simply copy and paste the corresponding code snippet into your ad account. Although a little JavaScript will definitely come in handy too.
As we always do, let's break the process down into small steps.  
To get started, first go to Google Ads scripts.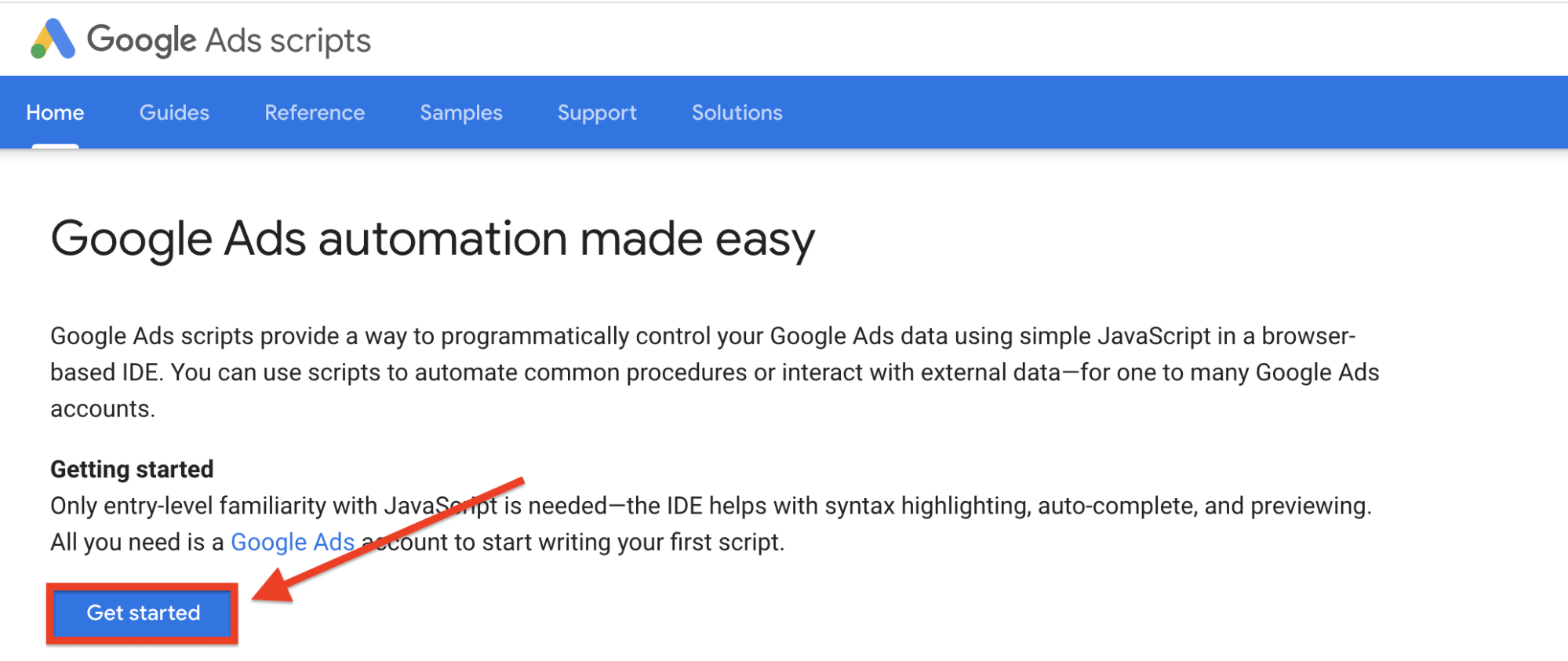 Press "Get started", you will see the following screen where you get instructions and the code to copy.
This is a test code for "generating 10 keywords with most impressions yesterday".
Copy the code from the snippet, then navigate to your Google ads' account "Tools and Settings" section in the top menu and choose "Scripts".
Then hit the blue plus button to create your first script. 
Next, press  "Authorize" to grant your script an access to your ad account to perform all the operations on your behalf. 

To do it, choose your Google Ads account… 
And give it all the permissions it requires — don't worry, it shouldn't steal your identity!
You will now be redirected back to the "Scripts" section where you left off to create and run your scripts.
Hit the plus button at the bottom to get started right away. 
In the window that pops up, give your script a name. I'd advise you to give it the exact script name as it is found in the library to make it easier to locate the script in the future. 
Paste the JS script in the respective box and press "Preview" to see the results in the "Log" section. From here, you have two options: you can either hit "Run" to start running the script or you can save it to run it later on. 
The minute you start using scripts in your Google Ads, they will naturally embed themselves into your daily workflow. And once you start seeing significant results (and it won't keep you waiting for long!), you will never stop experimenting with these powerful snips to elevate your ad campaigns to even greater heights.
————-
This much for this week, folks!
Which of this week's strategies and tools was your favorite? The Google Ads Editor was definitely a game-changer for me.
Keep your eyes peeled for when our next Know How blog post rolls out to not miss another wonderful bundle of the coolest marketing tools and tactics.
Lastly, don't forget to check out our recent article on how our quarantined team of 80 crossed the seemingly unbelievable $1.5M mark within the final hours of the Pico campaign.
I'll see you in a week!