Good Day Know How Fam!
If you are looking for the excitement of taking apart an old electronic device from your youth look no further than digital marketing. While computer hardware, machine learning, and C++ still make me scratch my head, I can at least take pride in knowing something about the ins and outs of digital marketing.
Today we will be getting nosy and uncovering some secrets from our team. We will be taking a look at how you can track the add-to-cart events for your Google Ads, bring all our newsletters and channels under one umbrella, see how we can find partners without spending a penny and how machines can actually help us with writing – I know right.
Track "Add to Cart" Conversion for Google Ads
If you are a digital advertiser, you know better than anyone else that while Google Ads is a great channel for any crowdfunding campaign advertising, it can sometimes be tricky to track the right metrics, especially when it comes to Indiegogo. 
For example, there's no conversion for "Add to Cart" in Google Ads, and for a while, when running ads for our Indiegogo campaigns, we were focused on the purchase date but were not able to track the "Add to Cart" events. We couldn't create a tracking event through the Google Tag Manager either. 
Just imagine an ad that spent quite a lot without any purchases, and we already want to pause it, but it has a high add-to-cart rate which we can't see. If we could see, we would have left the Ad active for a little bit more, or actually, we might have changed the CTA for it. 
So we were trying different hacks to see how we can track the data and found it! All you need to do is create a new goal in Google Analytics and import it to Google Ads! The solution is simple yet very genius, and I am excited to share it with you! 
To create a goal in Google Analytics, you need to open your Google Analytics Admin section. Click on the Goals and select "New Goal." 
Name your new goal (ex. "Add to Cart"). Then, under the Type section, select the "Destination" option and click the "Next" button. 
For the Goals details, select "Begins with" from the dropdown and paste the URL of your campaign's add-to-cart page. It comes after the main page's URL's "/". To make sure you've pasted the correct URL, go to Behavior > Overview, and usually, the 2nd URL is the one for Add to Carts.
After completing all these steps, click "Verify this Goal," if it shows 0%, then you did something wrong, but if it shows the average percentage of your campaign's add to carts during the past seven days, then you did everything right. 
Now save it, and let's move forward. 
To upload this conversion to your  Google Ads account, go to Google Ads and under the "Tools & Settings," select the "Conversions" and click on the "+" symbol to add a new conversion. Here choose Import > Google Analytics, and among the rest of the goals, select the one you've just created. 
Now you've successfully imported this goal to your Google Ads account, and to see it for all your campaigns, you need to add it to your columns and see the number of add-to-carts for each specific campaign.
Get Daily Email Digest From Your Favorite Newsletters and Creators
You don't always have time to go over social media and check out what your favorite creators have posted. Similarly, there are many newsletters that you can subscribe to, but you might have no time to go and check them all one by one. 
Luckily, Mailbrew solves this problem for you with the intelligent aggregation feature. It collects the links, posts, Twitter accounts, and newsletters from influencers and creators or newsletters that you follow and puts them in one place.
Head to your Mailbrew dashboard and click the to build your first brew from the various sources that the platform offers you.
Now name your brew and add the sources you want to follow. For some sources, you might need an account from that source, for others the source is open and you can choose them without logging into your account. 
Now name your brew and add the sources you want to follow. For some sources, you might need an account from that source, for others the source is open and you can choose them without logging into your account. 
In under 5 minutes, you are ready to go. So you no longer need to worry about missing anything because everything is right at your fingertips! It saves you time and always keeps you updated. 
Find Contact Names for Outreaching to a Crowdfunding Campaign
Outreaching is an essential and ongoing activity that helps us bring in new partners to TCF. Sometimes you find the perfect partner, but you can't find their contacts. While there are hundreds of tools that offer you solutions to find the email, there is an easy hack you can always test out before jumping to those tools of yours. 
Check out your future partner's press release or media kit posted on their campaign page (usually a Google Drive folder). Under the details section, you can see the folder owner (Name and Last Name).
Congratulations! You now have a name from the team to start outreaching or finding a relevant person from that company. 
I've been using this hack a lot and managed to find and reach out to many campaign creators. 
AI Has Taken My Job!
Anna Voskanyan
The day has come — AI will write your copy!
We all know how difficult it is to write a copy for your business. Whether you're writing an email, blog post, or brochure, the amount of time and effort that goes into getting a single piece of content just right can be overwhelming. 
Wanna know a secret? The paragraph you've just read is not written by me or any other copywriter at TCF. That's Headlime's AI — a platform-based tool that can quickly turn your ideas into creative and professional copies, saving you the time that matters!
During the past few weeks, I've tested several similar platforms but ended up on Headlime. Why? From blog articles to social media posts to landing pages — Headlime has it all.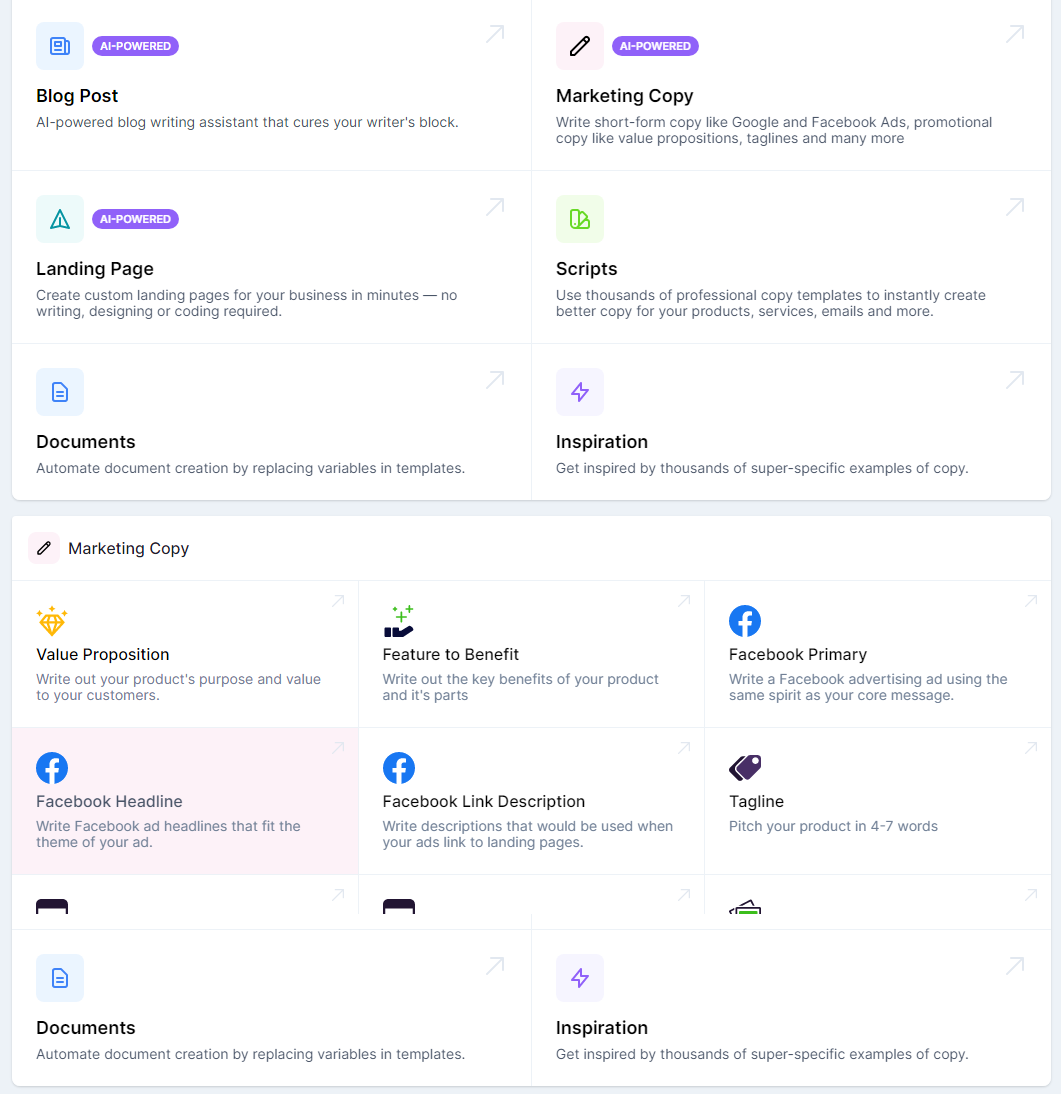 To create the copy for your project or business, all you have to do is provide the tool the name of the product or service, a short description, and hit the "generate" button. It's that simple and quick! The tool will generate from 5-7 copies that you can choose from in under a few seconds. 
With Headlime you can develop copies in different languages — German, French, Italian, Japanese, Polish, Portuguese, Spanish, Russian, and Chinese. When writing the copy you can also play with the creativity level of the copy and the tone you need for it. After signup, you have a free trial with 25 free credits to generate ads, landing pages, blog articles and more, and once the trial credits end, you can activate the 7 days for $7 trial option. 
And last but not least I choose this very tool from the many I have tested, is the Templates section, where you can add your own templates, or choose from the 1000+ options.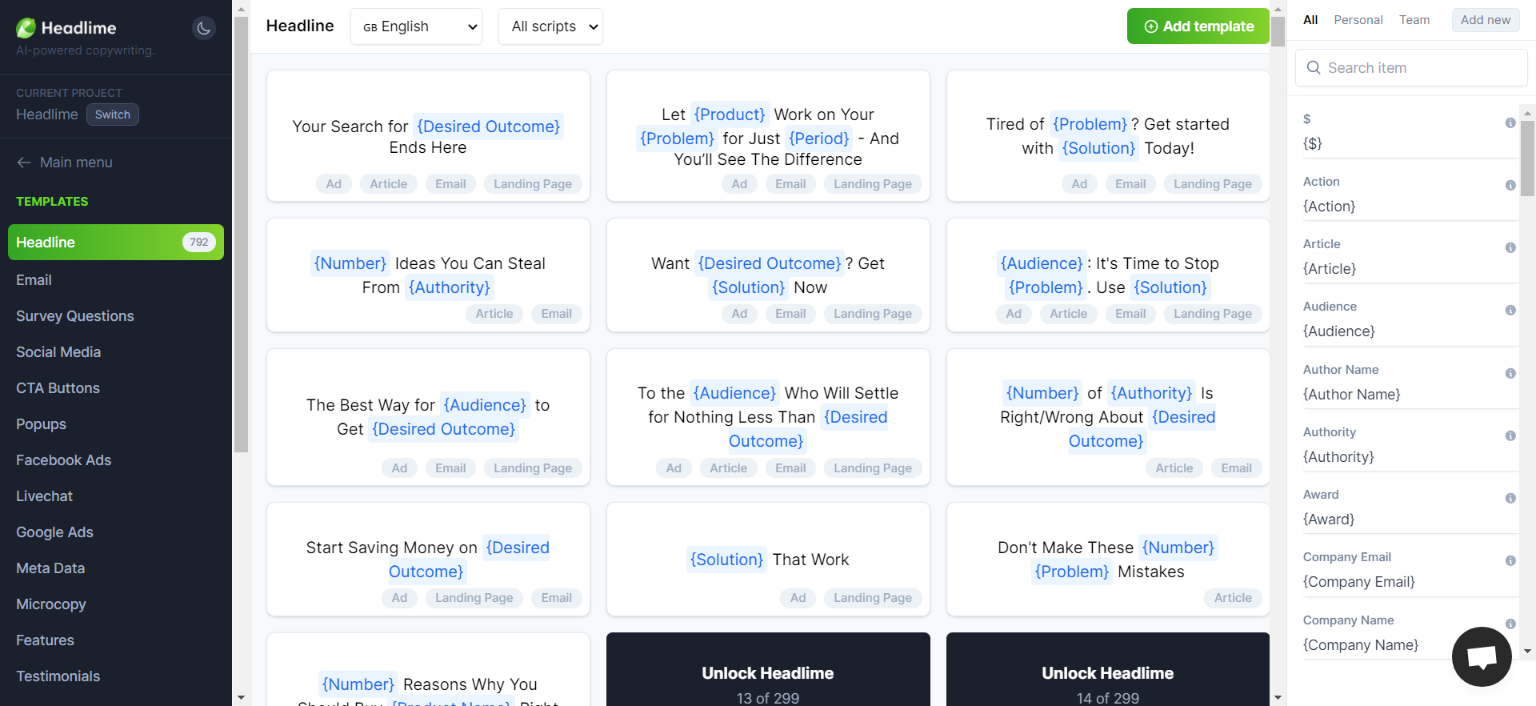 I've decided to test the copies the tool provides on social media posts, ads, and landing pages — they all had quite catchy and exciting results. 
*** 
That's all for today, growth hackers! 
Thanks for reading! I hope you enjoyed the article and learned a few new tricks from our experts that will help you take your projects to the next level. If there are any hacks or directions, in particular, you liked the most or want more of, please let us know by leaving a comment below.  
See ya soon!