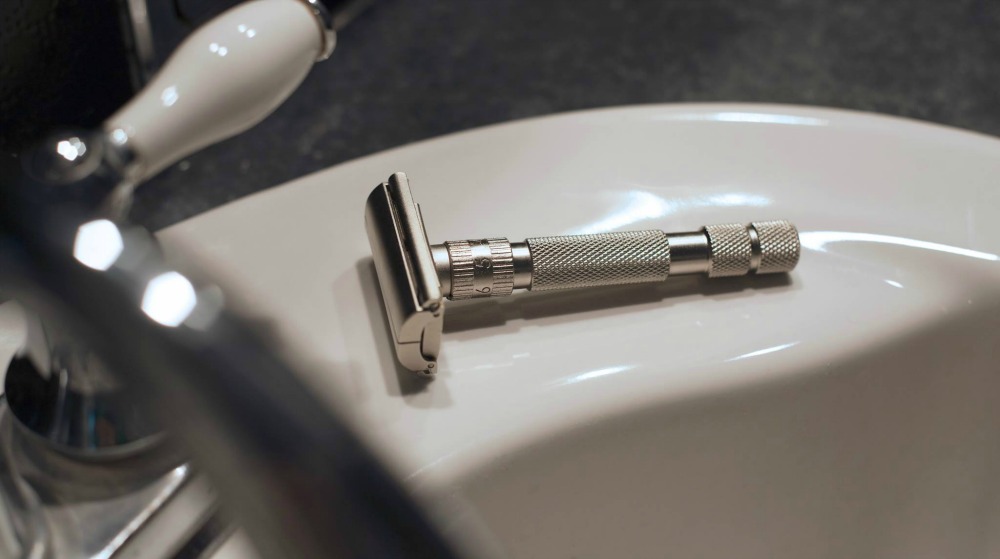 "One of the biggest pieces of advice I'd give any crowdfunding campaigner," says Rockwell Razors' founder Gareth Everard, "Is to make sure there is a demand for your product. It is a small niche, but we are now widely regarded as one of the best double-edged razors on the market."
With two six-figure campaigns under his belt, this is one crowdfunder who certainly knows what he's talking about. In 2014, still, fresh-faced seniors in college, Gareth and co-founder Morgan Nordstrom launched their first campaign, the Rockwell 6s. The vintage-style, men's razor smashed its $18,000 pledge goal within 24 hours, going on to raise an impressive $148,000.
Manufacturing Mishaps
But it wasn't all plain sailing for the duo. "When we launched our first campaign, we hadn't developed the product enough," Gareth talks candidly about the problems they faced once their campaign had closed. "We shot our campaign video with a chromed, plastic 3D print out. We hadn't nailed down the manufacturing process, and I didn't pay enough attention to quality control (QC). When we shipped out the first round, a lot of the backers were saying the quality wasn't what they had expected."
That mistake could have spelled the end for Rockwell Razors, but Gareth was determined that their brand story wouldn't end there. "I worked out a new manufacturing method and used my personal savings to ship out free replacements to each of our 2500 backers. It built a lot of brand loyalty, and was one of the reasons the second campaign did so well."
Creating a Trustworthy Brand
Just like Chris Houle with his multi-million dollar Phazon campaign, Gareth had a very firm idea of the brand he wanted to build. "You have to remember that Kickstarter and Indiegogo are not e-commerce platforms," Gareth explains, "They are social media platforms that allow advanced orders. Every comment you make, every video you post, is a hardcore reflection of your brand. You wouldn't put bad content on your Facebook page, so don't do it on Kickstarter."
A quick glance at the comments sections on all of Rockwell's campaigns shows how valuable that professional, metered approach can be.
Gareth's community are incredibly positive and supportive of the brand.
"Communication is important," Gareth agrees. "With Rockwell, I set the expectation early; backers get an update on the last Friday of every month and I respond to their queries within 24-hours. We have a solid community built on trust."
Marketing on a Budget
It's a community they've relied on right from the start. "When we launched our first campaign, we had no email addresses, no social media following. We used Reddit, actually," Gareth explains. "It's a forum website where users can up-vote certain topics. You then get subreddits that are dedicated to specific subjects like razors, coffee, headphones, etc. We focused on the razor subreddit, it allowed us to identify target customers for free."
What about the second time around, surely they must have had the funds to invest more heavily in marketing? "I'd just sent 2500 products out for free," Gareth laughs. "We had almost no budget. I think we spent around $5000 on the campaign before it launched, including manufacturing, video, and marketing."
"Our success was down to our mailing list and the loyalty we'd established with our community," He continues. "We had a mailing list of 6000 and got amazing converts, raising $100,000 in the first two days. Once we had that success, we started to rank higher on Kickstarter, which netted us more organic traffic." A phenomenon is otherwise known as The Green-Bar Effect.
Learning from Past Mistakes
What about the hurdle that tripped them up the first time, manufacturing? "That is one thing I would say to anyone thinking about launching a campaign; have the product available as early as possible," Gareth advises. "Work out your manufacturing process and get actively involved in the QC side of things. Lots of failed campaigns go live with just a technical drawing or an early stage prototype, but you need to have a fully-fleshed out idea and late-staged manufactured item that you can confidently present to potential backers if you want to succeed."
A working product also offers advantages when it comes to generating press interest. "We never got massively influential articles written about either campaign," Gareth says, "There have been some large-scale failures in the crowdfunding world lately, products raising huge amounts and then failing to deliver or companies going bust. As a result, it's harder to get the high-profile media outlets like TechCrunch and VentureBeat to cover anything in the crowdfunding space right now."
"We did really well with magazines, though. We arranged desk side meetings in New York, L.A., and San Francisco. We sent journalists the Rockwell 6s [the model launched in the first campaign] so they could see what we were all about. The coverage we got from that was fantastic, really worth the extra effort."
Life After Crowdfunding
So, what's life like on the other side of a successful crowdfunding campaign?
"I've pitched my story to lots of media outlets and we've got good coverage for the brand, which we've leveraged to generate interest from retailers. We've also got an international distributor so you can buy our razors in Russia and Sweden and all kinds of countries you wouldn't expect. Our campaigns were a great jumping board for our business."
"If you are likely to raise over $100,000," Gareth adds, "I'd recommend reaching out to Indiegogo, too. Switching our campaign from Kickstarter to Indiegogo InDemand was seamless, and it's meant we can keep collecting orders right up until we ship."
Gareth's Top Tips
Now that he's got a second, six-figure campaign to his name what tips and tricks does Gareth have to share? Would he do anything differently?
"I'd have manufactured more early stage model Ts [the product launched on the second campaign] to send to journalists," He says without hesitation. "If you can get your hands on 100 units or so, that would probably generate a lot of coverage."
"You also need to pick a great videographer who has good examples of previous work. There are lots of them out there, so don't spend a fortune. Spend modest money on a very good video."
"There are lots of agencies who will target successful campaigns. I get emails all the time from people who are promising PR support for a cut of the total funds raised. It's often as much as 50%, and there's no onus on them to deliver a result. Work with good people with a good track record, ask for references and be careful about paying more than 30% of your pledges to a subcontractor. We actually used two fantastic advertising agencies, Command Partners and Jellop, I'd recommend both. The results were worth the investment, and they helped us keep the momentum going once the campaign had launched."
Any final thoughts on what not to do? "People think they can put a half-baked idea on Kickstarter or jump on to Indiegogo with no marketing strategy or email list and money will just magically pour in. That simply isn't the case," Gareth warns. "The point of crowdfunding is to launch your company; you need to go into a campaign with the same level of research and planning you would a traditional funding round."