After months of testing in different locations, Google has rolled out its Discovery ads globally! 
Savvy advertisers across the world can now rely on Google's artificial intelligence and knowledge of their potential customers' interests and behavior. To interact with them as they casually scroll through their favorite Google feeds. 
Although "casually" isn't perhaps the most appropriate term to use in this context. 
Google claims that 86% of people are "on the lookout for shopping ideas as they watch videos or explore content across the web". 
This is especially pleasing after finding out Discovery Ads' massive exposure reaches 2.9 billion people, in part through Gmail social tabs and YouTube's Watch Next Feeds. 
But before you rush to jump on the train, you need to reign in a potentially costly Google Ads faux pas! Do you think your click-through conversions tell everything about ad performance? It turns out—not quite.
Besides learning how to see your Google Ad view-through conversions, discover a hack to create a Google Calendar invite in just a split second, find out about Google Search Operators to narrow down your search, learn a tactic to push your Gmail Ad into your competitors' leads inboxes, along with some other fantastic tips and tactics in this week's Know How article. 
We are feeling particularly lucky today! 
Let's dive right in!
Your Google Ads' CVR Is Just A Piece Of The Puzzle
If you're relatively new to Google Ads, you should at least know that conversions here fall into one of two distinct categories—click-through and view-through. 
A click-through conversion, like any other advertising medium, is just a user clicking on the ad, prior to converting. 
The Google Ads-specific view-through conversion, on the other hand, counts the times a user sees your ad, doesn't click immediately, but converts after one or several days—depending on your chosen conversion time window. 
So how can you distinguish between these two types of conversions? 
It turns out that in Google Ads, the term "Conversions" and other conversions-bound metrics such as "Conv. value" or "Conv. cost", include the click-through conversions alone. And as you can imagine, it may be quite misleading at times…
To get your hands on the view-through conversion data, navigate to the columns in the right-hand side of your interface, choose "Modify columns for campaigns" from your drop-down menu, and check both "All conversions" and "All Conversions Value" boxes.
"All Conversions" is the all-encompassing metric that includes absolutely all conversions a Google Ad brought—click- and view-based alike. And so when we subtract Conversions (click-through) from All Conversions (click-through + view-through), we will be left with only view-through conversions. This same logic applies to the rest of "Conversions"- and "All Conversions"-related metrics. 
In the snapshot below, you'll spot quite a tangible difference between the "All Conversions" and "Conversions" data. 
For a second, imagine we didn't know this hack… 
We would have likely never learned that our ad, indeed, delivered a little less than double the conversions shown—which as we just discussed counted only the click-throughs. The other 17 conversions came through the view-through funnel as some of our savvy prospects just glanced through the ad and went ahead do some research or rethink a purchase, before actually returning to the site to convert. 
Create A Meeting Invite Right From Within Your Gmail
By Mary Baboyan
When setting up a call with journalists or organizing an event, Google Calendar always comes in handy. Not only does it help you stay afloat of your scheduled meetings, but it also serves as a timely reminder for your interlocutors too. And trust me, they do appreciate it! 
Navigating through the seamless steps on Google Calendar has probably long been a no-brainer for you. But I suspect you knew about this smart little hack to cut to the chase right away. 
Open an important email you need to arrange a call for and head to the three-dots menu in the top overlay. From the drop-down menu, choose "Create event". 
This will redirect you to your Google Calendar, and the automation will have taken care of nearly everything for you!
The subject of your email thread has been set as your Meeting topic, and everyone involved in the correspondence has been invited by default. Needless to say, you are still free to tweak any of these. 
One of the coolest things about this setup is that the last email in the thread will also be embedded in the invitation to make sure everyone is on the same page. 
Pretty useful, don't you think? 
And you're done! 
Apply this clever reboot to your workflow and create a punchy meeting invite in just a fraction of a minute.
Make It To Your Competitors' Leads Inboxes Through Gmail Ads
By Ani Hakobyan
I bet you've spotted a Gmail Ad at least once in your Inbox! Appearing as a regular unread email, their promo nature is signaled only through the tiny "Ad" tag in the subject, placing them (no surprise!) in the Promotions tab. 
Here is an inside peek into the typical Gmail Ad layout:
Powerful copy wrapped in an inspiring visual and accompanied by a clear call-to-action—the 3 pillars of any high-converting Gmail ad. 
And now the hack!
In the "Display Keyword" section of your Gmail Ads, include your competitors' domains (i.e. example.com) and let Google scan your email bodies and subjects for the defined domain. By doing so, Gmail will start looking for emails from competitors' audiences you target, and if the email recipient has a Gmail account, push the ad to their inbox too. 
Once landed, headlines and texts are what will ultimately fuel the success of your campaign. 
They should be insanely powerful to catch your prospects right away. You may also want to resort to the good ol' proven psychology triggers and combine them with impactful language to create the desired emotional resonance. A great deal, a limited-time discount or a succinct yet authentic account of your advantages over your competition, will connect with and convert many of your prospects. 
Pair it with some precise targeting, and you'll see the results come in fairly quickly. 
Master Google Search Like A Pro
Google is generally pretty good at finding what you are looking for. But there are some lesser-known hacks—cleverly dubbed "operators"—that will make your Google search insanely effective by surfacing only the results most relevant to you. 
Let's look into some of the most popular ones! 
A commonly-used tactic while searching for the exact word or exact order of phrases is to wrap them in quotation marks. Say "tech editor"—a classic PR search! This is a great way to exclude all the non-relevant results that may have otherwise sneaked into the SERP. 
And if you want to find all the tech editors in a given media publication, you can use the 'site:domain' operator to trigger Google to search just within the boundaries of the given domain. 
The combination of the 'site:Mashable.com' and '"tech editors"' will return your list of tech editors from Mashable.com only. 
You can easily swap the domain with any other media outlet to discover new journalist profiles within the same niche of technology. Or… you can take a different spin and instead of searching by journalist profiles, search by the topic, while still keeping it narrowed to the same domain-bound search. 
Pop 'site:mashable.com gadgets' into the search bar and Google will display all the articles about gadgets on Mashable.com. Scan them quickly to find their authors.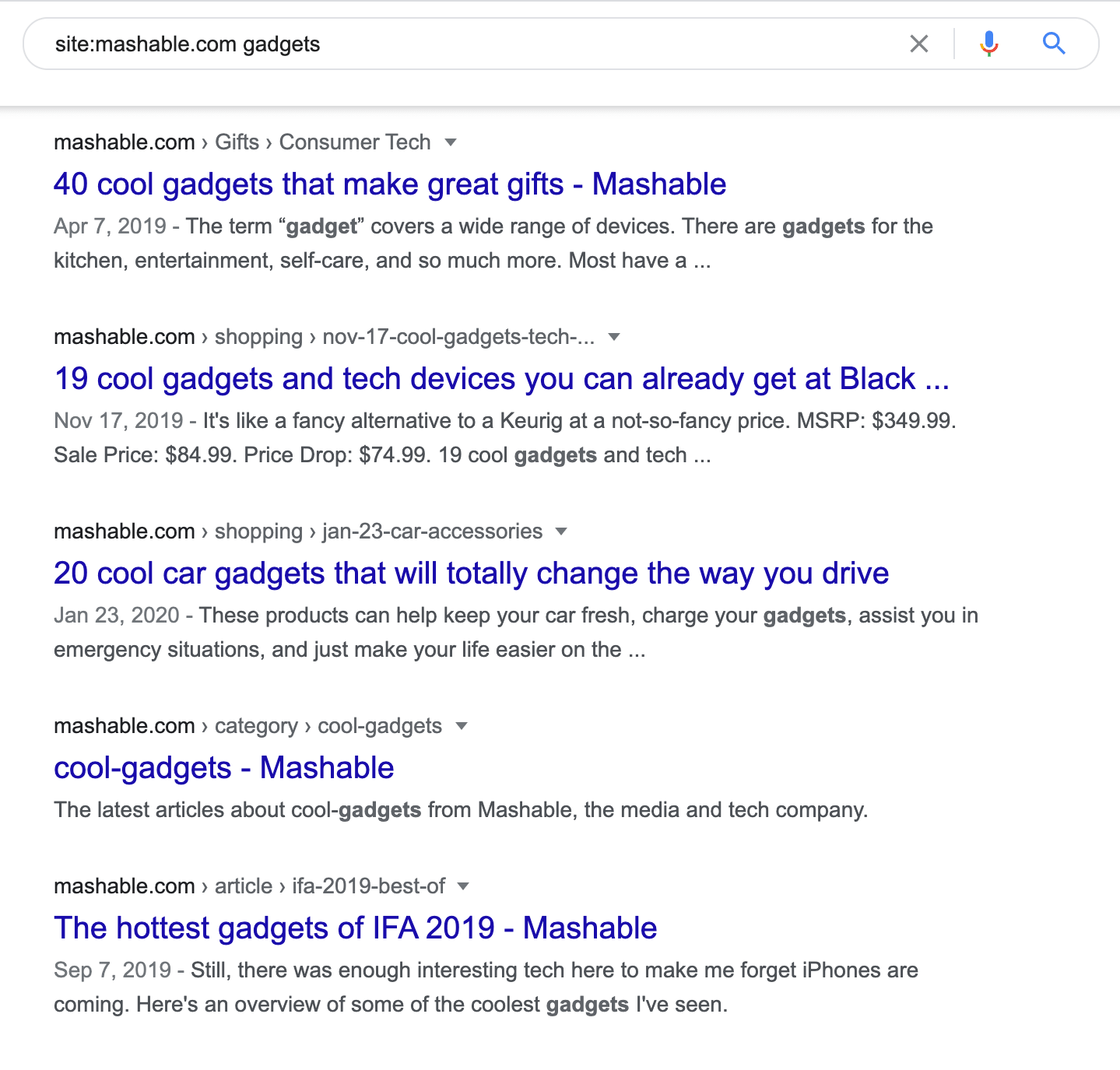 TCF Protip: Be sure to apply a timeline to filter out only the most recent articles. A journalist's niche has been proven to be quite volatile at times. So there is always a chance that a tech editor from 5 years ago may now well be a market trend analyst, or who knows, a lifestyle guru!
Sometimes you may need to find articles with an exact set of words in their title. And you won't be the only one. Otherwise, Google would have hardly designated a separate search operator to expedite this particular search. 
The combination of 'intitle' with your keyword in the search bar will roll out all articles with your keyword in the title. Because I didn't define a single website to narrow down the search to in the following example, the returned results span hundreds of different domains! 
Here is another cool operator combo—this time to search for journalists based on their LinkedIn profile information. Type in 'site:linkedin.com intitle:[publication name] + "[position]"' and Google will show you a cluster of LinkedIn profiles with the respective publication name and position indicated on them.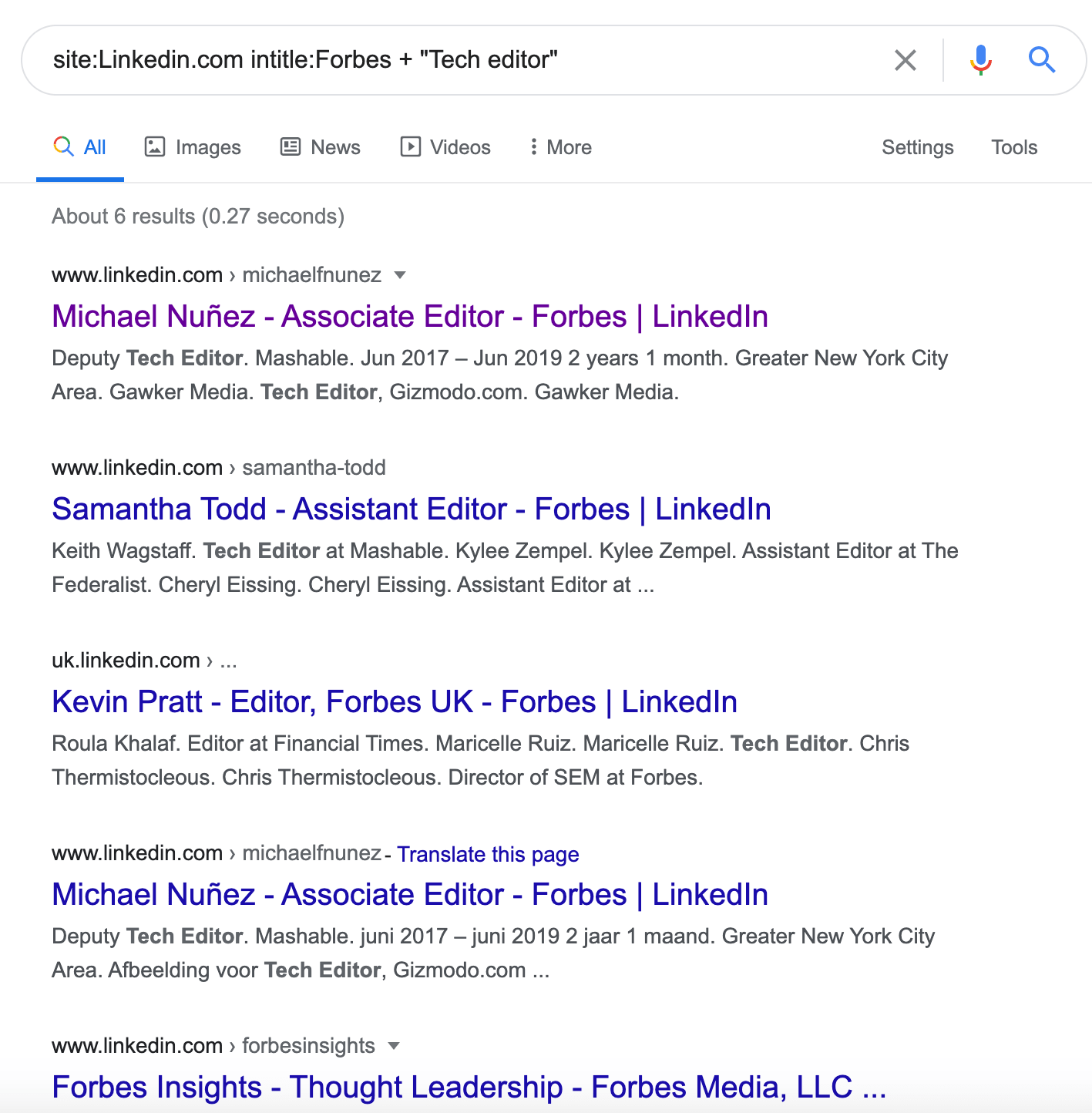 With a different operator in action—'related:domain', Google will display all the sites similar to the domain. 
In response to my query below, Google did a pretty good job of identifying TechCrunch, TNW, Wired, and tens of other top-notch media outlets who publish tech-oriented content just like Engadget.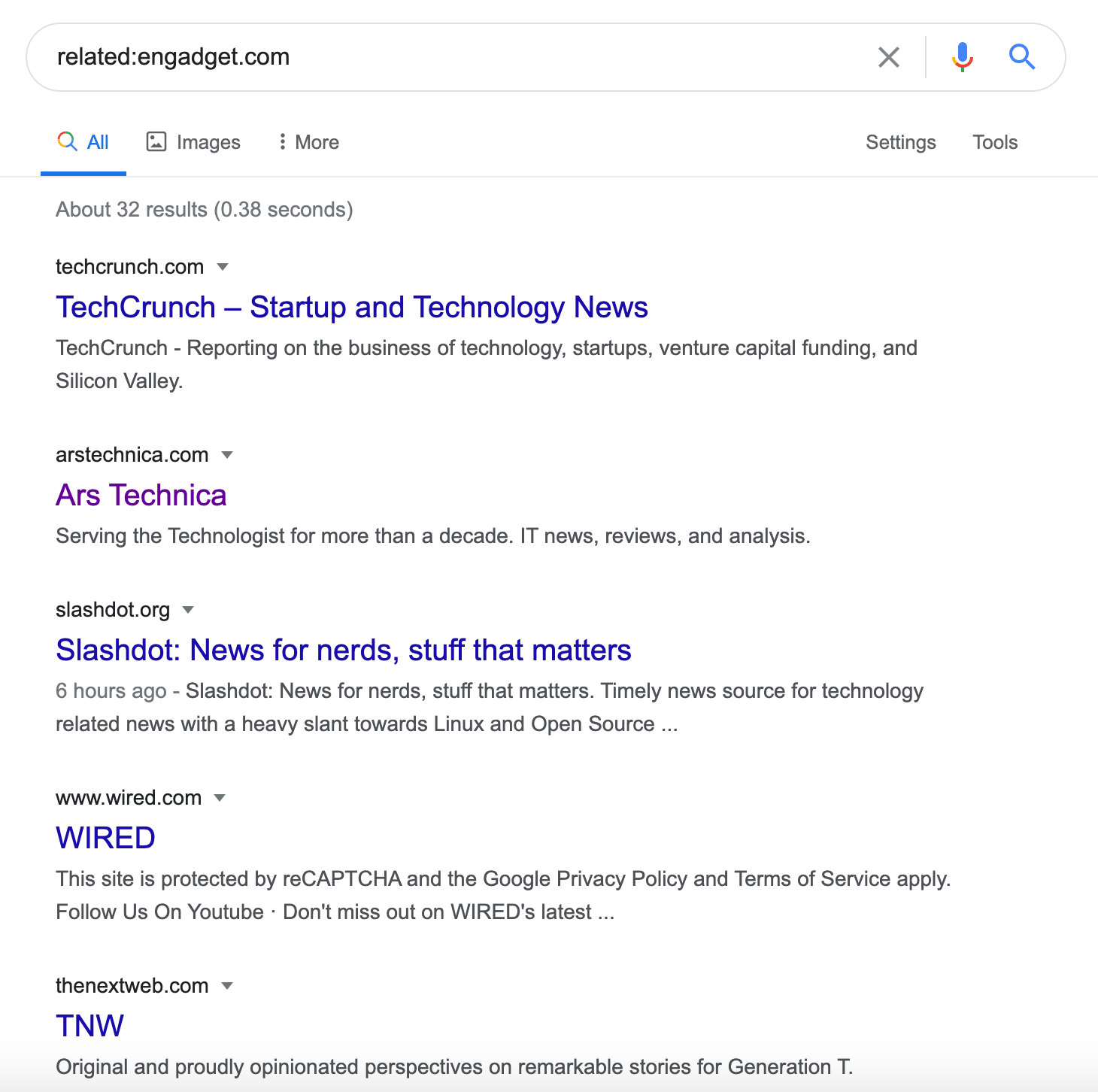 And we've only scratched the surface today. There are a ton of more advanced search operators that, if fast-tuned in various combinations, can significantly narrow down your search and extract the most relevant results from the rabbit hole of info. 
I'll leave you with this comprehensive blogpost from Ahrefs to get your toes deep into the multi-layered yet ironically labeled simple science called Google search! 
Because mastering Google search is mastering half of your PR campaign! 
This Week Testing! SparkToro
Let's be real. Market research can be notoriously hard. 
Traditional forms and interviews usually generate too few replies, setting aside the selection bias problem of self-reported data that is almost always inevitable. Still, in order to do great marketing, you need to understand your audience—where they spend time online, what they watch, who they listen to, or follow—to build a customer avatar that best resembles your potential buyers. 
Over the course of the previous weeks, we tested 2 great audience intelligence platforms—Quantcast and Clearbit. 
And this week, we are excited to get our hands on yet another top-notch audience intelligence software—SparkToro—to weigh their benefits and pitfalls against one another. 
Co-founded by the Wizard of Moz Rand Fishkin, SparkToro at its very core is a massive database of distinct profiles and their behaviors, aggregated by crawling billions of websites and social accounts online. 
You can type in your target audience in the search bar (say "architects") and you'll have the popular podcasts architects listen to, the websites they often visit, the keywords they use in their social bios and even the hashtags they borrow for their posts—all at your fingertips. You can even drill down your search to a specific geolocation. 
Sounds lucrative, doesn't it? 
But will SparkToro outperform the other two? What will some of its drawbacks be? And what are its benefits? 
Sign up to our newsletter to find out in this month's exclusive analysis we only share with our TCF community! 
——————
And this wraps up this week's Know How article!
Have you already used "Create event" on Gmail to set up a call with journalists in just a spur second? Timely response paired with clear communication is instrumental in landing great media coverage. Let your meeting invitation tackle both. 
Were you too surprised to discover the many view-through conversions that just slipped through the cracks? If not, be sure to check them out now! Your Google ad may be performing way better than you think! 
As you go about exploring the sea of Google search operators to fast-tune your search, don't forget to read our latest article on how our quarantined team of 80 crossed the seemingly unbelievable $1.5M mark within the final hours of the Pico campaign. 
And don't forget to sign up for our newsletter to know if SparkToro is worth a try! 
I'll see you next week!