Here's the painful truth about journalist outreach.
You may spend countless hours creating the perfect pitch, coming up with an irresistible subject line, writing the most compelling preheader to illuminate your cutting-edge idea, and… barely get any responses back.
When correlated to the pressing timeline of your live crowdfunding campaign, this ambiguous silence packs some grueling uncertainties.
Will I land an article before the clock strikes 12? Will I manage to get any conversions? Do they even like my product in the first place?!
The truth is there are hundreds of other people just like you racing after that one press mention. And in all fairness, sometimes they are no worse than you.
In order to build a relationship with the target audience and maintain it on a high level, Public Relations specialists use a variety of tools and techniques.
We've got so much to explore today!
Let's dive right in!
Improving the Relationship between a Journalist and PR Specialist
Slow Public Relations is about creating better relationships not one-time coverage.
Let's face it – without the human touch – your Public Relations campaign is going to fail regardless of technology and all the tools you use.
To create a better connection and communication with the journalists we are working with – Mary came up with a heart-warming and creative solution.
We send personalized cards on their special day!
Here's the how-to:
Create a spreadsheet, include the date of birth and a personalized message
Use a reminder add-on for the google sheets to schedule a reminder with the date and time you want (the tool will send you the reminder directly to your inbox.)
And if you want to add color and customize your congrats even further – you can use the Gmail templates extension to send beautiful and customizable templates.
Everything just to improve the partnership between you and the journalist!
MuckRack.com Beats
Sure you know this tool if you're a journalist or a Public Relations specialist.
MuckRack has an extensive media database allowing to search of the best journalists and articles.
It has a beat directory, after the discovery of which we lost our Public Relations specialist Lena for good in the endless lists of MuckRuck's topics, locations and cities.
For the quick identification of journalists, organized and categorized – MuckRack has a special team of editors who review all the articles and categorize the reporting.
This platform is awesome for establishing relationships solely from pitching and responding to inquiries.
And just like in HARO, you can set up media alerts to monitor your target niche.
PDF list summaries, Who shared feature, notes to track the interactions. Social shares.
MuckRack has become an important tool and a central part of our PR & outreach activities.
Feedly.com
Feedly.com — news feed aggregator — has jam-packed features to allow you to read a piece of content from any location on any device!
This is the go-to place where Mary, Artak and Lena follow certain blogs and journalists.
When it comes to keeping a finger on the pulse of latest updates, news and other web sources — nothing works better a RSS feed aggregator like Feedly.
Simply add webpages, publications, blogs, keywords, and Youtube channels to browse your preferred content.
The platform gives an ad-free reading experience!
Apart from its unique layout, different reading modes and gesture-enabled shortcuts — Feedly syncs smartphone and tablet and has Google Reader integration.
Looking for another useful online tool? Take a look at Crowdtangle.
The tool include a H.U.G.E. database of Facebook, Twitter, Pinterest and Reddit public posts and tweets.
And by huge I mean…
3m+ verified public Facebook pages, profiles and groups
1m public Instagram and Twitter accounts accordingly
And over 16k most popular subreddits.
And when I say Crowdtangle is the easiest way to keep track of what's happening on the social media landscape, I mean it!
Our Public Relations department utilized this tool to figure out which social accounts have shared our blogs, guest posts and campaign promotional posts.
More up in the sleeve!
See how often a link has been shared, who shared it and what they said.
Identify influencers and referral traffic source
View the impact a particular URL is having across the platforms
Find posts that were changed into a bit.ly or included a UTM code.
Discover how much public engagement was generated from the post or tweet that included your URL.
How to use Crowdtangle?
Open any URL and just click the extension icon. The tool will load all social referrals in order from highest to lowest engagement.
Panda 5 to source industry insights in one place
Whether you are a newbie digital marketer still hesitantly hopping around to find your niche or a high-caliber Public Relations specialist with years of experience, continuous learning is what would push you a step ahead of the curve.
And to ensure I am on top of the latest trends in PR, I use Panda 5!
Panda 5 is a simple free newsreader that allows discovering the best tools, resources, and inspiration in the world of design, marketing and tech from over 200+ news and inspiration sources. Download the extension on Chrome and set it as your new default homepage, so you'll never miss out on another email marketing strategy or an Instagram trend.
Add your favorite sources to your feed to get the latest articles and be among the first to discover the latest insights. Take it one step further and create bundles with specific topics, so you'll never lose track of the incoming information.
You can also bookmark articles and images to look up later.
Multicopy to copy up to 30 keywords at a time
While reading articles about Public Relations I usually find new keywords and phrases that I can make use of in the future when researching or pitching journalists.
For many years, my approach was to copy all new keywords, paste them in a Google sheet or a note extension and constantly refer back to and look up as I moved forward.
But this week's little discovery tool came to break this back-and-forth cycle.
It's called Multicopy. And the name says it all.
This Chrome extension lets you copy a multitude of keywords — up to 30 — at a time.
So next time when you do research, simply right click to find all your keywords saved and listed in the menu.
Nymeria Linked Extract to get journalists' emails in bulk
Nymeria is one of our favorite tools at The Crowdfunding Formula. It easily provides an email address from anyone's LinkedIn account by simply clicking on the extension icon.
Now Nymeria has a new automation tool that allows us to easily extract all profiles from a search result page and quickly look up the emails for all profiles. All you have to do is provide the LinkedIn profile URLs and the tool will automatically start extracting the email address of each.
Another reason why we love Nymeria is that it provides email addresses with very high accuracy in an affordable price range.
Slack Channels to develop partnerships with journalists
Besides being a great tool to keep the communication flow in the workplace, Slack is also a great solution for those seeking to build new connections with professionals in their spheres through Slack channels and communities.
As a Digital PR expert, I always need to stay on top of the latest Public Relations trends and make ties with journalists. Slack communities are one of the best ways to achieve this.
And to free yourself of the hassle of searching for Slack channels relevant to your work, I'd like to introduce you to slofile.com, a Slack community database with over 1,300 channels.
All you need to do is search for the topic you are interested in, find the channels you want to be part of and join them.
The example below shows a channel called World of Writers, a Slack community of writers, editors, and bloggers with 547 members who can easily become your partners in the future. To join, just enter your email address in the box or follow the link below.
This community has 11 public channels ranging from "copywriters" and "freelance-bloggers" to "contributors" and a dedicated section named "looking-for-work" to help job-seekers.
Once your request is approved you can start connecting with people you share similar interests with.
Happy networking!
Drive High-Converting Campaign Traffic Through Flipboard
With roughly 7.40 million monthly visits, Flipboard hardly needs any introduction. But let me give it a spin!
Flipboard is an all-in-one platform where people come to read the latest articles on topics they are interested in, published by journals they follow—from political issues to health all the way to business and technology trends.
Many journals have their individual boards inside Flipboard where they flip their daily articles as they come to light.
Let's take Forbes' board as an example!
Forbes created different boards named "Green Tech", "Working Remote", "Forbes Advisor" and many others, and every day they flip new articles onto the relevant boards.
Flipboard is one of the best ways to increase a magazine's readership and cultivate a highly-invested audience, explaining why almost every good magazine has an active flipboard!
That's the media angle.
But on the business angle too, FlipBoard harbors massive potential to increase the traffic on articles about your product and massively improve your sales. Just lately, I have created my own flipboard where I am posting the most intriguing and mind-blowing innovations in the crowdfunding space.

As you may know, I constantly land articles for TCF's crowdfunding campaigns as part of the tailored marketing strategy to drive conversion-prime traffic to the campaign page. And every time there is new coverage, I make sure to flip it to my "Kickstarter & Indiegogo Smashes" board and let my Flipboard audience know about it too!
To make the flipping a breeze, I use the +Flip it Chrome extension. While on an article, click on it and it will instantly bring all your boards on Flipboard to post the article onto the relevant one in just a matter of seconds.
While my flipboard was launched less than two weeks ago, I expect to significantly grow my following and make it a major traffic source to funnel in qualified prospects to our campaigns, and generate conversions! And all these at essentially no cost!
If you too want to stay on top of the boldest crowdfunding innovations, go ahead and follow my flipboard, so you'll see my articles on your personal board.
Give Yourself A Creative Reboot With Clear Mindmaps
While on a creative streak, ideas come just as fast as they leave. That's why during a team brainstorming, we often delegate a note-taker who will jot down all the ideas to make sure we don't miss out on the next masterstroke.
But a note-taker doesn't curate the inventive thought process. Their role is simply to document what often resembles just a messy creative pour. Especially if you are talking about a team of 80 vibrant and out-of-box thinkers. That's why we often wind up with millions of great ideas—scattered in an unorganized and unrelated fashion.
But this week I discovered a visual mind-mapping tool to help bring clarity to your thoughts right from the start.
Excellently simple, Coggle lets you set up a flowchart or a mind map in just a fraction of a minute. Break your thought process into little compartments and populate them with your ideas. Then easily create branches to illustrate their links, color them, and arrange them the way you envision them.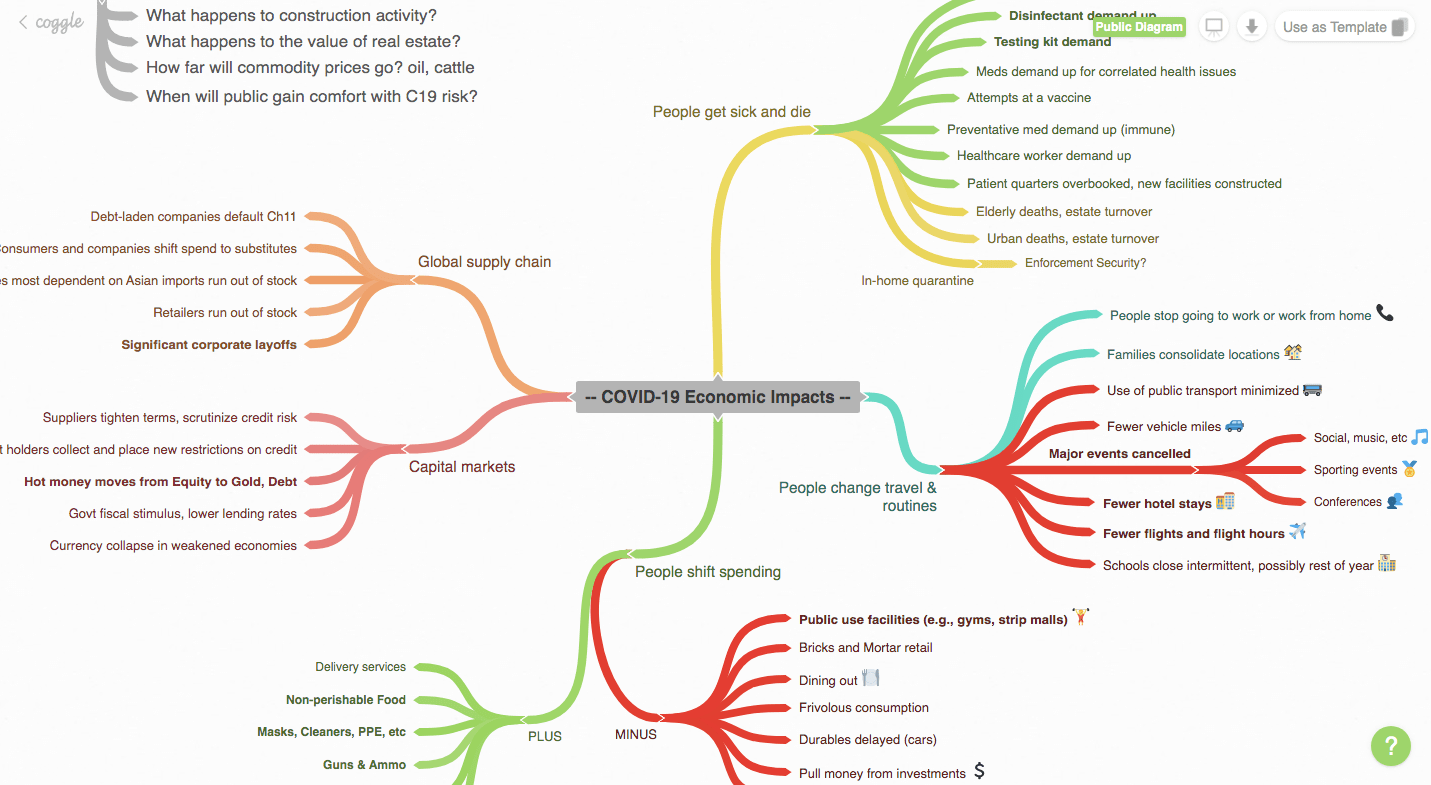 On days when you feel like you've hit a creative roadblock, browse the Coggle Gallery for a pinch of inspiration! And pick one of the diagrams to use as a template!
Another thing I absolutely love about Coggle is that, atop of sharing your diagram with teammates to brainstorm together, you can also discuss each other's ideas in real-time in the discussion window.
What's more, you can jazz up your coggles with some lively visuals too! Upload images and sprinkle in some icons and emojis to convey emotions, highlight things, and approve or reject concepts (after discussing in the discussion window, of course!).
Fuel your inner creative genius with clarity and map out all the ideas as they cross your mind.

Coveragebook.com – Find a better way to measure your PR success
Coveragebook.com is a cloud-based PR management & coverage report software, which minimizes the painstaking work of putting together a media clipbook to the bare zero.
Now, Public Relations professionals can build and share media coverage reports in a matter of minutes — saved from creating spreadsheet databases and hours of manual work.
Just insert the link, and the metrics will not only create a beautiful and compelling book but also give vital info-pack with online readership, coverage views, social media shares and average domain authority rate.
This tool also allows to save offline coverage in PDF format. Well, you won't get the metrics for this one, but that is to be expected.
Create A Storyline With Your Follow-Ups
Whether you are a novice about to set out on a bumpy PR ride or a seasoned PR guru, you likely know that in PR outreach follow-ups tend to pack a more powerful punch than the pitch.
At TCF's Public Relations department alone, roughly 35% of all journalists' responses come after the first follow-up message and often disproportionately fewer from the first pitch. And the reason behind this clearly defined response pattern is twofold.
Reminder: Journalists' inboxes are crammed with emails and getting lost among the noisy walls of lucrative content offers isn't hard at all. Especially if you use the same cookie-cutter approach to every follow up (which you, of course, shouldn't!) with absolutely no personal appeal.
It's fascinating how journalists are enthralled by even the tiniest moves that accentuate attributes of their personality—especially their name. And while both you and I (and the journalist too!) know it only takes a few quick automation twists in the email software, it acts like a magnet to attract and immediately submerge them into your story.
On one of the hashtags I follow on Twitter—#prpitches—used by journalists to publicly share their most nerve-wracking and riveting pitch experiences, a journalist tweeted how flattered she was to notice her name in the bitly link!
I told you personalization can go a long way.
There may be times when your pitch may just fail to convey the exclusivity of your content to evoke the journalists' curiosity. Overly lengthy narration, convoluted jargon, or just wrong timing may simply repel. It happens.
But if approached correctly, follow-ups are potent enough to recreate new impressions and offer a different lens to perceive your product through. If you think your pitch didn't capture your innovative feat, why don't you list out the main points in the follow-up with a new narration? This way, they won't even need to scroll up to read your original pitch.
Now, as you know the power of a strategic follow-up, let's dive into my this week's know how.
As I was getting ready for the launch of PomaBrush, an all-silicone minimalist electric toothbrush, I thought I'd reshuffle the good ol' follow-up game that was essentially a series of boring reminders.
"I wanted to follow up in case my previous message slipped through the cracks."
Or cutting right to the chase…
"Did you manage to read my previous email?"
And while both of them do accomplish the task, let's be fair—neither offers any additional value. And so, I decided to create a sequence of engaging facts about PomaBrush to share in each of my follow-up messages.
Some note-worthy product refinements PomaBrush creators have made, the design prize they won, and challenges they overcame as a newly launched startup in the over-saturated market.
Follow up 1
Follow up 2
Follow up 3
Besides serving as a reminder to revisit the initial pitch, each fact unlocks some valuable information, engaging journalists in a compelling storyline to discover PomaBrush from various touch points. You may also notice that each follow-up deliberately sets an expectation to receive another fact in the coming days.
If journalists are interested in PomaBrush, this sequence of short, sweet product peeks will definitely build up the hype, increasing the likelihood of getting coverage.
Clippings.me
To ALL PR specialists. You don't need to share your time between research and outreach anymore.
Clippings.me did it all for you. Online Portfolios of Journalists, Bloggers, and Writers.
Muck Rack Trends to Get Instant PR Reports on Any Term
When designing the Public Relations strategy of a new product, competitor research is usually where it all starts. Finding out the media outlets where our competitors get featured shows us possible coverage opportunities, and insights on how to position the product while pitching it to a journalist.
A filtered search on Google is, of course, an option. But who wants to spend heaps of time to find what may potentially turn out to be irrelevant.
Let's save it as a last resort.
Especially now, as Muck Rack made its Trends absolutely free!
Appropriately dubbed "Google Trends for PR Pros" by PR Week, Muck Rack Trends generates a comprehensive PR report on the term in a split second and illustrates the trend and its PR coverage over the pre-selected timeline.
Here's the past 7-day PR trajectory for Zoom:
Simply pop the term into the search bar, choose the time interval and go!
Similar to Google Trends, you can also include two or more search terms at once to project possible correlations and draw insights.
You can not only see the cumulative number of articles published over the set time period but also hover on your desired date to see the number of articles just for that day.
The report also features the list of Top Outlets that covered the product and Top Authors with their respective social media accounts.
Towards the end of the report, you'll also see a bar chart where all the Unique Outlets are illustrated along the timeline.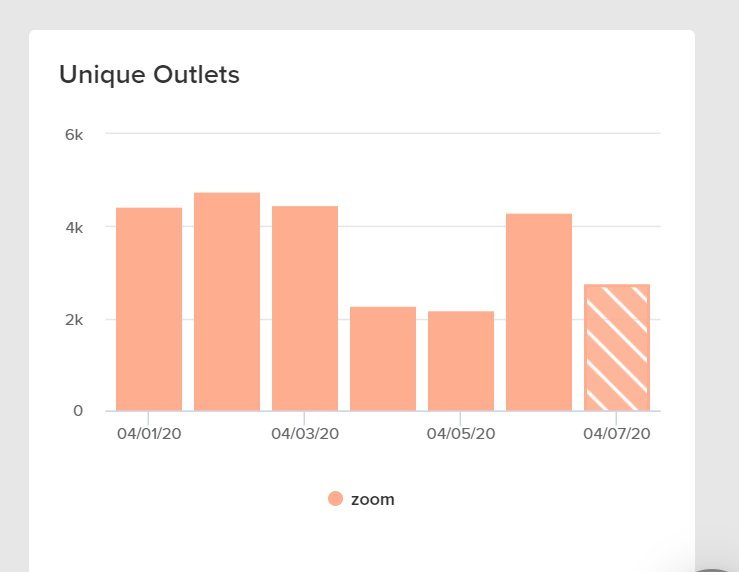 Muck Rack Trends is a goldmine of data-backed insights to tweak strategies and swiftly respond to the emerging trends in PR.
Give it a try now and let me know how you like it.
———————
Keep your eyes peeled for when our next Know How blog post rolls out to not miss another wonderful bundle of the coolest marketing tools and tactics.
Lastly, don't forget to check out our recent article on how to raise $50,000 by investing $0.
I'll see you in a week!