Hey Know-How fans,
Marketing is all about boosting your sales through implementing creative ideas.
It's also about keeping ahead of your competition.
And yes, that's not something easy.
But what if I tell you this week's know-hows can help you significantly step up your marketing and stand out from your competitors?
Our team has worked hard to bring the 100% tested strategies that have helped us achieve significant results.
Sona came up with 3 super effective strategies for earning karmas on Reddit to build credibility and be able to promote your product later. Hayarpi's super hack will allow you to get valuable insights into your competitor's visitors and target them in your ads. Serine has a special tool for you to protect your domain from damage while sending a large volume of emails. And last but not least, Van will tell you how you can use SMS marketing to skyrocket your results.
Ready for the hacking time?
Roll up your sleeves!
Influencer marketing: How to earn Reddit Karmas easily
Ads: How to target your competitors' visitors
PR: Prevent your domain from damage with Postmaster Tools
Sales: How to make SMS Marketing work for you
How to Earn Reddit Karmas Easily
By Sona Madoyan
Reddit is known as one of the biggest community platforms where members actively share, interact, discuss, recommend and search for solutions.
It has built its community over years based on the trust and ownership of its members, who strive to keep it really good. That is one of the reasons why no promotion or spam is allowed on Reddit.
Nevertheless, the platform can be a pure goldmine for brands to showcase their products as long as they have credible accounts to post on Reddit and not get banned or removed by moderators.
But how can you win Reddit's trust and create a credible account?
Well, through karmas.
No, no, I don't mean you should go into the Indian philosophy and start building up good karma (well, at least that won't affect your credibility on Reddit).
So-called karmas are points that you get on Reddit for sharing quality content, commenting and engaging in discussions, upvoting, and much more. The more karmas you earn, the more credible your account is.
Sounds pretty easy right?
The bad news is that you'll need to spend a huge amount of time on earning those karmas.
But there's also good news: You can go the easy way and just hack the system by posting the content that can bring lots of engagement!
Here are several tactics which helped me bring significant engagement and earn credibility:
Ask questions with easy answers. To do this, you should, of course, post your questions in relevant subreddits. For example, I asked the r/huskies community to help me choose a name for my new husky pup. The post gained really high engagement as pet parents are always willing to help with this kind of things. Plus, the question was super easy to answer!
Post relatable content. Relatable memes and humor are always on hype. For instance, I shared this design-related meme on r/designers subreddit:What do you think happened next? Lots of designers who had that kind of experience before started to upvote.
Ask for recommendations and advice. People love to express their viewpoints and show how smart they are. So why not give them an opportunity to do that and gain engagement for yourself?
Now guess how many karmas I earned after trying out these three strategies?
[…drum rolls…]
More than 800 karmas in only one day!
This gave me the privilege to post in subreddits that were unavailable for me before because of the lack of credibility.
How to Target your Competitors' Audience
Have you ever dreamt about having the traffic that your competitors have?
What if I tell you there is an option inside Google that gives you an opportunity to create this audience and target them directly?
Here's what you need to do:
From the Google Ads Menu direct yourself to the Audience Manager
Go to the Custom Audiences Section
Click "+".
After you click, you'll see a window offering to "Create custom audience".
Once your custom audience is created, go to the "people who browse websites similar to" option.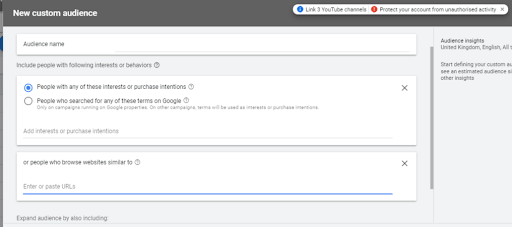 Here simply paste your competitor's webpage and you'll find some very interesting audience insights.
You can actually see the gender, age, and parental status of your competitor's audience, as well as the topics of interest to them. This will allow you to easily identify who their audience is.
Let's say in Intel's case you can identify that their age is from 18-24, the audience is male and they are interested in topics such as computer servers and computer processors.
And the coolest part?
You can create audiences from these insights to save and use them in Google Adwords.
Your competitor's audience is now yours!
Prevent your Domain from Damage with Postmaster Tools
If you have ever dealt with Public Relations, you will know that it involves sending large volumes of emails every day.
One of the biggest problems that may come up during that process is domain spam. To help you tackle this problem, Google offers its own native tool—Postmaster Tools. With it you can easily track the performance of the domain, see at which point the spam process starts and prevent your domain from damage.
To activate Postmaster Tools for your domain you simply need to:
Sign in to Postmaster Tools.
In the bottom right, click Add (+).
Enter your authentication domain

Click Next.
Verify your domain.
Postmaster Tools' dashboard will now show you all the information you need to know about your domain, including:
Spam Rate
IP Reputation
Domain Reputation
Feedback Loop
Authentication
Encryption
Delivery errors
This tool is indeed a must-have for people who are sending emails on a regular basis.
It indeed serves as a domain "ambulance", helping you instantly analyze the provided data and prevent your domain from further damages.
How to Make SMS Marketing Work for You
If you are reading this, you might be a marketer. Or maybe not.
Whatever your profession, you have definitely received plenty of SMSs which you never expected.
That's called SMS marketing, baby.
Now the question here is: Is SMS marketing dead or it's more alive than ever before?
The short answer is it's alive and pretty effective. But as long as you trust the company/person who sends you an SMS.
The thing is in this fast-changing world we all want to protect our privacy. Usually, we don't like the idea of providing companies or people our private phone numbers or email address. However, once we come to trust them, we eagerly surrender our privacy, providing them our personal information.
But how can you build trust and motivate your customers to provide you their phone numbers voluntarily?
Well, it's indeed simple: First, start communicating with your customers.
If you own a business, you definitely have customers who need your support. By simply answering their questions you will significantly improve the trust between you and them.
In my case, I do exactly the same but within the framework of crowdfunding campaigns.  During the campaigns, I communicate directly with our backers (in other words customers) by giving them weekly updates and answering their questions via live chats.
In doing this I use ManyChat, which is a Facebook messenger tool. Why ManyChat? Because it allows us to collect data about our warmest audience, make free or paid broadcasts, do email marketing campaigns, and so on.
But there's also another thing I do.
By creating a simple flow, I ask the most interested customers to provide their phone numbers and agree to receive an SMS about the product's features, promotions, or coupons.
Here's an example of such a flow you can use for your ManyChat:
With the above-shown flow, asking for your customers' phone numbers takes less than a minute.
The result?
35% of your customers will happily give their phone numbers to you (at least, that's what happened during one of our campaigns).
As SMS promotions have a 250% higher conversion rate than other types of promotions, we started digging in deeper and don't see the deepest point yet. One thing we saw after using this technique was increased click rates and rapid growth in customers engagement.
Thus, I think SMS marketing will never die as long as we text the people expecting to get an SMS from us. Of course, there will always be people who won't subscribe for promotions, but this will allow us to find the best apples out of our main audience.
______________________
This much for today, folks.
I hope this week's know-hows will come in handy in your work. Meanwhile, feel; free to drop your feedback, comments, or questions below. I'll be happy to answer all of them.
Until next time!