Speedy Innovations inspired by the need is the secret that pushes companies ahead of the curve. And the lack of it is why so few companies ever get there.
The spiking stream of innovation from social media has recently left all of us impressed.
Pinterest is now partnering up with Levi's to offer its homebound users personalized Boards with shoppable Pins. LinkedIn is rolling out an interview assessment tool to help candidates practice video interviews, as remote hiring and remote working are on the rise. Facebook is launching Messenger Rooms…
The bottom line? Now is the time to build momentum and get extra creative with your social media strategy while the hype is still in the air.
Besides learning how to create striking 3D Instagram Stories, find out why cutting an image in half isn't just a cool deed, discover a platform to find top-notch Instagram pages to feature your product for free (if you're outstanding enough!) and enjoy some curated nuggets of growth-hacking wisdom in this week's Know How article.
We are also testing Quantcast this week! Find out more at the end.
Let's dive right in.
4 Growth Hacking Tactics To Revamp Your Marketing Campaign
Let's start this week's Know How with 4 eye-opening growth hacking tactics by the world-renowned growth hacker Julian Shapiro.
Growth Tactic #1: Geo Rollouts & Influencer Repetition
While running an advertising campaign, it's common to target countries as a whole. But Julian Shapiro suggests you target just one location at a time—say San Francisco—instead of spreading all your advertising efforts over the entire US.
To amplify your visibility, you can also expand your ad channels to include Pinterest, Google Display, and other relevant social platforms. The same narrow geotargeting will harness a cumulative effect.
He also suggests an analog of this strategy tailored to Influencer Marketing. Repetitive posts squeezed over a short time period are more likely to inspire immediate action.
Growth Tactic #2: Cross-Targeting Between Different Channels
Different social media platforms harbor varying converting potential when it comes to different products. And this shouldn't be correlated to audience relevance on the platform.
The ad of your B2B software will likely garner a lot more impressions and signups on LinkedIn, than on Instagram or Facebook. However, most of your LinkedIn leads will hardly ever get halfway through your conversion funnel.
What Shapiro suggests is cross-targeting—to spend money on other platforms to generate leads. And later capture them through retargeting ads on Facebook and Instagram. In combination, these will have a significantly higher converting potential.
Growth Tactic #3: Pay for Views, Not Subscribers
This means exactly what it reads as.
You may find many micro-influencers on YouTube whose videos get a substantial number of views—well beyond what their subscriber base should indicate. It's probably because they talk about a hot, trending topic that resonates with the masses.
These are the influencers you want to partner up with! With their modest number of subscribers, they're also likely to charge you much less than their "popular" competition.
Growth Tactic # 4: How Gmail Decides What to Send to Spam
Whether you run an email marketing campaign or influencer outreach, you first need to make sure your prospects can see your email in their inbox—not disguised among the noisy promo of their spam folder.
For that, Gmail has released a robust set of guidelines that explicitly layout the steps you need to follow to ensure your emails don't land in people's spam folders.
Here are just some of the highlights articulated by Google:
Make sure your domain is authenticated
Turn on DKIM signing, and publish DMARC and SPF records
Send emails only to engaged users
Make sure users can confirm their subscription
Let users unsubscribe
Monitor senders who use your email service
Increase sending volume slowly
Format your messages for inbox delivery
Troubleshoot mail delivery problems
Hook Your Followers With Striking 3D Instagram Stories
Enveloped in a bubble, seeking outside entertainment has become comforting. Beautiful collages, brightly-lit faces, little chats in every corner… all these pack a powerful emotional punch to escape the gloominess of our boring #WorkFromHome days.
And you know our go-to. Social media!
In fact, Pinterest, Instagram, TikTok have shared record-high engagement on their platforms. The new, interactive features on the horizon are just more proof of their immense traction.
And if you look on the bright side, you'll realize you now have more time to engage your customers and approach new ones. To ensure your followers don't just scroll by you, here's how to entice your leads with an immersive AR experience.
Spark AR Studio is a piece of top-notch AR software developed by Facebook themselves, allowing marketers to create stunning filters. And they recently rolled out two new features to make more engaging 2D and 3D Instagram Stories.
How can your brand benefit from this?
In 3D, you can create different stickers, filters, and product models that showcase the exact look, size, and shape of your products. And for 2D objects, you can insert PNG pictures that will further customize your Instagram Stories.
We tried out the Spark AR 3D filters for one of our projects—Cheerble Board Game for cats. And here is how cool they look:
I would recommend everyone reading this post to try out Spark AR. Easily create striking product shots, hone your brand voice, and connect with and nurture your social media community.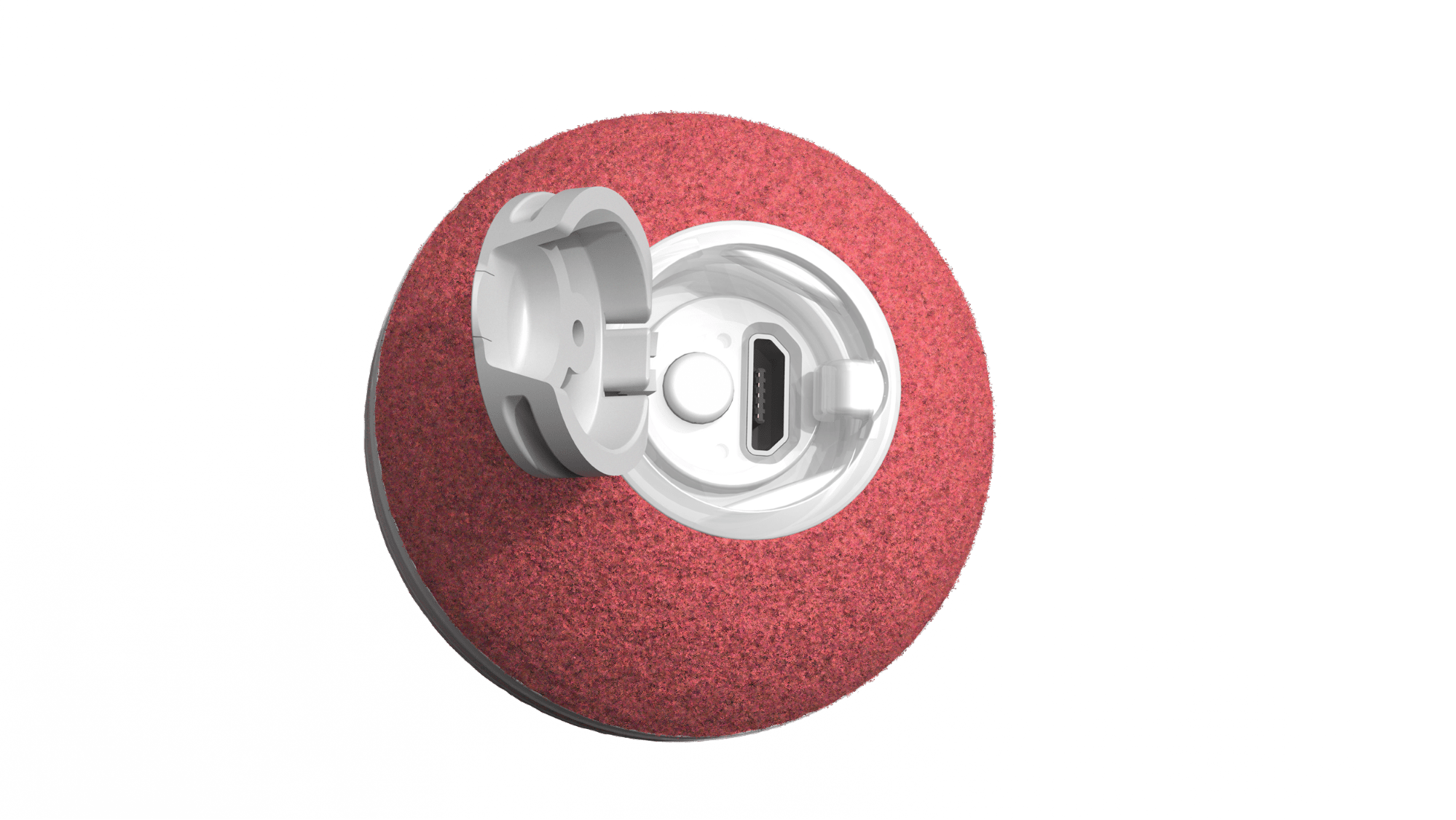 Cut Your Image In Half To Create Engaging Carousel Ads
I'll continue this week's trend about striking visual effects.
Looking for ways to supercharge your Facebook ads visuals and make them more appealing? Here's a simple yet cool idea!
Cut your product picture in half and create awesome carousel ads with your product spread across two images.
Many people are more inclined to make a purchase after going through carousel-type ads, so this eye-catchy addition will pique their curiosity even more. You'll stand a better chance of higher engagement and click-through rates.
Go beyond what's obvious! Reshuffle different background colors and ad texts in different permutations to see which one performs the best.
To get your creative juices flowing, here are some examples from our recent creations.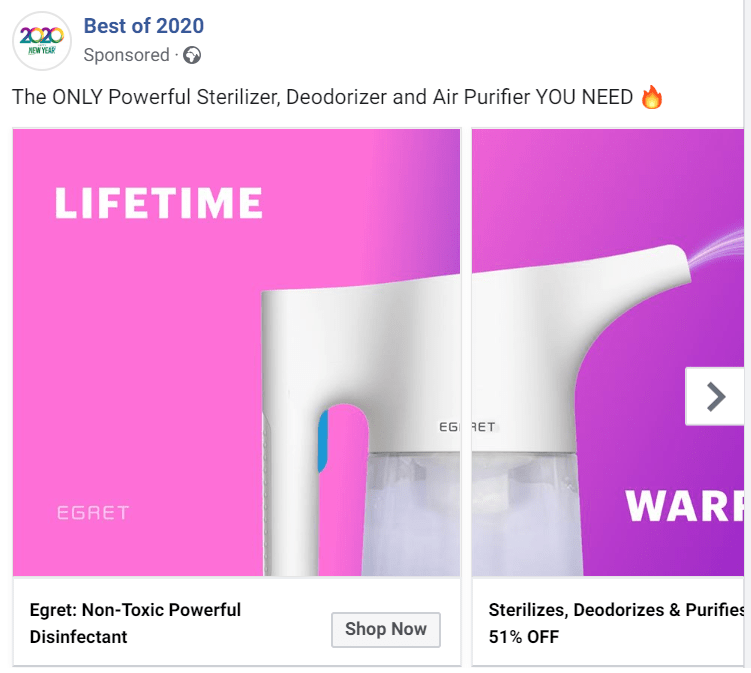 Find Pages With Content Submission to Get Featured For Free
By Sona Madoyan
They say the best things in life are free. A smile, a kind deed, a good night's sleep, and… of course, getting featured in the best media pages that accept content submissions!
While we struggle to get a high ROI while spending less on Influencer Marketing, media companies such as LADbible, ViralHog, Unilad, and BuzzFeed might feature you without even spending a penny. If you're outstanding enough to call their attention.
Once there, the stream of conversions and traffic you'll get will likely exceed your expectation—and even the results of the most expensive posts you have ever afforded.
Finding media companies with a wide follower base and content submission opportunities is no easy-feat! But look what a goldmine I hopped onto this week.
Searchmy.bio allows you to find profiles on Instagram by searching for keywords in their bios.
Most of the pages mentioned above have a link to submission in their bio with a call-to-action, somewhere along the lines of "Submit a video" or "Submit your story."
After popping different variations of call-to-actions and setting a minimum number of followers, Searchmy.bio will show you all the pages with submission opportunities in just a matter of seconds.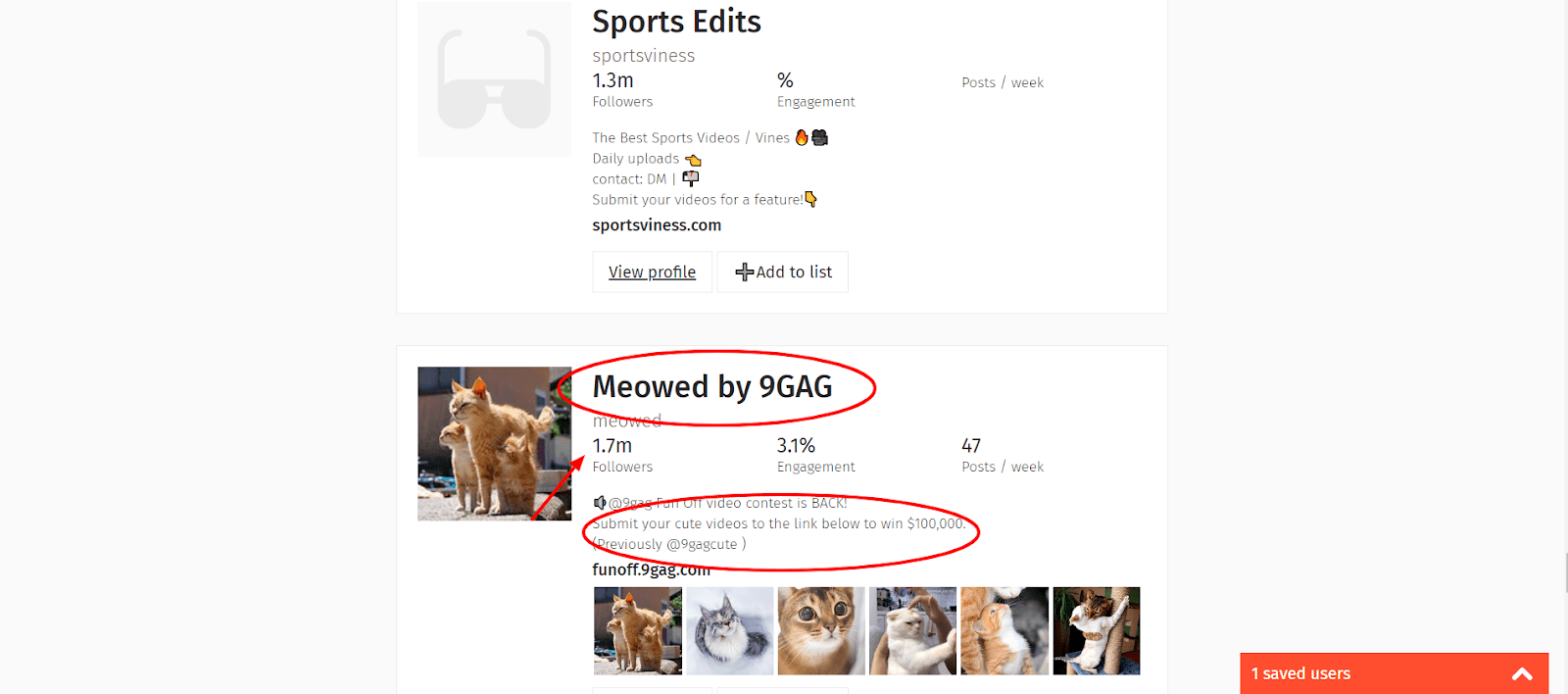 Another use case of Searchmy.bio is to find influencers on TikTok. Unlike other social media platforms, TikTok has fewer tools for research and automation, making it harder to find a relevant set of influencers than on any other platform.
My experience as an Influencer Marketing Expert shows that all big influencers on TikTok are also popular on Instagram. Because they have either become popular on Instagram through TikTok, or vice versa.
This means that the vast majority of them also have dropped the links to their TikTok pages in their bios. Hence, by searching for "TikTok" in Searchmybio and setting the right minimum number of followers, you'll jump onto hundreds of Instagram influencers with links to their TikTok accounts.
How cool is that? And easy as one, two, three.
Discover All The Ads In Your Niche In One Place
The Ad Library within Facebook is home to all the ads displayed on Facebook, Instagram, Messenger, and Audience Network overlays. But you have to navigate through quite a few steps before you reach there.
First, go to a Facebook page… then Page Transparency… and only then will you be able to get to the Ad Library…
And even after these, there's always a chance you'll be presented with some inactive ads.
Ads Library Helper is an extension that shows you all the ads, and makes them easily searchable via niche keywords. So you don't even have to have a cluster of relevant pages at hand to search for their ads one by one in Facebook's Ad Library.
The interface consists of 2 main parts—pages and ads.
In the Pages section, you can see in detail which category each page falls into, the top 3 countries it targets, the number of active ads, and the likes they got. This saves you time scouring through a page's Ad Library, just to find any active ads they're currently running.
In the Ads section, you can see the number of duplicates, impressions, and the cost of an ad. The last two are still being developed. The duplicate stats is what I mostly use, as it helps to understand which creatives work best for a particular page.
Long story short—this magic extension will help you get in-depth insights for all your niche ads—all in one place.
Testing This Week: Quantcast!
Quantcast is the largest AI-driven audience behavior platform. With over 100 million web and mobile destinations, it offers a suite of audience insights that allow marketers to execute targeted advertising campaigns. It even fuels the growth of world-renowned brands such as IKEA, Forbes, and Yelp.
Behind the Quantcast Intelligence Cloud is data architecture built and compiled over a decade. It is, in fact, one of the top 5 data processors in the world, right on the heels of Google and Facebook.
This week we are going to use Quantcast's audience insights to hone the targeting of our ads.
If you are curious to know what results it brought, make sure to subscribe as we'll share the step-by-step process in next week's newsletter.
———
This wraps up this week's Know How!
Have you already used Spark AR to create stunning 3D Instagram Stories of your product? Facebook's recent acquisitions of AR companies are gradually coming to the scene! Yay!
What about Searchmybio? With TikTok building momentum in rip-roaring speed, it's high time you banded up with some targeted influencers to supercharge your marketing campaign.
And as you head out armed with these fresh insights, don't forget to also bookmark our most comprehensive 131 tips to raise 7-figure amounts on your crowdfunding campaign.
Don't forget to subscribe and discover how Quantcast audience insights influenced our ads' performance in next week's newsletter.
I'll see you in a week!