Hey Know-Howers!
Let's face it. We all love doing things the easy way.
This is a global truth for all of us.
Control+C and Control+V instead of the boring copy and paste command from the drop-down menu. 2moro and OMG instead of typing the lengthy "tomorrow" and "Oh my God." Docs.new instead of going to Google Docs and creating a new doc. And a lot more. Ring a bell?
Well, making things technically simple for yourself is already pretty cool. Saves you lots of time and nerves too. Now imagine doing this favor to your backers by helping them get closer to your product more easily.
I assure you they will thank you with lots of conversions and give you a million reasons to smile. But how can you do this?
That's exactly what our Know-How superheroes Danniel, Nazeli, and Anna are going to tell you in this Know How.
But that's not all.
At the very end of the article, we have a very special bonus Know How from our very special Jeppe, just for you!
Ready for some powerful hacks and tools?
Let's jump in!
Email marketing:
Make it Easy for People to Reply
Kickstarter:
Tell Your Backers about Major Updates Using Kickstarter Status
Email marketing:
Increase Your Open Rates with Gamified Emails
Lifelong learning:
Get Smarter with Your Leadership Coach in Your Pocket
Make it Easy for People to Reply
One of the surest and strongest methods to ensure email deliverability is responses. Sure, open rates and click rates help. But all email providers understand that if people receiving your emails are responding to them, they must be engaging and relevant — and should be appearing in people's inboxes!
The typical thing you'll find in email marketing and newsletters is asking subscribers to "reply to this email":

And while this works, it's too much effort. Especially for simple things.
The person needs to find the reply button — Special Tip: in Gmail, just press 'R' to reply — write their reply, then move their mouse over to the send button, and press it — or press Ctrl + Enter.
Doesn't sound like much.
But at every step on that journey people are wondering, "Is this really worth it?"
And with every new motion, you lose a few more respondents.
So what can you do to speed this up?
You must have seen these types of mailto links: mailto:[email protected]. Right? You click on it, and it automatically opens a compose window on your system's default email client, ready for you to type out an email and send it.
So, already we see that we can make that journey a little easier by hyperlinking the "reply to this email" text with a mailto address. No thinking required!
Just click on the text you're reading at the moment, type out your message and send!
Great, that's step one!
What if you know the answers you want them to give?

Now the person needs to go through the whole reply process again… AND remember the wording of what you want them to say. Or they could just say 1 or 2, but experience shows you'll get a mix.
Turns out, the mailto links are more malleable than we give them credit for!
Just like UTMs used to track your links through Google Analytics, there are URL parameters you can add to mailto links to prefill the emails with certain text:
mailto:[email protected]?subject=XXXX&body=YYYY&cc=ZZZZ&bcc=0000
Let's break it down:
subject=XXXX — switch out XXXX for your prefilled subject line
body=YYYY — switch out YYYY for your prefilled body text
cc=ZZZZ — add any CC emails instead of the ZZZZ
bcc=0000 — likewise for BCC emails
How can we use this in our emails?
Each button includes a mailto link:
mailto:[email protected]?subject=AI&body=1
mailto:[email protected]?subject=AI&body=2
Done!
You could also use this to replace the "Reply Yes" confirmation message that we broke down in one of our previous Know Hows.
Tell Your Backers about Major Updates Using Kickstarter Status
What is a Kickstarter status?
Did you know Kickstarter backers can check out your project's status without having to go over your entire campaign page?
Kickstarter project status is basically a shorter version of a project update. But unlike lengthy project updates, which allow embedding audio, video, and images, project status is a quick capture of your campaign's progress.
It's really easy for visitors of your project page to digest: simply write a short statement to let your backers know what you're working on, and what your next milestone is. That's it. You can also select a date to let them know when you plan to start a certain action, say the production.
These brief updates can actually cover any new phase within the production journey, whether it be a major step or simply a smaller task. They can also be used to let your backers know what point you are at with fulfilling rewards.
Generally, I recommend that you use the associated date feature to give your backers a better sense of when they should check in next, or when they can expect to hear from you again.
Note: This feature is currently only available for projects in the Design & Technology categories.
Do project statuses replace project updates?
The short answer is no.
Even if you're using the project status, we still encourage you to maintain a monthly cadence of your project updates. One reason for this is that long updates deliver more detailed, media-rich, behind-the-scenes snapshots of your project in them. And another reason is that they are indeed necessary to keep your backers in the loop of all the details of your project.
Unlike project updates, the project status feature provides a more lightweight look at your project's progress. Also, you can update it more frequently—something we usually don't do with longer project updates.
Are backers notified of status updates?
No, a status will only appear on the project page. It's neither sent to backers via email nor appears in their activity feed.
How do I set a status on my project?
First, ensure that you have opted in by making sure that the top left corner of the status update area reads "Sharing on project page".

You'll see the expanded module on your project page along with a pencil icon.
Click the pencil icon and fill out both the Now and Next text boxes with 100 characters or less.

Pick a date for when you plan on starting your Next work.

Click the Publish button in the upper right-hand corner of the editing area. Your new status will refresh and appear on your project page.

How do I opt out of this feature?
If you don't want to use the status tool, you can hide it from your project at any time. What you need to do is to click on "Sharing on project page". It will immediately change to "Hiding on project page" and remove the status bar from your project page.
But it's never late to change your mind: Restoring the feature is as easy as removing it! Simply click on "Hiding on project page" and it will change back to "Sharing on project page". 
Now you can enter and publish a new project status.
Your backers will appreciate this short yet capturing way of communication that Kickstarter offers!
Increase Your Open Rates with Gamified Emails
One of the most remarkable ways to get your message in front of potential backers or customers is Email Marketing.
But with about 120 emails delivered to our inboxes every day, getting someone to read your email can be quite a challenge. Things become even more complicated when you're trying to sell your product to them. What's more, your chances to do this are close to zero if your subscribers never replied to or opened any of your previous emails.
But what if I told you there is a small hack that'll make people WANT and look FORWARD TO reading your emails?
Yes, you read it right: you can motivate your subscribers to open and read your emails. How? By applying GAMIFICATION elements!
Gamification is the process of applying game experience to your emails: this may include competitions, quizzes, tests, puzzles, and more.
And that's what this know-how is all about.
During our GigaDrive project—which is the world's fastest ever external SSD—we finally tested the gamification strategy in our email marketing.
Overall, to have a killer email, you need to have a few must-have components like the introduction, body, CTA, signature, etc., as well as some good-to-have ones such as the P.S. section, photos, videos, etc. And to turn your killer email into a super killer one, you can use one of those components for gamification purposes. For instance, in the strategy which I describe below, I used gamification in one of those good-to-have components—the P.S. section.
Throughout the entire live campaign, I sent about 14 emails to our subscribers, including the P.S. section in only three of them.
And now the most interesting part.
Each P.S. section included part of a sentence (We…have a…special offer for you!).
The subscribers had to follow all the emails received to be able to find and put parts of the sentence into one and send it to our team. The reward for the correct answer was a special offer.
After sending all the emails, I sent the final one a few days before the end of the official live campaign, covering all the instructions.
Here's how the email looked:
Only 9 out of 184 subscribers whom I segmented for testing the strategy replied to the email. But the gamification element increased the open rate by 1.21% on average, resulting in conversions not only through the secret gamification URL but also through other emails.
Gamification has been applied to many aspects of business, but email marketing hasn't always been one of them. That's why our copywriting department decided to test it out on GigaDrive and see how it works. And as you can see it did work and can be developed even further to become something bigger and more impactful.
I'm not saying every company should rush to integrate gamification into all their email newsletters. After all, there are more factors involved here than just adding some badges and leaderboards: your product is key too! But if you still want to give it a try without spending any money, you'd better do so.
And now…ta-daaa….
Bonus Know How
Get smarter with your leadership coach in your pocket
Have you ever found yourself in need of a good piece of advice?
How cool would that be to have someone by your side who would mentor you?
Someone who would help you grow and develop?
Yes, all of us often feel the need for mentors and leaders, who would help us become better versions of ourselves.
But the thing is they can't always be around to help us with their advice. Of course, books or articles could be another source of knowledge from "paper coaches" but reading them sometimes takes too much time.
Fortunately, AI has stepped in to make our coaches available for us 24/7.
Thanks to a new tool—Bunch.ai—now you can equip yourself with the most required leadership skills every single day!
This free AI leadership coach for your phone brings inspiring and meaningful lessons from leaders around the world right home to you.

And the coolest part?
It condenses those lessons into digestible and actionable tips based on your leadership profile. Meaning, all you need to do is to find your leadership category based on your strengths and weaknesses. The tool then identifies the things that you find hard and gives you corresponding tips based on this.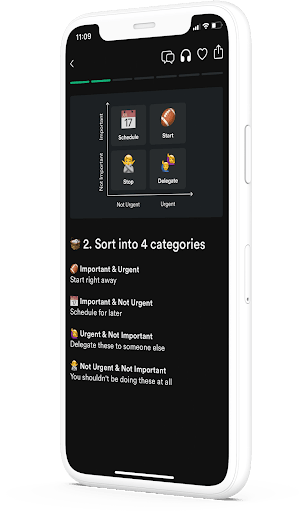 This is like choosing the right coach to suit exactly your needs through personalized content!
And that coach is also a pretty attentive one: You can track your progress live any time, knowing the team behind the app are pretty serious about this.
Now your daily dose of inspiration and tips is guaranteed.
In fact, I've been using Bunch for over 4 months already. During this time I could really find actionable and helpful tips for my leadership profile.
________________________________________________
That's it for today, folks!
As always, we're happy to share with you our weekly findings so you can develop faster, promote your product more creatively and stand out from your competition.
Now that you know how to make your backers' life easier, time to take practical steps. Start with adding the mailto link to your emails and get showered by your subscribers' responses. Also, make sure you use Kickstarter Status to quickly give your backers an idea about your project's status and a motivation to back your product. Besides, don't forget to breathe new life into your email marketing with gamification elements. This will get you high open rates and high engagement, as this makes emails simply irresistible to open.
And if you're a lifelong learner like me, I guess you're already installing Bunch.ai to become a better leader every day with your new AI coach!
Now that I'm writing the last lines of this blog article, I'm already thinking about you, your opinion, and the questions you might have. So do feel free to comment below, share your opinion about today's hacks and tools, and, of course, ask me any questions. I'll be happy to answer 'em all.
See you next time!
P.S. Don't forget to check out our previous Know How: Know How: Have AI write all of your future copy!