Ready to grow your business and want to do it fast?
There are a lot of growth tools and apps to help you reach your goals.
Do you know which are the most useful?
We've done the hard work for you – gathered all the essential LinkedIn tips and tricks to help you scale up your business strategies at every stage of your growth funnel.
We have highlighted all the necessary tools and strategies out there to put you on the path of growth and success.
These LinkedIn tips and tricks will give you new opportunities in your marketing campaign – and hopefully will make your work a lot easier!
Linkedin article metrics
LinkedIn is all about relationship building and one of the best ways to build a relationship with your connections is… articles!
Linkedin encourages to share your articles and considers them as valuable content (and you as an authority on that topic), if posted regularly.
For marketers looking for a medium to leverage social media – posting Linkedin long-from articles should be a top priority.
Adding a visual element – as graphics or images will give additional benefit to your post.
Of course, there is no surefire way to get featured by Linkedin Pulse – but good quality content with early traffic and high engagement rate is key.
Wiza.co
A big shout-out to the research and outreach specialists!
Wiza.co combined with LinkedIn Sales Navigator creates real outreach magic.
With the 100s of verified email lists within minutes – your outreach campaign or lead generation will become a breeze!
The tool is integrated into the Sales Navigator from where you can export emails that are ready for outreach with Wiza or download the list as a CSV file.
Simple and intuitive. Speedy data scraper. Business email with 100% validation a click away.
Install Wiza extension to get started!
Skill qualification from LinkedIn
LinkedIn – the job-oriented social media platform has unveiled a new feature rolling out to ascertain the level of users' skills on its platform.
Data shows that the solid 70% of the professionals prefer verified skills over college degrees so they could stand out amongst other candidates.
With the 70% scores, you can verify your skills on your account using the skill assessment tool and match up with compatible job opportunities easier and much faster.
The exams – created by the subject area experts – are short tests with multiple choice, which cover 75 different skills in English – for free.
Here's the LinkedIn top skills list if you want to revamp your account.
SalesQL.com
Looking to extract emails from LinkedIn profiles… for free? We meet again.
We recommend using SalesQL extension to solve this problem!
With salesQL.com list building is much easier and contact information accuracy is 100%!
It's the one and only tool, which provides both personal and business emails of 100 free credits.
From the Linkedin site, the built-in email classifier shows the person, type of the email( personal, main job), past experience, skills, the company, social networks.
Saves and organizes contacts into lists!
Gives verified and updated emails
Saves full profiles into your own projects
Linkedin Hack
How to massage people without being connected or having a premium account on LinkedIn?
Find groups where that specific person is a member of, join that group, search that particular person within the group and voila — you can text them without being connected to them.
Phantombuster LinkedIn Message Sender
Every PR specialist knows the struggle of pitching journalists on Linkedin. Sending connections, waiting for them to accept and then pitching them one by one…
This takes a lot of time, and automating the process can save you a lot of energy.
There is a great variety of tools for LinkedIn automations nowadays but the question is whether they are reliable. LinkedIn is particularly strict with third party sites and can block your account permanently if it catches you constantly using such tools.

So think twice before clicking on the first tool that comes up in search results. Better yet, eliminate the guesswork in the process and take my advice ????
You may already be familiar with Phantombuster from our previous article. It is a code-free automation and data extraction platform with various APIs for different social media platforms.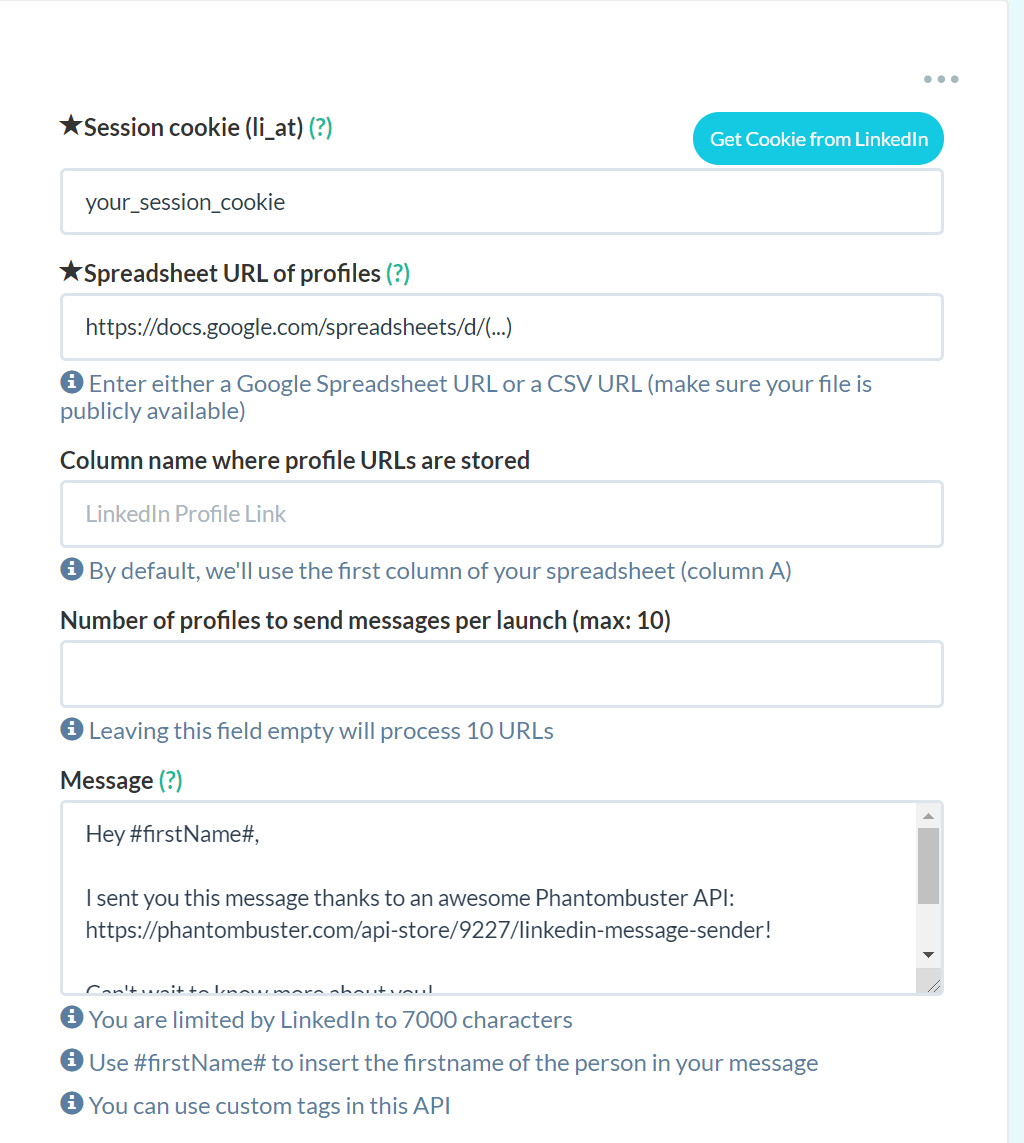 To access the LinkedIn automation tool, simply sign up, go to the API store and pick the "LinkedIn Message Sender" API from the list.
Phantombuster also personalizes your LinkedIn messages by automatically picking the journalist's first name, thus increasing the likelihood of getting a reply.
Make Connections Through LinkedIn Polls
I don't know about you but I personally find any types of polls on social media very engaging. I engage with them all regardless of the topic.
It takes less than a few seconds to read the question and choose an option—yet it gives me a sense of contributing to something. Whether it's a poll about how short someone should cut their hair or a mini-survey by a company that is collecting vital information from their followers. People. Love. Participating.
It was only fair that LinkedIn would eventually introduce its own polls too. It only takes about 30 seconds to make one. All you have to do to use it for your own personal branding or your company is: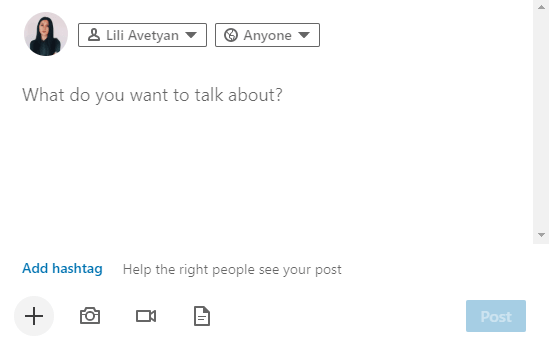 Create a new post like you normally would
Tap the little + sign
Choose "Create a poll" from the dropdown
Write your question and set the options people can choose from. You can add up to 4 options
And choose the duration of your poll. Unlike Instagram story polls that are available for only 24 hours, on LinkedIn you can have your poll active for 1 day, 3 days, 1 week, and 2 weeks.
LinkedIn polls are an amazing way to boost your engagement and reach a wider network. Not only will people interact with your post more, thus increasing its visibility, but you will also get enormous value from your professional network, industry representatives, and more.
Send Direct Messages To People on LinkedIn You Aren't Yet Connected With
LinkedIn Sales Navigator has so many helpful features and filters that it can be overwhelming to try and use them all. One thing I found extremely helpful yet underrated is the "Share experiences with you" section in the Sales Navigator search results.
When you search, the Sales Navigator returns hundreds of thousands of results. Not only can you narrow down your search by using all the filters and boolean operators, but you can also see them in distinct, very helpful, categories—who changed their job in the last 3 months, who was mentioned in the news, etc.
But there's one category most people ignore—the "Share experiences with you."
And the reason it's so overlooked is that many people still don't know how to lever it to their advantage.
When you click on this, it presents only those people who are in the same LinkedIn groups as you. If you're wondering why you need that information, then you probably haven't yet discovered one of the coolest LinkedIn hacks out there.
Let me save yourself a couple of tiresome hours of searching, and roll it out right away.
If a LinkedIn member and you are members of the same group, you can always send them a direct message without having to be connected to them. You will simply need to:
Go to that group
Go to the members' section
Know How TCF
Search the person in the search bar of the members' list
Find them and send them a direct message without connecting.
There are a couple of benefits to using this hack:
The Sales Navigator gives you only 20, 30, or 50 InMails. With this option, you don't have any limitations.
And most importantly, you no longer have to send bulk connection invites and wait till they accept to get in touch.
The "Share experiences with you" option on Sales Navigator combined with messaging mutual group members is the fastest way to start a conversation with your potential leads and partners.
LinkedIn Growth Hackers Group to Brand Yourself
A secret to none, LinkedIn anchors massive potential to increase your visibility, enhance your network and facilitate a jump forward along your career ladder. But tapping into it is no easy feat.
With the delivery of relevant and interesting content at its core, the introduction of LinkedIn's newsfeed algorithm in 2017 gave easy virality to masses. But since late 2019 and early 2020, organic reach on LinkedIn has been steadily plummeting.
That being said, there are still a handful of factors you can influence to increase your odds of achieving greater visibility.
Posts that receive engagement within minutes after they've been published are far more likely to enjoy greater organic reach. So are the posts made by users with strong LinkedIn profiles with many skill endorsements and recommendations.
But how can you possibly get people to endorse your skills? Or, even harder, ensure an influx of users to your post and land engagement?
Here's where LinkedIn Growth Hackers come to hand!
A support pool of savvy LinkedIn growth hackers united in a Facebook group where they share knowledge, skills and offer help with LinkedIn-related activities.
So the next time you find yourself looking for some post engagement, skill endorsements or recommendations, LinkedIn Growth Hackers will have you covered.
The good thing is there are no monetary expectations involved. The only expectation is the mutuality of these favors. So if people endorse your skills, be ready to endorse theirs too. Or write a meaningful comment under their posts.
On top of all these benefits, you'll also get the latest tricks and hacks LinkedIn growth hackers use to beat LinkedIn at its own game and land great visibility for their profiles.
Beyond mutual LinkedIn support, use it to grow your professional network. Among the current 6,000+ members, you'll likely spot some remarkable experts and like-minded peers to share your professional aspirations with.
Phantombuster LinkedIn Templates To Streamline Your Workflow
Phantombuster is one of TCF's favorite tools. It streamlines repetitive routines into a handful of synchronized automations.
Among the many updates, they have introduced recently is the new LinkedIn prospecting automation, which will be your holy grail to expedite the tedious LinkedIn workflow. While the tool is still in beta testing, it already gives a sneak-peak into its superb capabilities.
Let's walk through it together.
Step 1.
First, identify who you'd like to connect with on LinkedIn. Let's imagine we are looking for growth hackers in the US.
Step 2.
Pop your key phrase into LinkedIn's search bar, apply the location filter and wait a second while LinkedIn generates all the relevant profiles.
If you were anything like me, you'd start wading through the thousands of results and copy the individual profile links of who may be deemed as promising prospects. But with Phantombuster's new automation, you can export all the results, fuss-free.
Step 3.
Just copy the URL of your LinkedIn search into Search Export Phantom to generate a CSV link.fgv


Step 4.
Once the link is generated, drop it in the CSV Links column, next to the Search Export Phantom.

And voila! It will migrate all the LinkedIn results into a spreadsheet and neatly lay out all your prospects' first and last names and profile links in the respective columns.
But that's not all. With just a few additional configurations, you can periodically update your extracted list of leads in the spreadsheet too. Set the Search Export Phantom to launch over a predefined interval (i.e. once in two weeks) to scrape a new, complete set of leads with your search query. And, since there will likely be a significant overlap with your current results—remove duplicates. This way you won't have to go through the first 4 steps ever again just to ensure you haven't missed potential partners who just optimized their LinkedIn profiles.
Step 5.
Use the LinkedIn Network Booster Phantom to send connection requests to your leads.
To not look spammy and have my profile removed from LinkedIn, I set up the Phantom to send only up to 60 connection requests a day—6 times per day, with 10 requests each time.
Copy the URL of the spreadsheet in the Invitation Sent Phantom in Phantombuster to generate a CSV link. Then drop it in the CSV Links column of your spreadsheet, next to the Invitations Sent, and it will automatically update the status of your invitations in the spreadsheet every time the Phantom is launched (remember you've set it up to launch 6 times a day?).
Now hang in there a little or read our latest article on Digital PR Trends in 2020 before people start accepting your connection requests.
Step 6.
Set up LinkedIn Contacts Extractor Phantom to identify who has accepted your connection request.
My advice is to set Contract Extractor to receive updates on your status several times throughout the day.
As your leads gradually become your connections, don't leave them hanging.
Step 7.
Use LinkedIn Message Sender Phantom to send them an introduction message.
It's the same exact sequence, so we won't go through it again. You can view the status of your outreach in the Follow-up Sent column of your spreadsheet.
In Phantombustor's spreadsheet, you can also track the number of your potential leads, invitations, and connection requests accepted and the number of messages that followed—-all in real-time.
Here's what your template will look like at the end of the day. So you can follow the results and automate your entire LinkedIn prospecting workflow seamlessly with just a few steps within one intuitive interface.
LinkedIn hack
If your Linkedin profile doesn't show it, it doesn't matter if you're a world-class wordsmith or a literary genius.
Remove your job title completely from your LinkedIn bio and add a 1 sentence heavy with keywords about who you are and what you can do for people.
In this way, you will grab more attention.
Linkedin anonymous browsing
Ever wished to browse other people's Linkedin profile anonymously?
There are 3 ways to set profile viewing options.
Your name and headline
Private profile characteristics
Private or anonymous mode
Basic Linkedin accounts:
If you have the free Linkedin account, and choose "private mode" viewing option, Linkedin won't let you see who's viewed your profile either.
Premium Linkedin accounts:
With Premium account, however, you can browse in private mode yet still see the list of people who viewed your profile in the last 90 days.
But Linkedlin respects the anonymous mode, so those with Premium account still can't view the names of private mode viewers.
This is a very useful tool if you are:
just beginning to find your way on LinkedIn
researching other people's profiles to help write yours
researching potential clients, employers, sales leads or business partners
To change your browsing mode:
Click the Me icon.
Select Settings & Privacy from the menu.
Click the Privacy tab at the top of the page.
Find How others see your LinkedIn activity section.
Click Change next to Profile viewing options.
Select the mode you'd like to browse in.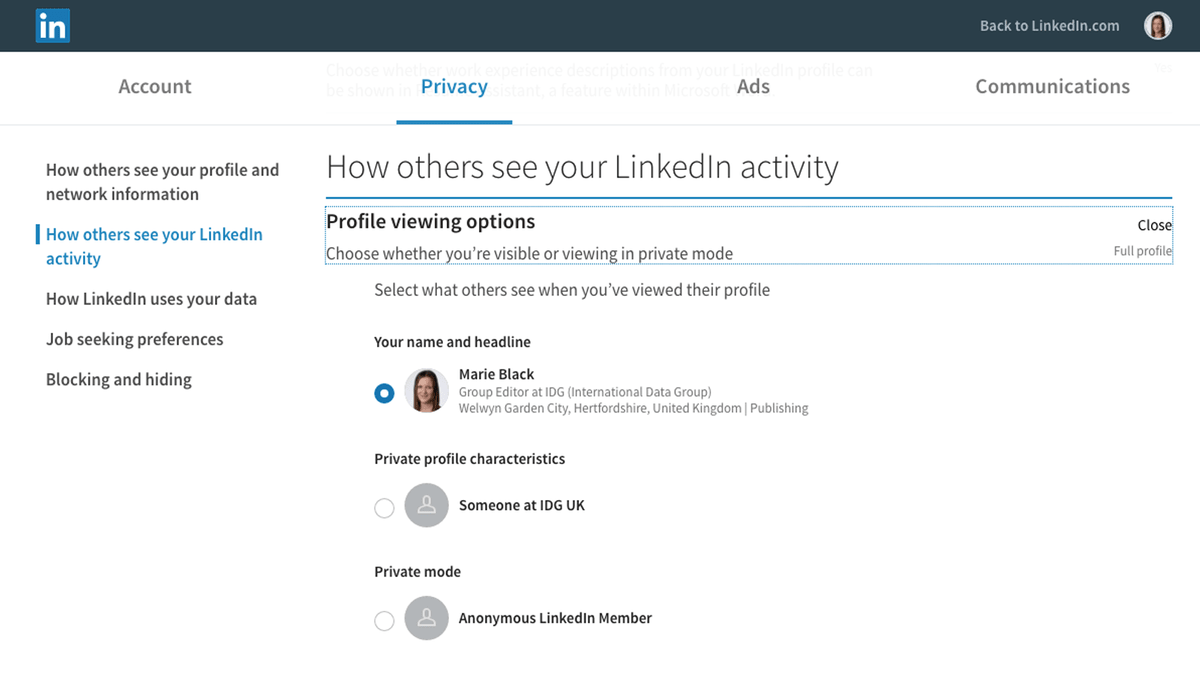 Linkedin content levels
According to new study, Linkedin is almost three times more effective in lead generation than Facebook and Twitter combined
So how to take advantage of this fact?
Let's discuss how you can take your Linkedin profile to the next level by optimizing your posts.
Firstly, the Linkedin algorithm classifies your content info 3 main categories:
Spam
Low quality
Good to go
When you publish your content, Linkedin sends it to your 1st-degree connections, where your post is displayed temporarily.
High engagement ratio will determine whether the post is spammy or not.
If no, the bot sends it to your 2nd-degree connections within 9 hours.
And level 3: where your 3rd-degree connections get your content after a thorough review at LinkedIn HQ. Your Post, edited by Linkedin HQ if necessary, appears to your 3rd-degree connections and other channels in the next 24 or 36 hours.
Things to do, in order to have good quality content shares:
Unlike Instagram, use fewer hashtags. Better use one but top-relevant #
No external links. Better put the link in comments (however, if you do need the link, copy & paste the link from comments to the main post)
Tuesday around 9-11 am is the best for experimenting these tips
Linkedin Text ads
Linkedin is an effective medium to reach out to just the right people and drive quality leads.
You can launch a targeted Ad campaign using Campaign Manager, LinkedIn's all-in-one advertising platform.
Through the Campaign Manager easily set your budget, choose the conversion trigger – clicks or impressions.
Meaning, these Linkedin Text Ads are PPC (pay-per-click) and CPM (cost-per-impression) ads, using them, you can:
Easily create your own ads and launch a campaign within minutes
Tailor messaging to the professionals you need to reach
Choose the professional audience you want to reach
Set your own budget – without contracts or long-term commitments
Pay for only the ads that work – per click or per impression
Track the number of leads with conversion tracking
________________
This wraps up this Know How about LinkedIn tips and tricks!
Have you already joined the LinkedIn Growth Hackers group? On the second day of my membership my top skills were already endorsed for more than 10 times!
Stay tuned for our next Know How and expand your marketing arsenal with a new set of tested tools and strategies!