Email marketing remains the principal lead generation channel for most of the marketers around the world. Beyond its whopping return of 4,400% on average, emails are a great way to approach your leads with a personalized and engaging message and cultivate meaningful relationships that extend far past just the transactions. 
But to achieve it there should be at least some interaction involved. Instead, what we see time and time again is marketers sending meticulously crafted emails with almost no responses back.
And think about it… 
With our eyes skewed toward interactive social media content, how can lousy walls of text even spark interaction? 
Besides learning how to design AMP-powered dynamic emails, learn how to set up a custom auto-reply in Gmail, find out about a way to reply to your Instagram Ads' comments from within Facebook Ads Manager, discover a keyword hack to split your competitors' traffic and funnel some in your direction along with some other tips and tactics in this week's Know How article. 
Let's dive right in. 
Customized Auto Replies on Gmail To Streamline Follow-ups
We all have received or set up a vacation auto-reply where Gmail sends the same generic reply to every single email that lands in your inbox. But what if you want to send an auto-reply to just a defined set of people with a customized text tailored to them? Or auto-reply only to emails that contain certain phrases?
For such cases, Gmail has a built-in feature —Templates — which if fast-tuned with the Search Filter can encourage the desired outcome.
Step 1.
First, go to your Gmail's advanced settings and enable the "Templates" features.
Once enabled, don't forget to click "Save Changes".
Step 2.
Then head back to your inbox and hit the small, down-facing arrow on the right side of the search bar.
To sort out ones you're interested in from the incoming stream of emails, you need to create a filter. The more detailed, the better. 
In the window that pops up, mention a sender's domain and subject, name keywords that will most likely be included in their emails, define a timeline, specify whether messages have attachments, in addition to a few other filters.
Imagine you want to reply to all the employees from Company A to inform you've received their email and ask if they are available to make a call next week. 
Just fill the "From" field with the company domain name and hit "Search" to test if it works. If so, proceed with the "Create Filter" right next to the "Search" button.
Step 3.
Since you are looking to send a custom auto-reply to all the emails identified with your filter elements, tick "Send Template" to choose the corresponding template reply from the drop-down menu.
From now on, all Company A employees will receive your customized auto-reply the minute their email lands in your inbox.  
Oh, wait! But we haven't created the template yet. 
It's easy. 
After you have the "Templates" enabled, hit the "Compose" button to write the reply message and follow the next few steps illustrated in the image.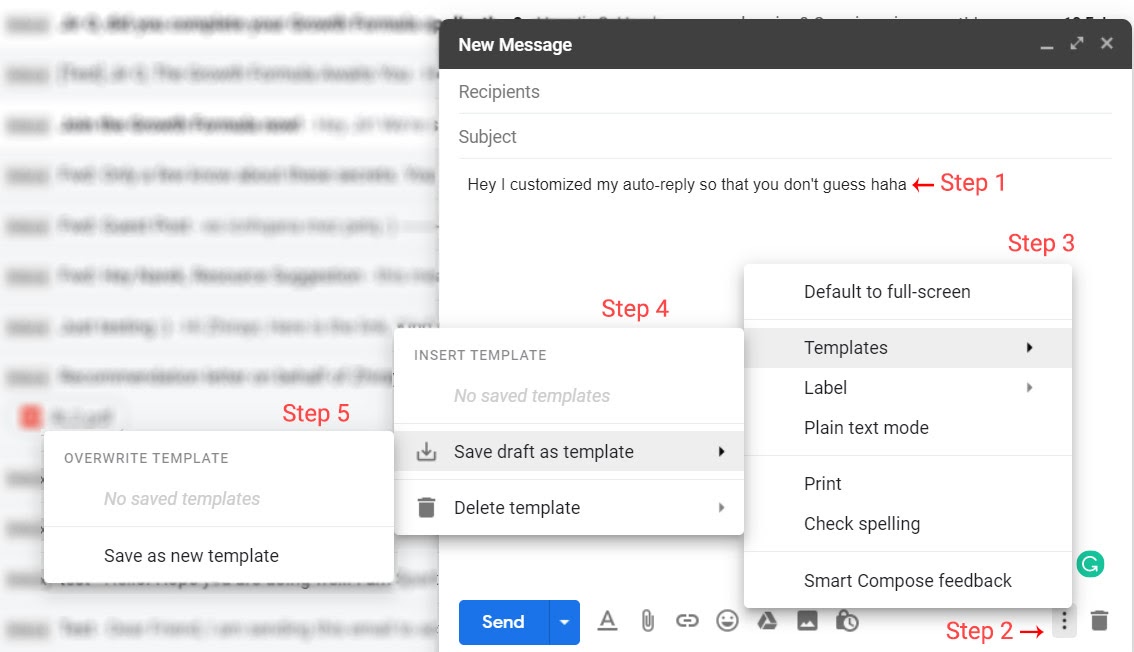 Once you click "Save as new template", a window will pop up with a space to enter the name of the template. My advice is to pick an intuitive name that also captures the key information about your template. Something like "Scheduling a call with Company A employees" seems to fulfill the two criteria. 
Now you have the template too. 
Go ahead and set this simple flow to action to save yourself a great deal of time you'd otherwise have wasted doing all the follow-ups manually.
A Keyword Hack to Split Your Competitors' Traffic
By Ani Hakobyan
It's fascinating how simple mistakes we make can surface possibilities we may have never considered before. One such insightful mistake happened to me this week. 
As I was searching "Trello" in Google, I accidentally made a typo and ended up with "trellp" instead. It became the best typo that I had ever made in my life! Because… look at what I discovered. 
Monday, a direct competitor of Trello, runs a Google Search Ad that targets the keyword with the exact same typo that I made —"trellp". 
The ad's display link and following meta description frame Monday as a far better alternative. This will likely tap into Trello's leads' cognitive biases as they start to question whether the choice they are about to make is the right one. Maybe Monday is, indeed, a better alternative?
And seeking validation to their own rationale to put their minds at ease, click on the ad. 
Once the lead is captured, it's all left to Monday whether they'll be able to keep the interest sparked and translate a would-be Trello lead into a loyal Monday customer.   
You may be curious — why doesn't Monday just target "Trello" instead? 
And the answer lies in Trello's marketing strategy. They are already running ads targeting their brand keyword and, taking into consideration how Google's algorithms rank, Monday hardly stands a chance to beat Trello at their own keyword. 
However, they are clever enough to target another variation—with the typo. Meanwhile, Trello misses on it and maybe gets to split its fair share of traffic (and qualified leads!) with its own competition. 
AMP-Powered Emails About To Shake Up Email Marketing
So far, email has been primarily static. People couldn't do much other than to read, watch, and click through. But with AMP for email, there now opens up so much space for dynamic and personalized content to enrich your customers' email experiences. 
Google introduced AMP (Accelerated Mobile Pages) back in 2015 to cut the load time on mobile and deliver lightning-fast pages to all its users. Ever since AMP has been picking up steam at an incredible speed. 
Recently, it unfolded a series of diverse elements to enliven the monotonous email overlay with some eye-popping and interactive features. One is the AMP-form element, allowing you to embed forms that can be completed right from within the email. Another is the amp-accordion element that facilitates the showing or hiding of different sections in the email. And there are dozens more!
Pinterest, Booking.com, and Doodle have been among the early adopters of AMP-powered emails. In the words of Antony Melone, the Senior Product Owner Direct Marketing at Booking.com: "It's the biggest thing happening to email since the creation of email". 
And it really seems like one. 
But tapping into AMP's game-changing potential can be challenging. 
One obstacle you'd likely encounter is its non-versatility—not every email client supports AMP yet. But most of the popular ones, including Outlook, Gmail (no surprise!), and mail.ru already do. 
To create the most dynamic AMP-powered emails with little effort, you can use Stripo.email. This AMP email builder is home to some stunningly-designed email templates with all the diverse AMP formats and integrations with multiple email marketing platforms.
https://stripo.email/img/front/gmail-amp-booking__0.0000-19.0100.gif
Image source: stripo.email
Now is the time. Jump onto the wave of this disruptive email marketing trend before it becomes the new norm.
Keyword Planner To Quickly Find Long-Tail Keywords
The right keyword research is instrumental to the success of any Google Ads campaign. While the market is inundated with various keyword research tools and extensions, our job as marketers is to seek out ones that provide the best insights with a friendly price tag. Better yet, absolutely free.
The Keyword Planner by CleverAds Chrome extension is exactly like that.
Once installed in your Chrome browser, go to your own page or any of your competitors' to scan it just like in the screenshot.
Once it's scanned, the extension will roll out an exhaustive list of long-tail keyword ideas related to your business to target through Google Ads.
But what's even greater, the tool also displays the search volume of each, allowing you to filter out the most relevant keywords as it generates. 
Manage Your Instagram Ads Comments Without Having an Instagram Page
It turns out there is a hidden way to manage your Instagram Ads comments right from within Facebook Ads Manager without even needing to create an Instagram page. Beyond just a handy convenience, this will allow you to swiftly hide or delete negative comments, as those will significantly degrade your ad performance.
Here's how to do it.
Step 1.
First, select the ad in the Ads Manager that you want to moderate.

Step 2.
Once on your selected ad interface, click on the 3 dots in the upper right corner.
Step 3.
Then go to More Options and choose Manage Instagram comments.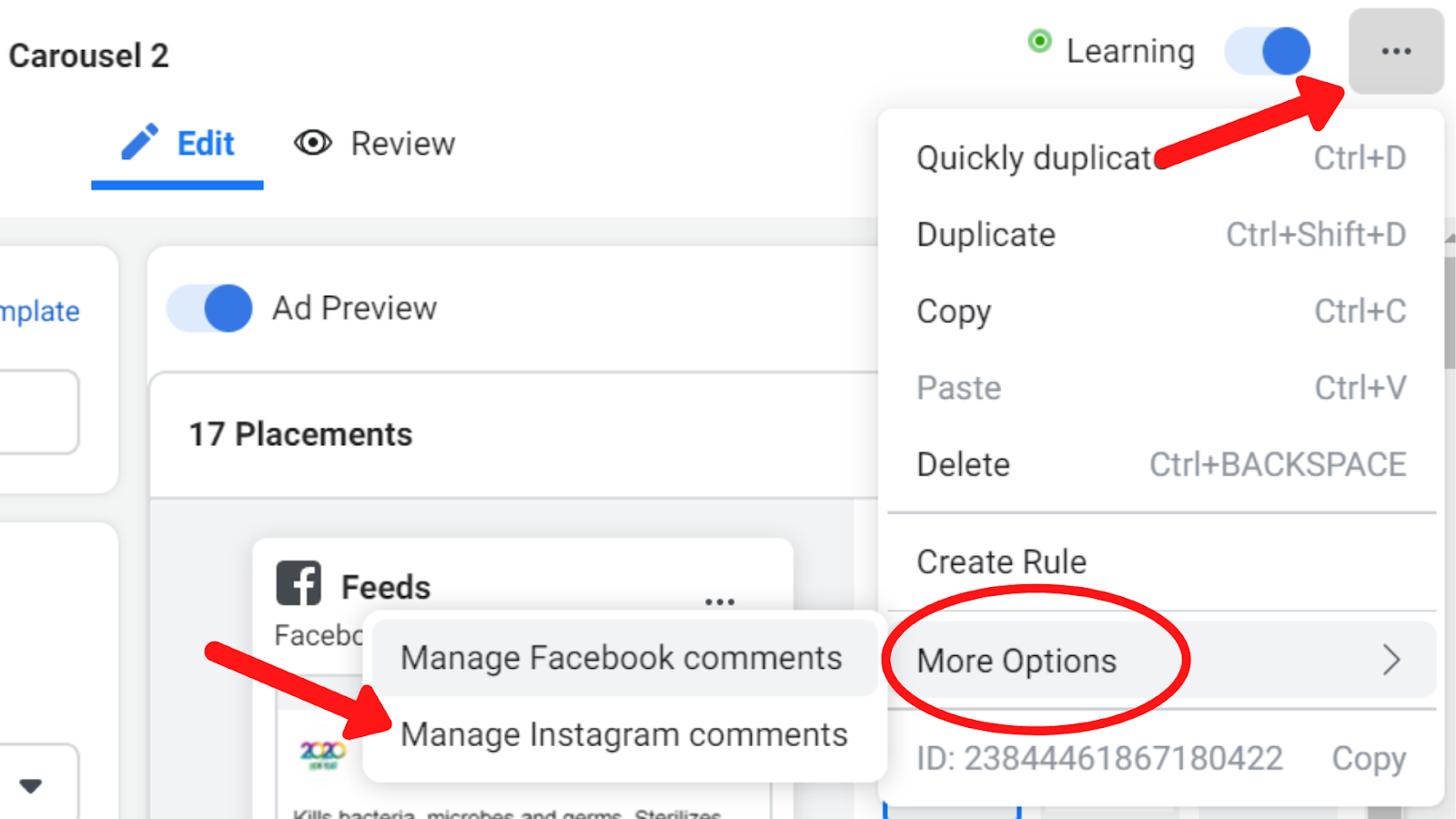 From here you can see your Instagram ad, and easily hide or delete any negative comments.  
There is no need to even create an Instagram page only to link it to your Facebook later to manage your ad comments. You can keep track of your audience's reactions right from within Facebook Ads Manager. 
It's this simple. 
eesel to Find All Your Docs and Tools In One Place
I've switched between various productivity extensions yet the customizability and simplicity of eesel are second to none. eesel automatically classifies your documents and the tools you use to display in a neat overlay every time you open a new browser tab.
Previously, as I mostly accessed the Source/Medium tab from my Google Analytics Home page, I would go through several steps every time before I reached it. Now I can bypass those by simply tapping on the Google Analytics icon on eesel and from the most frequently visited tabs, choose the Source/Medium to immediately land on my desired page. Convenient!
You can also personalize your eesel interface by adding any tools you use and removing ones you barely do. 
eesel also allows you to search both in the title and in the content of your documents, so you don't have to navigate through folders ever again.  
What's more, it is free and simple to install with no registration or integration with your tools needed. 

——–
This much for this week!
Have you created your first custom auto-reply with Gmail Templates? Those simple steps will take you a minute now and save you heaps of time later on.  
Speaking of productivity boosts, have you installed eesel? It really does give peace of mind to find all your important folders neatly laid out in a browser tab.
And as you go about reading more on how AMP ushers the next paradigm in email marketing, don't forget to also bookmark our article on 5 unique ways to increase your brand awareness. 
And don't delay in putting all your learning into action. 
I'll see you in a week.