In these trying times, we as marketers have to push ourselves a bit harder than before, try out new tactics and explore new avenues to take our marketing campaigns to the next level.
In this week's Know How, get ready to explore some great Pinterest tricks, learn about a tool to drive engagement to your ads absolutely free and uncover two sections in the Facebook business manager you likely didn't know about.
Without further ado…
Let dive right in!
Audience Insights in Business Manager: User Activity and Location
In Facebook's Business Manager, you'll find the Audience Insights section which helps users find and analyze audiences based on their location, demographic information and interests.
While Demographics and Page Likes are well-known to advertisers across the board, there are two more columns that disclose insights about your audience that have sort of faded into the background: Location and Activity.
And this is what I discovered this week.
When you click on Location and add an interest or demographic information, you can see the city and country names where your audience is and the languages they speak. This is Facebook's attempt to show you how well your selected audience is compared with other people on Facebook.
You can apply these insights to your campaign and start running ads targeted to these locations where people will likely be catered to by your product in the language they speak.
What about the Activity section in Audience Insights?
In the first part, it shows the behavior of your audience, including CTR, page likes, and comments, allowing you to see how active or passive your selected audience is in comparison to other people on Facebook.
The second part of the Activity column, shows you what devices your target audience uses. You can use this information to design ads that are better suited for each device they will be displayed on.
Drive Free Engagement to Your Ads
It's no secret that ads with engagement always perform well. The abundance of comments and likes are like eye-candy that immediately grabs the audience's attention and entices them to give a click. Hence, the higher CTR.
This is why many advertisers first run engagement-type ads to increase comments, likes and shares of their ad and only then boost it for conversion-optimized campaigns.
Engagement-type ads usually take up a notable fraction of your ad spend, so this week I came up with a little hack to save your money while still getting significant engagement.
How?
By harnessing the engagement potential of your existing follower base.
You can first post your ad as an SMM post, get some likes and comments and afterwards promote it widely as Conversion-Optimised. To do this, use Facebook's magical Use Existing Post Option button.
Simply click on the high-engagement post, insert the link in your post and add a call to action, such as Shop now or Learn more.
In just 10 seconds, you've saved time and money!
New Audiences in Pinterest Group Boards
By Sona Madoyan
With 320 million active visitors every month, it's high time you considered Pinterest as your next marketing funnel.
Pinterest is famous for its boards and there are two types of them—Personal and Group.
You can have your own personal boards to save your pins. But you may also have a group board where there will be more contributors besides yourself. And this is a huge advantage. More contributors mean more pins throughout the day.
And they both mean more activity on your board which is crucial for Pinterest.
Besides owning one, you can also ask to join others' group boards and become a contributor, and access a huge target audience in your desired niche, be it technology, beauty or pets.
People following group boards are usually united with their passions and shared interests. Most of them may be living in an area or be within the age bracket you're interested in.
A piece of advice as you go about making your first promo post—make sure it looks organic. People are largely repelled by popping ads or direct promos in places like Pinterest where they come for daily inspiration ideas or entertainment.
Pinterest GroupBoards Finder
Inspired by some of the benefits of group boards that Sona laid out? Looking for some good groups to join on Pinterest?
I was in the same position as you just a week ago, searching for boards in my desired niche that have the "Request To Join" button. It took so much of time that I started to look for some handy automations to streamline the process.
And then I discovered PingGroupie.
With PingGroupie, all that's left to do is to pop your niche name into the search bar, and set the order by the number of followers, collaborators or other metrics.
Within the span of seconds the tool will roll out a Pinterest group board according to the preset filters. Easy!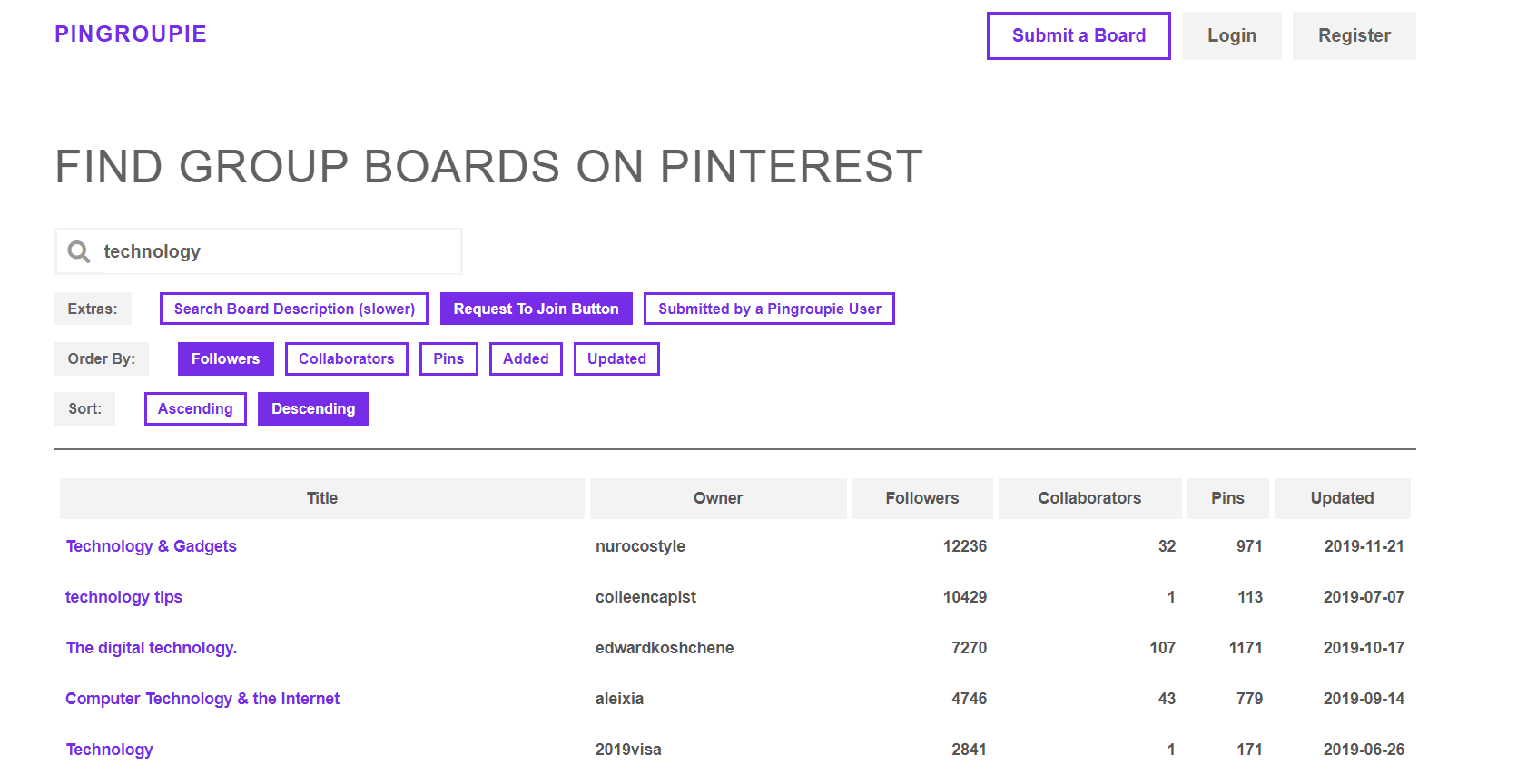 Save Faster with Pinterest's Save Button
The Pinterest Save button lets you save any visual you find around the web in your Pinterest boards, so you can revisit them later.
Just click to save dinner recipes, style inspiration, home projects and other ideas you want to give a try.
The Pinterest Save button also has built-in visual discovery technology. Hover over any image and click the visual search tool to instantly discover visually similar ideas on Pinterest.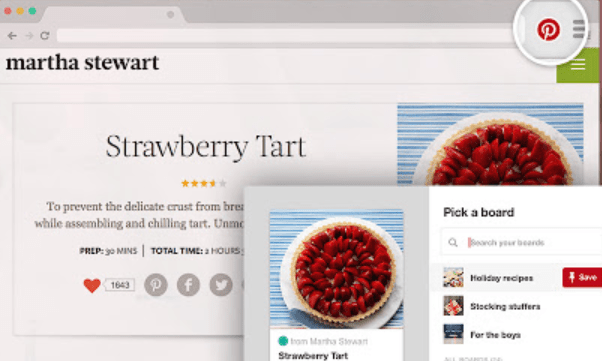 Share Mail with Streak's New Feature
With email acting as everybody's main communication platform, you know the struggle of taking screenshots and sending them to your teammates to keep them in the loop. Or worse, forwarding the email which makes your thread look like a total mess.
Chances are you use the Chrome extension Streak to do bulk emailing and track your results.
It has recently rolled out a new feature called Streak Share which makes keeping your teammates in the loop a simple 2-step process. Once you open the email that you want to show your teammate, next to the Reply and Forward buttons you'll see the Get Link button.

When you click on it, Streak generates a link which you can use to send the email conversation to whoever you want.
What I absolutely love about this feature is that it updates the email thread in real time, so you don't have to generate a new link every time you get a new email.
And if you want to stop sharing, go back to the email, tap on the Get Link button and turn off the sharing feature. Simple as that.

Your Website in an Instagram Story Format
Create websites, presentations, pitches or first impressions with storyland.mobi.
Dependence on our smartphones no longer surprises us. We seem to be glued to our screens, consuming content on-the-fly which means mobile-first websites are the absolute winner in the battle for attention.
Storyland.mobi is an intuitive builder used to create mobile-first pages that look like Instagram stories. The approach itself is attractive because it engages Insta- and FB-story-lovers to enjoy story-like presentation beyond their favorite social sites.
Storyland.mobi allows you to connect your custom domain which gives the service some additional traction. Its Interface is built in a simple and minimalist way, allowing you to create a page with eye-popping features including images, videos and buttons in a matter of minutes.
A product of Russian web developers, storyland.mobi currently supports 2 languages—English and Russian. The team is planning to improve the product and release many more new features in the near future.
Storyland.mobi is paid, but you can try it out for free. And considering the great quality of the service, the prices are fairly low.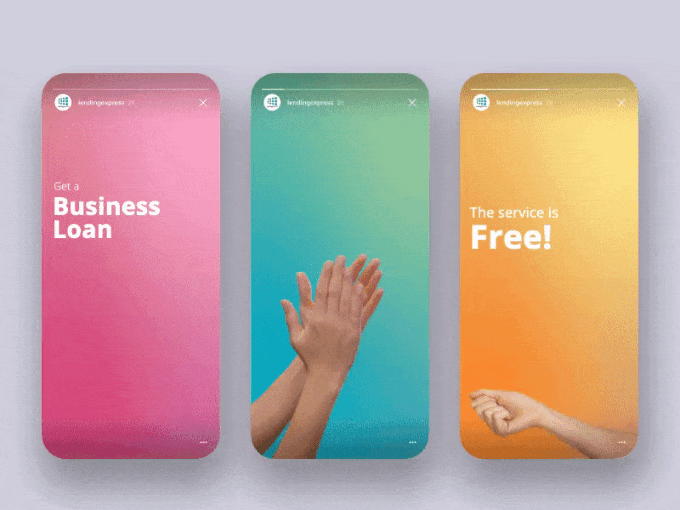 Followupthen: A Simple Way to Remember Important Follow Ups
By Sona Madoyan
I am quite confident that almost everyone in digital marketing is familiar with this situation. When a partner, journalist, influencer or simply a customer asks to follow up with them after a certain period of time because of being busy, overloaded or overscheduled.
But you end up forgetting.
Followupthen is a simple yet genius tool to remind you of important follow-ups. And the magic thing is that you put a reminder right from your reply window.
This is how it works exactly:
When someone asks you to follow up with him in X days/weeks/month, all you need to do is forward the email to [email protected] Examples include [email protected] , [email protected], and [email protected]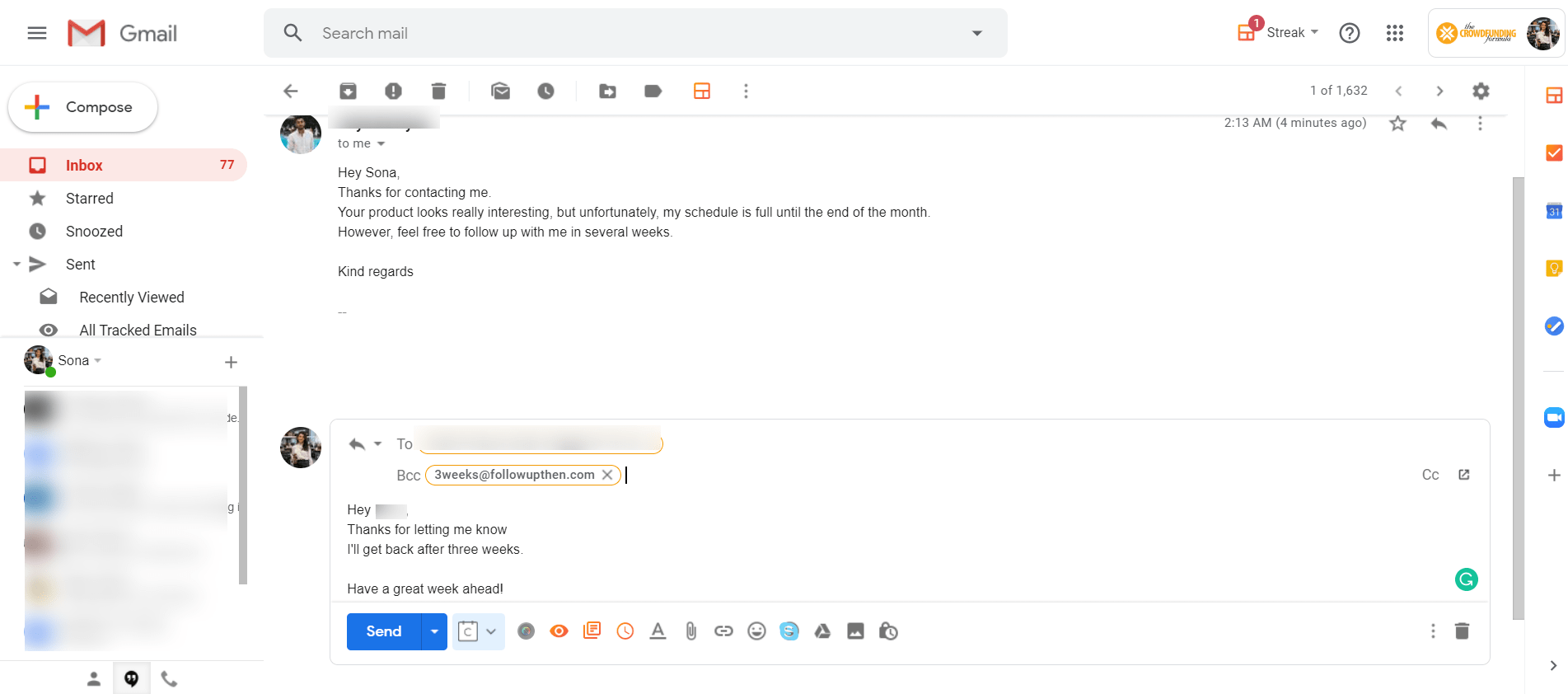 Once the time mentioned in your email has elapsed, you'll receive a reply email from Followupthen saying it's time to follow up with the person in the email.
Wait, but you don't have to remember all these emails.
There's a little trick you can do to have about 20 drafts in your email contacts. Send a test message to [email protected] and you'll get a reply with about 20 emails in CC. Click "Reply all" and as you send the next test reply, all the emails will automatically appear in your contact list.
It may sound like a lot of steps. But it ensures timely follow ups and precious partnerships with 0 stress.
—————————-
This wraps up this week's Know How!
What are your thoughts on some of the tools and strategies shared in this article? Will you apply them to your marketing campaign?
Give it a try and comment with your results. We'll be happy to hear how it went for you, and help you out if you have any questions.
Stay tuned for our next Know How and expand your marketing arsenal with a new set of tested tools!
Lastly, check out our article on Kickstarter campaign promotion.
And don't forget to come back in a week.