It's funny how we always seek changes in big shifts. But sometimes those small little tweaks are what pack the most power to change things. 
Like wrapping your product shots in the visual style of a top-notch magazine. Or correctly pronouncing your partners' names during calls. 
Besides these two needle-movers, discover a clever trick to surface influencer pages' contact on Twitter, find out about a handy integration to reply to your Facebook ads' comments from within Slack, learn about a genius way to embed a newsletter sign-up form to your Facebook page, atop of some more powerful tips and tactics in this week's Know How. We'll also restructure your entire PR pitch — from visuals to texts!
Influencer Marketing: Scrape Twitter Pages' Email Addresses Within Minutes
Advertising: Answer Your FB Ads Comments From Within Slack
PR: Mimic The Magazine Visual Design For Your Product Shots
SMM: Add A Newsletter Widget To Your Facebook Page
Partnerships: Help People Say Your Name Correctly Through LinkedIn
Influencer Marketing: Convert Any Video Into A GIF In 3 Steps
Ready to take off? 
3…2…1
By Sona Madoyan 
Finding the contact information of Twitter users can be notoriously hard. And there are two reasons to explain the challenge. 
First off, among the plenty of scraping tools for social media platforms, very few are actually designed to extract information from Twitter — likely due to its rigorous API rules. 
Besides, the possibility to reach out to a person inside Twitter is totally under users' control. That is, if you can't see this envelope icon in the top overlay of a person's profile, then you can bet they won't be receiving any Direct Messages at all.  
Sometimes, users may drop their email addresses in their bios. But again, you can never fully rely on what relies on users' choice. Because… choice is a chance to let go of another obligation.
But today we'll take a slightly different spin to overcome this obstacle. 
Let's say we want to get in touch with a reputable media publication Dezeen, rightfully dubbed the world's most influential architecture, interiors, and design magazine. 
As we can see, they've carefully hidden any contact information — and even wiped off the Direct Message icon from their Twitter profile! I bet they were jaded by the flood of over-marketed offers… 
But what we know is that Dezeen doesn't run itself. There are real people — just like you and me — working for this magazine. 
And chances are, some of their employees may have mentioned their contact information on their Twitter profiles. 
To find the Twitter profiles of Dezeen's journalists and contributors to outreach them directly:
First, jump to followerwonk, one of the few Twitter scraping tools commonly used to find specified keywords in user bios,
Then log in with your Twitter account,
Head to the "Search Bios" section,
Write "@dezeen" in the search bar, select the option "search Twitter bios only" to narrow down your search to the most relevant results and press "Do it".   
followerwonk will scour Twitter and find all the profiles that have @dezeen mentioned in their bios. And these will mostly be journalists, editors, and reporters from the magazine. 
By quickly scanning through these profiles, you can easily separate the ones that have the Direct Messaging option or at least have mentioned their email addresses in their bios.
This way, you can also get access to the Twitter accounts of page admins and marketing associates to discuss potential collaboration opportunities.        
Another simple trick to surface the email addresses from a given media publication is searching for "@domainname.com" on followerwonk.
Here is an example of how I find marketing associates and journalists from Cheddar who have included their email addresses in their Twitter bios. 
First, find the exact URL of the website. In our case, it's Cheddar.com. 
Given their domain name, we can accurately presume that most of their company emails are also on the same domain and end with "@cheddar.com". 
Now go to followerwonk and pop "@cheddar.com" into the search bar, choose the option "search Twitter bios only" and hit "Do it".    
From a mere glance through the search results, you'll see that we not only found people working on Cheddar but also many of them who've indicated their email addresses in their Twitter bios. 
And to get in touch with the rest of them, you can always manually check whether they accept Direct Messages. 
Use these two clever tactics to propel your campaigns forward while making some long-lasting partnerships with popular influencer pages along the way. 
TCF advertisers not only make granularly targeted ads but also handle their comments, as they can directly impact the results the ad campaign will deliver. 
Comments that contain negative words relay signals to Facebook of the ads' ill-fitting nature and tend to degrade your ad relevance score. Positive feedback, on the other hand, may lift your ad performance and increase your reach, making it easier to scale your ad efforts. 
As you can imagine hopping back and forth between tabs to manage the tide of comments takes a lot of grueling legwork. 
But this amazing tool I discovered this week will not only declutter your workflow but also introduce some seamless automations to handle comments seconds after they land. 
If you are using Slack for work, then Shield will help you reply to your ad comments without leaving Slack.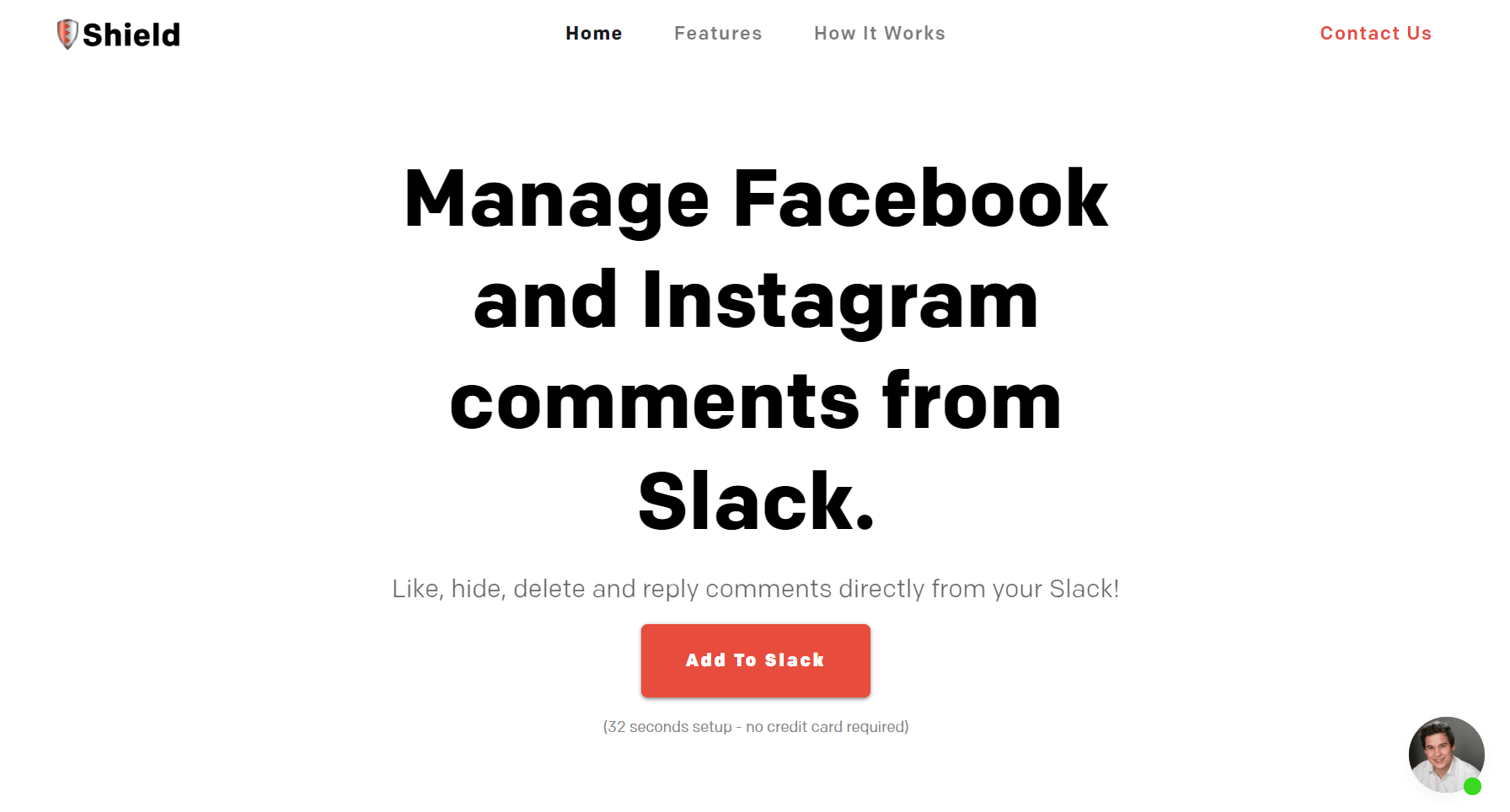 Once paired up, you will see all the new comments right in your selected Slack channel and will be able to answer, hide, delete, reply, or message, along with some other actions through the handy action bar. 
Simply attach your FB account to your Slack, choose pages you want to manage comments for, and select a channel where you want to receive notifications. 
Here is how it looks in action: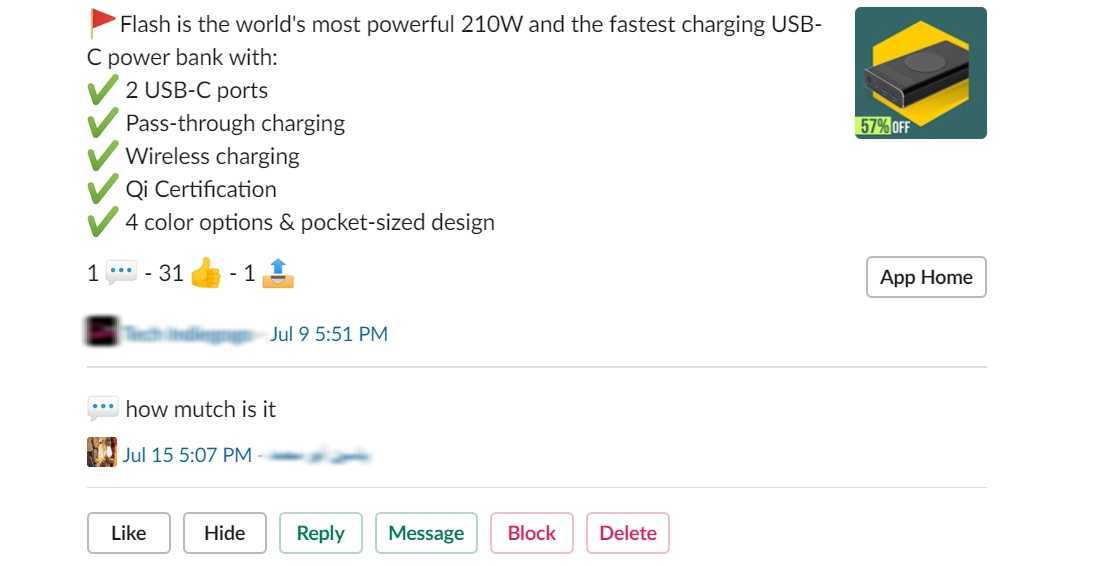 One of the coolest things about Shield, beyond its seamless embed, is its automations. 
Such as using "$USER" in the reply comments for the underlying algorithms to replace it with the commenter's name instead of you copying it.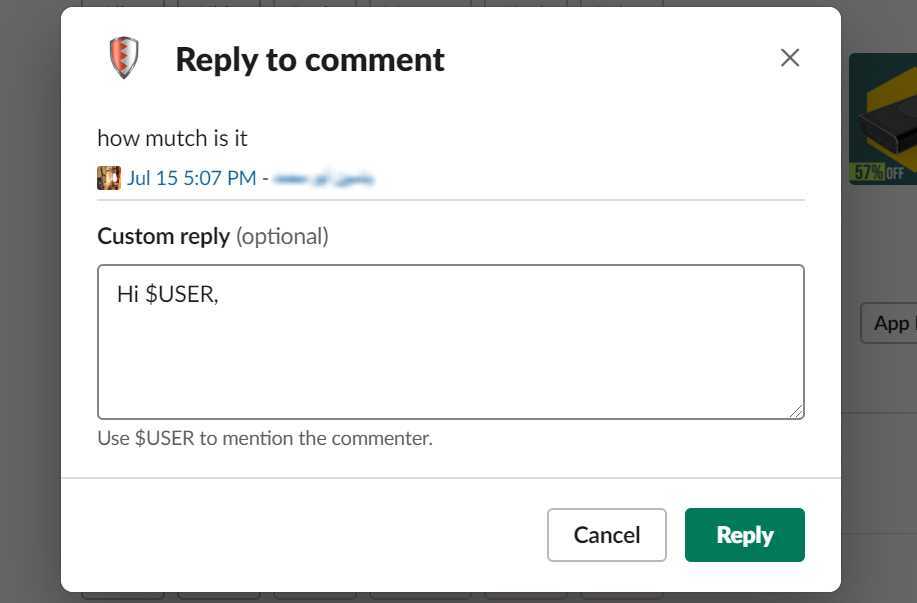 Or designating a list of whitelisted and blacklisted keywords to trigger a specific action. You can choose to hide or delete comments that contain blacklisted keywords and Like the ones with whitelisted ones.       
Let these automations perform the tiresome repetition while you capitalize on more strategic aspects of advertising.  
Mimic The Magazine Design For Your Product Shots
While outreaching journalists, we keep our fingers on the pulse of the data to monitor the performance of our outreach campaign and pivot it on-the-fly, if needed. 
Still, the analytics most email marketing platforms provide is too superficial to capture your recipients' interaction with your email.
The open rate may give you an idea of what percentage of journalists saw your pitch. But have they actually read through the end or pogo-sticked the next second? It only remains to be seen through complementary metrics. 
If you correlate your email's open and click-through rates, you can distill some idea of the average scroll-depth of your email. And this can be a reliable indication of the interest your email evoked among the journalists. 
While my know how doesn't solve this data ambiguity, it offers a new way to restructure your pitch that will likely result in a higher click-through and response rates. 
Instead of a lengthy narration, I decided to divide the pitch into 4 visually distinctive sections, so journalists can grasp the idea even through a simple scan. 
Here is the pitch I created for one of our latest campaigns UV Mask that has crossed the impressive 1.5 million mark in less than a month. 
Instead of a fluffy introduction, I created a punchy, two-sentence preface of the product and let the following snappy paragraphs elaborate on its different aspects. The crux is to frame each point in a separate header, so journalists can easily hop forward to their desired sections. 
Let's look through each section one by one.
Short info on the product: 
As the first paragraph, this features overall information on the product, listing out the most important features and characteristics that stand the highest odds to evoke the journalists' curiosity. 
Whether your product is the next Tesla or a simple tweak of an existing concept, don't saturate this section with too much information. If this sneak-peek did trigger their interest, they'll definitely look up your press releases for more details. 
Story behind: 
No matter how innovative your solution is, what makes it really special is the story behind its creation. 
Can't find anything unique? Create a captivating story yourself based on the information you already have at hand. Remember, the more creative you are with your pitch, the better it will perform during the outreach.
Links: 
If the previous two sections spoke to the heart of the journalists, they are now craving to learn more about your product in the press release and in the campaign page. Don't leave them hanging! 
Pictures: 
Wrap up your pitch with 1-2 photos or GIFs that showcase your product in action. Besides delivering a visual representation of your concept, visuals are unrivaled attention triggers — breaking the monotonous text walls and instantly reeling the recipient in. 
And here comes in my second tactic — the interesting trend you'd spot only after reading dozens of articles every day. 
Typically, media publications with big names have a clearly defined style of visuals they use in their articles. Many outlets' design usually includes a monotone background with the product cutout over it.
Similar to these shots from TechCrunch and Mental Floss:
Mental Floss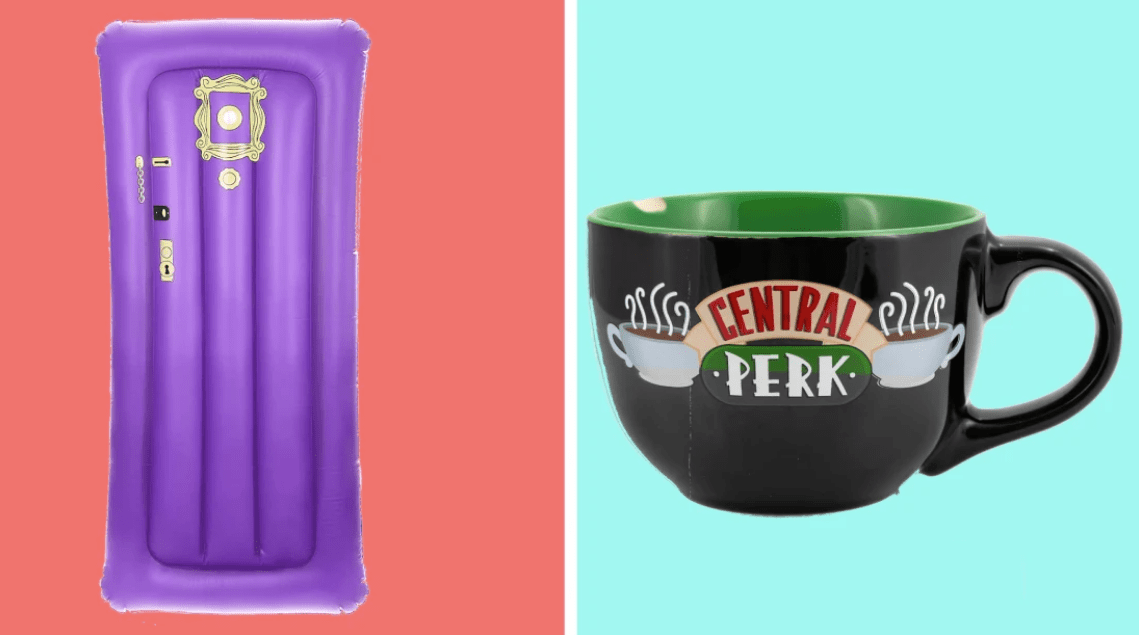 TechCrunch
So what if you mimic the same style of those reputable media publications for your product shots? This mindful tweak will create a sense of belonging to their articles and entice the journalist to approach your product pitch through a different — more personable — lens. 
Here is how our UV Masks look wrapped in this new style! 
And if you want to make it more personalized, just add in the logo of the media publication you are pitching your product to.
Besides the polished look, this minimalist design also highlights the product's ergonomic shape and makes it more vivid through its sharp contrast against the background. 
Embed your pitch in this cohesive structure and add media-flavoured visuals, and you'll most likely see your outreach results increase significantly. 
If your brand has a newsletter, you can leverage your Facebook following to generate subscribers. Here is how to do it. 
Many email marketing services offer integration with Facebook allowing you to add a sign-up form to your Facebook business page. Just head to the "Integration" section and follow the steps to embed a newsletter widget into your Facebook page. 
Once you set it up, the newsletter widget will appear in the left-hand navigation bar of your page. So your visitors can immediately see that you have a newsletter and subscribe without leaving the page. 
You can even customize the style of your widget to reflect your brand color palette if your email software gives you that flexibility.   
When someone fills out the sign-up form, your email marketing software will automatically add the new email address to your subscriber list. And all you need is a stellar newsletter to delight your followers in their inbox! 
Help People Say Your Name Correctly Through LinkedIn
By  Lili Avetyan
Over the past few months, LinkedIn has been pleasantly surprising us with new different features, and I have been on the watch for more. 
This time they offer a very simple solution to a very common problem. I'm talking about getting on calls with people and not knowing how to pronounce their names. Or what's worse, pronouncing it wrong and being corrected. How humiliating and unprofessional.
Thankfully, if you don't have a simple name — like mine — for example, and dread the moment people mispronounce it, or if you want to get on good terms with a client who has a beautiful French name which you can't guess how should be said aloud, worry no more. 
LinkedIn's new feature allows people to record themselves pronouncing their name and add it to their profile.  
Adding your voice recording is for now only possible through your phone. All you need to do is:
Go to your profile, click on "View Profile"
Click "Edit"
And make a recording of up to 10 seconds saying your name (unless you want to take advantage and use it for something else, like, I don't know, promotion *wink wink*)
I personally find using people's names during conversations very important and endearing. In fact, Dale Carnegie once said that a person's name is "the sweetest sound" to them. I couldn't agree more. 
Unless I have no idea how to pronounce it. Luckily, LinkedIn now offers us a solution to that. 
Convert Any Video Into A GIF In 3 Steps 
As an Influencer Marketing Expert, I often use GIFs in my pitches to make them look more human. And recently I came across this convenient tool that lets you create a GIF from any video you want. And what's more important, it only takes 3 short minutes to do it.
Simply crop the part of the video you want to convert into a GIF,  jump to unscreen.com, upload your video, and hang it there just a bit while it creates your GIF.   
Now download your GIF and paste it wherever you want — from influencer pitches to your IG stories!
———-
This much for this week, folks!
Are you still toggling between tabs to manage your Facebook ads comments? Instantly reply to any comments from within your Slack and save yourself some time while Sheild's automations hide the negative comments on your behalf. 
How does your PR pitch look after those two clever twists? Scannable and concise? Don't forget to also frame your product shots in the TechCrunch style. You'll stand a far bigger chance to get coverage.
And before you walk out with this mind-shifting tips and tactics in your pocket, discover 10 more practical growth hacking strategies you probably don't know.
And don't forget to come back in a week for some more growth-hacking boost!