Ready to grow your business and want to do it fast?
There are a lot of growth tools and apps to help you reach your goals.
Do you know which are the most useful?
We've done the hard work for you – gathered all the essential tools to help you scale up your business strategies at every stage of your growth funnel.
This week, we have highlighted all the necessary tools out there to put you on the path of growth and success.
In this list, you'll find 7+ email marketing tools, Video gamification strategy, extensions & updates that we use in our work and which we highly recommend.
These tools will give you new opportunities in your sales and marketing campaign – and hopefully will make your work a lot easier!
Ads
1. Linkedin Text ads
Linkedin is an effective medium to reach out to just the right people and drive quality leads.
You can launch a targeted Ad campaign using Campaign Manager, LinkedIn's all-in-one advertising platform.
Through the Campaign Manager easily set your budget, choose the conversion trigger – clicks or impressions.
Meaning, these Linkedin Text Ads are PPC (pay-per-click) and CPM (cost-per-impression) ads, using them, you can:
Easily create your own ads and launch a campaign within minutes
Tailor messaging to the professionals you need to reach
Choose the professional audience you want to reach
Set your own budget – without contracts or long-term commitments
Pay for only the ads that work – per click or per impression
Track the number of leads with conversion tracking
Tools
2. Toast – Safari & Chrome extension
If you are a research-geek and open 125 tabs at a time, keeping a track and focus is hard.
Or…
If you are working on multiple projects with 2 and more different browser windows?
Geez… mess and the endless search for the needed tab.
THIS is for YOU.
Toast extension – is a session manager tool, quite lightweight and simple-to-use, which allows to save all the tabs by organizing them into sessions.
By using Toast you can:
Save and open all the tabs with one click
Name the sessions and view the full list
Bulk open or open a link URL
Add new tab/s from an open window
Update or duplicate the tabs
Make your workflow triple efficient
Save your computer memory RAM (my tiny Asus can breathe again, goodbye bookmarks)
Keep personal and work-life neat and organized
This is a godsend. My computer doesn't have a lot of RAM, but I really like having a lot of tabs open. So now I am able to save them and still use the browser.
Salute, make a Toast of your tabs!
3. InflueNex.com – Nexus between you and the best Influencers
InflueNex.com is an online influencer marketing platform specializing in searching, managing, analyzing and contacting millions of Youtube Influencers.
It has several powerful features, to name a few:
Easy-to-use & powerful, reliable platform to bridge influencers & businesses
Has a community of 1 million Youtube Infuelncers in different niches
Helps to sift through the many influencer categories such as people and blogs, entertainment, science and tech, gaming, fashion, travel
Simplifies the collaboration and doubles the efficiency of promoting a business
Allows to browse through influencer profiles*, reach out to them** and measure marketing performance***
*Easily Manage Influencers​​​ – compare Influencers' statistics, add the influencers to your fav list, and more.
**Contact Influencers with efficiency – create a group and send email or the templates available for a collaboration offer.
***Comprehensive Influencer Analysis – analyzes the engagement, YouTube growth tendency, channel performance, YouTube subscriber tendency, YouTube posts, and more.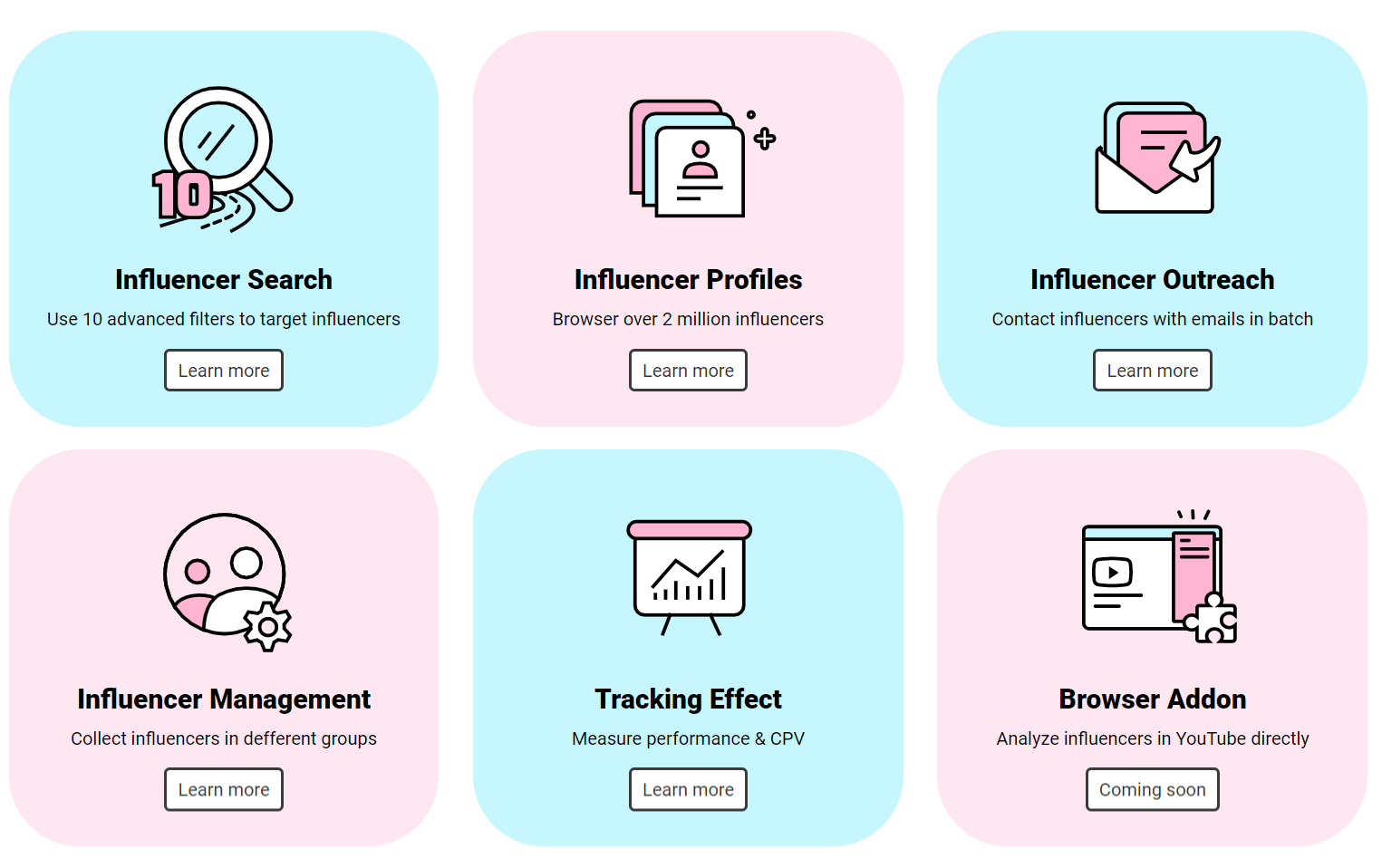 The guesswork is eliminated!
Congrats – the laborious, time-intensive and manual search for the right people is over.
4. Videohive.net
Videohive.net offers stock video footage and effects – single or multi-use licenses for pre-made videos to customize and use them to your advantage.
Not only these ready-made templates increase the quality of your production but also are invaluable time-savers.
5. Coveragebook.com – Find a better way to measure your PR success
Coveragebook.com is a cloud-based PR management & coverage report software, which minimizes the painstaking work of putting together a media clipbook to the bare zero.
Now, PR professionals can build and share media coverage reports in a matter of minutes — saved from creating spreadsheet databases and hours of manual work.
Just insert the link, and the metrics will not only create a beautiful and compelling book but also give vital info-pack with online readership, coverage views, social media shares and average domain authority rate.
This tool also allows to save offline coverage in PDF format. Well, you won't get the metrics for this one, but that is to be expected.
6. Milled.com
Email marketing isn't going away. Email newsletters — whether it be upcoming projects, company news, or other business-related information, in the same vein, are becoming more popular than ever before.
If you want to leverage success, a well-designed and well-structured email is crucial to breaking through the pack of competitors.
Milled.com is a search engine for email newsletters, which allows to browse and search sales, deals, coupons, and discount codes from thousands of retailers and brands.
Great source to get inspiration from, track different strategies AND/or register your brand.
7. Viralsweep.com
Viralsweep.com has a referral program, which helps to create sweepstakes with hashtags.
The refer a friend encourages people to share your promotion with their friends through email in order to earn bonus entries.
The participants can see how close they are to the prize with the built-in rewards meter and soon enough will unlock award prizes, higher-tiered rewards or give-and-get coupons.
This will boost customer interest and built returning customer loyalty.
8. Wispform.com
Create beautiful and interactive forms and surveys in minutes using Wispform.com.

It has an intuitive and the simplest form of building creative forms, surveys and quizzes there is.
Great alternative to Typeform, and with only &10/month, you can get all the advanced features.
Hacks
9. Video gamification as a Customer Reward Strategy
The idea of rewarding your customers just because it's a special event for your business, State holiday or Customer Appreciation Day – builds credibility and brand loyalty — Every Single Time.
With so many tools out there to turn everything into a game, we tried a simple trick, which is.
Choose an occasion to reward random or top 10 lucky followers
Create a video with flashy pin-codes
Include several pin-codes on a red and green background
Ask your followers to screenshot the pin codes with the "Green" background ( I "caught" green pin code after my third try)
Ask them to tag three or more friends in the comments and Dm the screenshot to you
Select the First 10 lucky ones, or random participants through random.org or commentpicker.com
Social updates
10. Google Spreadsheet Updates
Go to GS (google spreadsheet) click on Data, there you can see the updates – one is "Remove duplicates" (finally we have it as a native feature) and the second one is "Trim Whitespace"- this one is for deleting all the additional spaces.
We will keep the updates rolling and hacks honing. See you really soon.