The internet is full of information on SMM, SEO, Chatbot, PR tools and strategies—the problem is, lots of that information is patchy or out of date.
This is where lots of companies' attempts fall short.
Their concept of growth is narrow. Not focused. Poorly executed.
The Crowdfunding Formula's Know How sessions began as a way to change this. Every week we gather all of our successful marketing specialists and growth hackers, to pool together the best advice on current tools and strategies from each department.
But just as we've seen things change in our 12+ years of experience, so too in shorter time frames. Tools get surpassed by others, old strategies stop working, and better solutions appear.
In this week's Know How, we look at what has stood the test of time. The most powerful items in our team's arsenal.
Dive deeper into the TCF waters to further expand your business potential, experience a Hulk-like hyper-growth rate and become a dominant player.
Marketers of every skill level and calling—read and learn the growth strategies and tools that can best help you level up and deliver more to your business!
Part 1 covers the daily tools and favorite strategies from our SMM, Influencer Marketing, Sales and Chatbot Departments. Stay tuned for Part 2!
SMM Department
InviteIn Extension
Social media marketing relies on getting your marketing message out to as many relevant people on social media sites as possible. One of the most effective ways to do that is to appear on their newsfeeds. And the easiest way to get there, is for them to like your product page.
In the old days—well, a few years ago at least—invites had to be sent out by hand.
This Chrome extension offered by fblikeinviter revolutionized the way Zhenya and Lusine work, saving them time by sending out invites—to all friends and everyone who reacts (likes, comments, shares) to any of our posts—to like our product campaign page!
Fblikeinviter has 3 different versions—Free, Pro and Best (provides one dashboard for multiple pages). And with it, our SMM team also:
Auto-replies to all the comments both of a post and a shared post,
Auto-likes and auto-comments on reviews, check-ins, mentions and visitor posts,
Tags and sends private messages to everyone who commented.
The Full Pack includes an Instagram beta and all future scripts.
Screencastify
Sometimes you just need to put together a quick video. You want to show your teammate something. Highlight a process. Show them how you can do the job better.
But you don't have time to open up DaVinci Resolve, or the money to open up Premiere Pro, or the will to open up Windows Movie Maker.
Screencastify—Chrome's most installed and trusted screen recorder—is the easiest and fastest screen capture editing tool we use here at TCF.
It allows you to record, edit and share the visual content you created within minutes.
With it, our SMM team can:
Customize the resolution and FPS of the video,
Annotate the screen using a pen tool,
Automatically save the videos to Google Drive.
The lite version comes with a 10-minute recording limit per video, and 50 videos per month.
All Hashtag
Getting your post seen by the right people can seem like a nightmare. But with the right hashtags you will achieve the best results from a single post, expand the reach of your content and improve your SEO ranks.
How? There's hashtags everywhere!!
All hashtag cuts through the haze, and lets you find the top, live or random hashtags that can best boost your post.
With it, our team can quickly find a plethora of hashtags in any product's niche on Instagram, Twitter, Pinterest and Facebook.
WeFind Instagram Extension
If you have ever manually calculated the engagement rate of influencers on Instagram or Youtube, you know how tiresome it can be!
Click, open, check. Next. Click, open, check. Next…
But now, with WeFind, our SMM pro Zhenya can see a myriad of useful data in just a few seconds. From the engagement rate of different pages, to downloading posts directly from IG, WeFind allows her to check:
The Engagement Rate of photos and profiles on Instagram,
The Engagement Rate of channels, users and videos on YouTube,
The average Instagram comments for different influencers,
The average Instagram likes for different influencers,
Each influencer's post frequency on Instagram
Then she simply saves the data with its built in functionality, in a spreadsheet that automatically gets updated over time. And she's not alone, this data can easily be shared among members of the team, so we're all up to date on who's the next PewDiePie.
Creator Studio
Why use Buffer for Instagram and Facebook, if you have Creator Studio?
This is such a great tool, that this is the second time it's been featured in our Know How series!
We won't bore you with the details again, but if you haven't heard of it yet, check out our thorough review of it in our Know How #5.
Facebook Link Hack
Facebook is riddled with problems. Are they bugs? Are they there on purpose?
We may never know. But we do have workarounds!
For example, whenever Lusine tries to post several links, or we're most pressed for time, or working on the most crucial task—Facebook won't allow us to add links to a post.
But it's important! That link will drive game-changing traffic to our page!
And here comes the hack:
Post the image with no captions or links and only then add the link. Win!
Facebook doesn't recognize the link, but our users do!
Another crafty tool they use is Anyimage.io. It generates a clickable image that redirects to whatever website they need.
Influencer Marketing Department
Planoly
Styling and managing an Instagram page can be tricky.
What order should your visual information be in? How can you post things at 4am to target an audience half-way across the world? How can you easily discover new content?
You spend hours setting it all up, and now what? How can you tell if it had any effect?
Quite simply: Planoly.
Our Influencer Marketing Expert Gag uses this tool because it incorporates the specific set of time-saving features he needs:
A drag & drop feature quickly arranges the look of your Instagram feed,
It allows you to discover, curate, and repost content,
It schedules content or drafts to post directly to IG,
And it helps manage comments, and analyze the performance of your efforts.
Related Words
When searching for new influencers, relevant posts, and new ways to approach a topic—keywords are one of your most powerful assets.
Related Words helps speed up your research by providing you with a list of keywords relevant to your marketing goals.
Just write yours into the search box and let the platform do its magic—searching through different databases and matching vectors of common search terms with who knows what potions—to spit out a grid of useful matches!
And if you're looking for a tool that can be integrated directly into Google Chrome, the similar Keywords Everywhere extension also offers comparable results.
Buzzsumo
So you have your marketing plan, but now who do you reach out to? You need those influencers to promote your awesome product!
Well, Buzzsumo provides two main features: Content research and influencer research.
And our Facebook Influencer Department uses this tool for its second feature, that is—influencer research.
It has a detailed search engine and a huge database of influencers and FB pages.
Search My Bio
You'll remember this one from a few weeks ago, and that's because this new tool has become one of our Instagram and Youtube Guru Sona's favorites.
Check it out in our Know how Bundle #10.
The Influencer's Own Secret Perk
You've scoured the web for influencers. You've made contact. They've agreed to share your product. Now you want to thank them!
The nicest way to do this is to send an item their way. If you're already running an Indiegogo campaign, then why not just unlock a secret perk with your influencer's name. They can just pick it up on their way out!
Affiliate Commission
Sometimes, convincing influencers can be tricky. For most, it's a full-time job, and they get paid for "influencing."
Offer an affiliate commission, with relevant personalized links, so that you can both share the rewards of your partnership.
If it goes well, you might want to follow up with another guest post—and here, your best bet is to increase the rate of the commission.
It's a win-win! They raise more money from their post, and your marketing efforts pay off.
Ads Department
At this stage, our Ads Team is beyond tools.
Their focus is always on strategy, and improving the way they reach their targeted audiences.
Language Translations
As educated users are more likely to become purchasers, it's important to make sure that your audience understands your message.
Ani usually starts off with one default language to reach the widest audience possible. Yep, you guessed it—English.
But for international campaigns, the team customizes the messaging to connect better with local audiences.
Sure, they might understand English, but if you're targeting a French audience, why not translate your ads to French?
One Single Post For All Campaigns To Gain More Engagement
It's important to try out different strategies and that's doubly true for ads. Mix-and-match texts and images until you find the combination that works best.
And when you do… use it till the end!
Seeing an active post, with lots of shares, likes and comments—and over time, a good post inevitably collects them—will be a powerful trigger for potential customers to go and back your campaign.
Don't forget to check out the Campaign Prelaunch Ad Strategy as well!
Some Ads Tools
OK, so it's not all strategy. The Ads Team did have some useful tools that they brought up in this week's Know How for all of you to use.
To best target your ads, you need to understand your audience. You need to find those interests that overlap with your product. Eniginescout has developed the go-to tool to discover these interests.
Not only does it show you way more results in the relevant interests of Facebook users, but it can sort them based on audience numbers and category. Narrowing down your target audience is a breeze with this tool!
Another favorite that made it into our Know How for-the-ages was Bigspy. Just enter a keyword or one of your competitors' names, and the tool will show you every single ad they ran on Facebook, Instagram and more. For a full review of Bigspy, check out our Know How #2.
Sales Department
You've got the word out. People know about your product. Your landing page design is fantastic. The copy—impeccable.
But they still aren't buying. So you add a "Chat With Us" button, and put your sales team to work.
Their task is the end goal—throttle the pipeline filled with hot leads and drive up those sales.
According to Salesforce, 76% of consumers expect companies to understand their needs and expectations.
And our Sales Department has the best tips on how to do that:
Chatbot Department
Messenger Referral Campaign
A very effective way to acquire a large number of leads is to give away a valuable prize to increase the share rate. The more valuable the prize, the higher the willingness to win it.
If you choose the right prize, you can sit back and watch people compete to share it the most, expanding your reach exponentially. And at the end of the day, all you need to do is announce one winner!
In return, you get a decreased cost per lead, quick distribution of your campaign and chances of it going viral in a very short period of time.
Combined Email Marketing
If you have already built an audience inside Facebook Messenger and you want to transfer your subscribers over to email, you can ask them to provide their relevant contact information. But nothing comes for free.
Offer these passionate subscribers an extra perk or discount that is fair and equal to the value of trust and support they give you implicitly when sharing their contact information.
Start by integrating your email marketing software with ManyChat (currently ManyChat supports native integration with MailChimp, ActiveCampaign and ConvertKit). You can also integrate your mailing software via Zapier or Integromat.
As soon as your automation is set up, send out a broadcast with your plans and shared benefits to your chatbot subscribers. They'll provide you with their emails, which are automatically exported into your mailing software.
And if you've set it up right, they'll instantly receive their discount!
Split Traffic Evenly
Chatbots are a great way to handle automatable messaging. Answers to typical questions, engagement on posts and pages, gathering subscribers… But when it comes to sales, a real person on the other end will always be more convincing.
You can easily integrate Support and Sales Specialists into the chatbot flow.
But with a huge influx of questions recently, we found that the quantity of leads arriving at each Live Chat agent was varying wildly between them.
Our Chatbot Expert Vardan came up with an elegant solution using the Randomizer feature. By integrating it into the Chatbot flow, it distributes the traffic evenly between live chat agents, even when they're an odd group! (Odd as opposed to even, not as in weirdos—they'll always be weirdos.)
By splitting the total probability (100%) between 3 agents, for example, it gives us 3 x 33%. The remaining 1% is taken back into the Randomizing process after a smart delay, and is ready for the next set.
You can see this at work in the following flow diagram: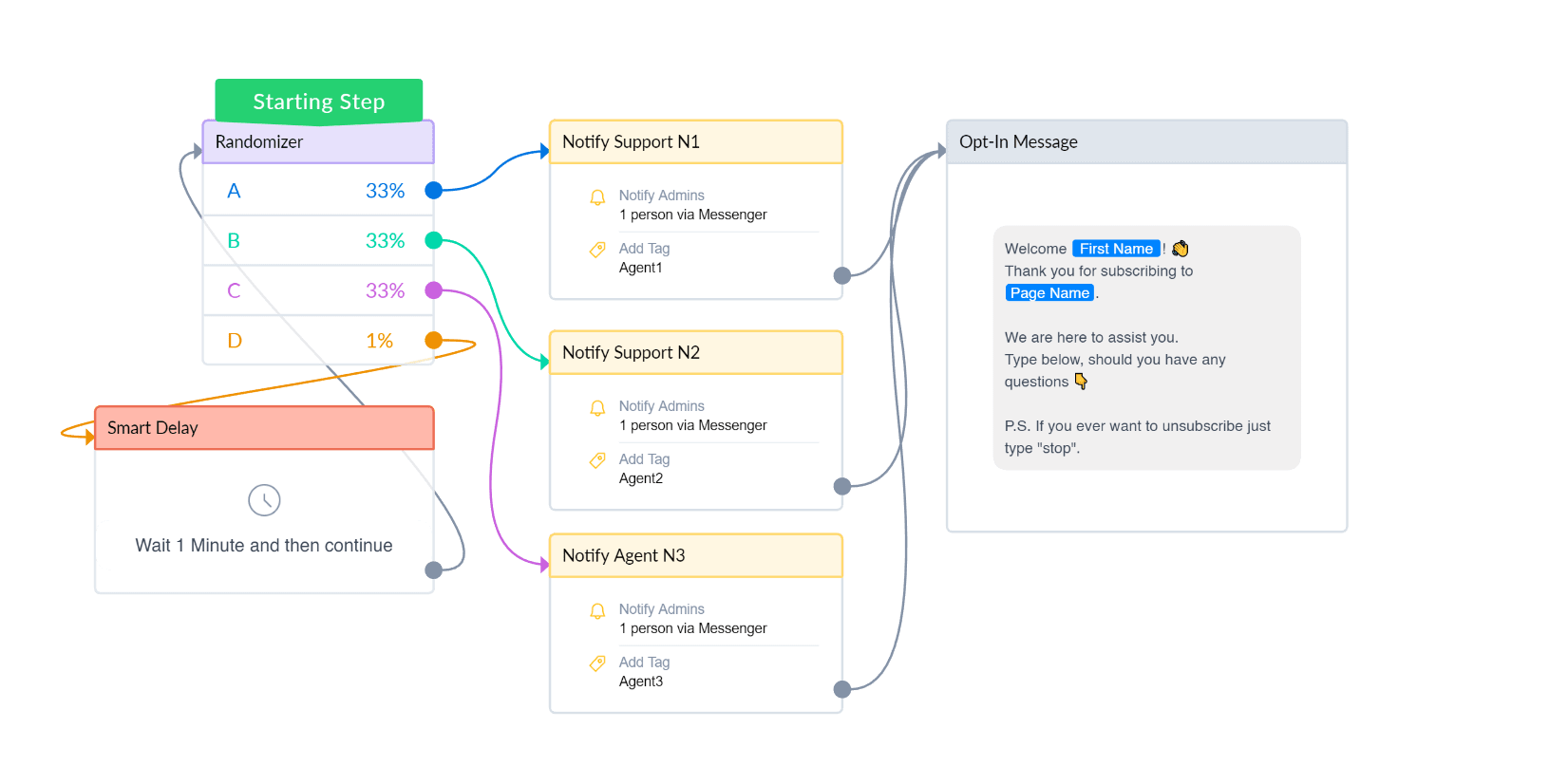 Give these tools and strategies a try, and let us know how it goes.
If you're not subscribed to our awesome weekly newsletter, join us now to discover more fascinating tips from our crackpot team!
See you all next week for Part 2 of this Know How Special.