Hey there Know-Howers!
It's a new week, and we have some spicy things cooking here in the crowdfunding world of TCF.
Many of us take the time to improve on our skills with self-education. How does that look? Possibly sending our design team to a historical art museum. Getting our outreach team to learn a new language. Having our advertising department run a Facebook Hackathon.
Whatever the case, we have some cool new things to teach you coming straight from the creative and dedicated minds of our team members here at TCF.
So if you're looking to dive into a new language with Arusik who's teaching Google NLP API for SEO 101, connect to more people using Hayarpi's suggestion of Facebook's Lookalike Audience tool, or take a step back and have Arsen teach you the ways of effective Facebook Ads Management, then you've hit the right Know How.
So sit back, relax, grab a pen and paper (or just your laptop), and let's dive into this week's Know How!
---

This week's Know How:

Google NLP:
Learn the basics of Google NLP API for SEO
Facebook Advertising:
Learn how to leverage Facebook with Lookalike Audience
Facebook Ads Manager:
Generate specific metrics without entering Facebook Ads Manager
---
Learn the basics of Google NLP API for SEO
Google's understanding of a website's category and features has improved over time. This was achieved with the help of machine learning algorithms that understand the context and accuracy of the text. Here we'll go over the fundamentals of Natural Language Processing and how you can use Google NLP to improve your SEO efforts.
NLP is a form of AI technology that aims to make sense of human language. It helps computers to understand, interpret, and replicate human language characteristics.
You can use Cloud Natural Language to extract information about people, locations, events, and much more from text documents, news articles, and blog posts using this API.
Here's how to check out the NLP analysis:
Copy the text of a piece of content.
Go to cloud.google.com/natural-language.
Paste it into the text box beneath "Try the Demo."
Check out the analysis.
Let's start by looking at the 4 key aspects:
Entity
Sentiment
Syntax
Category
Entity is a THING.
An entity can be a place, person, organization, idea, or concept.
Entities address the relationships between things and help Google understand their relatedness.
Salience is a score of how important the entity is in the context of the whole text.

Sentiment Analysis identifies opinions and emotions about an entity in the text

Sentiment is scored from -1 (very negative feelings) to 1 (very positive feelings).
Magnitude is a positive number that measures the overall feeling of a text, whether positive or negative.
We can skip the Syntax, as it is not useful for SEO.
And the last one is Category classification.
Categories reveal how Google classifies text.

So, what's the main takeaway?
We've analyzed 2 articles and did some edits according to the results of the analysis. For the first article, we had organic traffic growth of about 55% (compared to the last period).
And for the second article, the organic traffic growth was about 80%.
The results proved that the tool is worth using to get better results in SEO performance.
Pretty cool right!?
Let me know what you think in the comments!
---
Learn how to leverage Facebook with Lookalike Audience
Knowing who you are marketing to is a foundational thing to know in business. If you have a product or a service, you must understand who is most likely to use and interact with what you have to offer. This deals with background, demographics, motivations, amongst many other variables which make up a target audience.
When it comes to Facebook, there are many tools at your disposal to help you specify your target audience. Within their tools, you can create a specific "Custom Audience" where you create parameters for the specific people you want to reach out to. This can include countries, interests, age and other variables. The thing is, you may be running an effective marketing campaign and reaching many interested potential users, but what if there was a way to extend your reach to an audience you weren't originally marketing to?
Well, there is a way… and it's called a Lookalike Audience.
Facebook Lookalike Audiences give you the ability to reach more relevant audiences that you may need to generate more conversions. The cool thing about this tool is that it pretty you can use your created custom audience (you may have more than one), takes that information, and expands upon it. Facebook will use the commonalities from the people within your custom audience, like their interests, demographics, age… And then find similar people who relate to your custom audience.
How does it look? Let's check it out!
As soon as you jump into Facebook Business, you'll go to the Audience section where it will lead you to a page that looks like this:

If you're looking to create a Lookalike Audience, the steps provided by Facebook are fairly easy:
1. As seen above in the Audience section, select Create a Lookalike Audience.
From there you'll see a window that will look like this:
2. Choose your source ("Select Your Lookalike Source", if you don't have one, you can create a new source)
3. A source can be a Custom Audience that was created using your pixel data, mobile app data, or fans of your Page.
4. Consider using a group of 1,000 to 50,000 of your best customers based on lifetime value, transaction value, total order size, or engagement.
5. Choose the country or countries where you'd like to find a similar set of people.
6. Choose your desired audience size using the slider.
(when selecting a Lookalike Audience, you have the option of selecting from 1%-10%. 1% being more specific/curated audience, and 10% having broader reach)
7. Select Create audience.
8. Select Done.
As stated on the Facebook for Business webpage: "It may take 6 to 24 hours for your Lookalike Audience to be created. After that, it will refresh every three to seven days as long as it's being used in an active ad set. To check the status of your Lookalike Audience go to Audience Manager."
All that being said, it's a fairly simple and straightforward process to generate a Lookalike Audience. Though sometimes it may be time consuming to set up a solid custom audience and then proceed to create a lookalike audience from it, Facebook really doubles down and eases the creation process for lookalikes so that you can better engage with users.
For example, you don't need to even need to select a custom audience, but you even have the option of selecting pages from which you can directly create lookalikes. You can see below:

The cool thing that Facebook mentions is that "you can use multiple Lookalike Audiences at the same time for a single ad set. The ad set will show your ads to people who are in any of the selected Lookalike Audiences."
Not sure about you, but this seems like a no-brainer. So get out there and start making some Lookalikes!
---
Generate specific metrics without entering Facebook Ads Manager
Facebook Ads Manager is pivotal in the marketing process. If you're looking to level up your outreach and expand your audience, there's virtually no way of scaling your campaign without the amazing tools provided within the ads manager.
But if you're looking for an easy and effective way to gather information about your ad performance or results without actually entering Facebook Ads Manager, then here's a quick shortcut!
Create an Automated Rule!
An automated rule is a tool that automatically checks your campaigns, ad sets, and ads on your Facebook. The cool thing is that it will then notify you when there are changes within the metrics choose to track. So pretty much, this is just to ultimate Ads Manager optimizer!
What exactly are you choosing when creating these automated rules?
The criteria that triggers the rule

The action your rule takes on the ad

The active campaign, ad set or ad you want the rule to affect
Pretty sweet right? So let's dive into the set-up process!
First, start by selecting Automated Rules in Ads Manager.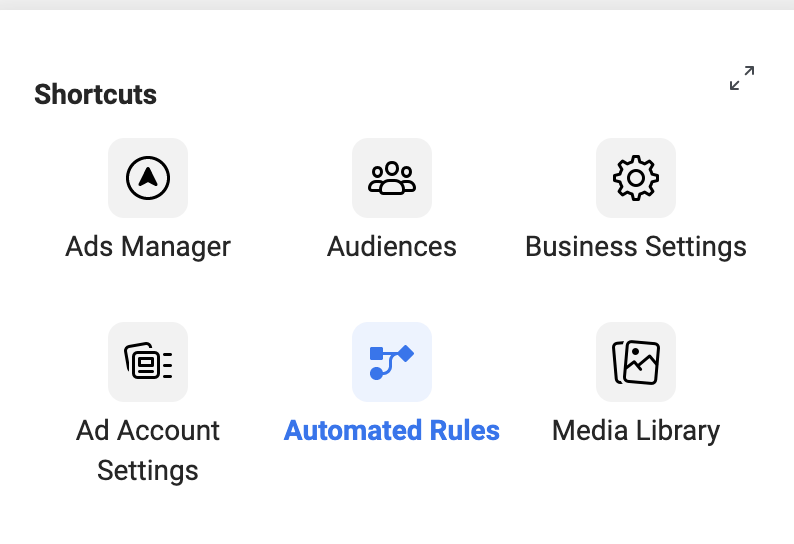 From there, click on "Create Rule" on the upper left side of the page where you'll then be led to a new window to set up your rule.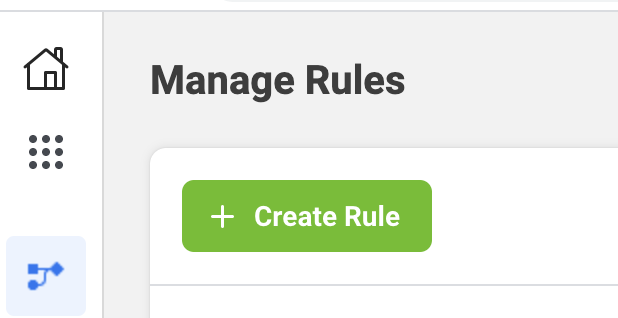 On this window, you'll see all of the options for the metrics you are specifically interested in tracking. Here are the specific steps Facebook for Business provides to get you through the rest of the process:
<
1. In the Action dropdown, select what you want your rule to do when your campaign, ad set or ad meets the rule's conditions.
2. In the Conditions section, choose a condition that triggers your rule and then click Add. To add additional conditions, click +.
You can adjust the amount of time and attribution window for your rules.
If you want to adjust the number of days of data to gather in your rule, open the Time Range dropdown menu and select a time range.
If you want to track the number of actions taken on your ad during a particular time period, click Change attribution window and select your attribution windows for views and clicks.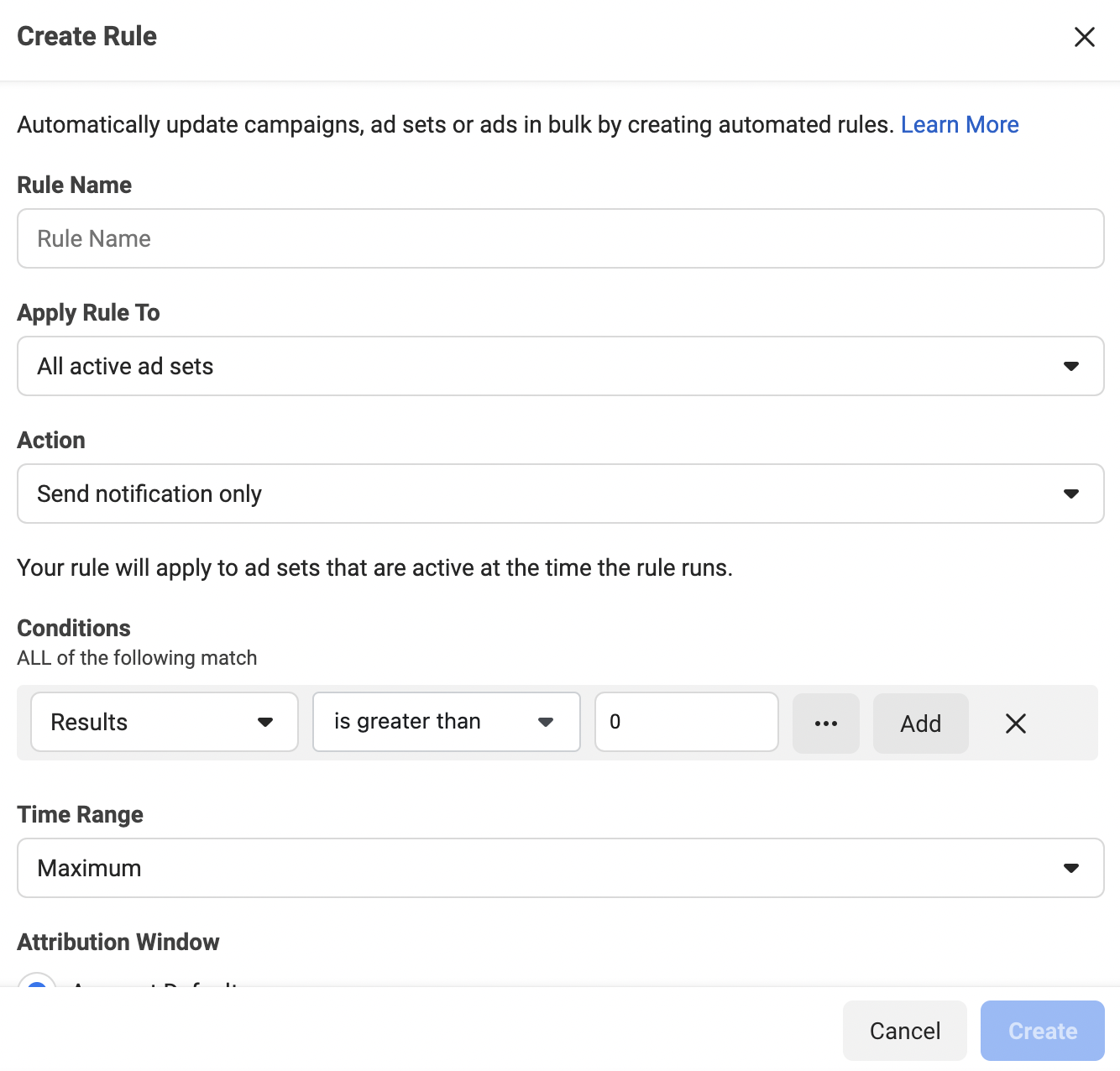 3. Confirm the type of notification you want to receive. You always receive notifications on Facebook for your rules, but you can click the Email box if you want to receive an email too.
You can also add subscribers to your rule so that they can receive notifications. This is useful if you have multiple people on your ad account.
4. Enter a name for your rule and select Create. Your rule is now active, and you can track all rule activity in Automated Rules.
>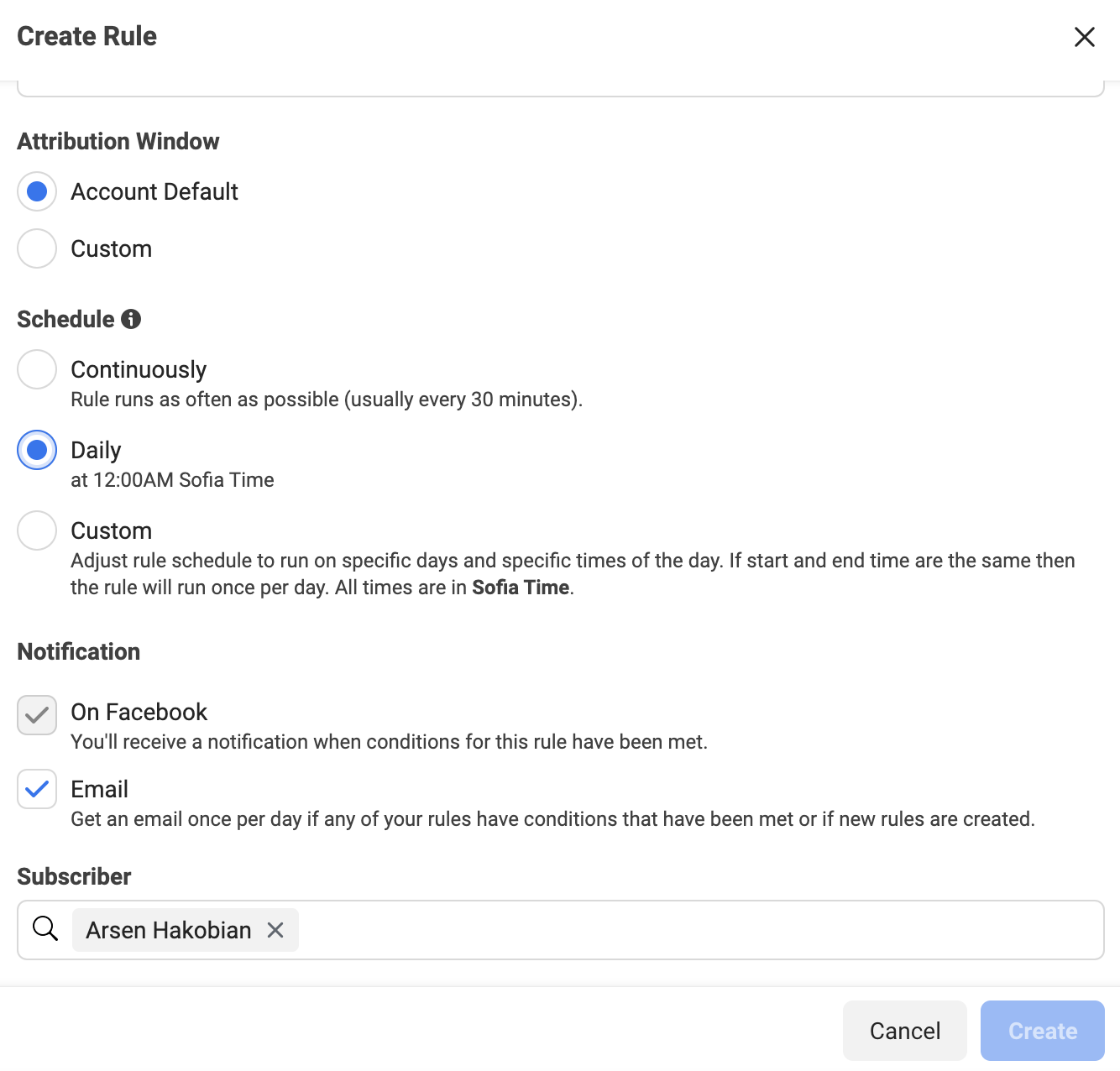 And that's about it! You can get notifications on the things you want, whenever you want whether that's daily, or whatever suits your needs. Just click on Create and get your result notifications for the chosen ad account.
This is the easiest and most effective way to stay on top of your ad performance. The only thing that's required from you after you set this up is to access your Facebook on mobile or check through Email!
You can now take that awaited ad break… Don't thank me 😉
---
Alright, there you have it!
We've just dropped lots of knowledge on your doorstep with this one. You can either cancel your subscription to Duo-Lingo and start your journey into Google NLP API for SEO, look in the mirror and find a Facebook Lookalike Audience to extend your market reach,  or automate your Ads Manager and finally take that vacation you've been planning for.
Sounds great doesn't it? I'm not sure what you're waiting for… Get on this new knowledge and seize the day!
If you have any questions about any of our Know Hows, feel free to drop a comment below and give a shout-out to our authors this week on their LinkedIn profiles (which we've linked to their names).
Once again…
"Stay in the know. Hopefully, you now… Know How. 'If you know, you know…' Alright, that's enough of that."
-Yours truly
Take care! Now get on those tools!
P.S. Don't forget to check out our previous Know How: A few hacks Einstein would appreciate