How's it going Know-Howers!
We're back with another week of exciting experiments and insights within the crowdfunding world of TCF.
Many things have happened as of late, Apple bringing in their iOS update 14.5, causing a wave of ripples in the ad and marketing world; Elon Musk making a guest appearance on SNL, causing a drop in dogecoin's value, and our very own Anna, Norayr, and Nazely dropping knowledge in this week's know-how!
So get ready as we dive into some cool new Copy AI Tools, share Custom Conversions from Facebook, and learn a cool way to optimize your Instagram Marketing!
So without further ado, let's dive into this week's Know How!
---

This week's Know-How:

COPY AI:
AI Has Taken My Job!
Facebook Custom Conversions:
How to share Facebook's Custom Conversions between ad accounts and your partners
Instagram Marketing:
Optimizing your conversions with Instagram's countdown timer
---
AI Has Taken My Job!
Anna Voskanyan

The day has come — AI will write your copy!
We all know how difficult it is to write a copy for your business. Whether you're writing an email, blog post, or brochure, the amount of time and effort that goes into getting a single piece of content right can be overwhelming. 
Wanna know a secret? The paragraph you've just read is not written by me or any other copywriter at TCF. That's Headlime's AI — a platform-based tool that can quickly turn your ideas into creative and professional copies, saving you the time that matters!
During the past few weeks, I've tested several similar platforms but ended up on Headlime. Why? From blog articles to social media posts to landing pages — Headlime has it all.
To create the copy for your project or business, you must provide the tool, the name of the product or service, a short description, and hit the "Generate" button. It's that simple and quick! The tool will generate 5-7 copies you can choose from in under a few seconds. 
With Headlime you can develop copies in German, French, Italian, Japanese, Polish, Portuguese, Spanish, Russian, and Chinese. When writing the copy, you can also play with the creativity level of the copy and the tone you need. After signup, you have a free trial with 25 free credits to generate ads, landing pages, blog articles, and more, and once the trial credits end, you can activate the 7-day for $7 trial option. 
And last but not least, I choose this tool from the many I have tested in the Templates section, where you can add your own templates or choose from the 1000+ options.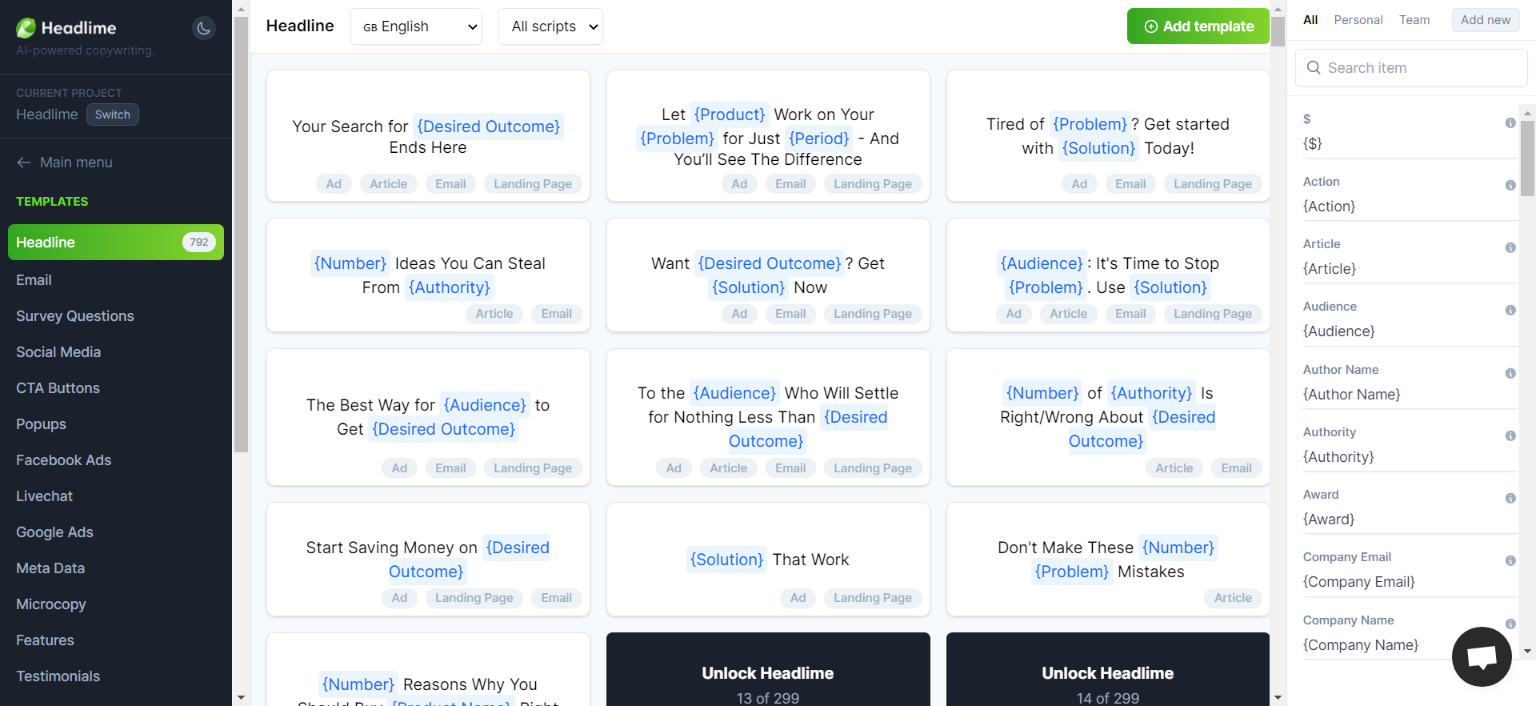 I've decided to test the copies the tool provides on social media posts, ads, and landing pages — they all had quite catchy and exciting results. 
Another AI writing tool that I tested is Writesonic.
Using Writesonic's AI Article Writer 3.0, you easily generate an article with 1500 words in a matter of seconds, and I'm not kidding. That sounds exciting. What's better than generating content without working on it from scratch? Of course, there are things to fix in the text the AI writes, but overall, it worked good.
The steps to take to write an article here are simple: I have chosen the template, given the AI the topic, choose the language and the quality of the article, and the tool generates the intro for you, then the outline, and then makes the draft into the article.
When choosing the quality, I decided to go with "Premium," but "Good" worked good as well. So, choose one of these two for your article to contain high-quality words and phrases. And remember that the quality of the article will depend largely on the completeness and uniqueness of the topic.
What's more, Writesonic has 65+ features and supports 25+ languages. It works for content writers, eCommerce store owners (for writing product descriptions, benefit bullet points, etc.), entrepreneurs for creating landing page copy, etc. I haven't tried, but it even writes song lyrics; you just give it the topic and music genre, isn't that cool?
---
How to share Facebook's Custom Conversions between ad accounts and your partners
Knowing who you are marketing to is a foundational thing to know in business. You must understand who is most likely to use and interact with your offer if you have a product or service. This deals with background, demographics, and motivations, amongst many other variables which make up a target audience.
When it comes to Facebook, there are many tools at your disposal to help you specify your target audience. Within their tools, you can create a specific "Custom Audience" where you create parameters for the specific people you want to reach out to. This can include countries, interests, age, and other variables. The thing is, you may be running an effective marketing campaign and reaching many interested potential users, but what if there was a way to extend your reach to an audience you weren't originally marketing to?
You might ask why I would need to share Facebook custom conversion.
Or maybe to share with what, with whom?
Okay, until I get to this answer, let's go a bit back to custom conversion creation and understand where we create it because getting access to it or sharing it depends on how you created your custom conversion.
There are two ways or two places to create Facebook custom conversions. You can do it at the ad account and business manager levels.To create a custom conversion at ad account level, you simply have to go to the event manager, find custom conversions on the left side and click on the "Create Custom Conversion" button.


To create it at the business level, you need to go to the business settings, select data sources, and from there, choose custom conversion

 and then, from there, create a new custom conversion.
Now let's understand the difference.

Custom conversions created at the business level you can easily share.
From business settings, select data sources, choose custom conversions, choose whatever you want to share, and click the "Share" button. You can access any ad account you want within your business manager or assign a partner.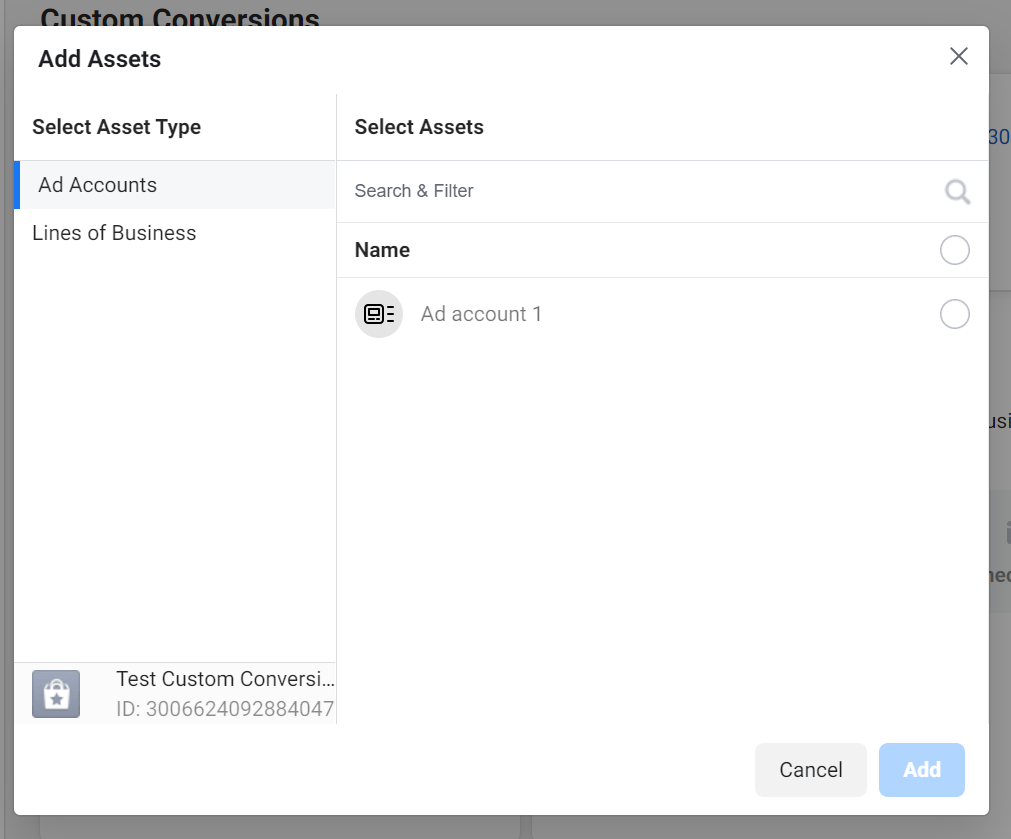 Custom conversions that have been created at ad account level in the event manager can not share because there is no option to share or the share button are not functional.
To share custom conversion created in the event manager, you should do the following.
First of all, you have to go through business settings, select data sources, find custom conversions, click on it, and as you know, you will already have two options.
Add a custom conversion or create a new custom conversion. From here, you need to choose to add a custom conversion. A window will appear, and you need to put a custom conversion ID there. When you put it, click on add custom conversion, and it is done. Custom conversion is in the business manager. As I mentioned above, you can easily share it the same way.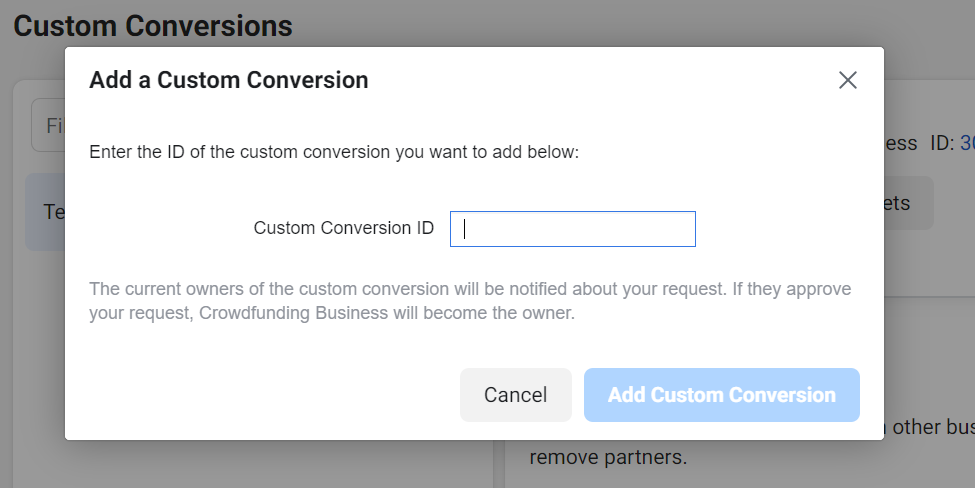 You will need to share custom conversions with your partner or your client, or you want to get access to your partner's or client's custom conversion for your ad optimization, or maybe you are going to switch to another ad account or do ads for the same product in another ad account. 
---
Optimizing your conversions with Instagram's countdown timer
In today's social media marketing world, anything you can do to create some urgency will most likely help out with your overall conversions. That's why having the right copy and the perfect CTA's is non-negotiable if you want to get people's attention.
But what if there was something else you could do that could visually showcase that urgency in real-time? Luckily for you, Instagram has an amazing tool that has repeatedly worked with various campaigns, especially when we've tried it on our recent PooPail campaign.
Let's get into it!
So one of the cool things we've tried out to get people excited for the launch of our campaign is not only to set up email flows for our subscribers leading up to our launch but also set up a story post (since they last 24hrs) with a 24hr countdown timer which they can always go back and look at in real-time.
It looks something like this:
Do you know the feeling of the countdown on New Years', especially the New York City countdown, when everyone bunches up in Times Square and waits for the ball to drop. Setting up a pre-launch timer has the same idea and emotion behind it.
Check out the difference between the example above and this one below… You're more likely to pay attention to the launch and have some sense of excitement for it:
Aside from Pre-Launches (the beginnings), the countdown hits home when it's a literal countdown for the end of the campaign because that's the last time they'd be able to back. This is a "time is running out" timer, and highlighting the things they will miss out on if they don't back before the timer runs out adds value and incredible urgency.
"This is the last chance you'll be able to get PooPail at the cheapest price we'll ever offer. So hurry before time runs out!" This line and CTA state that if they miss out, they won't ever be able to receive the same deal. What would you do if you had that information and saw the timer below?
If you weren't looking to buy or back a product seeing this below would definitely tempt you:
You can use the countdown timer for various events, launches, and giveaways. The only suggestion is that, although this tool nearly always converts, I would not use it for EVERY SINGLE OCCASION. It's like anything overused. It loses value over time if EVERYTHING becomes a "Time is running out" post.
That being said, go try it out! Hurry… time is running out 😉
---
And that's a wrap!
There you have it, folks… gents… humans… Like we do every week here at TCF, we fail, test, learn, and spread knowledge so that everyone around us doesn't have to share the same mistakes.
So tell your copywriter (even if that's you) that they can take a day off after subscribing to Headlime,  share those Facebook Custom Conversions,  and be the king of creating FOMO by using Instagram's native FOMO creator, the Countdown Timer.
And like everything in this world… all good things must end. And this is no exception.
But the story does not end here… If you have any questions about our Know Hows, feel free to comment below and shout out to our authors this week on their LinkedIn profiles (which we've linked to their names).
And as always (I kind of made it a thing…)
"Stay in the know. Hopefully, you now… Know How. 'If you know, you know…' Alright, that's enough."
Take care! It's been a pleasure.
P.S. Don't forget to check out our previous Know How: Simple Hacks That Make the Difference