Growth hackers — data-savvy analyst, creative director and innovator rolled into one — don't grow on trees.
As an avid follower of our weekly dose of know-hows, you already know that TCF tribe is a standout in terms of growth hacking and marketing.
Just like Jeff Bezos or Elon Musk — we hacked our way into growth marketing by adopting different growth hacking tools, techniques and strategies.
In this week's Know How, we are sharing the best growth hacking tools, strategies and stellar sales growth tactics with smartypants like you… yet again!
Ready for take-off?
3… 2… 1…
Update
1. ManyChat Default Comments Growth Tool
Our Chatbot guru – Vardan – is on cloud nine! Asking why?
Manychat integrated a new feature, which brings all the Facebook subscribers to the Bot directly from the post's comments.
Now you can set a default comment for all of your page's posts, and not set up the same flow per post.
Just connect your pages to the widget, enable comment tracking option and choose the auto-response delivery time scheme.
Added bonus:
When you want to delete a tag, custom user field or bot user field, the system checks if those are being used in any flow, so your flows won't be affected after the deletion.
Note:
Comments Growth tool works with scheduled, boosted & published posts, also FB live posts. However, it is not compatible with Facebook groups and personal profiles.
Strategy
2. How to Boost Your Lead Generation Results
Creating a steady stream of email leads is a struggle.
If you ever launched a product campaign and ended up with only half of the invitees backing your project – you *felt* the word struggle.
…cause without those precious leads – your project is dead in the water!
Here's a strategy to help you cut the noise…
Add the Google Calendar invite link in the pre-launch email as soon as you know the exact campaign launch date.
There's a quick and dirty step-by-step guide from Artur:
Create an event in your calendar
Generate a special link for that event
Copy the special link and add it to the email body.
As soon as people click on the link, the event will automatically appear in their google calendar or any calendar they are using.
Depending on the calendar settings, the potential backer or client will get notifications 10-30 minutes before the campaign goes live.
Added bonus:
This is also a handy strategy to notify the journalists and media outlets about the launch date.
Hacks
3. Improving the Relationship between a Journalist and PR Specialist
Slow PR is about creating better relationships not one-time coverage.
Let's face it – without the human touch – your PR campaign is going to fail regardless of technology and all the tools you use.
To create a better connection and communication with the journalists we are working with – Mary came up with a heart-warming and creative solution.
We send personalized cards on their special day!
Here's the how-to:
Create a spreadsheet, include the date of birth and a personalized message
Use a reminder add-on for the google sheets to schedule a reminder with the date and time you want (the tool will send you the reminder directly to your inbox.)
And if you want to add color and customize your congrats even further – you can use Gmail templates extension to send beautiful and customizable templates.
Everything just to improve the partnership between you and the journalist!
4. Edit History in Google Spreadsheet
Google Spreadsheet has numerous advantages.
Automatically saves the work, keeps track of the changes and allows to restore earlier versions.
Average users just click on the "history" button to quickly monitor the changes.
Advanced Windows users use the Ctrl+Alt+Shift+H shortcut or Command+Option+Shift+H on Mac.
Amateurs… use the new built-in feature!
The manual search of who changed the information on a particular cell and when is over.
Be amateur!
Just right click on a cell and click "Show Edit history".
A pop up will appear showing the needed information like who edited the cell and when … and the previous value.
Thank you note for Lena – for the coolest Google update!
Tools
5. Wiza.co
A big shout-out to the research and outreach specialists!
Wiza.co combined with LinkedIn Sales Navigator creates real outreach magic.
With the 100s of verified email lists within minutes – your outreach campaign or lead generation will become a breeze!
The tool is integrated into the Sales Navigator from where you can export emails that are ready for outreach with Wiza or download the list as a CSV file.
Simple and intuitive. Speedy data scraper. Business email with 100% validation a click away.
Install Wiza extension to get started!
For this goldmine tool, all the credits go to… our PR & outreach specialist Babken.
6. MuckRack.com Beats
Sure you know this tool if you're a journalist or a PR specialist.
MuckRack has an extensive media database allowing to search of the best journalists and articles.
It has a beat directory, after the discovery of which we lost our PR specialist Lena for good in the endless lists of MuckRuck's topics, locations and cities.
For the quick identification of journalists, organized and categorized – MuckRack has a special team of editors who review all the articles and categorize the reporting.
This platform is awesome for establishing relationships solely from pitching and responding to inquiries.
And just like in HARO, you can set up media alerts to monitor your target niche.
PDF list summaries, Who shared feature, notes to track the interactions. Social shares.
MuckRack has become an important tool and a central part of our PR & outreach activities.
7. Venngage
Don't know much about design but want to create killer infographics for your content? Don't look further!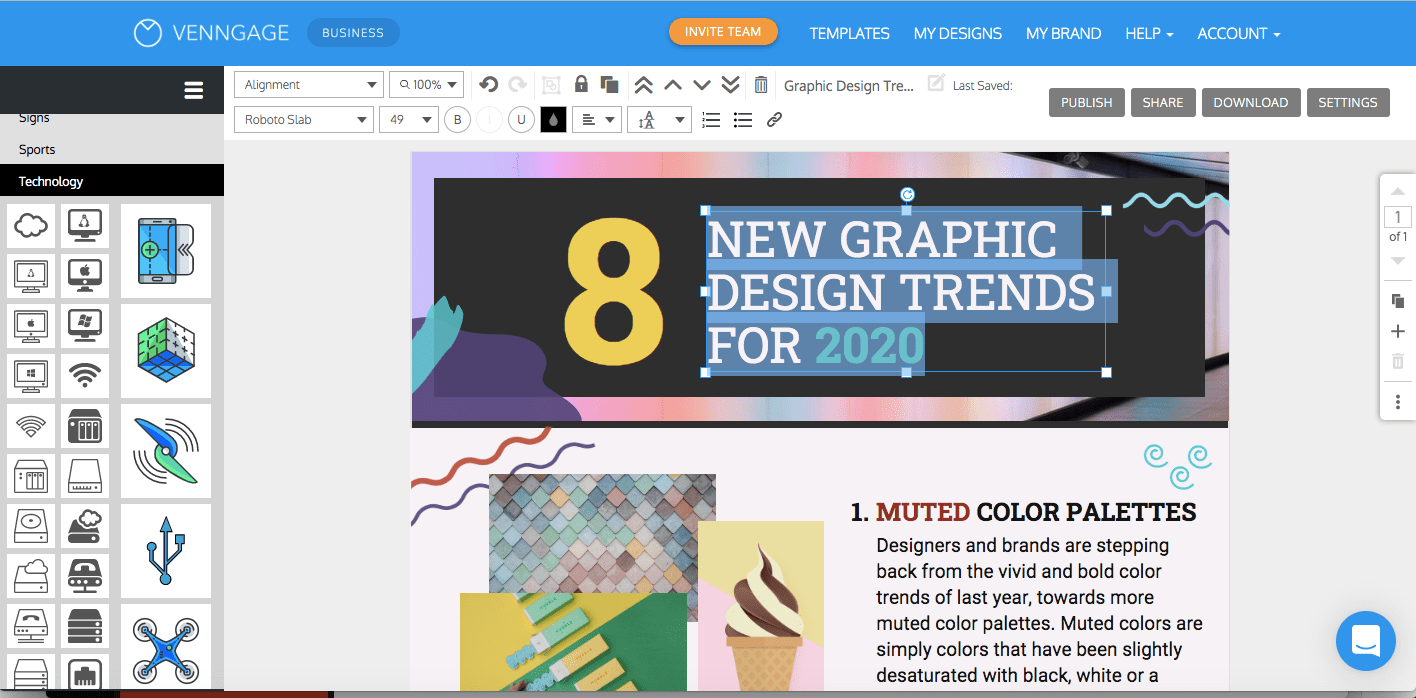 Venngage Infographics is the most user-friendly online infographic maker. The tool allows you to create infographics from thousands of professionally designed templates. You can customize your design as much as you'd like with hundreds of icons, charts, maps, fonts, and colors accessible from their library.
Venngage top 5 cool features:
– Brand kit – save and apply your own styles
– Free access to thousands of icons, charts, and maps
– Team collaboration – add and manage team members to your account to make communication and editing flow seamlessly.
– Photo library with access to thousands of stock photos
– Upload up to 500 of your own images
8. Aeroleads.com
One of the most sought after Email finder and verifier tools in the market. It not just aids in getting emails but also super speeds the lead generation process by many folds. One can get verified email addresses of various decision-makers of all the companies from their sites as well as LinkedIn.
The tool provides up to 15 different data points, such as address, contact number, full name, job title, email address, etc.
AeroLeads can be integrated with Mailchimp, Zapier, Zoho and other email marketing tools for effective communication.
To begin with, even the Free Trial is available along with the Chrome Extension for new users.
9. Napoleoncat.com
NapoleonCat is an awesome gem for managing sales force, customer care and social media marketing platforms. Based in Warsaw, Poland – this tool was founded back to 2011 to offer plethora of valuable data and insights!
NapoleonCat – integrated with Facebook, Messenger, Twitter, Instagram, LinkedIn, YouTube and Pinterest – allows to:
manage multiple social media channels
automate customer service
analyze marketing results
monitor and benchmark against competitors
collaborate within teams
automate reporting process
Benefits: NapoleonCat…
1. Gives more in depth iInsights than the FB stats
2. Allows to manage both comments and users across the social accounts
3. Measures and analyzes your social progress – reach and engagement
4. Generates reports automatically
5. Tracks and monitors your competitors and industry benchmarks.
NEW
Sales tips or…
Sales growth marketing is a proprietary term for our new section!
This section will be all about customer lifecycle and the know-how of creating compounding returns!
Keep the basics of quality and consistent follow-up service – and here are the tips!
Keep the communication going
Never just answer the question of the customer. You need to ask questions – open question to engage and set a baseline for further communication.
What is your concern related to the product
Product quality, scam, delivery issues are major concerns that will affect your customer's decision making process.
Ask about their worries and give genuine advice and information to dissolve their concerns.
Always be ready to help your customers
Listen to a customer's needs. Start with ''Let me help you''.
Communicate through the product specifications, determine which product will suit them best and point out the best solution to their needs and wants.
Let me check with my management Hack
Recently we changed our strategy when it comes to secret perks and discounts.
Now, we give a special discount only after we create a trust funnel with our customers to make them feel more appreciated and special.
We have a little trick "let me check with my management". We "check" the discount and get back to them in 10-15 minutes with the special perk.
Emojis keep the happy and comfortable tone throughout your communications.
Choose several emojis according to the branding and style of the project, and use them wisely.
Aaand this much for this week, folks!
If you are new to our know-how series, make sure you check our know how section.
Cause growth hacking tools and strategies never get old, just a little… cough cough… dusty when not in use!