Hey Know-how Community! 
Welcome to our first Know How of 2021! New year, new experience, and new achievements, right? We all have our resolutions, TCF Know hows as well. 
We were developing a better solution to make our Know-Hows more enjoyable throughout the past few weeks, and here we are! Yaaay! 
On top of learning how we can test multiple videos on Facebook, see interesting user insights through different platforms and boost sales through Facebook live broadcasts, Ani from our Ads department has prepared a remarkable case study for you. 
SMM: How to test multiple videos on Facebook
Customer Insights: Where to look for product reviews
Sales: Effectively boost your sales during Facebook live broadcastings
Case Study: How perk images in ads boost conversions
What do you say? Shall we proceed?
How to test multiple videos on Facebook
Way too often we, the SMM specialists, wonder how we can test things and share the best engaging content with our audience. Recently announced Facebook feature comes to solve this issue! Thanks to this feature, you can test several videos (yes, the feature works only for the videos) to see which one works the best for your audience.
Through the data, we receive we can see which caption drives more traffic to our website, which of the video is viewed longer, and based on these metrics make relevant improvements.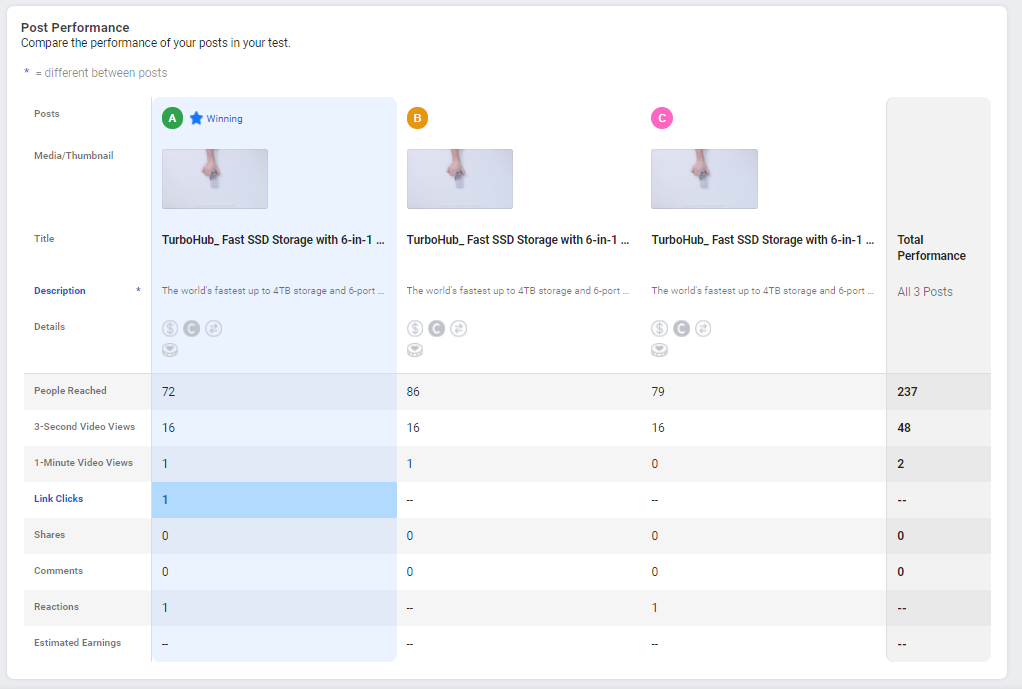 You can create a post-test only in the Creator Studio, a one-stop content management solution within Facebook that helps us manage and create content for our page.
Once you have created the post-test, Facebook allows you to upload several videos, add descriptions and titles to them. Then you need to give a name and a description for your testing. To get the right result it also allows you to choose the key metric you want to monitor and the duration of the test (max 24 hours).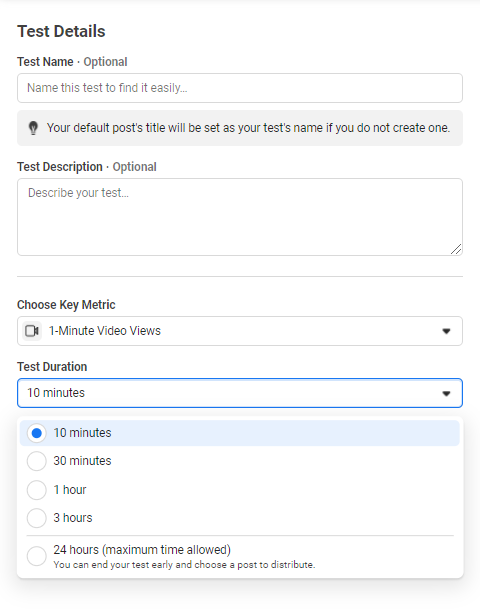 Different metrics let you know which video is being seen longer, which caption brings link clicks, etc., helping you improve your videos, captions, and engage with your audience better.
After testing all your creatives and copies, Facebook identifies the winner and automatically posts it on your page. Before that moment, none of the posts are visible on your page and the audience watches them on their feeds only. So, the videos that under-perform won't appear on Facebook.
Facebook defies the winner based on the metric you have chosen. So if you choose the key metrics, for example,"link clicks" and a video gets a lower reach or reaction than others, the winner will be the one that received the most link clicks. 
You also can continue monitoring your content after the test. You just need to turn on "tracking post-performance" and see the results even after the test ends. 
Hints on how you can use the tool, based on our team's experience:
You can test the same videos with different captions to see which approach works better and brings traffic to your website (link clicks).
Use different videos to see which one is interesting to your audience (3-sec / 1-minute views).
Test engaging and educational videos to see which one meets the interests of your audience (comments, reaction or share).
Where to look for product reviews
Research done by the specialists says that 92% of customers read online reviews before buying products.  
The same research stated that about 88% of those consumers trust online reviews as much as recommendations from their friends and family members. Can you imagine that?
Based on these data we surely can't deny the importance of having real-time feedback for our campaigns and products. And what to do so as not to get biased opinions from your teammates and family who just love our product?
While trying to find a solution to this issue, I came across an interesting and highly engaging platform. Ta daaaa! Introducing the handiest tool — UserTesting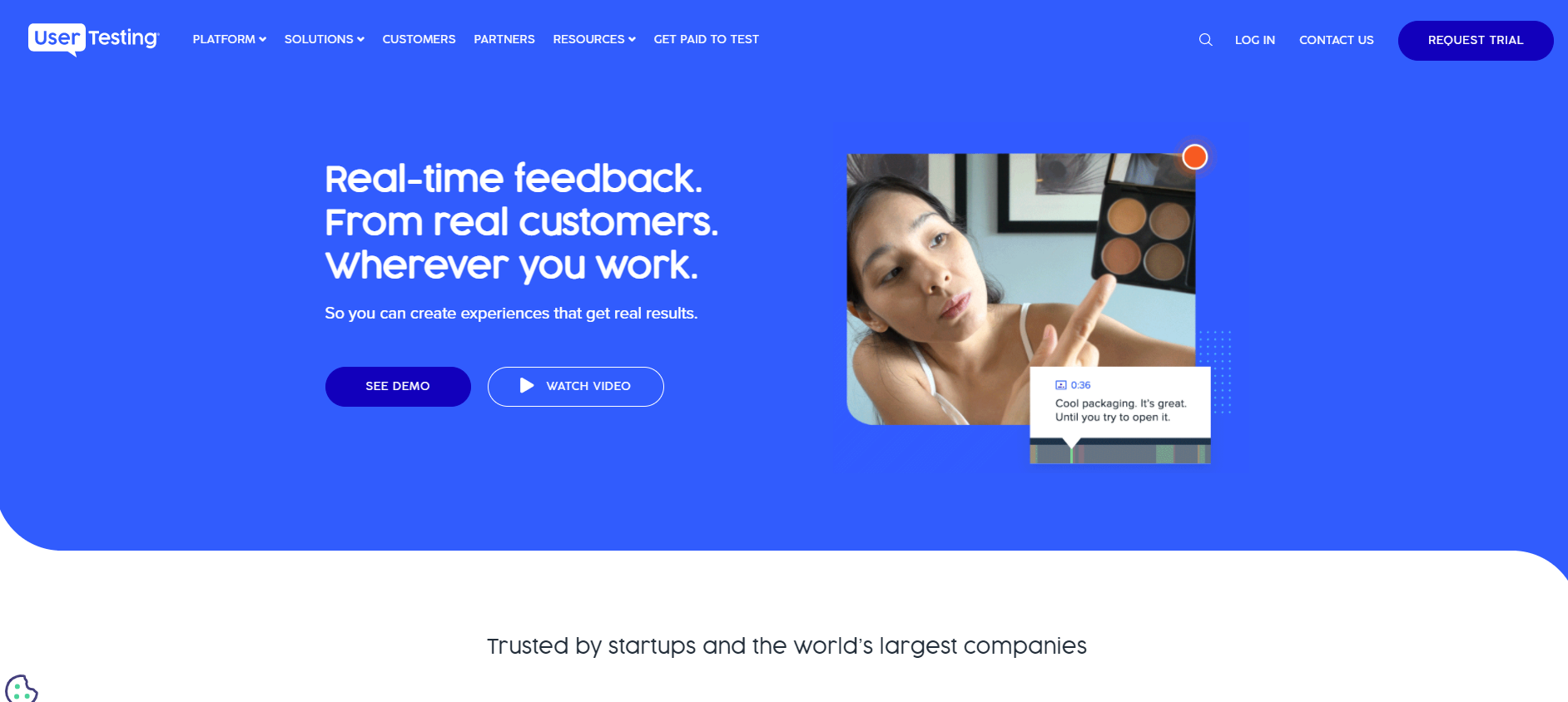 This is a platform of real-time feedback generators — people who are sooo ready to review your product, to film that, and to send it to you! You can post those reviews on your social pages, on your page, or send them out to potential customers, it's all up to you! 
Once you test the platform out, I would love to hear your comments and feedback!
Effectively boost your sales during Facebook live broadcastings
During this pandemic period, live-streaming on social media is almost doubled. People are watching live-streams sitting at their homes. So this is one big reason to show up in front of your followers more frequently and create a discussion or present your product. 
But the other not small reason that you should do more live broadcasting is the new live shopping feature that Facebook has rolled out worldwide recently.
Facebook Live Shopping is an interesting way to sell your product, interact directly with viewers, and gain potential backers, all in real-time. When you sell products through Live Shopping on Facebook, you are live-streaming as you feature your products. This allows you to share more information, demonstrate your products, answer questions from viewers, and respond to their reactions. It's highly interactive for you and your viewers, and when viewers want to make an order, they can do it right in the live stream. While you broadcast, you can incentivize them to back your product. Maybe you can create a secret perk if you are live on Indiegogo, or give some freebies to those who will back during live streaming… it's all up to your imagination and strategy. 
How you can activate this feature? For Facebook Pages, there are 3 ways to feature your products:
If you have a Commerce Account with Commerce Manager, a linked Facebook Page, and a product set in your Facebook Catalog, you can tag and feature product sets from your shop and add links.
If you have a Facebook Page but no Commerce Account, you can manually add the products and links you want to feature just before going live.
You can also just start a live shopping video without having a Facebook shop but what you can do instead is just feature your Indiegogo or Kickstarter page link.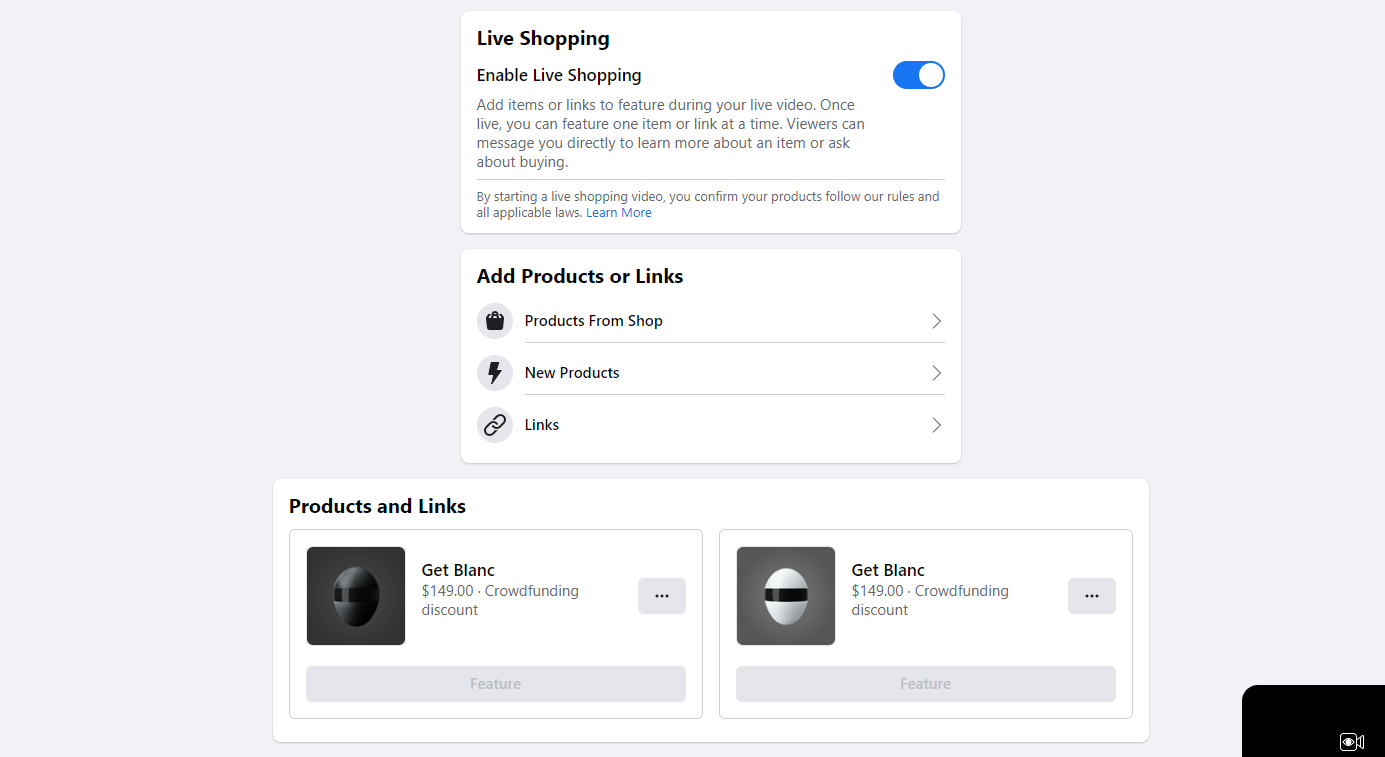 Check out the steps below to start your Facebook live shopping experience: 
Go to the Create section on your Facebook Page and click Live.
Select the Live Shopping tab and toggle on Enable Live Shopping. If you don't see Live Shopping, try expanding your window or clicking the More drop-down to find it.
To feature products from your shop, select Products From Shop. Choose the product sets that you want to feature and click Save. You'll see the products from your selected sets under Products and Links.
To add new products, click New Products. For each product, upload photos of your product and add details such as title, price and description. When you're ready, click Save. To add more products, repeat this step. 
To add links you want to promote, click Links. Add the link and a description. The description will appear above your URL when you feature a link.
Add a title and description for your live video and when you're ready, click Go Live.
Click Feature under the product or link you want to show your viewers. Click Stop featuring, then Feature under the new product to feature a different thing. These best practices can help optimize your broadcast and what your viewers see.
Once you're done with the live, click End Live Video. Now you can post the live video on your Page's timeline so viewers can return to the video for reference or see it for the first time.
Case Study: How perk images in ads boost conversions
And finally, we are here! Ladies and gentlemen, we are excited to share the new know-how format we were working on. Check out the recent case study and results, and drop all your ideas in the comments.
—
That's all for today, folks. Waiting for your feedback on the presented solutions, and tools but most of all on our new Know How to format. Do you like it? What do you like the most? Anything you think we need to improve?