Email is the most invaluable asset a business can own. With social media sites deliberately shrinking organic reach, email remains the only permanent medium to approach your leads. But are you harnessing its full potential?
We drone a lot about the need for catchy subject lines and while there is no denying of its importance, your leads would be far more inclined to open your emails if they were hooked by what's inside.
So how can your opening text paint a picture of what to expect without compromising the professional email etiquette?
Besides learning how to hide a preheader text in your email, discover how to use a Facebook group to enhance your network on LinkedIn, and once you've grown it to an extent where you need a helping hand to manage it, a set of simple automations to streamline your LinkedIn workflow. Also, hack around Facebook's 10% lookalike audience limitation.
Without further ado…
Let's dive right in.
Write A Compelling Preview Text to Boost Open Rates
By Lili Avetyan
Email communication is an important part of our everyday job.
As a recipient, sometimes I wish I could know more of what's awaiting me in that email other than just the subject line. And as a sender, I wish I could catch the attention of my recipient with something more meaningful.
In almost every email inbox (be it Gmail, Yahoo, or others), you always have the sender's name, the subject line and the preheader text that comes in a light grey-ish color right after the subject line.
The preheader text is automatically generated from the opening lines of your email, which is, according to the email etiquette, most likely a boring introduction, i.e. "Hey [sender's name], I'm [recipient's name] from the Crowdfunding Formula.
To me, it's a space used wrong.
The recipients already see your name as the sender. And they'll see your introduction, too, if you get them to open your email. So there is no point in wasting that precious preheader text space on a lousy email opening. Spend it on ensuring they actually open it.
But in Gmail, there is no option to select a compelling snippet of your email to go as your preheader text. So you may think you can't really change it.  What you can do, however, is write your desired text at the beginning of your email and hide it. Here's how.
Step 1.
First you'll need to install this HTML editor for Gmail Chrome extension. It takes literally under 1 minute to get it running.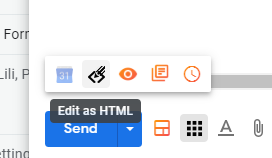 Step 2.
Hit the "Compose" button and start writing your email as you would normally do. After you're done, click the "Edit as HTML" icon and a window will pop up displaying your email's HTML code.
Don't worry if it looks complicated. You don't need to be a programmer to get this working!

Step 3.
In the HTML editor, go to the first line and copy and paste this piece of code below before your first line.
<div style="display:none;font-size:1px;color:#333333;line-height:1px;max-height:0px;max-width:0px;opacity:0;overflow:hidden;">
Type your preheader text here.
</div>
Changing out the placeholder "Type your preferred preheader text here." for your own preheader text.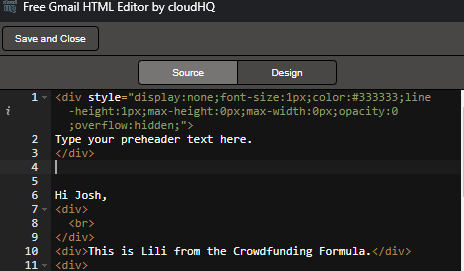 What this code will do is hide your text from the main body of your email but still keep it there for Gmail to generate it as your preheader.
Step 4.
The preheader character count can vary based on the mail inbox, device, etc. But in the off chance your secret preheader is shorter than 90 characters, you'll need to add something else to this mix.
To prevent your actual email body from sneaking into the preheader space after your hidden one, we'll add some invisible characters.
Copy and paste this code into the HTML editor after the hidden preheader and before your actual email body.
<div style="display: none; max-height: 0px; overflow: hidden;">
&nbsp;&zwnj;&nbsp;&zwnj;&nbsp;&zwnj;&nbsp;&zwnj;&nbsp;&zwnj;&nbsp;&zwnj;&nbsp;&zwnj;&nbsp;&zwnj;&nbsp;&zwnj;&nbsp;&zwnj;&nbsp;&zwnj;&nbsp;&zwnj;&nbsp;&zwnj;&nbsp;&nbsp;&zwnj;&nbsp;&zwnj;&nbsp;&zwnj;&nbsp;&zwnj;&nbsp;&zwnj;&nbsp;&zwnj;&nbsp;&zwnj;&nbsp;&zwnj;&nbsp;&zwnj;&nbsp;&zwnj;&nbsp;&zwnj;&nbsp;&zwnj;&nbsp;&zwnj;&nbsp;&nbsp;&zwnj;&nbsp;&zwnj;&nbsp;&zwnj;&nbsp;&zwnj;&nbsp;&zwnj;&nbsp;&zwnj;&nbsp;&zwnj;&nbsp;&zwnj;&nbsp;&zwnj;&nbsp;&zwnj;&nbsp;&zwnj;&nbsp;&zwnj;&nbsp;&zwnj;&nbsp;&nbsp;&zwnj;&nbsp;&zwnj;&nbsp;&zwnj;&nbsp;&zwnj;&nbsp;&zwnj;&nbsp;&zwnj;&nbsp;&zwnj;&nbsp;&zwnj;&nbsp;&zwnj;&nbsp;&zwnj;&nbsp;&zwnj;&nbsp;&zwnj;&nbsp;&zwnj;&nbsp;&zwnj;&nbsp;&zwnj;&nbsp;&zwnj;&nbsp;&zwnj;&nbsp;&zwnj;&nbsp;&zwnj;&nbsp;&zwnj;&nbsp;&zwnj;&nbsp;&nbsp;&zwnj;&nbsp;&zwnj;&nbsp;&zwnj;&nbsp;&zwnj;&nbsp;&zwnj;&nbsp;&zwnj;&nbsp;&zwnj;&nbsp;&zwnj;&nbsp;&zwnj;&nbsp;&zwnj;&nbsp;&zwnj;&nbsp;&zwnj;&nbsp;</div>

Step 5.
Now that you have everything set, just hit the "save and close" button on the HTML editor and send your email as if you hadn't just used this genius hack.
Here's how it will appear in the recipient's inbox.

Think of the preheader text as a chance to improve your open rate. Use it as a second subject line, a CTA, or include eye-catching information that will speak to your recipient's needs.
LinkedIn Growth Hackers Group to Brand Yourself
A secret to none, LinkedIn anchors massive potential to increase your visibility, enhance your network and facilitate a jump forward along your career ladder. But tapping into it is no easy feat.
With the delivery of relevant and interesting content at its core, the introduction of LinkedIn's newsfeed algorithm in 2017 gave easy virality to masses. But since late 2019 and early 2020, organic reach on LinkedIn has been steadily plummeting.
That being said, there are still a handful of factors you can influence to increase your odds of achieving greater visibility.
Posts that receive engagement within minutes after they've been published are far more likely to enjoy greater organic reach. So are the posts made by users with strong LinkedIn profiles with many skill endorsements and recommendations.
But how can you possibly get people to endorse your skills? Or, even harder, ensure an influx of users to your post and land engagement?
Here's where LinkedIn Growth Hackers come to hand!
A support pool of savvy LinkedIn growth hackers united in a Facebook group where they share knowledge, skills and offer help with LinkedIn-related activities.
So the next time you find yourself looking for some post engagement, skill endorsements or recommendations, LinkedIn Growth Hackers will have you covered.
The good thing is there are no monetary expectations involved. The only expectation is the mutuality of these favors. So if people endorse your skills, be ready to endorse theirs too. Or write a meaningful comment under their posts.
On top of all these benefits, you'll also get the latest tricks and hacks LinkedIn growth hackers use to beat LinkedIn at its own game and land great visibility for their profiles.
Beyond mutual LinkedIn support, use it to grow your professional network. Among the current 6,000+ members, you'll likely spot some remarkable experts and like-minded peers to share your professional aspirations with.
Phantombuster LinkedIn Templates To Streamline Your Workflow
Phantombuster is one of TCF's favorite tools. It streamlines repetitive routines into a handful of synchronized automations.
Among the many updates they have introduced recently is the new LinkedIn prospecting automation which will be your holy grail to expedite the tedious LinkedIn workflow. While the tool is still in beta testing, it already gives a sneak-peak into its superb capabilities.
Let's walk through it together.
Step 1.
First, identify who you'd like to connect with on LinkedIn. Let's imagine we are looking for growth hackers in the US.
Step 2.
Pop your key phrase into LinkedIn's search bar, apply the location filter and wait a second while LinkedIn generates all the relevant profiles.
If you were anything like me, you'd start wading through the thousands of results and copy the individual profile links of who may be deemed as promising prospects. But with Phantombuster's new automation, you can export all the results, fuss-free.
Step 3.
Just copy the URL of your LinkedIn search into Search Export Phantom to generate a CSV link.

Step 4.
Once the link is generated, drop it in the CSV Links column, next to the Search Export Phantom.

And voila! It will migrate all the LinkedIn results into a spreadsheet and neatly lay out all your prospects' first and last names and profile links in the respective columns.
But that's not all. With just a few additional configurations, you can periodically update your extracted list of leads in the spreadsheet too. Set the Search Export Phantom to launch over a predefined interval (i.e. once in two weeks) to scrape a new, complete set of leads with your search query. And, since there will likely be a significant overlap with your current results—remove duplicates. This way you won't have to go through the first 4 steps ever again just to ensure you haven't missed potential partners who just optimized their LinkedIn profiles.
Step 5.
Use the LinkedIn Network Booster Phantom to send connection requests to your leads.
To not look spammy and have my profile removed from LinkedIn, I set up the Phantom to send only up to 60 connection requests a day—6 times per day, with 10 requests each time. 
Copy the URL of the spreadsheet in the Invitation Sent Phantom in Phantombuster to generate a CSV link. Then drop it in the CSV Links column of your spreadsheet, next to the Invitations Sent, and it will automatically update the status of your invitations in the spreadsheet every time the Phantom is launched (remember you've set it up to launch 6 times a day?).
Now hang in there a little or read our latest article on Digital PR Trends in 2020 before people start accepting your connection requests.
Step 6.
Set up LinkedIn Contacts Extractor Phantom to identify who has accepted your connection request.
My advice is to set Contract Extractor to receive updates on your status several times throughout the day.
As your leads gradually become your connections, don't leave them hanging.
Step 7.
Use LinkedIn Message Sender Phantom to send them an introduction message.
It's the same exact sequence, so we won't go through it again. You can view the status of your outreach in the Follow-up Sent column of your spreadsheet.
In Phantombustor's spreadsheet, you can also track the number of your potential leads, invitations, and connection requests accepted and the number of messages that followed—-all in real-time.
Here's what your template will look like at the end of the day. So you can follow the results and automate your entire LinkedIn prospecting workflow seamlessly with just a few steps within one intuitive interface.
Create 20% Lookalikes for Narrow Audiences
Sometimes we run ads for products which have small audiences identified with just a narrow set of interests. This already poses a challenge. But there is another layer to it.
The Facebook Ads Manager complicates matters even more, allowing you to create lookalike audiences of up to just 10%. And while 10% works fine with masses, when faced with a narrow audience, the same 10% significantly shrinks your target audience and also your conversion rates.
But TrustAds lets you push this limitation and create audiences of double—20%—the  similarity.
Simply connect your existing FB Ad account to TrustAds and create a 20% lookalike audience based on your custom file uploaded to the ad account.
Go to Audiences and choose  "Add Lookalike Audiences".
In the window that pops up, you can also choose the source and create the lookalike.
TrustAds is paid. But it also has a free trial option.
Build your next lookalike audiences with TrustAds and comment on your results.
——–
This wraps up this week's Know How article!
Have you already joined the LinkedIn Growth Hackers group? On the second day of my membership my top skills were already endorsed for more than 10 times!
What about the fantastic preview text hack? Your leads will be excited to know what to expect from your email. Give it a try and comment on the spikes you saw in your open rates.
Stay tuned for our next Know How and expand your marketing arsenal with a new set of tested tools!
Don't forget to come back in a week.