Greetings, Know How Geeks! 
If you are here, it means you are on the lookout for a few new hacks that you can implement for your campaigns. TCF's advertising department has prepared a few really amazing hacks and tips for you to skyrocket your digital advertising experience and ensure you make the most of your ads. 
Ani found out how you can hack the system and set up complex retargeting. Arpi's new out-of-box tip will help you increase engagement. Norayr is here to offer you a solution to organize your Ads Manager, and Elen will show you how to level up the ads' performance. 
Check them out below, and make sure to drop your feedback and questions in the comments: 
How to do complex retargeting for backers who added a specific IGG perk to their cart?
Usually, when targeting backers who added a product to their cart and left without purchasing, we create a new audience from the Standard event "Add to cart" for the past X days (maximum 180 days) in Facebook Audience Manager.
And though we were able to identify the individuals who added a perk to their cart, we were not able to see which perk that was and were not able to organize a proper upsell through our retargeting ads.
I am excited to introduce an amazing strategy on how you can identify backers who added a SPECIFIC perk to their cart and, well, raise revenue with upsells. Shall we proceed?
Let's go to the Indiegogo page of UVMask, the world's first active UV-C mask to instantly filter pathogens and bacteria and add a perk to our cart.
Choose the perk and click on the "Get this perk" button. 
Now you are on the "Add to cart" page. Install a Facebook Pixel Helper extension if you haven't done it yet, and once the icon turns blue, click it.
A window will open, where you'll be able to find the name/ID of your pixel. Above you can see the standard event called "AddToCart". 
Click on the "AddToCart" dropdown arrow. 
From the list that opens find "content_ids" and next to it you'll see a 7-digit number (hint: each perk has its unique ID).
Let's copy the ID and go to Ads Manager to create an audience from the backers who've added this specific perk to their carts.
In Ads manager, go to the Audiences section, choose Create audience > Custom audience.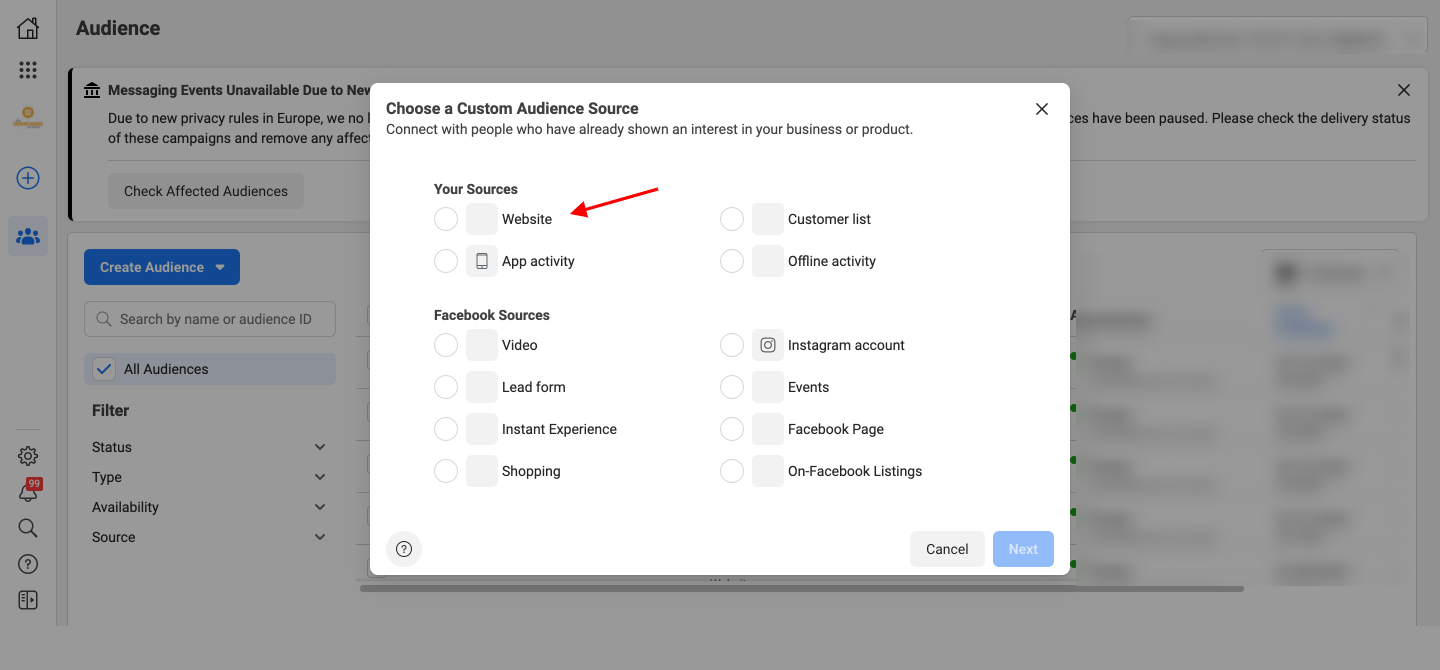 Choose "Website option". Make sure that in the Source part the Pixel is the same as on Indiegogo, and from your events choose "AddToCart."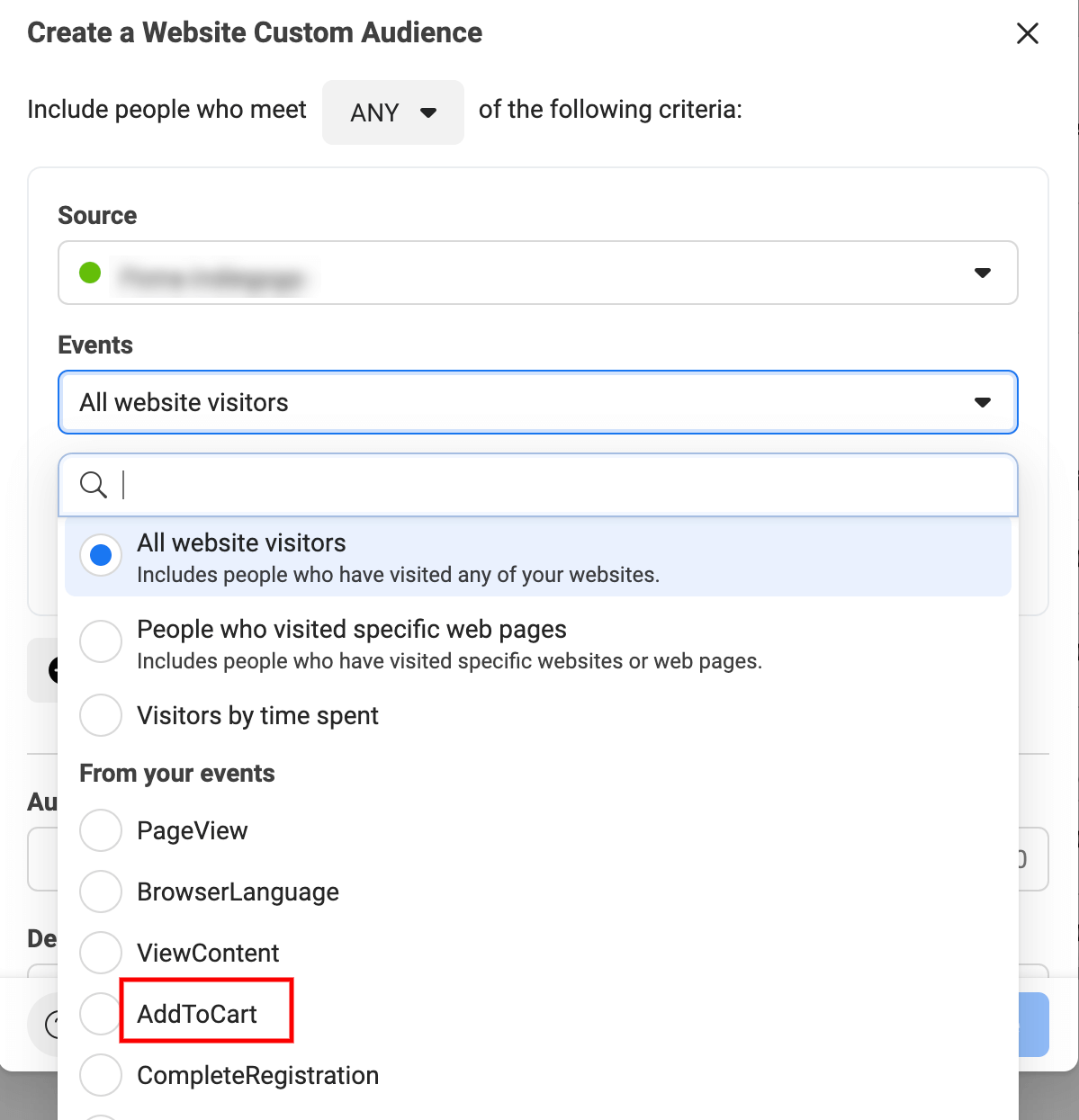 Refine by > URL/Parameter
Change the URL to Content_ids and paste the ID you copied from Indiegogo.
Here's the final look (you can change the Retention to whatever you want, but don't forget the up to 180 days):
Now when you've created the audience from the people who have added 1x perk to their carts, you can target them and offer a special Secret perk with a lower price for 2x products! How cool is this? 🙂 
Playing around with Math in Ads
As a Digital Advertising specialist, I'd like to confess — with all the buzz there, sometimes it's really challenging to make your Ad unique and get noticed. So, I am always getting out of the box and creating some crazy stuff.
Did you know that Math, especially wrong Math, can boost your ads? 
For The Everest, a fantastic crystal whiskey glass, I've been testing out different out-of-box ideas, one of which was playing with the copies.
While there were 6 glasses on the visuals, I showcased it with a text that read 4 glasses. From the first glance, nothing special, but in reality, it brought excellent results — people engaged, commented, made jokes, and then converted on the page.
Hint: when people engage with your ad — comment, share, or like— Facebook algorithm understands its interesting content and shows it to more relevant audiences.
Tidy Your Ads Manager Up with Name Templates
Digital advertising is all about timing and being organized. Using digital flyer will manage both and save time and money. For this reason, many advertising agencies use CRM software to enhance their workflow. While working on several campaigns, it's pretty easy to get lost and mix something if you do not have a unique naming structure, which will help you quickly find the Campaign, Ad Set, or Ad you are looking for.
How to do that? I have good news for you — Facebook comes with a native Name Templating solution. Thanks to this, you can create name templates when creating your campaign. What's more important, you can also do it for your Campaigns, Ad Sets, and Ads.
Name Templates consists of different components that'll automatically populate the template with your Campaigns, Ad Sets, or Ad's settings. On top of that, you are free to build custom components that include a list of options you've created. Or, you can add an empty field to write in later.
Now the fun part starts here. After you've saved the template, you can turn it on when creating a new Campaigns, Ad Sets, or Ad, and the name template will automatically apply to that campaign ad set or ad.
How to create a name template? Let's see…
First things first, Go to your Ad account and create a campaign. In the campaign name section, you will see "Create name template."
Then click on Create button on the campaign name part and choose the options Facebook offers you.
You can use a custom field to fill in specific info about your campaign or use a text field.
Then go with the same actions for ad set and ad names using their specific options that Facebook suggests. You can choose several options — whatever you want to see in your ad set name.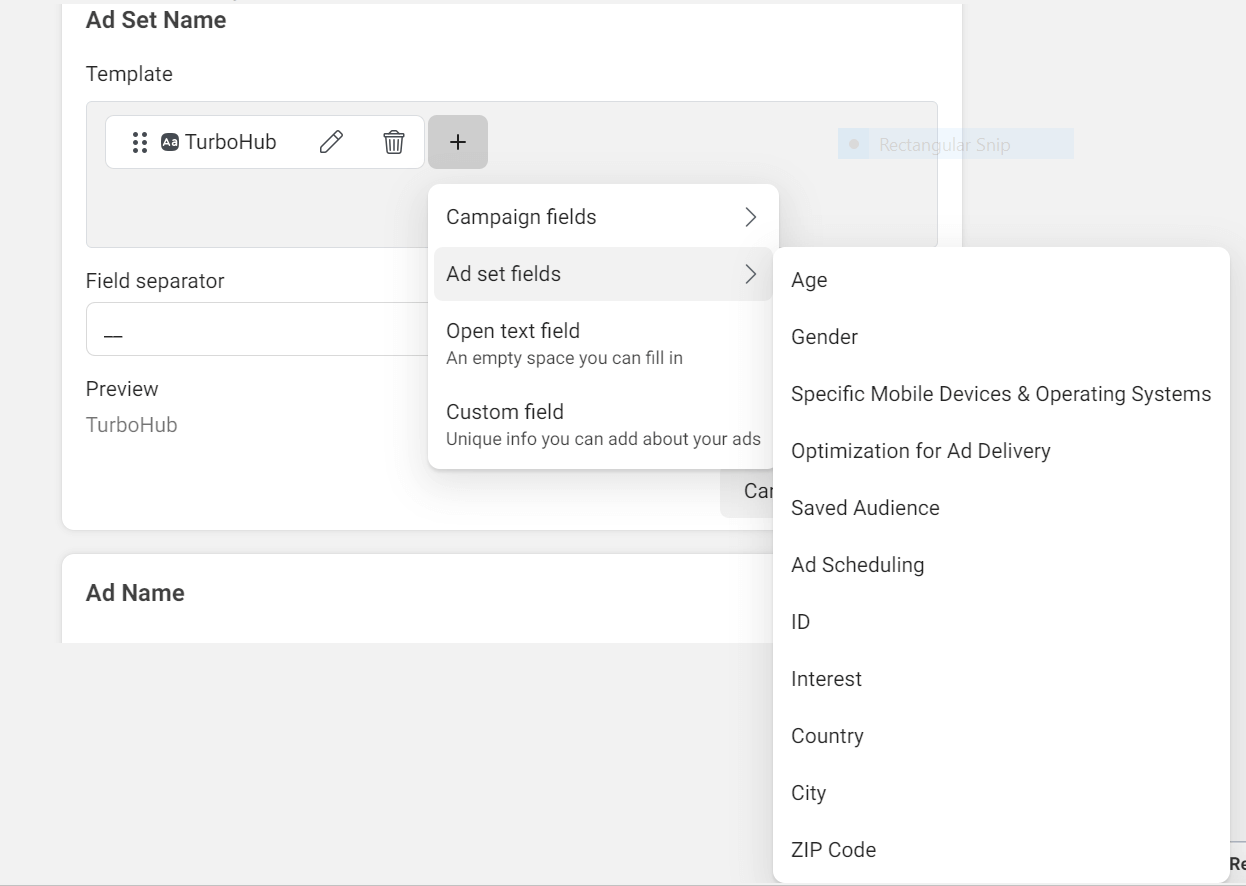 The same principle applies to Ad name template.
Name templates help create standardized naming conventions, a summary of your campaign, ad set, ad, which is easy to see from the reporting table. It makes data tracking and analysis much easier and organized.
Why Do You Need to Combine Similar Audiences in Facebook Ads
Have you ever faced the situation when your Ad Sets take long to bring results and the overall performance drops? Here is a hack I've been using for a while for the underperforming Ad Sets — I just combine them (if Ad Sets are under the same campaign).
Hint: Good News is Facebook Ads Manager  notices the issue before we do and offers a recommendation. To see your recommendation, go to your Account Overview, and you'll see the Daily Recommendations section:
As you can see Facebook shows us that the three Ad sets of one campaign aren't performing too well, and it's better to combine them in one and dedicate all the budget to that very Ad set.
When you click on View Similar Ad Sets, it'll take you to this page below, which will show you the Ad sets you can start combining.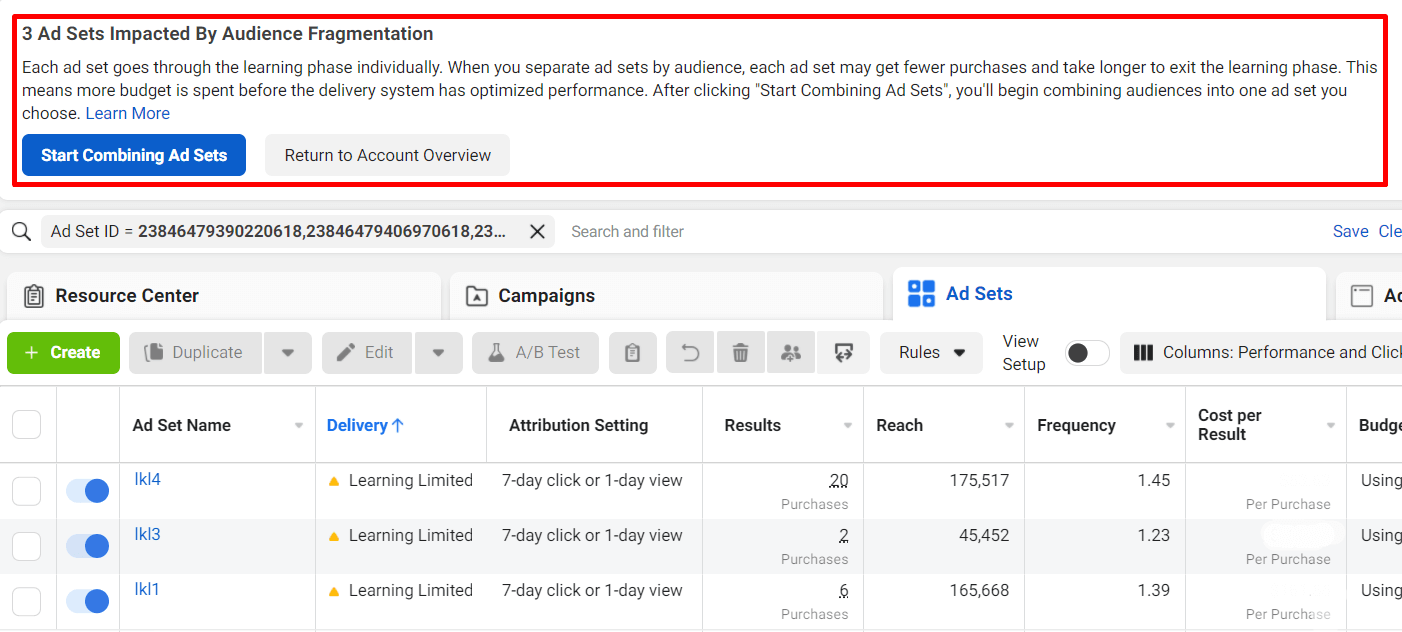 From here, click on the "Start Combining Ad Sets" button. A pop-up will appear, where you can choose the Ad set with the lowest cost per result.
After that, you can add the other Ad sets' interests or audiences in this one to combine them.
That's all. The other two Ad sets with lower performance will be turned off and all your budget will be dedicated to the one Ad set you chose.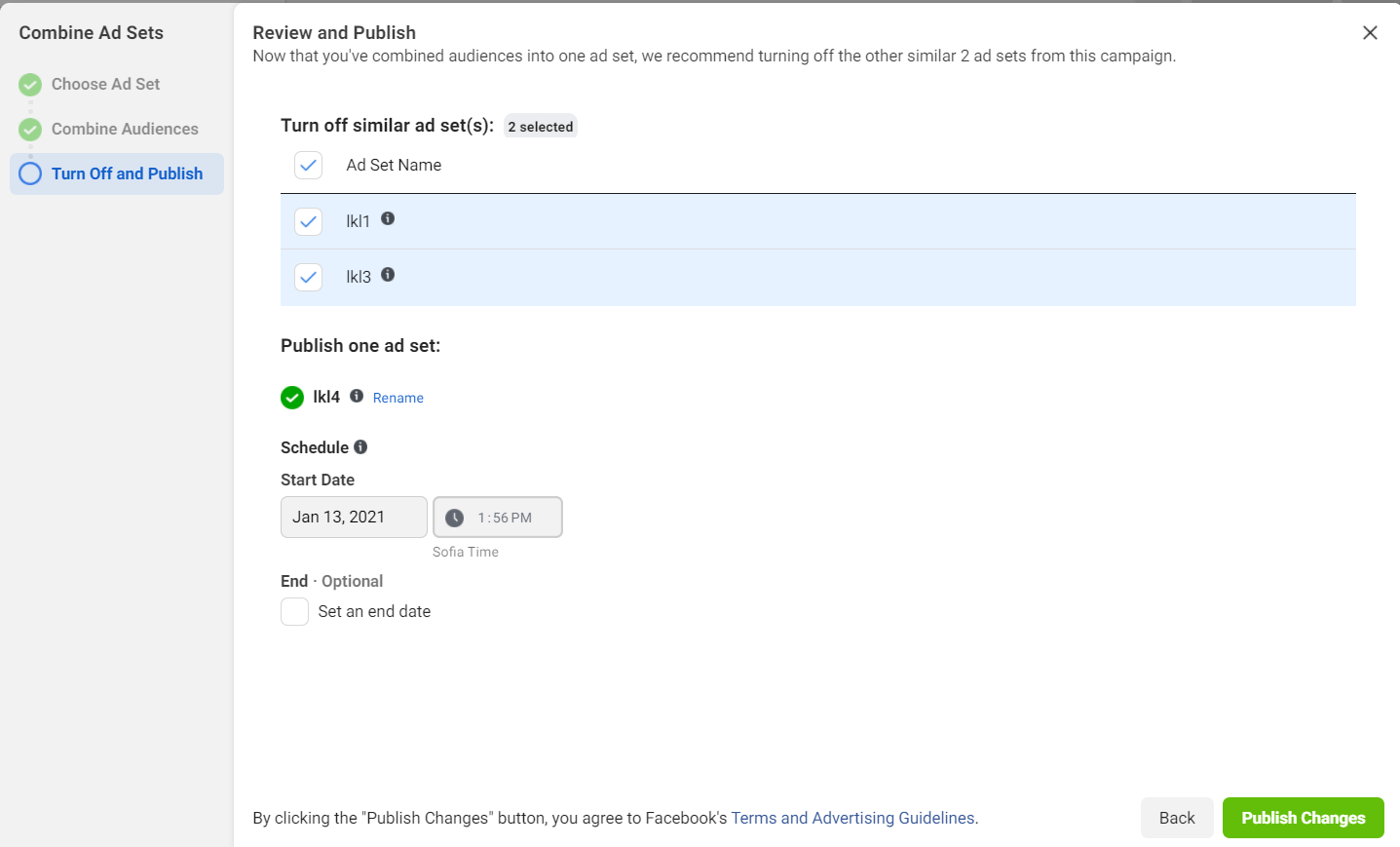 — — —
I hope you enjoyed this week's Know Hows. Drop your feedback and questions under the comments, and we'll happily answer all of them.
See ya soon.