Instagram stories are one of the most powerful tools to reach your audience, engage them, and bring new users to your page.
Instagram stories are used by 500 million users every day. Almost anyone who gets a spare minute opens Instagram and starts swiping stories. In this pandemic, many people staying and working from home spend more time swiping Instagram stories than ever. So, the more stories you post, the more they will see your profile. The more they see your profile, the higher it will appear in their story queue. So,  this is your chance to appear in front of your audience more often and make your profile picture the first in their Instagram story queue.
To get more views on your stories, you need to understand what makes your audience watch and stay on your stories.
One way to do it is to make them view every story you post. It means you should post only interesting and engaging stories your audience will love and interact with daily.
So, here are some Instagram story ideas you can grab and implement to increase your story views.
Put Gamification in your Stories
Find 3 differences
This story makes people swipe right and back a lot to find all the differences. Then you let them interact with your story, telling them about what they have found.
Here we have 2 same pictures with only 3 differences. First, we make them tap back at the 3rd story and then stay on the 2nd. Then they will swipe right and stay at the 3rd picture till they can find all the differences.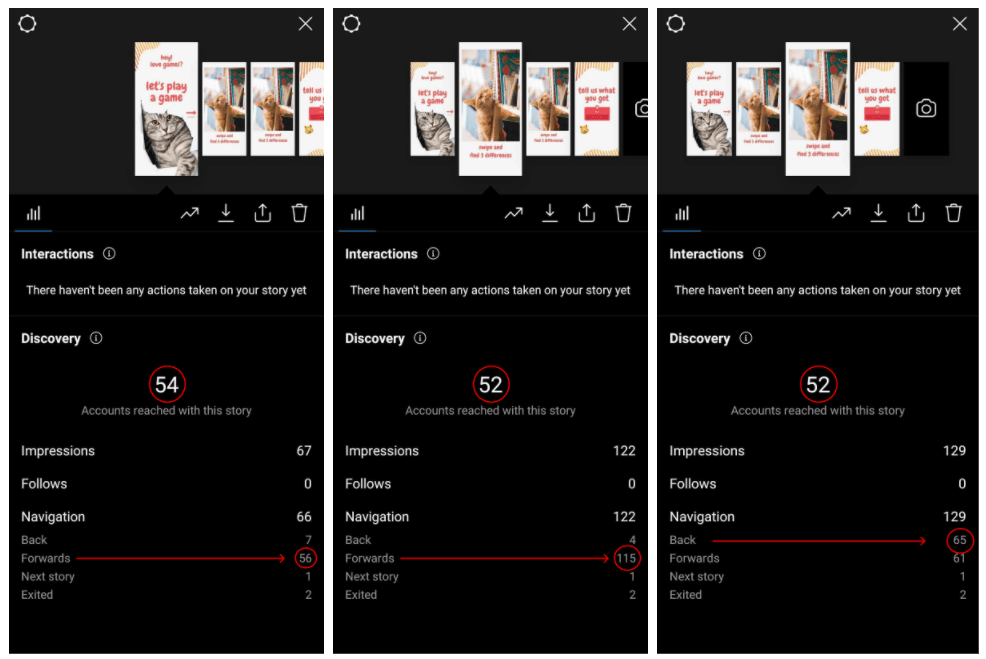 These actions (tap and stay on the story, swipe back/forward) make Instagram think this story is interesting, valuable, and engaging. So, it tries to show a lot more people.
Look at the "Forward" number, "back" number, and the impressions. Impressions, on average, have increased, which helped us double the story views (reach).
Guess what will happen next
This is a simple way to make your followers interact with your story. Using a Poll sticker is a really good way to grab Instagram's attention to your interesting and interactive story. But you can't just put the sticker on and wait for millions of people to interact.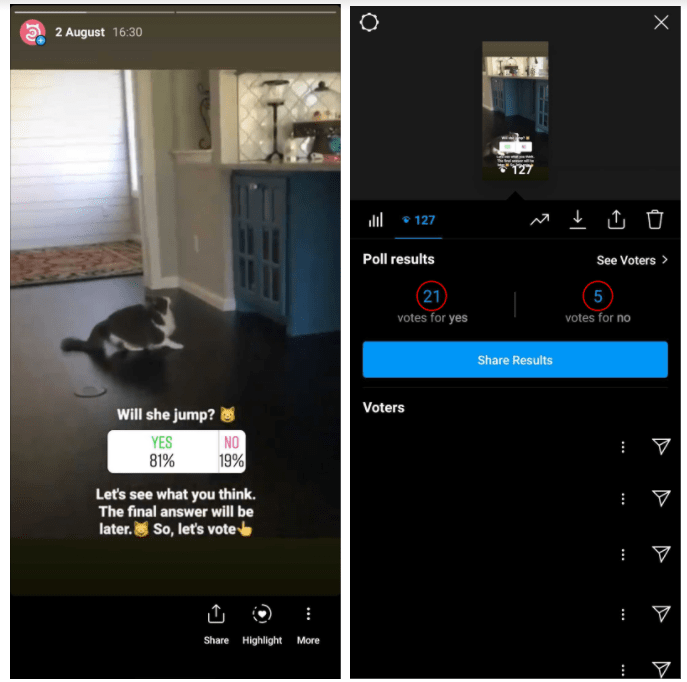 First, you need to think of an interesting video that will be captivating for your followers. Then cut to the most intriguing part. Use polls or an Instagram app for logos and stickers to make them interact somehow with the story.
In our case, it's a cat trying to jump onto the kitchen table. It's fun and interactive, and as a video, it makes people stay and watch till the end. So, we cut the final result of her jumping and asked our followers to guess.
Here, we raised our Instagram story views from 42 to 127 in 12 hours.
You can find a fun video from your niche (it should have an unexpecting end and engaging start) and ask your followers to guess what will happen next.
Conclusion. Think of different ways to make your followers tap forward and back and stay longer to increase the views and impressions. Use stickers and make it easy to interact with your stories. Monitor the analytics and improve with every story.
Use stickers and make your followers tap
Using stickers is also a great Instagram story idea to increase the engagement of your stories. The key point here is that stickers are the easiest way to get your audience to participate in your surveys and games, answer your questions, etc. Followers need to just tap, and that's it.
Here we put together 2 photos of our product BlancMask and other masks. We put up a sticker and asked our followers to vote for the mask they like.
Considering that the Blank Mask page has 1,003 followers, the stories got about 19% reach which is good. Also, the engagement rate of the stories is 37-40% which is also good. As you can see, as we go further, the reach decreases, which means that you need to put not more than 5 stories simultaneously. People get bored when they see the same type of story 127 times. So, keep it short and interesting.
Conclusion. Think of the questions you want to be answered from your followers or just want to engage them. Then create 5 stories and put stickers and polls on each story. The more they engage with your stories, the more they see them, and you'll get more reach. So this is a good way to reach others and people outside your page.
Beware of news and keep your eyes on trends
You have about 3 seconds to grab your follower's attention before they continue to scroll on their feed. Trends are a good way to grab attention in the social media world and increase your story views. It doesn't matter what it is as long as it benefits you and your brand. So, keep your eyes on trends and news worldwide and try to connect them to your brand.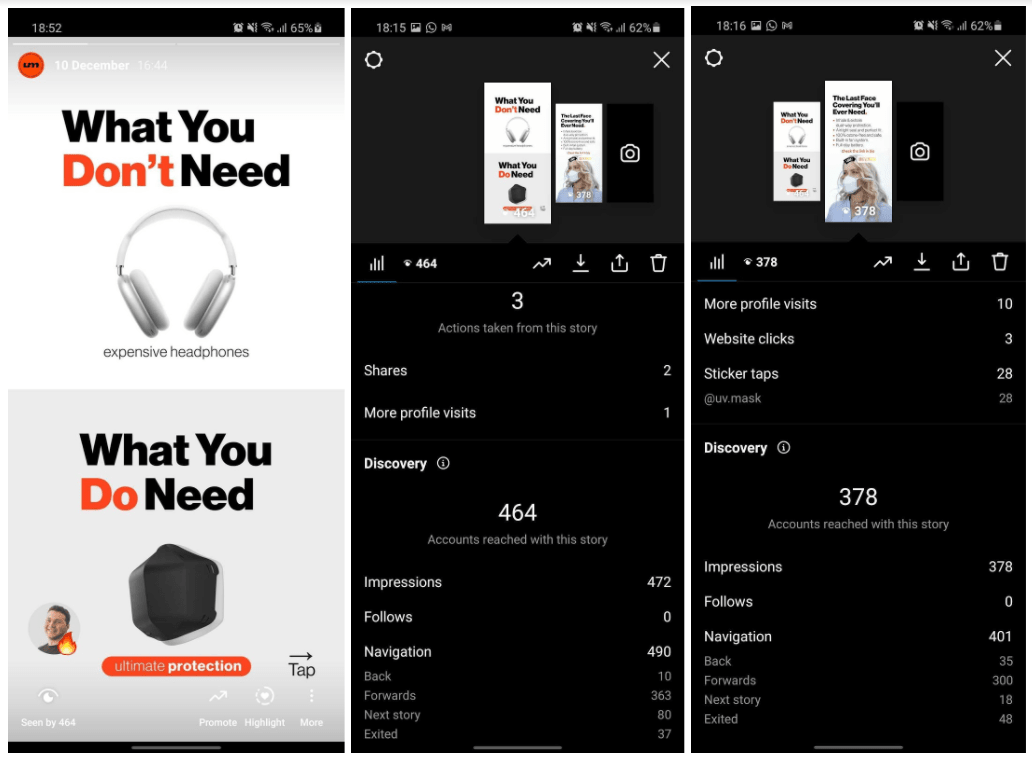 In this case, we used Apple's Airpods Max headphone photo to grab attention. Because it was just released (when this article was written), many people keep their eyes on it, and because they know the product already, we don't need to show the logo design or name.
After grabbing their attention with the headphones, we highlight – the pain point of most users – price. After that, we show them what they can get at a lower price and what's really important to them, with a link to our page and website.
Connecting news or a trend with our brand or product gets our followers to watch and stay on our stories, direct new users to our page and get new followers, eyes, and (why not) new sales.
Here is another example of using news in your stories. This story we made in 2019 when Elon Musk first announced the Tesla Cybertruck. After announcing social media platforms were full of Cybertruck memes. So, we decided to take advantage and create a meme about it and post it in stories. Our meme story got about 30,000 views by using popular hashtags. This is a big number considering that the page had around 8,000 followers.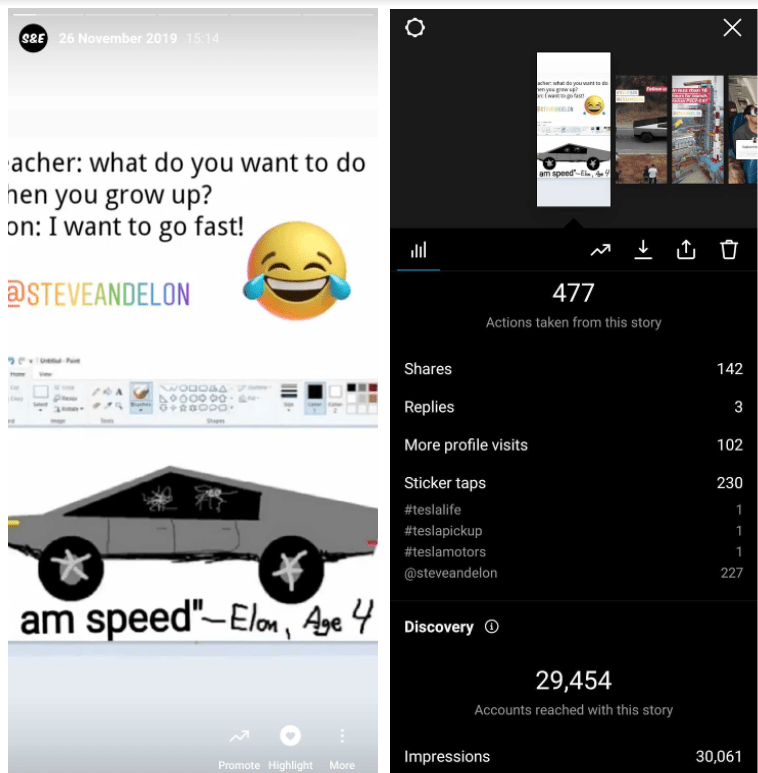 Conclusion. Keep your eyes on the trending news and develop ideas to connect them to your product, or just make a meme to provide fun content to your followers. Note that trends and news depend on your brand and tone of voice. Don't make fun content if it's controversial to your brand voice.
Educational and swipeable stories
As you know, educational and swipeable content is not going anywhere on Instagram. It was a trend last year and will be in the future. So why not post it on stories as well?
Try to develop ideas for the educational content of your brand's niche. Bring up some problems and show your audience how to solve them. Provide valuable information your audience may not know or something they are interested in. You can find them by asking them directly in the post (Like Q&A post) or in the Facebook groups of the same niche.
Here is an example of an educational/poll story that makes followers interact with the story and learn new things about solid-state drives.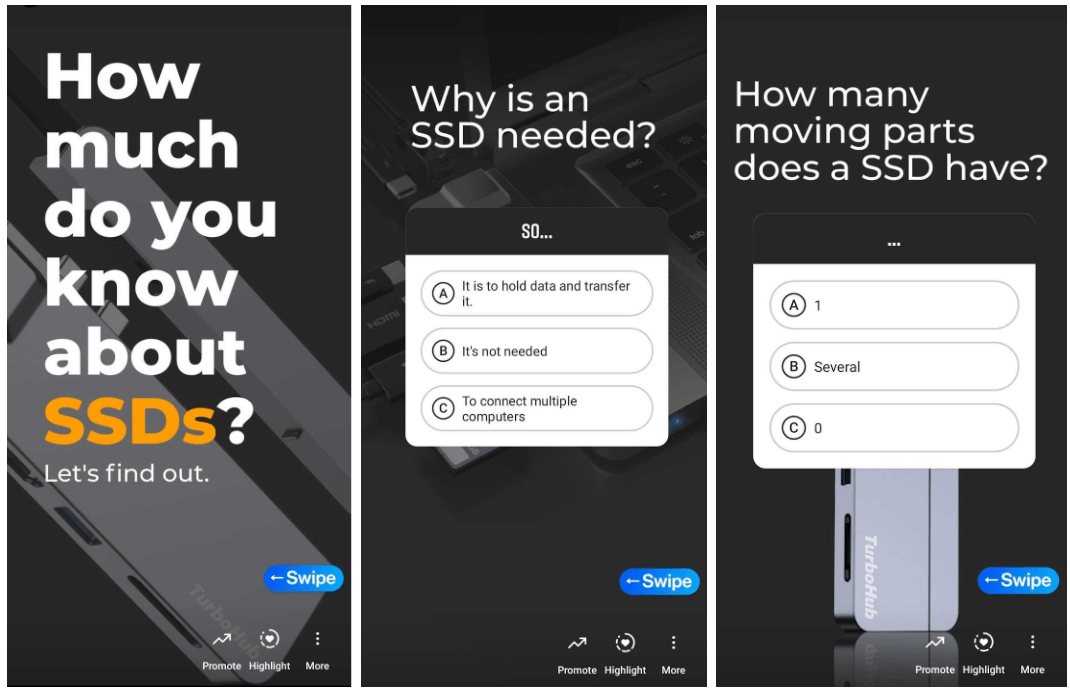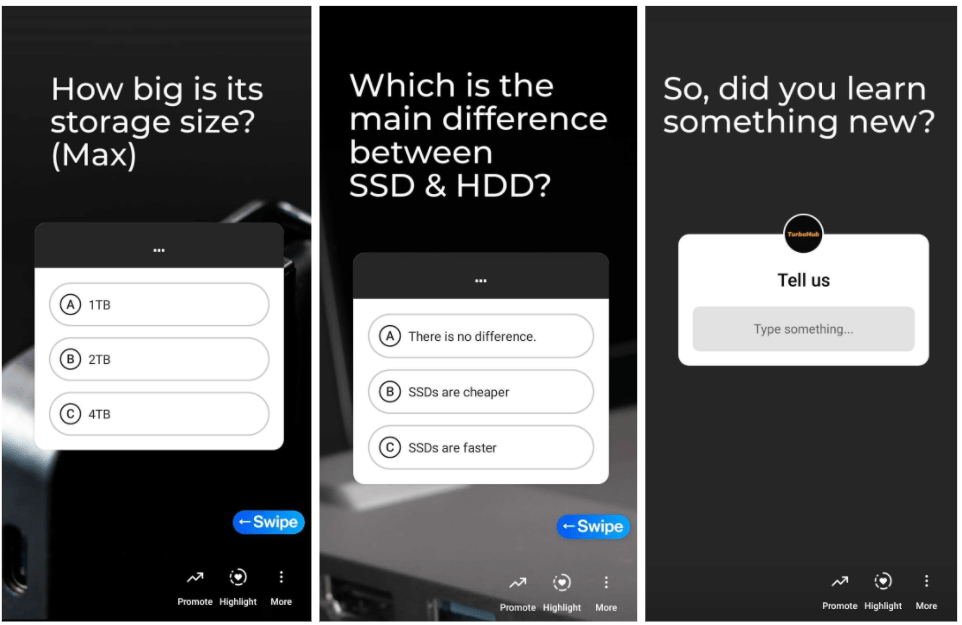 So after generating Instagram story ideas, divide them into days. Consider what and when you should post the educational stories. Then, divide one idea into 5 or 6 parts and put each part in one story slide. Don't forget about the AIDA (Attention, Interest, Desire, Action) principle. So, keep it interesting, short, and insightful. The more interesting the content is, the higher the chance they will keep swiping till the end, which will increase your stores' engagement rate.
With these great Instagram Story Ideas, you don't have any more excuses to stop growing your channel. Start implementing these easy tips to engage your followers and increase the variety of content to keep them interested.