Staying on top of the latest marketing trends can be tough.
But getting a glimpse of the emerging trends before they take over the industry and levering them in your favor before everyone else takes something more than just an inquisitive mind.
As the world is talking about Instagram removing likes very soon, the most data-savvy among marketing gurus have already found a way to bring them back.
Because your digital marketing efforts without data proof are as good as invisible!
Besides the Instagram Like Counter, find out a tactic to pull your FB ads out of the Review, learn about a platform to send video messages for better reply rates, explore a workaround to customize your ManyChat campaigns with no coding skills and some other fantastic tools in this week's Know How article!
SMM: Instagram Like Counter to unhide Instagram Likes – jump there
Ads: The Magic link to pull your FB ads out of Review – jump there
Partnerships: Cloud HQ's Meeting Scheduler – jump there
Chatbots: Bootsheets.com to customize your ManyChat campaigns with no coding skills – jump there
Project Management: BombBomb.com to send personalized video pitches – jump there
It's gonna be intense!
So grab a cup of coffee, sit back and read on.
Instagram Like Counter to unhide Instagram likes
Instagram is hiding like counts to help people see their self-worth beyond these superficial numbers. While the majority of Instagram users, including many high-end celebrities, felt positive about this shift, this is a nightmare to marketing specialists.
After all, how are we going to determine if a particular influencer page is a good one to post our product on if we don't know how many people on average like their posts?
Or get an idea of our post reach and engagement when it's published via another account without such key metrics on display?
This is where the cool Instagram Like Counter comes in. The Return of the Likes is a Chrome extension which overlays the numbers of likes and comments on the top-right corner of any post on Instagram's website.
Simply install the extension on Chrome and eliminate the guesswork from your work.
You probably aren't going to switch to browsing Instagram on the web alone, but if you see a post you want to know the Like count of, you can easily send yourself the permalink and look it up on your laptop later.
The Magic link to pull your FB ads out of Review
Can you recall the frustration every time your ads get stuck In Review?
Just a few weeks ago I was getting ready for a product launch and submitted my ads for review shortly before we went live.
Normally, it takes around 20 minutes for my ads to get approved and start running, and I was confident this wouldn't be a problem…
But when I checked the status of my ads a few hours later…
My ads were still stuck In Review!
I tried to duplicate my ads, change the objective, scale-up, decrease the budget, play with audience size and modify every single parameter Ads Manager allows me to do.
Whatever you might have in mind, I tested it.
Things didn't even change the next day.
As you can picture, this can be a real nightmare for advertisers—lost time, money and opportunities.
Eventually, I decided to turn to Facebook. I went to the Facebook Business Support Page, and scrolled down the Online Help Center menu to talk to a Facebook support representative.
Not only did their support representative force ran my ad campaign, as Facebook suggests when ads are stuck In Review for more than 24 hours, but also gave me a URL.
I call this URL the Magic Link, because with it, I can pull all the ads out of the review stage on my own.
How awesome is that?
Well my little trick is to make use of this Magic Link even if your ads are In Review for less than 24 hours.
Hack the system, get better results sooner!
When ads are stuck In Review for extended periods of time, they tend to overspend and gain from little to no results at all, hindering the ROAS of the overall ad campaign. So my advice is to not even waste a single hour waiting for the system to fix what you can do yourself.
The only thing you need to do is to fill out the short form, briefly outlining your problem.
And even so, you can get around it without this.
The only obligatory field is the Ad ID.
Although I also like to leave a short message—something like "Please force run my ad" to be on the safe side!
To find your Ad ID, go to the Ads Manager, then to Ad Level and turn on the View Setup.
You should now see the Ad ID column pop up on the right-hand side showing a series of 17-digit numbers where each corresponds to your unique Ad campaign.
It doesn't take long to force run your ads after you submit the form. So make sure to put this tactic in use to beat what can otherwise be a nerve-racking time lag to get your ads up and running.
Side note: Recently I have been facing longer In Review sessions more often. I noticed this was far more likely to happen when I worked with new Ad accounts or used new external links. 
Give this strategy a try and let me know how it goes in the comments below!
Cloud HQ's Meeting Scheduler
By Lili Avetyan 
Scheduling calls with clients, partners, potential leads is an imperative part of communication for any sales and partnership specialist.
Of course, the all-round Calendly and its handy extension come to the rescue more often than not, but recently I've caught myself needing something… more.
More personalization, more fun, more warmth, more user-friendliness.
That's where Cloud HQ's new Meeting Scheduler for Gmail came into the game. The extension takes literally seconds to install and get running. After you download it from the Chrome web store, you don't even need to go anywhere else other than your inbox.
The extension automatically connects with your Google calendar, so all you have to do from then on is click the tiny calendar button when you compose a new message.
A mini window will pop up showing you a range of dates and times to fill out according to your schedule, where you can integrate a different calendar as well. This will also automatically create a Google Hangouts link or you can add your Zoom or Skype in the description box below.
Whatever suits your fancy.
Many other tools are capable of doing the same, you may say. So why go with this one over the rest?
Because the meeting scheduler lets you insert the meeting invitation link as a button right in your email text. Don't tell me you're not tempted to click any button you see in your messages. It's way more than a simple hyperlink!
You can also add a personalized CTA if you feel like it.
And to add sauce to the mix, it also lets you throw in a funny nice thematic gif, which may even crack a smile in your recipient before they push the button.
Overall, there are only a few seconds between installing the tool and starting to use it, but those few seconds have been game-changing in organizing my everyday workflow.
Botsheets.com to customize your ManyChat campaign with no coding skills
Using messenger chatbots enables us to bring people to a place where we can deliver a more personalized and custom-tailored experience.
Guiding users along the funnel that transforms them from subscribers into backers, we often create a series of engaging content where each becomes a little insight into our product.
The content may include quizzes/trivia, contests and giveaways which require back-end support that does all the magic behind the scenes.
The main challenge for bot builders who don't have any coding skills is the implementation of programmable features, advanced bot integrations, and API methods.
Surely there must be easier commands, which include only a few lines of code!
And for simple referral campaigns, there are, and this should be more than enough.
But when you want to go big and customize your campaign the way you want, this becomes a real nightmare. You will have to eventually write scripts in JavaScript, the commands for which are provided by ManyChat  (or by Facebook itself—it's the Facebook Messenger platform, after all).
But if JavaScript seems like a bunch of hieroglyphs to you, there is still a workaround to avoid the coding bit.
Like Botsheets!
As the name hints, you simply enter your data into a Google Sheet to generate dynamic content for Facebook Messenger with little effort. The platform offers a wide selection of templates for various marketing campaign profiles and needs.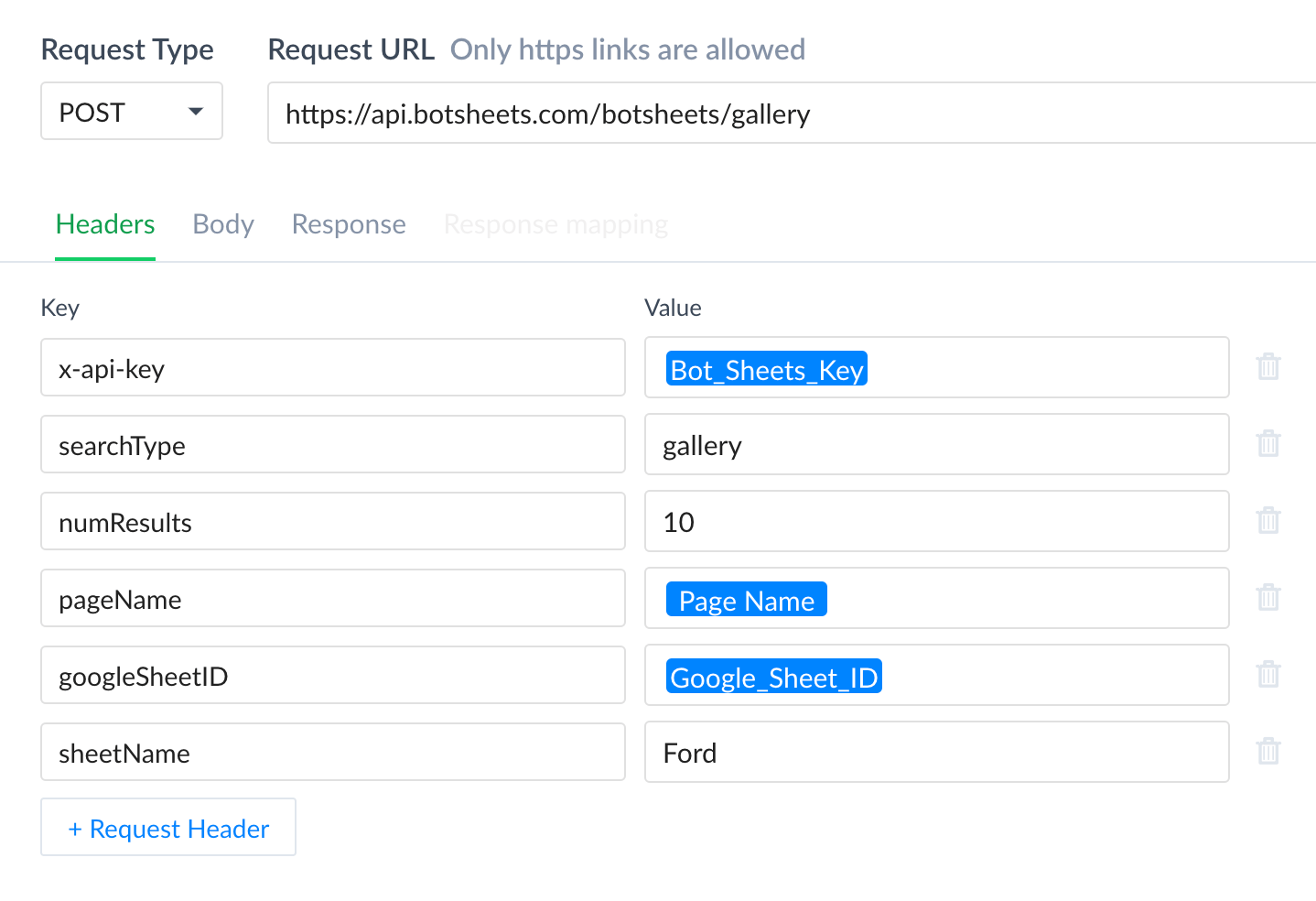 Say you want to run gamification content, which may be a contest, quiz with leaderboard or slot machine. All you need to do is to install their template on your ManyChat bot and set it up by changing variables and inputting your settings.
Maybe not that easy for a beginner ManyChatter, but definitely very useful for someone even with little experience.
BombBomb.com to send personalized video pitches
It's no surprise that the success of any crowdfunding campaign is directly influenced by the level of publicity it achieves. Most of the brands running crowdfunding campaigns have barely established themselves as startups and rely heavily on diverse sources to drive quality traffic to their campaign page to generate more leads.
As a Project Manager here at The Crowdfunding Formula, I have experienced first hand the daunting effort it takes to find and outreach relevant journalists and social media influencers to spur the much-needed buzz around our campaigns.
To make sure our pitch emails evoke actionable interest in the other party—that translates into a great article or valuable post—we always try to come up with new tactics to make our pitches look and sound more compelling.
These range from changing subject lines to inserting interactive visuals like GIFs in the body text. As we can never really predict the result any new strategy will bring, you can assume this is possible only with A/B testing.
A lot of A/B testing!
This week I stumbled upon a great cloud-based messaging platform, BombBomb. It allows you to transmit a real personal touch in your emails, with personalized video messages.
With its seamless integrations in Gmail, Outlook, Salesforce, iMessage, and 50+ other email services, BombBomb makes it easy to leverage your best asset—YOURSELF—in digital communications.
Among numerous other features, the platform also provides in-depth, real-time analytics to deliver comprehensive insights to track the performance of your email outreach campaign.
BombBomb also comes with a user-friendly mobile app and a handy Chrome extension.
In case you are still dubious whether personalized video emails will complement your outreach strategy, watch BomBomb's Evangelist Ethan Beute's interview to unlock some great tricks and tactics you can use to create powerful video messages.
You can never say anything for sure before you try it. So just send your next few pitches in this video format and see how it goes!
I'll be glad to hear your results.
---
This much for this week, folks!
Which of this week's strategies and tools was your favorite? The Instagram Like Counter was definitely a game-changer for me.
Keep your eyes peeled for our next Know How blog post to not miss another wonderful bundle of the coolest marketing tools and tactics.
Lastly, don't forget to check out our recent article to unlock more ManyChat integrations and learn the AIDA principle to harness sales through Instagram Carousel posts.
See you in a week!