Influencer Marketing is one of the most challenging aspects of digital marketing. How do you develop solid influencer marketing strategies? What are the best influencer marketing tools? And where can I find relevant influencer marketing tips out there?
We get these questions all the time.
This week, our Influencer Marketing experts had an amazing Know How session and showed us all 4 amazing strategies to improve their effectiveness.
Check them out here and up your Influencer Marketing game with these timeless hacks!
Short about what you'll learn:
A Hack to Discover All FB Pages in One Place
Advertiser's Access to Boost Your Product Post right from the FB Page
A Visual to Display the Price Increase
Keywords Everywhere to Gain Keyword Metrics for Youtube
Ready to take off?
Three… Two… One
An Influencer Marketing Strategy to Discover All FB Pages in One Place
Finding relevant Influencer Pages to outreach on Facebook is arguably the most time consuming and tedious aspect of Influencer Marketing.
Well, it was. Until we discovered this simple Influencer Marketing tip.
Our approach had always been to generate a series of keywords related to each campaign and find relevant pages by plugging them—one by one—into Facebook's search bar.
It's time-consuming, and yes, it's just as boring as it sounds…
However, this week I discovered a very simple way to display all Influencer Pages classified by their relevant category.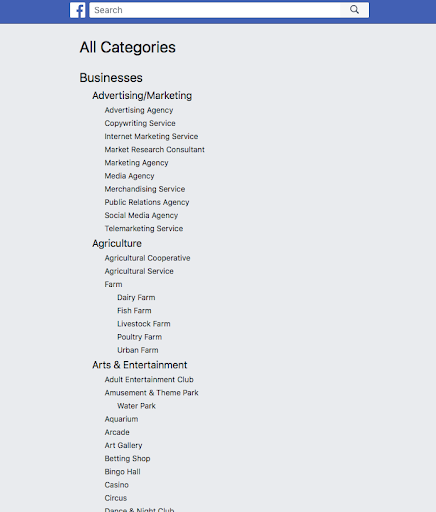 All you need to do is go to https://facebook.com/pages/category, pick the category of your interest (e.g. Fitness Model) and you'll be met with a list of all the pages on Facebook labeled with the chosen category.
Now, filter out the most relevant pages, and you've got a quick set of Influencers you can outreach to get your product featured.
Boost Your Product Post with Advertiser's Access to Influencers' FB Pages
Picture every Influencer Marketer's dream situation. Where you've collaborated with an Influencer page to cover your product and it performed really well—great engagement and conversations!
You realize that the page has the right target audience, and they have shown keen interest in your product.
How can you use this to expand your reach and maximize your conversions?
With this great Influencer Marketing strategy, you can leverage your successful track record with these partners in your favor:
Request advertiser's access to their page, and use this to boost your product posts as them.
This way, you'll constantly appear in their audiences' feeds, and combine the best of both worlds:
Targeted advertising, and influencer marketing!
Repeated views, with the stamp of approval of an influencer your audience follows—ultimately enticing more people to buy your product!
A Visual to Display Price Increases
By Sona Madoyan
What's the first thing that comes to your mind when you stumble upon a post reading "Prices go up soon"?
To me it's nothing but an overused marketing trick, gradually diminishing in power and ceasing to evoke any significant emotional trigger.
Maybe it's because I've been in Digital Marketing for a while now.
But I believe this obsolete trick doesn't elicit the desired sense of urgency even in our target audiences.
Because people simply don't take it seriously any more.
Nevertheless, one of the peculiarities of crowdfunding is that the people who are among the first backers (a.k.a. super early birds) get the lowest price. Each new wave of backers gets a slightly higher price.
Prices usually increase over the course of a crowdfunding campaign and ideally when the brand enters mass production, prices are about twice as high as they were for the earliest backers.
My suggestion is based on the same tactic but with a little twist in its delivery, made deliberately to instill trust. It is especially applicable to crowdfunding, although I think its benefits can still be reaped in some other fields as well. It goes without saying that you should only do this if you really plan to incrementally increase the price of your product.
So, what can make this tactic more effective?
I suggest we emphasize the increasing dynamics in price with a visual, like a chart, that vividly displays the price history right on the campaigns' Indiegogo or Kickstarter page. Ideally, this also includes the date of the next price increase.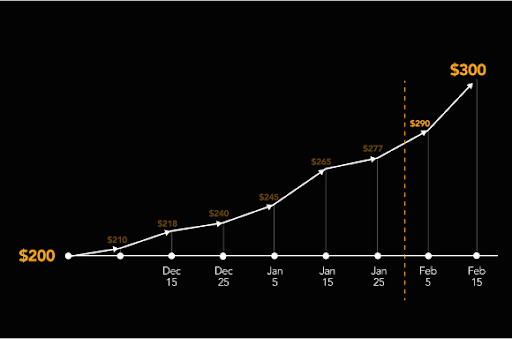 Greeted with the increasing slope of the price chart, your site visitors will realize that this is not just a mere superficial trick and will be tempted to buy your product before the next price increase comes.
That being said… Act with caution and make sure to stick to price increases as presented in the visual. Otherwise, you'd risk losing the trust you've earned among your customers and that's priceless.
Use Keywords Everywhere to Find Influencers on Youtube
By Sona Madoyan
Keywords Everywhere is a browser extension used to generate keywords and access their metrics across 16 different platforms including Google, Google Search Console, Youtube, Bing, Amazon, eBay.
The provided metrics, however, vary as you move from one site to the next.
If you search a term on Google, the tool gives you insights on the keyword and also suggests related keywords.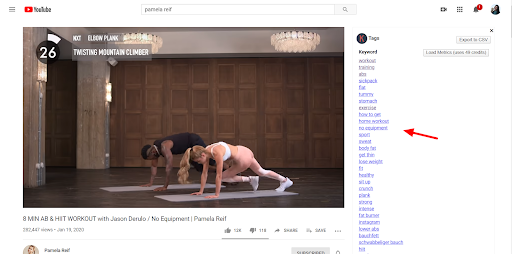 On the flip side, on sites like Amazon and eBay, the tool shows only the search volume, CPC and the competitiveness of the keyword you searched for.
I've been using Keywords Everywhere to generate keywords while searching for relevant Influencer pages. But this week, I have an even greater Influencer Marketing tip.
I was pleasantly surprised to discover the vast array of insights the tool offers on Youtube.
These include:
The channel with the highest number of videos for the given search query,
The maximum and average number of views that any of the videos shown for this query has,
The total number of videos that have the exact search query in the video title,
The total number of new videos that are less than one week old,
And many more valuable metrics.
And my favorite part is the Tag Widget.
It displays all the tags that have been added to the video, along with their monthly search volume, CPC and competition data.
In addition, Keywords Everywhere is also a great tool to analyze a webpage's content.
Simply right-click on any page, pick "Analyze this Page" and you will be presented with all the keywords used on that page, their respective search volumes, densities and much more.
——————————————————-
This wraps up this week's Know How!
It can be hard to be an Influencer Marketer. The science behind it is hazier—it's based on people and their psychology. Then again, as with much in the Digital Marketing world, a lot of the day is spent on repetitive tasks.
If you can accelerate your process with these quick Influencer Marketing strategies and tools, you're well on your way to improving your effectiveness and saving valuable time to think about how to approach your favorite Influencers.
I hope you've found some useful Influencer Marketing tips and tools in this week's Know-How. Keep your eyes peeled for our one, and give your marketing game a real boost with TCF!
Lastly, don't forget to check out our 131 tips to rock your next Kickstarter campaign.