Influencer Marketing is one of the most challenging aspects of digital marketing. How do you develop solid influencer marketing strategies? What are the best influencer marketing tools? And where can I find relevant influencer marketing tips out there?
We get these questions all the time.
This week, our Influencer Marketing experts had an amazing Know How session and showed us amazing strategies to improve their effectiveness.
Check them out here and up your Influencer Marketing game with these timeless hacks!
Ready to take off?
Three… Two… One
An Influencer Marketing Strategy to Discover All FB Pages in One Place
Finding relevant Influencer Pages to outreach on Facebook is arguably the most time consuming and tedious aspect of Influencer Marketing.
Well, it was. Until we discovered this simple Influencer Marketing tip.
Our approach had always been to generate a series of keywords related to each campaign and find relevant pages by plugging them—one by one—into Facebook's search bar.
It's time-consuming, and yes, it's just as boring as it sounds…
However, this week I discovered a very simple way to display all Influencer Pages classified by their relevant category.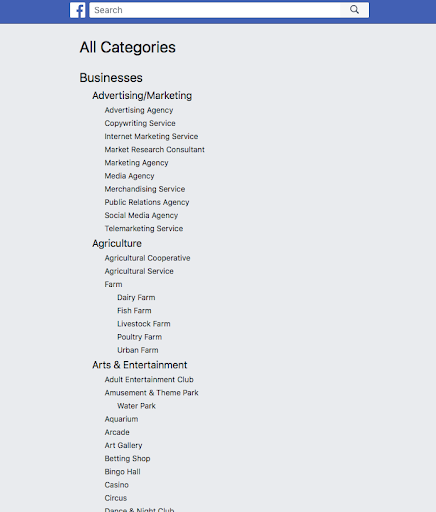 All you need to do is go to https://facebook.com/pages/category, pick the category of your interest (e.g. Fitness Model) and you'll be met with a list of all the pages on Facebook labeled with the chosen category.
Now, filter out the most relevant pages, and you've got a quick set of Influencers you can outreach to get your product featured.
Boost Your Product Post with Advertiser's Access to Influencers' FB Pages
Picture every Influencer Marketer's dream situation. Where you've collaborated with an Influencer page to cover your product and it performed really well—great engagement and conversations!
You realize that the page has the right target audience, and they have shown keen interest in your product.
How can you use this to expand your reach and maximize your conversions?
With this great Influencer Marketing strategy, you can leverage your successful track record with these partners in your favor:
Request advertiser's access to their page, and use this to boost your product posts as them.
This way, you'll constantly appear in their audiences' feeds, and combine the best of both worlds:
Targeted advertising, and influencer marketing!
Repeated views, with the stamp of approval of an influencer your audience follows—ultimately enticing more people to buy your product!
A Visual to Display Price Increases
What's the first thing that comes to your mind when you stumble upon a post reading "Prices go up soon"?
To me it's nothing but an overused marketing trick, gradually diminishing in power and ceasing to evoke any significant emotional trigger.
Maybe it's because I've been in Digital Marketing for a while now.
But I believe this obsolete trick doesn't elicit the desired sense of urgency even in our target audiences.
Because people simply don't take it seriously any more.
Nevertheless, one of the peculiarities of crowdfunding is that the people who are among the first backers (a.k.a. super early birds) get the lowest price. Each new wave of backers gets a slightly higher price.
Prices usually increase over the course of a crowdfunding campaign and ideally when the brand enters mass production, prices are about twice as high as they were for the earliest backers.
My suggestion is based on the same tactic but with a little twist in its delivery, made deliberately to instill trust. It is especially applicable to crowdfunding, although I think its benefits can still be reaped in some other fields as well. It goes without saying that you should only do this if you really plan to incrementally increase the price of your product.
So, what can make this tactic more effective?
I suggest we emphasize the increasing dynamics in price with a visual, like a chart, that vividly displays the price history right on the campaigns' Indiegogo or Kickstarter page. Ideally, this also includes the date of the next price increase.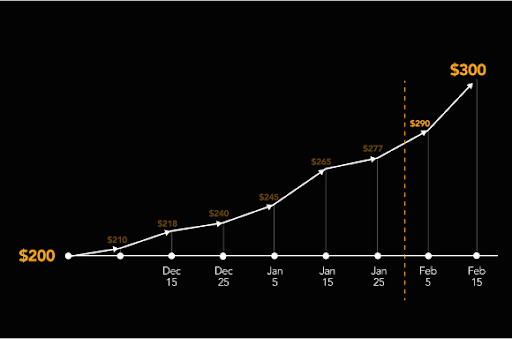 Greeted with the increasing slope of the price chart, your site visitors will realize that this is not just a mere superficial trick and will be tempted to buy your product before the next price increase comes.
That being said… Act with caution and make sure to stick to price increases as presented in the visual. Otherwise, you'd risk losing the trust you've earned among your customers and that's priceless.
Use Keywords Everywhere to Find Influencers on Youtube
Keywords Everywhere is a browser extension used to generate keywords and access their metrics across 16 different platforms including Google, Google Search Console, Youtube, Bing, Amazon, eBay.
The provided metrics, however, vary as you move from one site to the next.
If you search a term on Google, the tool gives you insights on the keyword and also suggests related keywords.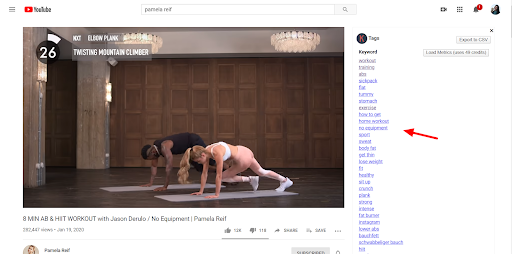 On the flip side, on sites like Amazon and eBay, the tool shows only the search volume, CPC and the competitiveness of the keyword you searched for.
I've been using Keywords Everywhere to generate keywords while searching for relevant Influencer pages. But this week, I have an even greater Influencer Marketing tip.
I was pleasantly surprised to discover the vast array of insights the tool offers on Youtube.
These include:
The channel with the highest number of videos for the given search query,
The maximum and average number of views that any of the videos shown for this query has,
The total number of videos that have the exact search query in the video title,
The total number of new videos that are less than one week old,
And many more valuable metrics.
And my favorite part is the Tag Widget.
It displays all the tags that have been added to the video, along with their monthly search volume, CPC and competition data.
In addition, Keywords Everywhere is also a great tool to analyze a webpage's content.
Simply right-click on any page, pick "Analyze this Page" and you will be presented with all the keywords used on that page, their respective search volumes, densities and much more.
Planoly
Styling and managing an Instagram page can be tricky.
What order should your visual information be in? How can you post things at 4am to target an audience half-way across the world? How can you easily discover new content?
You spend hours setting it all up, and now what? How can you tell if it had any effect?
Quite simply: Planoly.
Our Influencer marketing experts use this tool because it incorporates the specific set of time-saving features he needs:
A drag & drop feature quickly arranges the look of your Instagram feed,
It allows you to discover, curate, and repost content,
It schedules content or drafts to post directly to IG,
And it helps manage comments, and analyze the performance of your efforts.
Related Words
When searching for new influencers, relevant posts, and new ways to approach a topic—keywords are one of your most powerful assets.
Related Words helps speed up your research by providing you with a list of keywords relevant to your marketing goals.
Just write yours into the search box and let the platform do its magic—searching through different databases and matching vectors of common search terms with who knows what potions—to spit out a grid of useful matches!
And if you're looking for a tool that can be integrated directly into Google Chrome, the similar Keywords Everywhere extension also offers comparable results.
Buzzsumo
So you have your marketing plan, but now who do you reach out to? You need those influencers to promote your awesome product!
Well, Buzzsumo provides two main features: Content research and influencer research.
And our Facebook Influencer Department uses this tool for its second feature, that is—influencer research.
It has a detailed search engine and a huge database of influencers and FB pages.
Affiliate Commission
Sometimes, convincing influencers can be tricky. For most, it's a full-time job, and they get paid for "influencing."
Offer an affiliate commission, with relevant personalized links, so that you can both share the rewards of your partnership.
If it goes well, you might want to follow up with another guest post—and here, your best bet is to increase the rate of the commission.
It's a win-win! They raise more money from their post, and your marketing efforts pay off.
Drive Massive Sales With Nano-influencers
Today, we see more and more brands switching from big influencers to smaller ones. It's because smaller influencers tend to have a better bond with their audience and a more engaged follower base. 
While lots of marketers may have integrated micro-influencers into their influencer campaigns, nano-influencers seem to have faded into the background. 
Still, you shouldn't underestimate their power.
Commonly referred to as those with 500 to 10,000 followers, nano-influencers' audiences are not large at all. Yet this small number is often made up of some dedicated followers who will drive home most of your sales. 
Not having a gigantic follower pool, nano-influencers know their audience far better and interact with them far more frequently than their macro and mega counterparts. Some may even organize offline meetups to connect with their fans. Nano-influencers also charge significantly less and are more willing to go the extra mile for your brand. 
You may also consider them for an affiliate partnership, which will incentivize them to seek ways to harness even more sales. Because with every conversion, they'll earn a commission. You can choose an affiliate marketing tool from ShareASale alternatives to manage the affiliate partnerships as well.
You may now well be so excited that you are looking to land your first partnership with a nano-influencer right off the bat! 
But first let's see how you can find them. 
On Instagram, nano-influencers tend to add the hashtag #discoverunder10k to most of the posts they publish. Hence, finding the posts that contain the hashtag, you'll also unveil the nano-influencers behind them. 
But we aren't going to collect all the profiles manually, of course! 
To scrape all post information that used #discoverunder10k hashtag, we'll enlist the automation of PhantomBuster's Instagram Hashtag Collector. 
To activate it: 
1.Select  "+" use this phantom" on Phantombuster's Phantom Library. 
2.In the Input section, fill in the required information, including the hashtag (i.e. #discoverunder10k) and the Instagram session cookies. Just sign in to Instagram on your laptop for it to be filled automatically. 
3.Next, indicate the number of posts to scrape in total and per each launch. 
4.In the end, name the CSV file where all the extracted information will be saved in.  
In the Settings, also indicate whether you want to run sessions manually or automatically. If you have chosen to run the scraper manually, you'll need to launch it several times a day with defined time-intervals between sessions. 
Whether you decide to scrape the information manually or let automation take care of it, make sure you don't do it. Otherwise, Instagram may simply block the automation. 
4-5 times a day with 50 results per launch is ideal. 
In the "Notification" section, also choose how you want to be notified of your progress. 
Once you're done with all the three sections, you are all set to launch.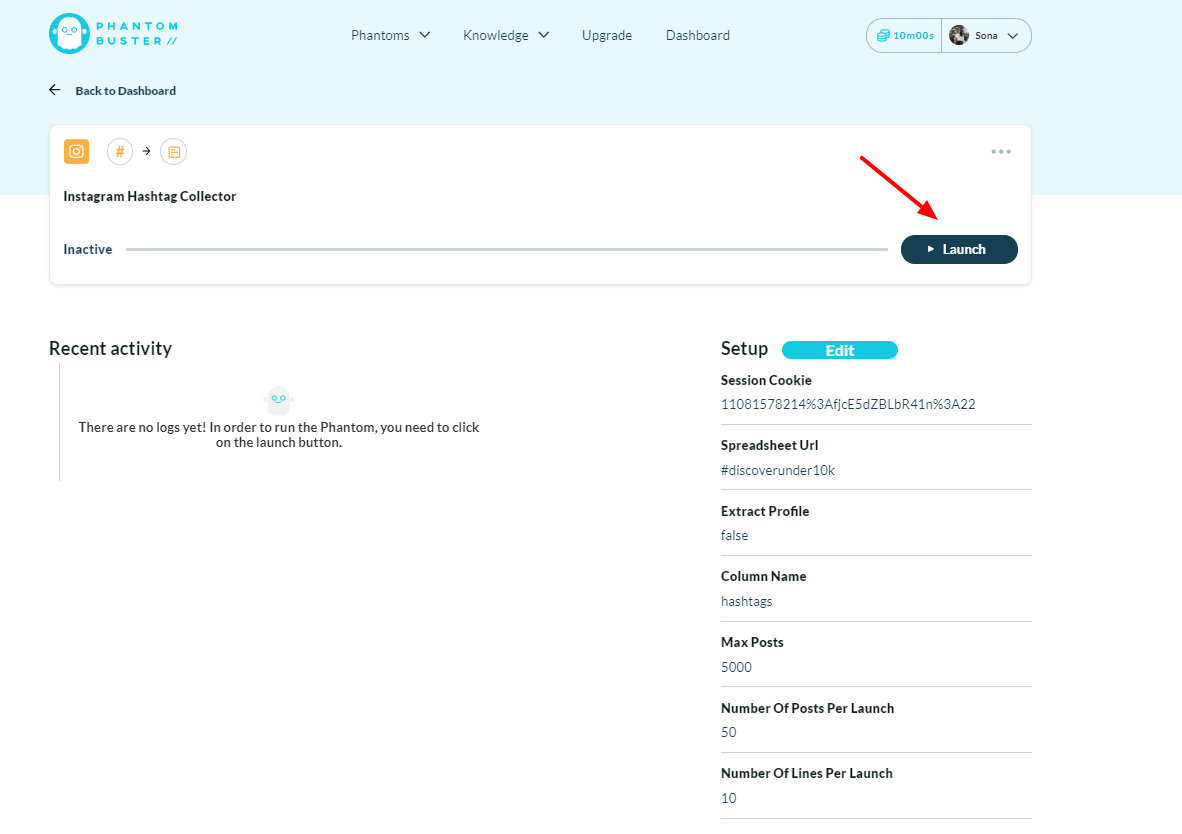 With every new launch, Phantombuster will scrape the defined amount of posts with the #discoverunder10k hashtag, and seamlessly lay out all the data in a CSV file. 
Later, you can sort out the information according to the number of likes or comments, and start outreaching the best-fit nano-influencers with your compelling offer.
Audience overlapping among influencers
People usually need more than one interaction with a product before they make a buying decision. A one-time ad or a post on social media will hardly ever drive them to a conversion straight away and in some cases — even stick in their heads for the next hour.
If we translate this into Influencer Marketing terms, we need to make sure that the same follower encounters a post about the product at least two or more times in his/her feed.
Asking an influencer to post a product photo twice is one way to go about it. But not the smartest way, indeed…Influencers will likely ask for an enormous sum of money or refuse your offer right away in fear of giving up their hard-earned reputation to the promotion trap.
Another strategy is to find other pages that the same person will be following and reach out to them with a partnership offer. But how do you even go about finding influencers with overlapping audiences?
With this strategy that I came up with.
Collaborate with couple or friend influencers!
Their audiences intersect to a great degree, as people who are interested in one of them, most probably follow the other one too. Organizing a paid promotion or sending a sample to both of them significantly increases the chance that their followers will encounter your product twice in their feeds. Even better, they'll see the same product displayed from a different angle!
Influencers who are friends also have a big overlap in their follower bases. Not sure where to find them?
Hint: Start exploring reality TV shows or vines. People who play closely in shows are most likely friends in real life too!
Build Influencer Databases From Scratch Within Minutes
If you've been following along with our Know How series, you've likely spotted the (unintentional) pattern of at least one automation tool per every article. It's because they streamline the daunting repetition into just a handful of seamless steps to supercharge your creative flow and not let it cripple it in the tedious copy-paste mode. 
As an Influencer Marketing expert, I rely on several automation tools to source the best-fit influencers in each niche who will bring traction (and conversions!) to our campaigns. 
From scraping influencers' contact information to assessing their audience engagement—we are all on the automation streak! 
And while I'd usually enlist different tools to perform every single of these processes, this week, I found an all-encompassing automation to build highly-targeted databases of influencers, their competitors, and audiences—at a blazing fast speed! 
I do mean it! 
You can use GrowMeOrganic to scrape just any Instagram profile's information—including email, phone number, website, business details, and a lot more.
It fetches in several different verticals to scrape different pieces of data not just about influencers but their audiences too. You can leverage this pain-staking detail to build high-converting lookalike audiences around and remarket your product to the audiences of the influencers you collaborate with. 
Hashtag users
Media Likers
Media Commenters
User followers
User following
Custom lists
To set GrowMeOrganic to cast its magic, simply choose the scraper from the left navigation bar and define the profile count to scrape in a single session. 
Don't rush to scrape thousands of profiles at once and call it a day! The stakes are too high. Instead, cap it to 40-50 profiles per session or Instagram may just paralyze your automation flow. To start off, I'd even advise you to open several fake accounts to assess the impact of this automation. 
For the most targeted results, you can fast-tune your search with some handy filters. 
Extract only the profiles with email or phone number, define the maximum or minimum follower count, exclude private accounts, and a few more filters to drill down your search. 
Once the scraping is completed, save the extracted data to a CSV file to have it handy as you move to outreach. 
And you are all set to ignite your next influencer marketing campaign!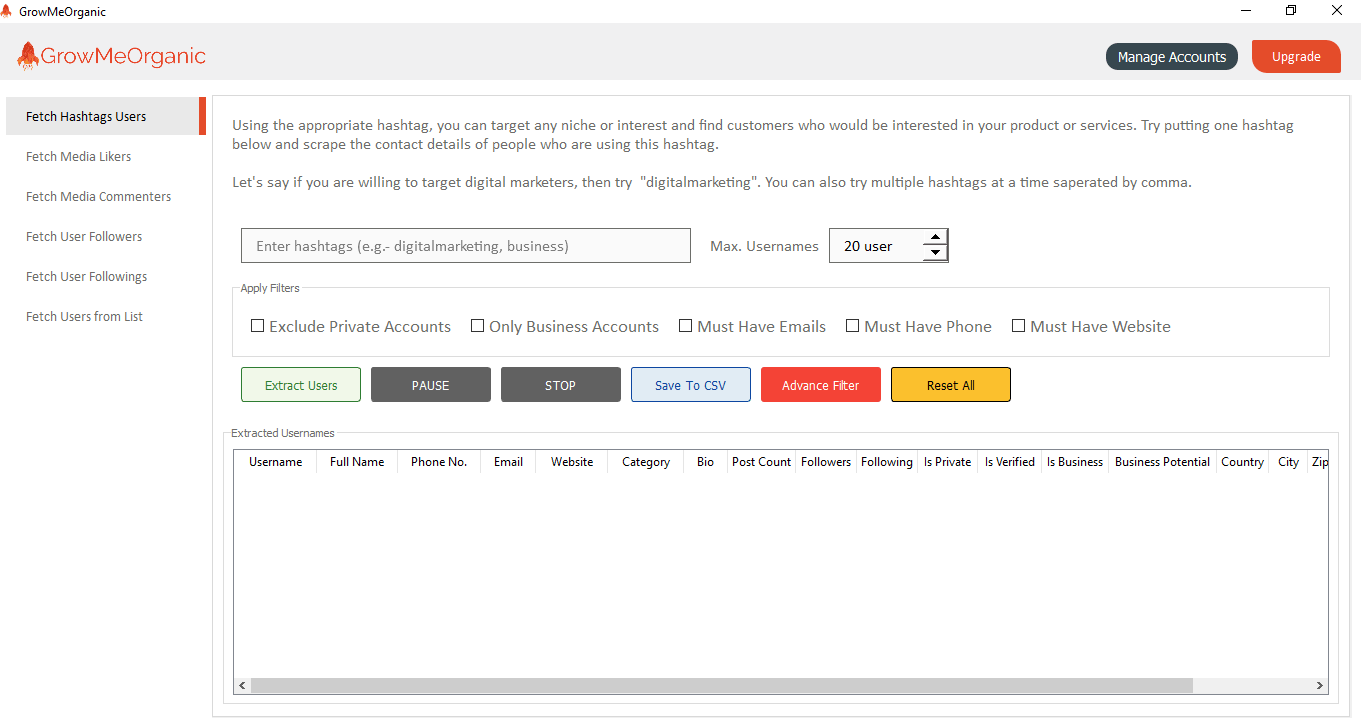 Find Pages With Content Submission to Get Featured For Free
They say the best things in life are free. A smile, a kind deed, a good night's sleep, and… of course, getting featured in the best media pages that accept content submissions!
While we struggle to get a high ROI while spending less on Influencer Marketing, media companies such as LADbible, ViralHog, Unilad, and BuzzFeed might feature you without even spending a penny. If you're outstanding enough to call their attention.
Once there, the stream of conversions and traffic you'll get will likely exceed your expectation—and even the results of the most expensive posts you have ever afforded.
Finding media companies with a wide follower base and content submission opportunities is no easy-feat! But look what a goldmine I hopped onto this week.
Searchmy.bio allows you to find profiles on Instagram by searching for keywords in their bios.
Most of the pages mentioned above have a link to submission in their bio with a call-to-action, somewhere along the lines of "Submit a video" or "Submit your story."
After popping different variations of call-to-actions and setting a minimum number of followers, Searchmy.bio will show you all the pages with submission opportunities in just a matter of seconds.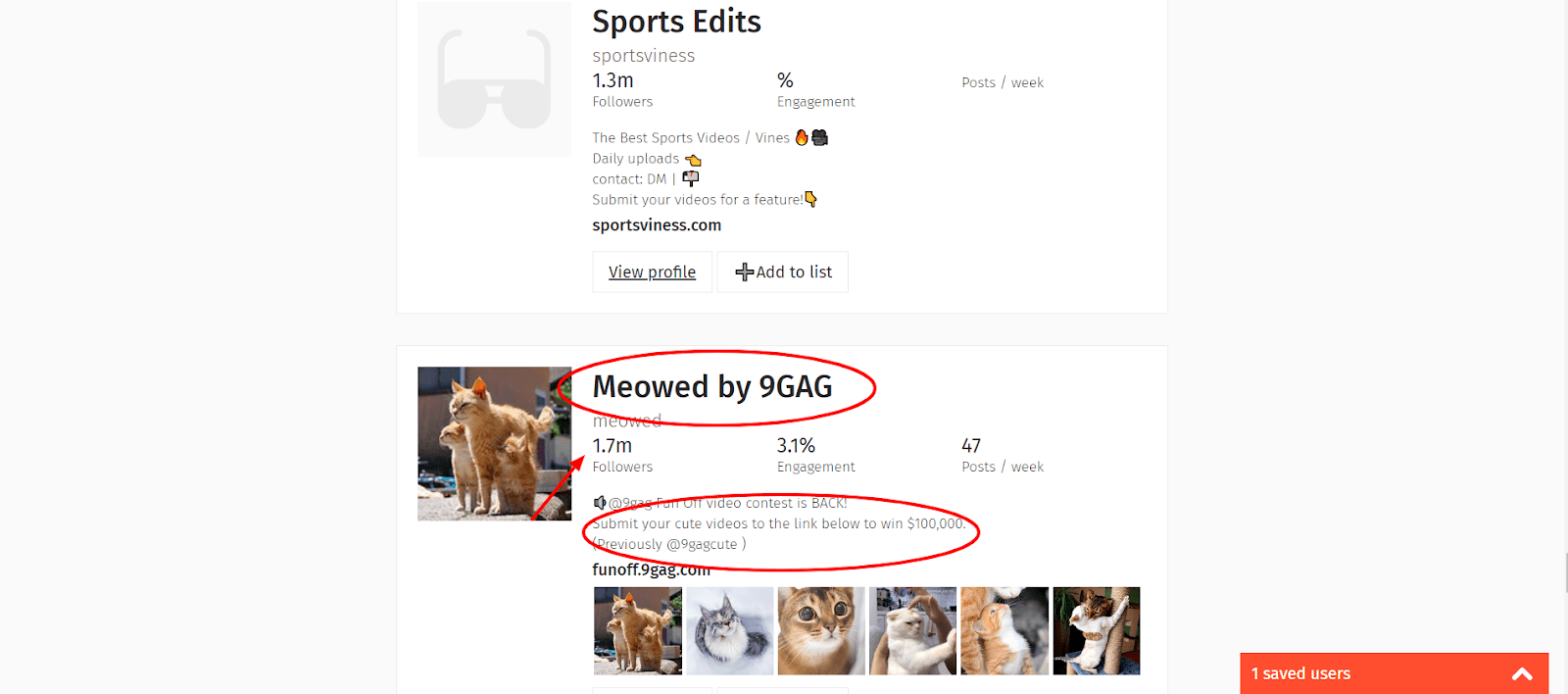 Another use case of Searchmy.bio is to find influencers on TikTok. Unlike other social media platforms, TikTok has fewer tools for research and automation, making it harder to find a relevant set of influencers than on any other platform.
My experience as an Influencer Marketing Expert shows that all big influencers on TikTok are also popular on Instagram. Because they have either become popular on Instagram through TikTok, or vice versa.
This means that the vast majority of them also have dropped the links to their TikTok pages in their bios. Hence, by searching for "TikTok" in Searchmybio and setting the right minimum number of followers, you'll jump onto hundreds of Instagram influencers with links to their TikTok accounts.
How cool is that? And easy as one, two, three.
Make YouTube Influencer Marketing A Data-Driven Mission
In last week's Know How, we initiated a crucial transition that will redefine how we view our YouTube partnerships moving forward. 
Drifting away from the subscribers count to capitalize on views. 
Some bloggers might own just a fraction of the vast following of their popular competition. But just because they talk about what's trending at the moment, YouTube algorithms will promote their videos to a far wider audience than what their actual follower count entails. 
But before you set this tactic to do its magic, consider honing it with some consistency. 
Just as you wouldn't trust your buzzworthy product debut to an influencer with just a single viral video, you want to partner up with influencers who have seen spikes in their viewership repeatedly rather than sporadically. 
So you'll too stand a better chance of seeing similar success. 
And to ignite your odds, here is a robust research tool I discovered this week. 
Enter your target keyword, specify the age, gender, and geography of the influencer audience, and Easy Bloggers will generate a list of tens—and sometimes even hundreds—of relevant YouTube influencers. You can further narrow down your search according to your budget. 
But keep in mind that this is just an average price range that can fluctuate based on a number of factors. So don't give in to the draining guesswork of figuring out where you stand along the spectrum. Instead, focus on the relevance now and leave this question to direct to influencers only when you reach the negotiation phase. 
Displaying relevant influencers is just the stepping stone to the goldmine of insights Easy Bloggers offers. 
For each YouTube blogger, the tool will show you a robust set of data, including conversion and click-through rates along with some crucial engagement metrics—Like rate and comments counts. 
Right underneath this section, you can also find analytics about the influencer audience demographics and geography.
I believe Easy Bloggers will become a great addition to your radar to substantiate your influencer research and ignite your next campaign. So don't delay in giving it a try!
InflueNex.com – Nexus between you and the best Influencers
InflueNex.com is an online influencer marketing platform specializing in searching, managing, analyzing and contacting millions of Youtube Influencers.
It has several powerful features, to name a few:
Easy-to-use & powerful, reliable platform to bridge influencers & businesses
Has a community of 1 million Youtube Infuelncers in different niches
Helps to sift through the many influencer categories such as people and blogs, entertainment, science and tech, gaming, fashion, travel
Simplifies the collaboration and doubles the efficiency of promoting a business
Allows to browse through influencer profiles*, reach out to them** and measure marketing performance***
*Easily Manage Influencers​​​ – compare Influencers' statistics, add the influencers to your fav list, and more.
**Contact Influencers with efficiency – create a group and send email or the templates available for a collaboration offer.
***Comprehensive Influencer Analysis – analyzes the engagement, YouTube growth tendency, channel performance, YouTube subscriber tendency, YouTube posts, and more.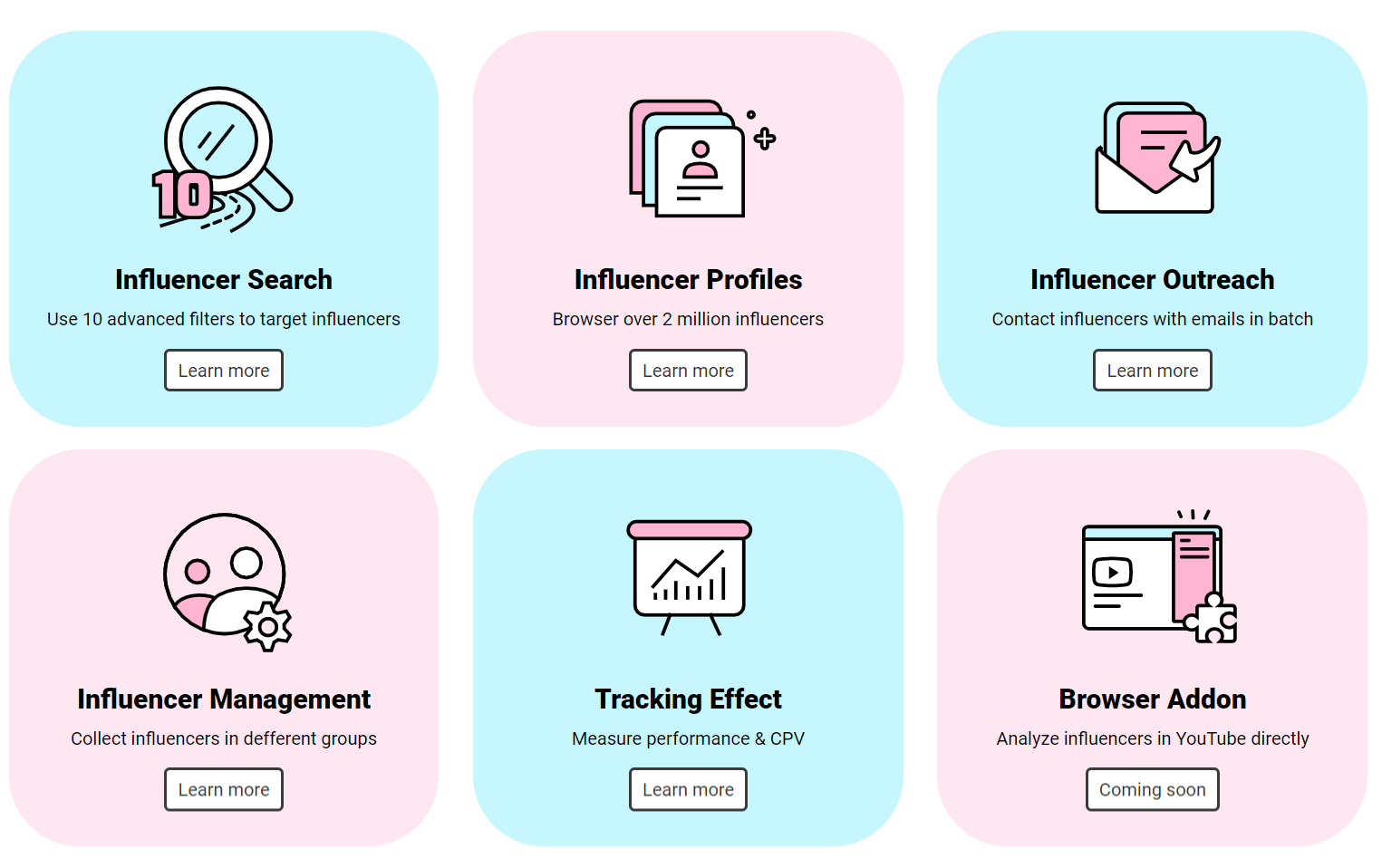 The guesswork is eliminated!
Congrats – the laborious, time-intensive and manual search for the right people is over.
Fb shop affiliate cooperation
Social media is a team sport. And you can add Influencers into that group as well.
Offer affiliate cooperation to Facebook influencers where they create FB shops with your products featured in it.
This is another strategy to drive engaged & organic traffic to the website.
Discover All Influencer Pages with Facebook Pages Directory
If you've ever searched for influencer pages on Facebook, you probably know how hard it is to discover a cluster of relevant pages to outreach.
Popping different variations of your keyword into Facebook's search bar, trying to tackle the breath of your niche, returns just a fraction of potential partner pages.
But those times are well behind the door.
Because this week I've uncovered Facebook's goldmine!
Its comprehensive directory of all the People, Pages and Groups on Facebook arranged in alphabetical order.
So if you were to promote a dog product, with a click on the letter "D" you'll be presented with an exhaustive list of all dog-related pages on Facebook.
Convenient, isn't it?
With this pool of pages at hand, you can now divert your focus to finding the most relevant pages and craft a compelling pitch to draw their interest.
While the launch of the directory traces back to 2011, its link is nowhere publically accessible on Facebook's surface yet.
So make sure to bookmark it before you exit.
It's right here: https://www.facebook.com/directory/pages
——————————————————-
This wraps up this week's Know How!
It can be hard to be an Influencer Marketer. The science behind it is hazier—it's based on people and their psychology. Then again, as with much in the Digital Marketing world, a lot of the day is spent on repetitive tasks.
If you can accelerate your process with these quick Influencer Marketing strategies and tools, you're well on your way to improving your effectiveness and saving valuable time thinking about how to approach your favorite Influencers.
I hope you've found some useful Influencer Marketing tips and tools in this week's Know-How. Keep your eyes peeled for our one, and give your marketing game a real boost with TCF!
Lastly, don't forget to check out our 131 tips to rock your next Kickstarter campaign.